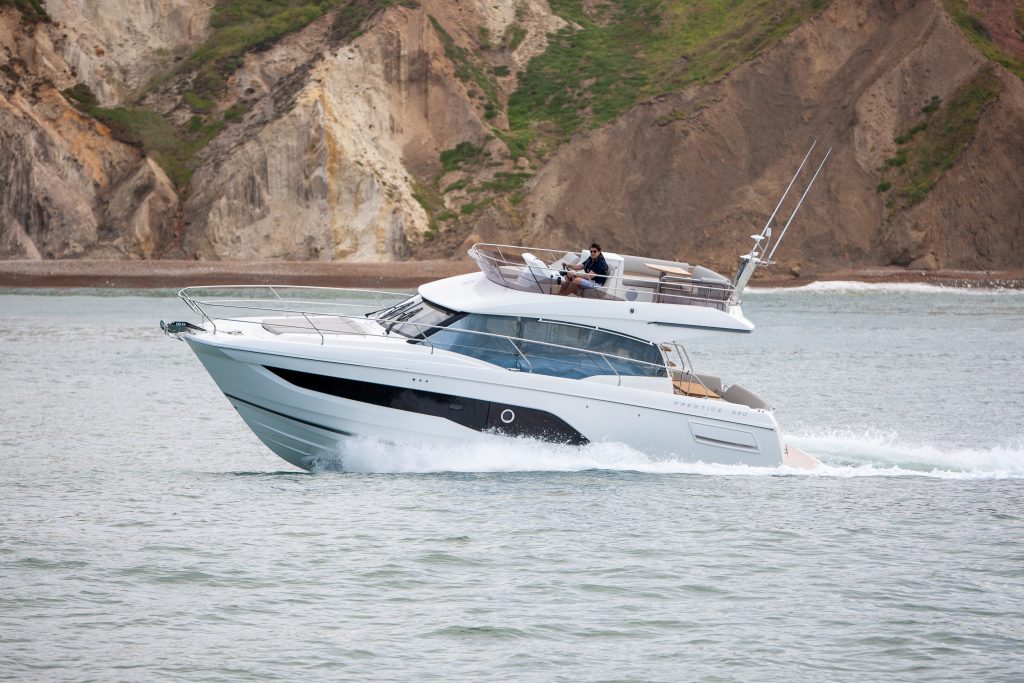 Prestige 420 Yacht. Photo credit: Ancasta International Boat Sales
The Prestige 420 may be the smallest yacht in this builder's model line, but it's big on luxury and features.
Prestige Yachts range from 42 to 70 feet, but spend a few hours aboard their 420 and you may start wondering why anybody would ever want anything bigger.
As you go through the 420, the first thing you'll realize is that it just doesn't feel like a 42-footer — it seems like you're aboard a much larger yacht. This is especially true on the flybridge, an area that's often rather compact on boats of this size. Not in this case. With the helm station to port, the starboard side features a large sunpad with flip-up lounger backrests that has room for several people to stretch out and soak up the rays. The bridge extends aft over the cockpit, making room for an L-shaped settee with a dinette table. In all six or seven people could enjoy the cruise from this elevated position, and thanks to the wet bar, they won't have to go up and down the stairs to wet their whistles.
The second outdoor social area on the 420 is the cockpit, which has another settee with dinette. This will probably be the most popular spot aboard for al fresco dining since it's just steps from the galley, which is fully connected to the cockpit when you slide open the four-pane cabin aft bulkhead door. And if you feel like stretching out after you dine drop the table, add the filler cushions, and you have another oversized sunpad, this one shaded by that flybridge overhang.
You can find a third exterior plave on the bow, where there's yet another sunpad with flip-up backrests that convert it into a lounger. Wait a sec, this 42-footer has three distinct outdoors social areas? You bet, just like those larger yachts do.
Enter the Yacht Luxury Zone
Okay: ready to step into the cabin? The first thing that struck us when we did so was the blast of chilly air. Prestige equips the 420 the same way they equip their larger, more expensive yachts, which means there aren't any issues like sub-par climate control. The cabin is bathed with 32,000 BTUs of air conditioning, which also offers reverse cycle heat. The second thing that struck us was how quiet it was inside the saloon, even though the 7.5 kW genset was running to power all that a.c. Having peace and quiet is part of feeling luxurious and the rumble of a genset may seem like a minor annoyance. Still, in truth it can spoil an experience that otherwise would be a perfect 10, so we appreciate the fact that Prestige sound-proofs the engine room as well as they do. They also utilize sound-attenuating headliners and fabrics throughout the interior, to reduce sound levels even more.
The galley sits aft in the cabin, and has everything you'd expect including a two-burner cook-top, a microwave/convection oven, and drawer refrigerator and freezer. But why dwell on the galley when what you're really interested in is the comfort zone, just a few steps further into the boat? You'll find a large dinette to port, and we do mean large. This is a U-shaped six-seater, with a folding-leaf table and a flip-up television mounted into the countertop forward. The starboard side is where things get really interesting, though. Sure, there's a centre-facing settee. But there's also a full helm station, which is a bit unusual for today's flybridge boats. It's not one of those pared-down helms you'll sometimes see with just a wheel and throttles but has twin MFDs, engine monitors, and joystick controls along with the basics. Bottom line, both the upper and lower stations on the 420 are 100-percent fully equipped.
Down below, Prestige makes a tactical decision to use the available space for two staterooms rather than shoe-horning a third one into the boat's footprint. This is the one place where we can conceive of someone wanting more LOA, if they're going to have private areas for more than four people sleeping aboard regularly. For most families and cruising couples, however, two staterooms are plenty. And what Prestige delivers by utilizing the space this way goes beyond merely providing large, roomy cabins. This also gives them the ability to design in either a large walk-in closet with laundry facilities into the starboard side, or to use this space for a second head, so each stateroom has its own en suite. Either way, both the full-beam mid-cabin master and the forward VIP have pedestal queen berths plus large hull side windows with opening ports, reading lights, hanging lockers, and additional stowage. On top of that, the master also has a vanity desk and bedside tables.
Performing Like a Prestige Yacht
Speed isn't usually a highlight of yachts like this, and the Prestige provides a respectable cruise of 22 knots with a top-end in the 30-knot range. At cruise, range is around 210 nautical miles. That's more than enough zip and more than enough cruising distance, for most of us. However, what counts for more is just how easy it is or is not to handle the yacht — particularly around the dock. And in that regard the 420 delivers. It comes equipped with a joystick that ties in the bow thruster with the twin V-drive inboards (your choice of Cummins 380- or 425-hp diesel). The thruster is a beefy variable-speed model, so it has the oomph to keep up with the torque when the Cummins are opposed, and you can slide the boat sideways without interruption.
In previous iterations of their 42-foot flybridge boats Prestige used IPS drives rather than the V-drive arrangement. Why make the change on this new version? Because it allowed them to move the iron horses farther aft, increasing the master stateroom's footprint and providing more cabin space overall. In the past, this would have created a real price to pay in the dockside handling department. Still, thanks to advances in thruster tech (models like this can run continuously instead of just in short bursts) and the ability to integrate the thrusters with the powerplants in the form of the joystick, that price is essentially negated.
The bottom line? While people who want to entertain dozens of friends for days on end might wish to a yacht larger than the 420, this model delivers just about everything its larger siblings can. Day-cruises for 10 or 12 people and overnight jaunts for a family or a pair of couples will be enjoyed in the utmost luxury. And in truth, if that's the kind of "crowd" you enjoy spending your time with, we simply can't imagine why you'd ever want anything larger than a Prestige 420 in your slip.
See Prestige 420 listings.
Prestige 420 Specification
LOA – 42'10"
Beam – 13'5"
Draft – 3'7"
Displacement (light) – 22,928 lbs.
Transom deadrise – 16.5 degrees
Related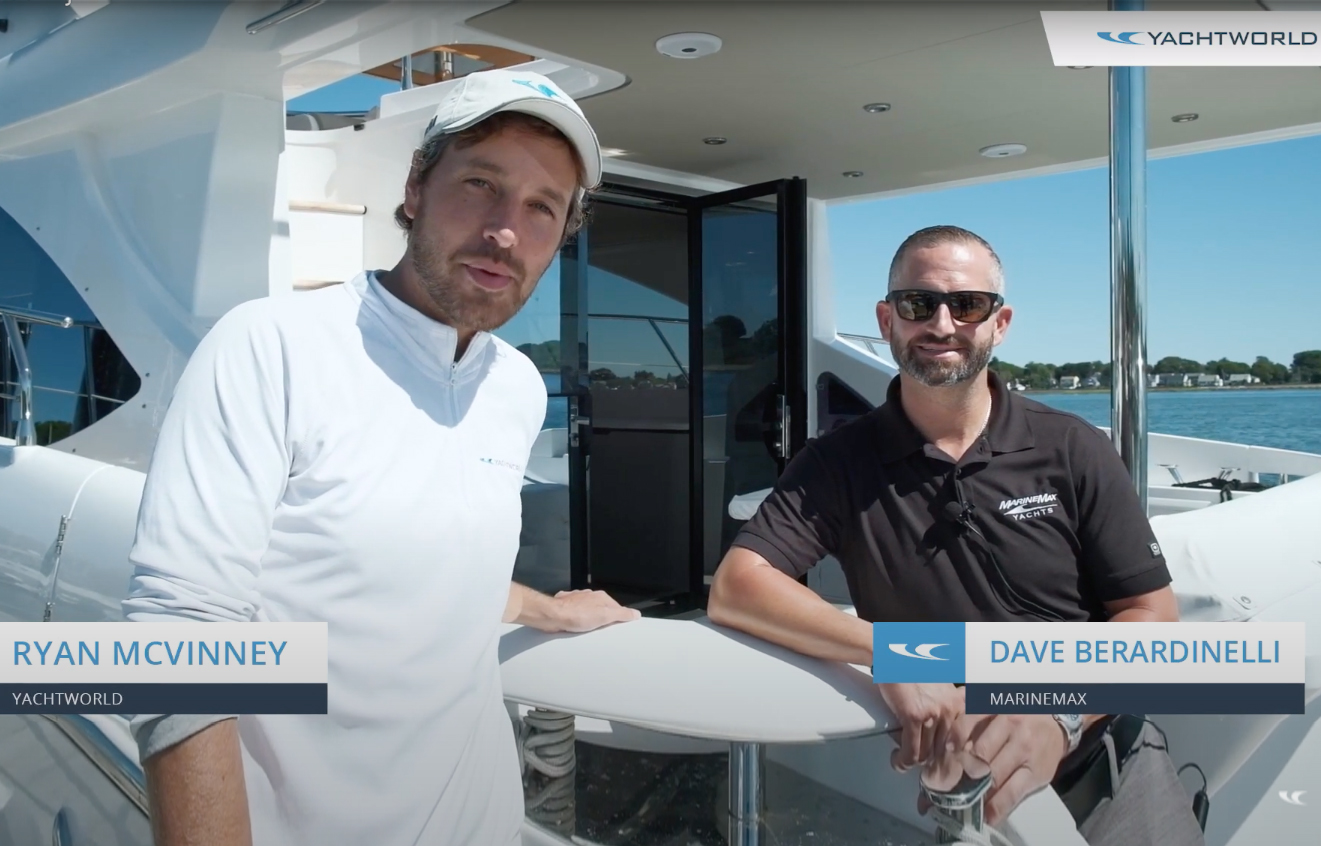 Azimut 55 Fly Full Video Walkthrough Review
Join Ryan McVinney and Dave Berardinelli from MarineMax for a full video walkthrough of Azimut Yacht's...
Prestige 460 Video Walkthrough Review
Full walkthrough of the Prestige 460 yacht with Lenny Rudow.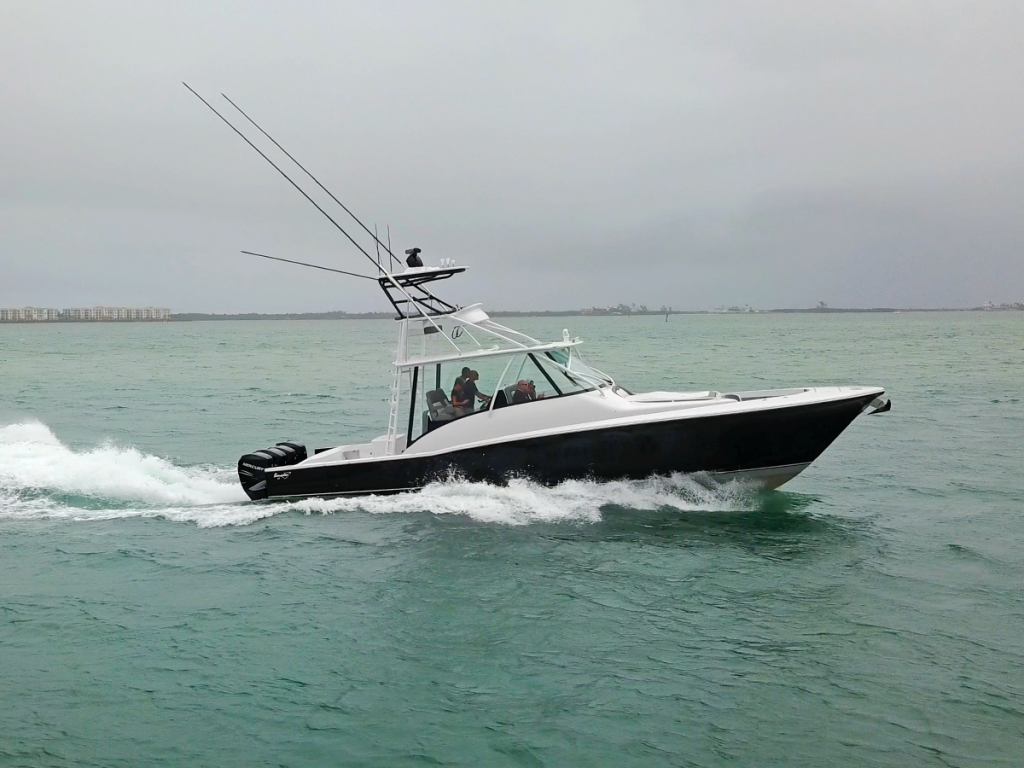 Bonadeo 45 Custom Walkaround. Photo by Nate Cantalupo. Now, 15 years later, the business and shop have grown, as has the line. From the then, cold-molded composite 31', to a cored, resin-infused and vacuum bagged 34, Bonadeo tweaked its design, but the 37' center console truly established the brand. The new 45' was developed for a buyer who was sold on the quality of the 37 but wanted a bigger boat. Bonadeo answered by going back to the drawing board, creating exactly what the owner wanted—a boat that could seriously fish, but recreationally cruise as well. It was dubbed "Final Chapter," following its smaller predecessor, "Next Chapter." The newer Bonadeo builds use epoxy vinyl resins, Kevlar, carbon fiber and fiberglass to create a lighter, sturdy boat with a smooth, reliable ride. The 45' model bridges the gap between the popular performance center consoles and traditional sportfish boats. A striking study in black and white, at the dock, the Bonadeo is a standout. The black Imron painted hull is accented by the white deck and white and gray upholstery, black T-top, with powder coated piping, black edging around the tinted glass windshield and matching black engine cowlings. Stainless inserts in the black rub rail add a gleam, as does the stainless Bonadeo logo badge. Hull #1 is 44' 11" long with a 13' 6" beam and 34" draft. Quad Mercury 400 Verado engines with joystick control, power the boat easily in the 40's and top out at just under 60 mph, even fully loaded with a 11kW generator, three HVAC systems, 100 gallons of water, 655 gallons of fuel, a full-wrap laminated glass windshield and skylight, Seakeeper 6, an HD2 4' Array Radar and pedestal. The Vetus Bow Pro brushless bow thruster leaves no carbon dust, is quiet and facilitates docking. The boat is ready to fish with a Marlin Tower by Palm Beach Towers—who got the job due to its 3D modeling system. The upper dash is identical to the main deck helm, covered by the T-top and a quick climb up the 6-step ladder, outfitted with 6 rod holders. There are 8 more rod holders in the gunwales, 4 on the bow, 6 on the flybridge and 6 more on the grill station, so bring your bait and buddies! The aft deck has a user-friendly 72-gallon live well with two doors, two 6' insulated, in-deck 70-gallon fish boxes, a flip-up grill station with a sink, refrigerator/ice box and hot water shower — and did I mention rod holders? So you can catch it, gaff it, filet and grill it in short order! Extra tackle storage is under the grill and tucked in every nook and cranny of this boat—even under the steps. A large center storage compartment is located between the fish boxes and the lazarette provides access to equipment and pumps. The shore power cord is convenient, behind its own door to port, as is a large transom rod storage locker. A dive door is at starboard, along with a raw and fresh water washdown. A three-seat mezzanine is covered by the T-top, provides comfortable seating and a great view, with ample storage and mechanical equipment access beneath. Custom curved glass wraps the entire cockpit like a car windshield and is edged with carbon fiber for additional strength. To keep the captain cool at the enclosed helm, air blows through two HVAC vents at the helm seats as well as through a long, horizontal vent in front of a forward facing, three-seater lounge. The glass insert in the T-top electrically "frosts" to provide opaque coverage when the sun is strong. The helm is "clean" per Bonadeo standards, with a portside black carbon fiber helm pod, Epson wheel and minimal instrumentation, joystick and throttles visible. Two, flush-mounted 22" Garmin screens provide the latest in navigation, fish finders and operations interface. The system and Seakeeper switches are hidden in a starboard glove box—a tidy touch. Sit or stand—your preference--as the helm seat flips up to create a bolster. A floor hatch at the console offers access to the Seakeeper equipment and extra storage. New internally rigged GemLux carbon fiber outriggers look fierce and are designed to preclude permanent gunwale halyard attachments. This prototype, including a center rod, is being tested on the Bonadeo and the captain plans to use SeaSucker attachments for the halyards, keeping the gunnel clear when the outriggers are not in use. The bow is also fishing friendly, and while it can seat eight people—two on the ergonomic sun pad (with a removable cushion for the cabin skylights), three more on the forward-facing lounge (with a 74-quart cooler beneath) and three more on the aft-facing bow seat, it also has wide gunwales where anglers can stand and fish or work their way around the spacious deck. While the cabin may not appear to be the main attraction of this boat, ladder-like steps descend from the port side door, of the main deck bow, to a surprisingly spacious and very comfortable, naturally and LED lit, dual berth cabin — each with its own TV. Stylish taupe cabinetry, matching laminate "wood" flooring, a cedar-lined hanging locker, lots of storage drawers, cabinets and a galley make this very livable space. The durable quartzite countertops look like gray-veined marble and support a refrigerator/freezer, sink, stove top and microwave above, framed by cabinets. The additional berth is tucked behind the stairs - a perfect place for kids or guests to hang out or sleep - while the bow area has lounges and a sizable table for grabbing a bite or socializing; it retracts, topped with cushions to create the primary berth. The wet head's sink is also set into a curved quartzite counter above storage cabinets and there is plenty of headroom. Rock on while your fish is on! The JL Audio entertainment system has speakers in the cockpit, T-top, cabin and on the tower, with a large subwoofer beneath the helm passenger seat. LED lights are scattered throughout every overhead space. Hull #2 of the 45 is currently under construction for a serious tournament angler from the Palm Beaches. The boat will boast a more traditional sportfish style with more bait wells, chillers, water maker and Eskimo icemaker. The model can also be modified from the express walkaround to become a center console. Final Chapter was built for a fishing enthusiast owner and is managed by Capt. Gary Picard. He will also take sales inquiries at Yachtworld.com or checkout other
Bonadeo boats for sale
on YachtWorld. Bonadeo Boatworks can also be contacted directly for new custom boat designs./>
Bonadeo Boatworks 45 Custom Express Walkaround
The Bonadeo 45' Express Walkaround bridges the gap between the popular performance center consoles...