Pontoon boats are ideal for getting out and enjoying the water with your friends and family, and they are having a renaissance thanks to advances in tube design. New boat building materials that are lighter and with increasingly powerful and efficient outboard engines, which means that pontoons are not the slow, cumbersome vessels they were once perceived to be. 
Today, pontoon boats can facilitate 115 horsepower and fast speeds of up to 60 knots. The interiors of a pontoon now match the look and feel of a luxury car. Performance pontoon tube packages allow them to corners equally well as traditional fiberglass boats.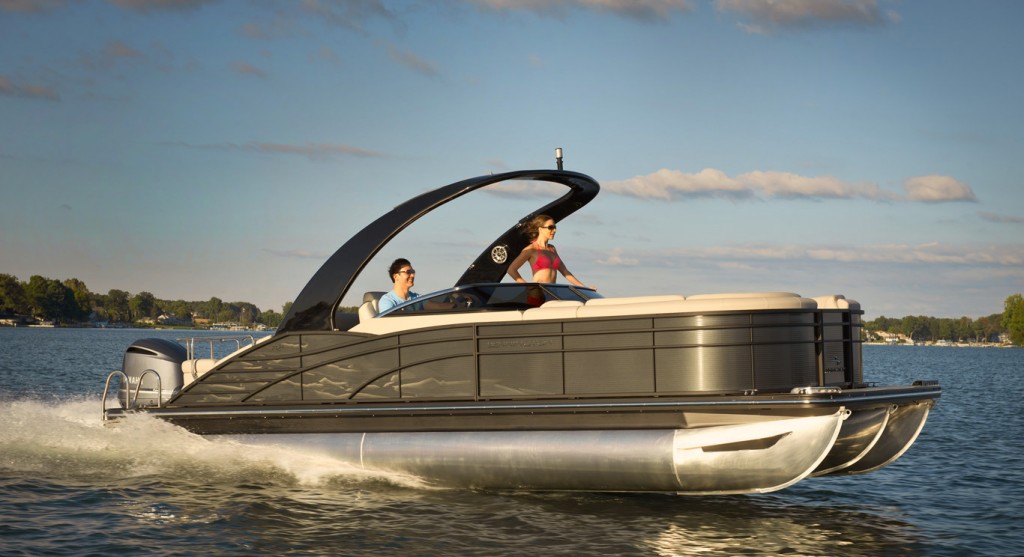 An Introduction To Pontoons
A pontoon boat has a large deck that is flat mounted on top two or more metal tubes called pontoons. You may have heard of a tri-toon, which comprises three pontoons. The tubes provide buoyancy and allow designers to create large deck plans fitted with a range of layouts, including extensive lounge areas with sun pads and stand-up bars. Improved tube design has also allowed builders to put larger amounts of horsepower onto the stern.
The Construction Of Pontoon Boats
Standard pontoon boats start out with two round tubes that taper inwards at the front. Tubes are made out of marine-grade aluminum welded sheets. Fuel tanks usually reside inside of the tubes, alongside stowage areas. Manufacturers weld deck support channels and cross beams on top of the tubes to support structures on which the pontoon's deck will be mounted.

Following the tubes, come the deck. Most boat builders use a range of plywood in different grades and thicknesses covered with vinyl or carpet flooring materials. Aluminum fencing and side panels are layed on top, adding the lounges, seats, helm units, and other interior components and electrical systems. 
When buying a pontoon boat, it is worth inquiring about warranties that cover tubes, decks, and other components. Do your research and ask lots of questions about construction methods and materials. Ask how to waterproof and treat the deck, and how the support structure and tubes are engineered. The boat will last longer if it is made using high-quality materials and craftsmanship. 
Options For Pontoon Boats 
Manufacturers of pontoons will generally build one for you in any number of configurations and with a plethora of options. Shopping for a pontoon can become confusing due to the number of choices available to you. You can opt for a double-decker pontoon, add chaise lounges, a waterslide and joystick docking- no problem, but be aware that costs can quickly add up.

Packages For The Interior & Exterior—Pontoon boats are modular by design. Each model can have as many as 20-plus different interior and exterior schemes and layouts. Fabric, upholstery, floor covering, and graphics packages come in a multitude of options. Consider browning manufacturer websites before you go shopping. You can build and price your pontoon, from the Bimini top down to the accent graphics. 
Engines—Standard engines that come with every pontoon boat tend to be relatively underwhelming. Most buyers end up choosing a larger, more powerful engine. Consider what you'll be using the pontoon boat for, what speeds you want to go, how much fuel you can afford to burn. It's worth doing some research on outboard manufacturers websites. Most have performance and fuel consumption bulletins for new boats that use their engines. Analyze the data to give you a general understanding of the size engine that you want on your pontoon.
Choosing an outboard for a pontoon is different to other boats because engines are designed specifically for pontoons, with special propellers or gear ratios available made to order. Read The Outboard Expert: Outboards for Pontoon Boats, to learn more about the outboard specific to pontoon boats.

Performance Pontoon Packages—Packages positioned for performance often add an additional tube or larger tubes, or tubes with lifting strakes and keels, under-deck skins, or tubes that have been specially shaped. These special tube add-ons not only improve performance—particularly when turning—but they also provide extra buoyancy, to allow larger engines to be fitted to up your boat's speed.
Electronics And Sound Systems—While pontoon boat helms tend not to include extensive marine electronics on board. However, there are plenty of builders who provide options, such as chartplotters, integrated touch panel control systems, and more.
Pontoons have a reputation for being party barges, so stereos are important on pontoon boats. Some boat builders offer as many as 18 different stereo and speaker combinations on each of its pontoons. LED lighting bundles add a touch of bling to your boat, and if you like party- colored lights will create an impact once the sun starts to set. The LED lighting increases the visibility of the boat during low light periods, illuminating cupholders and the deck area.
Different Types of Pontoons
Pontoon boats are typically found in freshwater areas such as inland lakes, rivers, and reservoirs. They are used for a large range of activities, from watersports to fishing.
Performance Pontoons
If you enjoy the thrill of the speed, take a look at the Premier Dodici 310 or the Bennington 30 Club Twin. The Dodici has three 300-horsepower Evinrude E-TEC two-stroke outboards which can reach up to 60 MPH. If you like to socialize and entertain, there is a floating pub layout with a full stand-up bar and lounge seating. The Bennington Club twin has twin 300-horsepower Yamaha F300s, it has 300 square feet of deck space, and can reach speeds of up to 50 MPH at the top end. To find out more, watch our Performance Pontoon Boats: The Need for Speed video. Or, read about 5 Rocket-Fast Pontoon Boats.
Watersports Pontoons
Pontoons that have enough horsepower and a towing pole or mount can tow wakeboarders, tubers, and skiers, but watersport pontoons are designed specifically for the task. They tend to have metal sport arches with towline mounts, and brackets for boards and skis. The graphics and interior schemes also tend to be splashy.
The Aqua Patio AP 250 XP is equipped with a 350-horsepower Yamaha F350 four-stroke outboard. It also comes with a watersports tower, under-deck board stowage, and it has a sporty look that looks smart going 60 MPH across the water.
Pontoons For Fishing
If your boating adventures involve fishing, it is easy to find a pontoon boat to suit your needs. Pontoon boats have lots of deck space for livewells, fishing rods, and any other tackle. Pontoon boats tend to have a low draft, which is particularly suited to cruising in shallow water. 
Take a look at some of the following pontoons designed to catch fish, Angler Qwest, Sun Tracker Bass Buggy 16, or Sun Tracker Fishin' Barge 22 XP3.
o read about how well fishing-dedicated pontoons serve their purpose read  Can a Pontoon Boat Be a Serious Fishing Boat?
Ultra Luxury Pontoon Boats
Luxury pontoons provide a boating experience in total comfort. You can buy new lavish, buttery upholstery, so comfortable it can make you feel as if you're lying on a cloud. Top of the range models are palatial in size and come with joystick steering, twin engines, large chaise lounges, full height stand-up bars, LED lighting and fencing schemes.
Take a closer look at these premier pontoon lines by checking out Harris FloteBote Crowne 250, Premier Sunsation 270 Walk-On, and the Premier 290 Grand Entertainer.
Watch our Luxury Pontoon Boats: Maximum Relaxation video, to learn about what you can get from a pontoon boat when you have a limitless budget.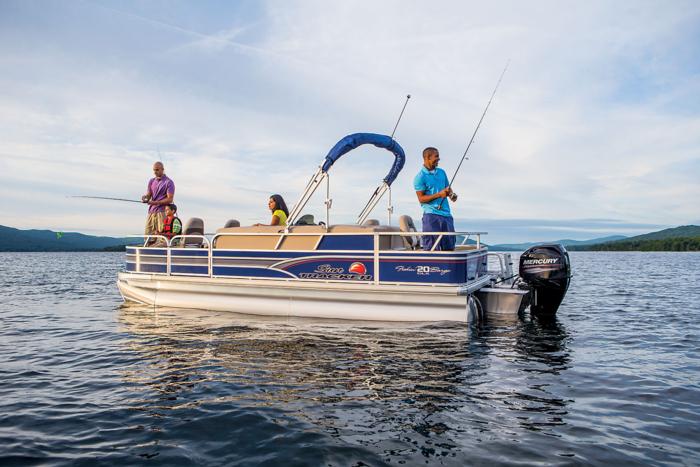 Pontoons For Fishing
If your boating adventures involve fishing, it is easy to find a pontoon boat to suit your needs. Pontoon boats have lots of deck space for livewells, fishing rods, and any other tackle. Pontoon boats tend to have a low draft, which is particularly suited to cruising in shallow water. 
Take a look at some of the following pontoons designed to catch fish, Angler Qwest, Sun Tracker Bass Buggy 16, or Sun Tracker Fishin' Barge 22 XP3.
Read about how well fishing-dedicated pontoons serve their purpose here, Can a Pontoon Boat Be a Serious Fishing Boat?
Family Fun Pontoons
Family pontoons have an abundance of lounging space, and ergonomic seating Some excellent family pontoon boats include the Sun Tracker Party Barge 24 XP3, Aqua Patio WB, and Harris FloteBote Solstice 240, among others.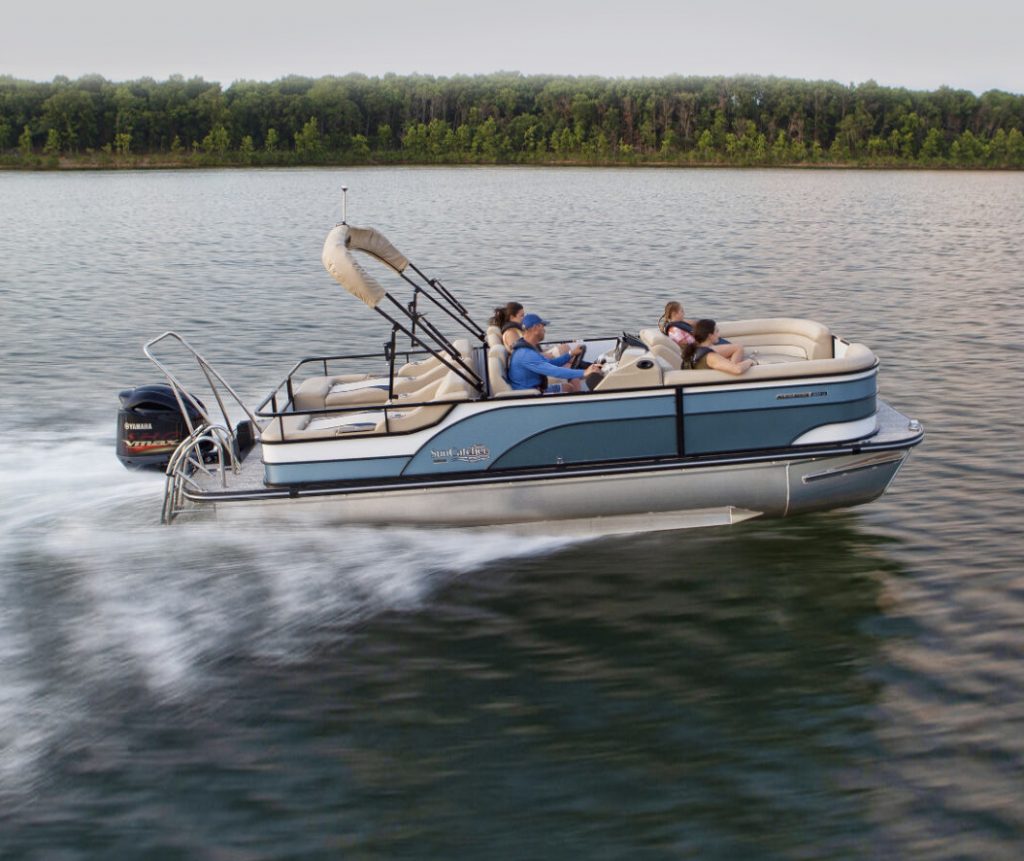 Suncatcher 322 SS is perfect for family cruising. Join Lenny Rudow for a full boat review. of the Suncatcher 32SS. Image credit: Suncatcher Boats. 
Budget Friendly Pontoons
When it comes to buying a pontoon on a budget there are a great deal of models to choose from. Lots of manufacturers design perfectly comfortable pontoons that will provide relaxation, and endless hours of fun and entertainment on the water at a reasonable price. These are often referred to as the "value class" of pontoon boats, but as competition in pontoon boat manufacturing increases, the envelope is getting pushed more and more in terms of what features are included on modern affordable pontoon boats.
When we're talking about value class, we're talking about new pontoon boats can be had for under 30K. Of course you could always go the route of buying a used boat, you may be able to get a slightly more tricked out, feature-rich pontoon boat at a lower price point, as long as you're willing to deal with purchasing a pre-owned vessel that may require more boat maintenance, repairs and upgrades or other boat ownership costs.
For budget friendly pontoon boats, we recommend the following affordable pontoon boat models in 2022.
2022 Sun Tracker Bass Buggy 18 DLX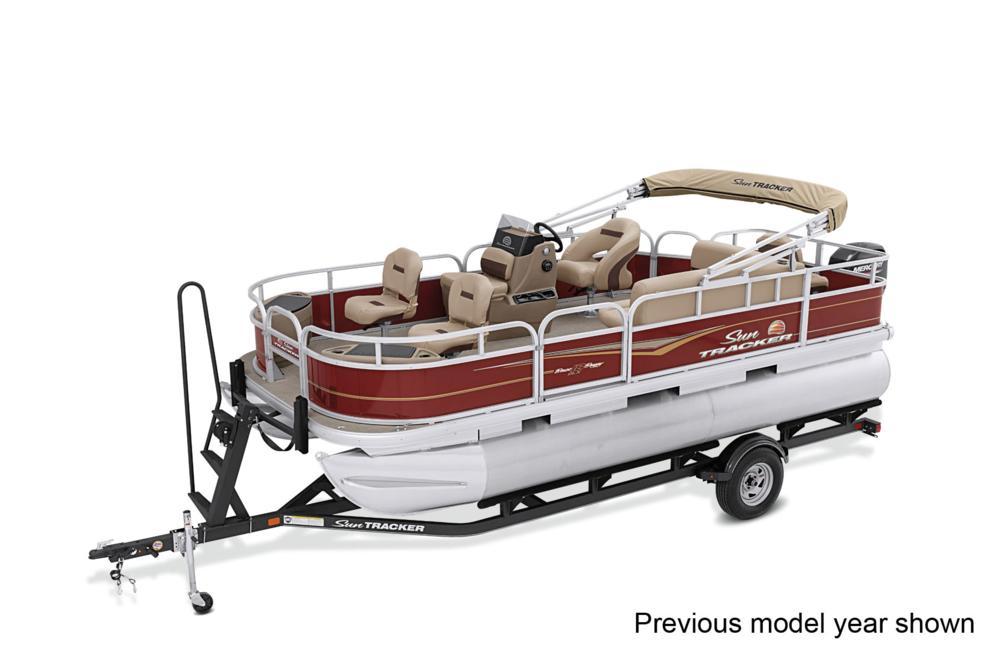 Above: A 2021 Sun Tracker Bass Buggy 18 DLX – the 2022 model is similar but inventory levels may be low in your area, so consider purchasing a 2021 model. Photo by Sun Tracker Boats.
For under $30K (usually between $26K-$28K, depending on options) you can pick up a brand new, 18-foot 2022 Sun Tracker Bass Buggy that has enough rough for plenty of friends and family onboard for a long day of cruising the lake or river. One thing to consider is that with inventory levels down due to the pandemic and supply chain issues, many dealers may not have a 2022 model available yet. This can help you when negotiating if you consider making an offer on a previous year models. After all, a 2021 model is still brand new if she hasn't seen the water yet!
Year after year, the BASS BUGGY® 18 DLX continues to be the best-selling pontoon boat in the SUN TRACKER® lineup, and there are plenty of reasons why.For one, this boat has a nimble and easy-to-tow 20' length overall, but still provides plenty of playpen room for a crew of eight. Speaking of the playpen—inside the tall railings (great for boating with kids!), you'll find all the features anglers want on a fishing boat, including an aerated livewell, rod holders, four fishing chairs and pre-wiring for an optional fishing package. And there's still room for the entire crew to relax under the Bimini top and enjoy the day!
We should also mention you could pick up a Sun Tracker Bass Buggy 16 – the 18's smaller sister – for the bargain price of around $20K, and sometimes even lower, depending on features and dealer inventory.
View Sun Tracker Bass Buggy 18 DLX pontoon boats for sale on YachtWorld now.
Starcraft LX 16 R – Luxury Value Pontoon Boat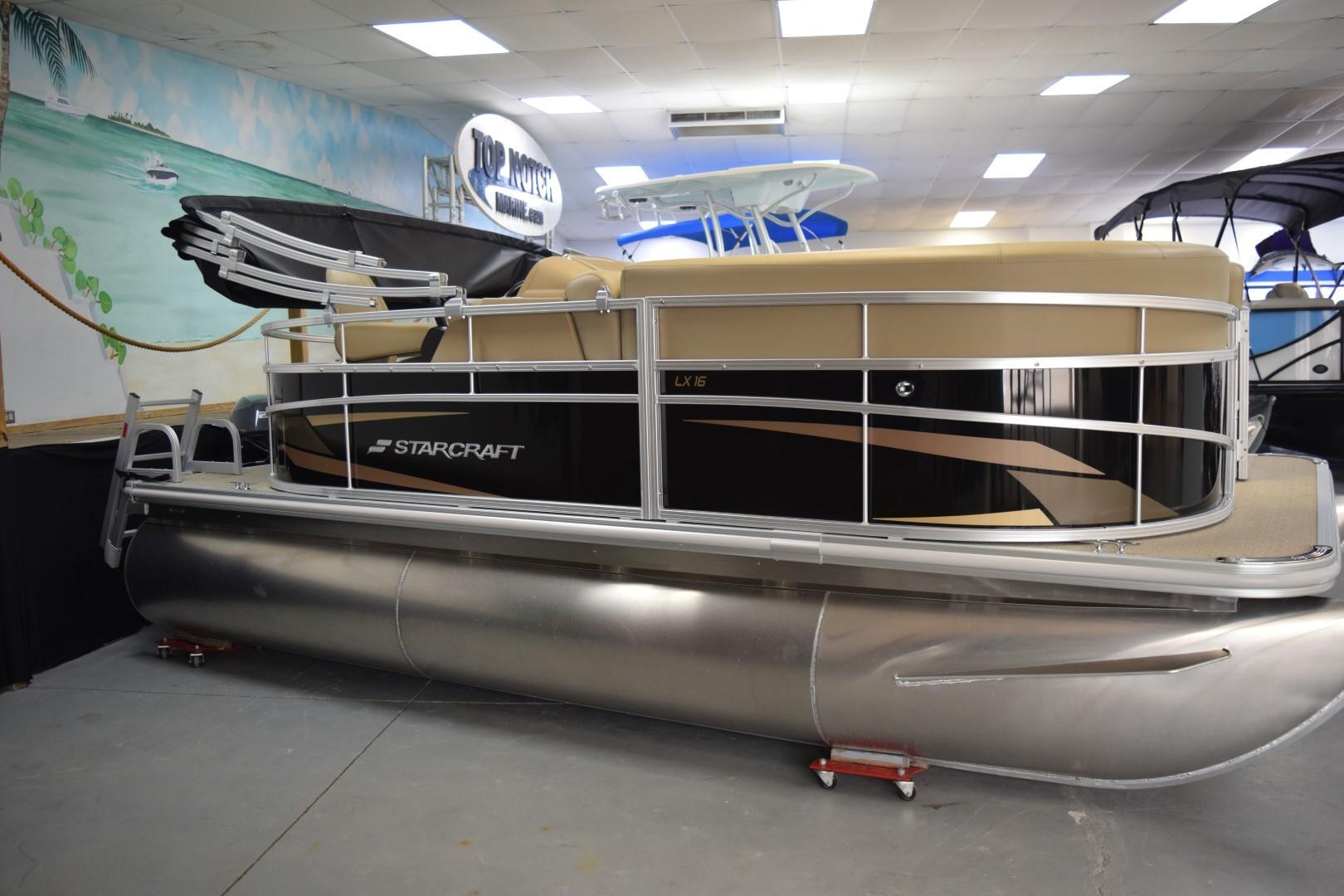 Above: Above: A 2022 Starcraft LX 16 R pontoon boat for sale. Photo by Top Notch Marine in Melbourne, FL.
The MSRP for a Starcraft LX 16 R comes in around $20K for a brand new model straight off a boat dealer's showroom floor. Boat prices can of course vary by region and dealership, but no matter where you are, it's safe to say that you can find a LX 16 R without completely breaking the bank. Whatt you'll be getting if you buy this pontoon boat is one of the cushiest boat in the value class, with three big sofas plus a helm chair with arm rests for the captain. Additional comfort perks include Sea Weave flooring, a sporty Torcello Lite steering wheel, a five-step boarding ladder, cup holders, fore and aft swim platforms, and even a Bimini top.
The LX 16 R is designed for cruising and partying, and as such is rated for a crowd of up to six passengers. At 17'0" LOA and with an 8'0" beam there's plenty of elbow room aboard, and this model can handle 40 horses on the transom. Note that for the anglers among you, there's also a fishing version (the 16 F) available with a livewell and two fishing seats forward, instead of the flanking sofas. See Starcraft LX 16 R boats for sale.
View Starcraft LX 16 pontoon boats for sale on YachtWorld now.
Buying A Pontoon: Do Your Research Before You Begin
Time to start looking for the perfect pontoon to suit your needs. If you're open to buying a used boat, browse some of the many old and new boats for sale. 
Editor's Note: This article was originally published in 2016 and last updated in January 2022.
Related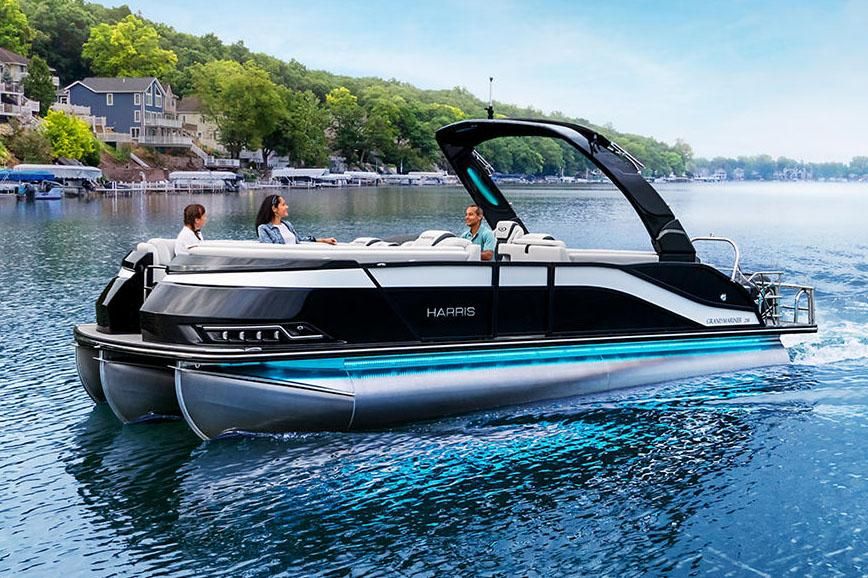 Best Luxury Pontoon Boats Of 2022
Do you want to take the kids out on a pontoon boat which provides next-level fun and entertainment?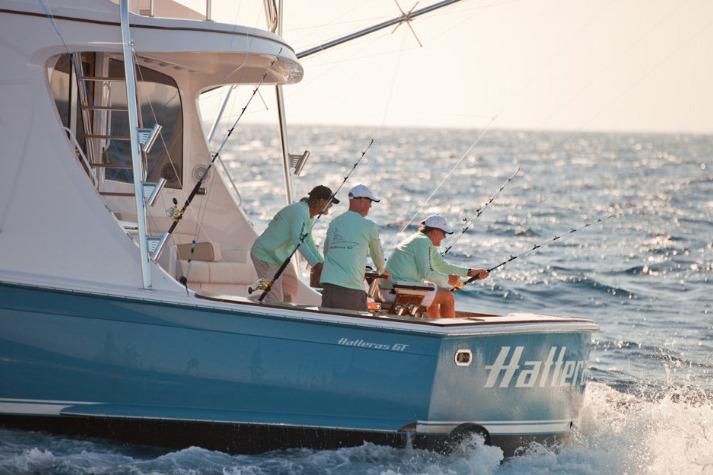 Fishing Boats Guide: Tackling The Basics
A guide to help you choose a fishing boat that's right for your style of angling and waters.
Monte Carlo MC4 Video: Quick Tour
Take a close up look at the 2015 Monte Carlo MC4.