The Epitome Of Next Generation Yacht Design
Sinot Yacht Architecture & Design presented the concept for superyacht Poetry at the Yacht Design & Innovation Hub at Monaco Yacht Show last week. The aptly named Poetry has a distinctive style and could easily be a manifestation of a poem, sonnet or an ode.
Although the design philosophy itself isn't exactly groundbreaking "Designed for living close to the water in perfect harmony with the aquatic environment," no other superyacht has yet managed to capture a sense of "living among natural elements" quite as well as Poetry has. Let's take a look at why the aesthetic and design layout works so hard for the lucky new owner.
​​Poetry is an impressive 426-foot superyacht designed by Sinot Yacht Architecture & Design with four guest staterooms, two VIP staterooms, and one owner's stateroom, Poetry can accommodate 14 guests and a 47-man crew.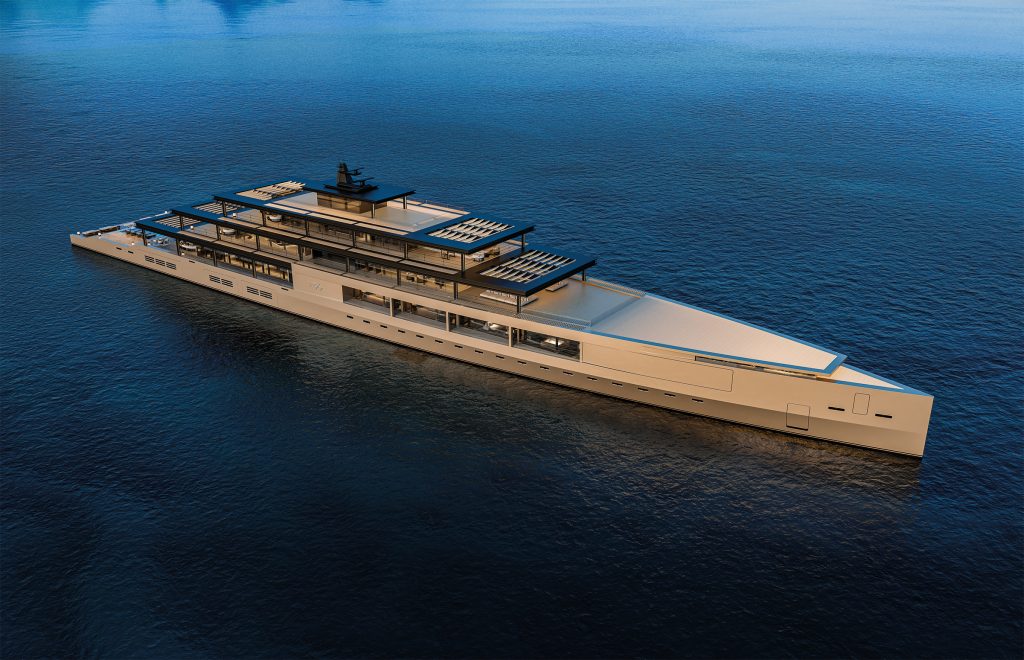 Above: Poetry's exterior design uses strinking lines and extended bow give a contemporary feel. Image via Sinot Yacht Design.
Layout And Accommodation
Wellbeing On The Lower Deck: An All-Natural Sea Pool
From the main deck, you can take a milky-stone circular staircase down to the beach club, where you are greeted by a towering tree sculpture illuminated by natural light and set within a puddle of radiant blue glass that feels reminiscent of the ocean.
Above: A statement spiral staircase opens onto to a reflective pool of glass evoking a feeling of arriving in the ocean. Image via Sinot Yacht Design.
The beach club features a small seaside bar with a terrace where guests can enjoy al fresco dining. Comfortable seating is abundant, including cozy corners, lounge beds, and a huge sofa. The lower deck interior is dedicated to wellbeing. Here you can find the hammam and sauna, gym, and beauty salon, with its hairdressing, nail and beauty treatment, and massage stations.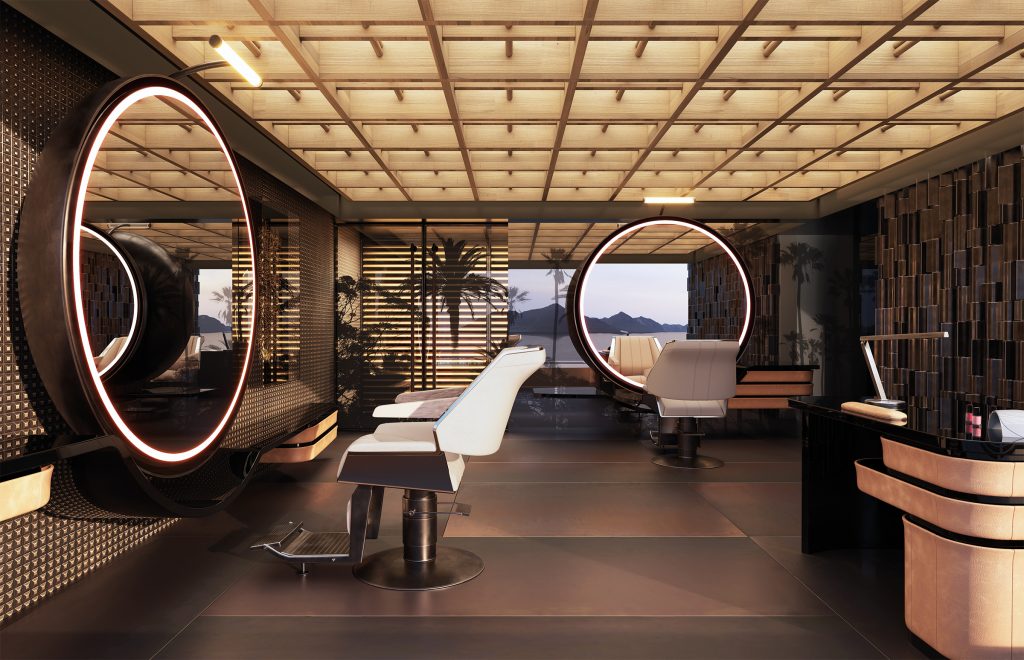 Above: Beach club beauty salon. Image via Sinot Yacht Design.
Above: Sinot Poetry MYS2 Beach club hamman. Image credit: Sinot Yacht Design.
By lowering one of the hatches beneath sea level, guests can allow the seawater to filter into the pool area and enjoy a dip in a saltwater sea pool. The sensation of swimming in mineral-rich seawater is worlds away from the drying, eye-stinging chemical experience associated with swimming in chlorinated pools.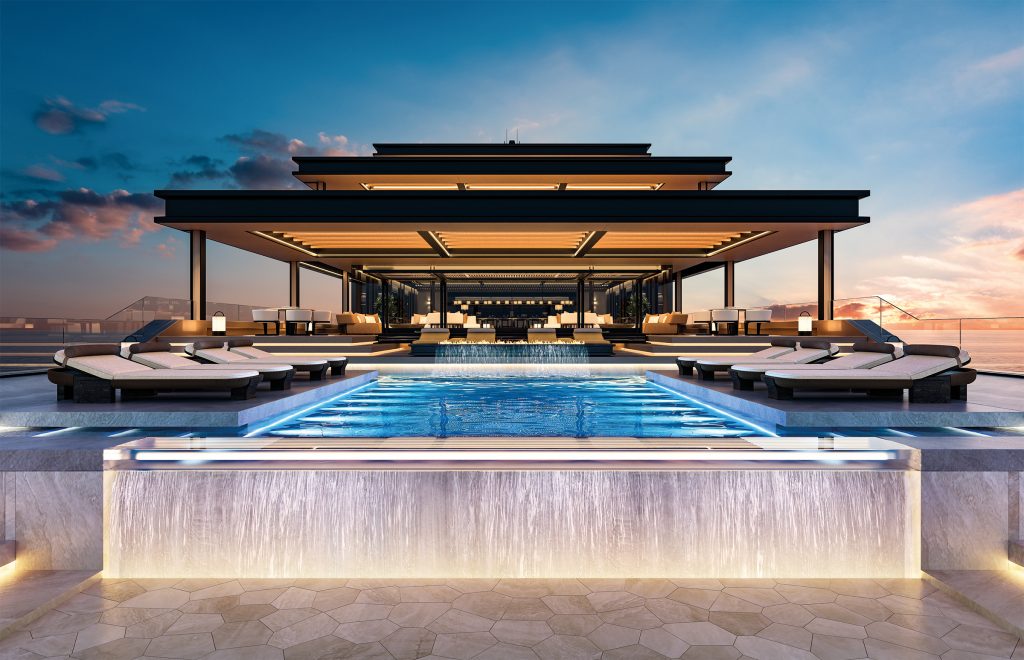 Above: The beach club pool. Image via Sinot Yacht Design.
The Main Deck
To the bow is a wheelhouse designed as a cockpit. The main deck contains VIP suites, guest cabins with sea vistas, and private loggias. Abaft, the main deck is a large al fresco dining and lounging, which connects to the aft exterior deck featuring an infinity pool.
Upper Deck
On the upper deck is a private dining area with an open kitchen and an extensive multimedia cinema. There is also an exploration room where the owners can enjoy charting routes with the captain.
Above: The owners VIP suite on the top deck boasts the best views on board. Image via Sinot Yacht Design.
Above: It may look like a spa but this is in fact the owners bathroom. Image via Sinot Yacht Design.
VIP Suite: The Owner's Deck
Sinot Yachts reinterpreted traditional yacht design by relocating the wheelhouse to the bow. Since the top deck is the highest point of the yacht, it offers the best views aboard. A concerted effort was made to reserve these views for the owners to enjoy in privacy. Sander Sinot explains. "Since privacy is key, the owner's deck is highly secluded – no crew, guests, or others need be on this deck unless invited. The owner and their loved ones have the entire deck for themselves."
Power and Performance
Poetry cruises at a respectable 12 knots and can reach a maximum speed of 17,5 knots. Her range is impressive, too, at 4,500 nautical miles. The superyacht uses hydrogen-electric propulsion using a hydrogen-based fluid gel.
Manipulating Light
Poetry uses natural and artificial light to structure space to highlight design details and create a warm ambiance on board. Directional shades at the deckheads have created a seamless transition from inside to outside. Designer Sander Sinot comments on her design, "It is a poetic way to enlighten our lives with a mixture of elements we usually do not think about." On the deck, retractable shades in the deckheads filter and direct daylight into the interior. Deckheads cast shadows and offer cooler areas for guests who need a break from the sun. 
Floor-to-ceiling glass windows provide a greater connection with the water and half a dozen fold-down glass hatches at the lower deck Beach Club. The large exterior decks culminate in the aft deck exterior beach with an infinity pool, slowly descending towards sea level. The extendable swimming platforms offer access to the water and act as a mooring spot for private limo tenders.
In the market for a superyacht? Take a look at the latest mega yacht listings available from professional yacht brokers around the world.
Specifications
Length Overall: 425"
Beam: 62"
Fuel Capacity: 5600 gallons
Range: 45000 nm
Related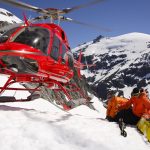 Yacht-Based Heli-Skiing Adventures
Is skiing into a volcano your cup of tea? Charter a yacht to the world's most untouched places.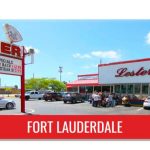 Yacht Central: "Behind Lester's Diner" In Fort Lauderdale
One of the best diners in Florida is also a landmark in the marine industry.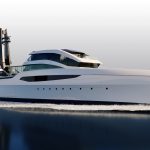 The Superyacht Explorer With A Glass Midriff: Feadship's 87m EXPV
The 285" foot Feadship EXPV concept by Harrison Eidsgaard: an unconventional explorer yacht.