The terms "mini trawler" and "pocket tug" don't really have precise definitions, yet both connote a small, salty vessel that's probably a jack-of-all-trades and won't break the bank. In that sense, the labels work, and in this article we take a look at five boats worth considering if you're looking for a capable small cruiser under 30 feet.
We have grouped these five for the purpose of this review, but the truth is that there is quite a bit of difference between a 25-foot boat and a 28-foot boat. That relatively small increase in length can make a big difference when cubed into livable space. In the end, all five of these boats offer something unique in terms of value and utility in the small cruiser market.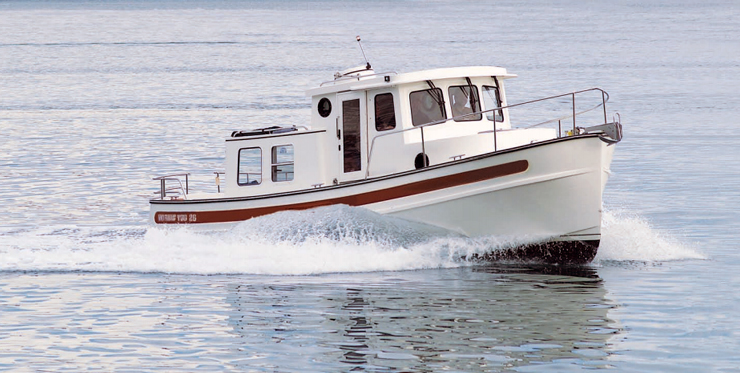 Nordic Tugs 26
The rejuvenation of Nordic Tugs 26 production three years ago was cause for celebration among the Nordic Tugs faithful. First introduced more than 30 years ago and withdrawn in 1997, its 2011 incarnation features a smart Cummins QSD 115-hp diesel and has a range of about 150 NM on its 75 gallons of fuel, cruising at 8 knots. Top speed is about 14 knots.
With a beam of 9'6", the NT26 is wide for its overall length of 28' 9". That makes for a lot of interior volume. There's room for four to stay aboard overnight, with two in the V-berth forward, and two on the convertible dinette in the saloon. The galley is to port, opposite the dinette.
Nordic Tugs did a great job with the fit and finish on this smallest member of the fleet. Quality components like Diamond Sea Glaze windows and doors are standard, just like on the bigger boats. One of the best things about a Nordic Tugs boat is the owners' groups, like the Northeast Nordic Tugs Owners Association (NENTOA). Their annual rendezvous, sponsored by Wilde Yachts in Essex, CT, are legendary, and the list of owner modification projects on the NENTOA website is typical of the value of these kinds of groups.
You can pick up a new NT26 for about $180,000 base.
North Pacific Yachts 28 Pilothouse
The North Pacific Yachts 28 is the smallest boat in the company's lineup, and it carries on the philosophy of providing maximum value for the dollar. Built from a new hull design by Karl Stambaugh at an experienced yard in China and well-equipped right off the delivery ship, a new 28 will run you about $177,500. The only thing you need to add to that base configuration is electronics. The boat comes standard with a single 150-hp Cummins QSD diesel, bow thruster, windlass with anchor, chain, and rope rode, raw water washdown, teak and holly floor and hand-rubbed teak paneling and cabinetry. All the sliding windows have screens, and curtains are even provided.
The boat has two bunks forward, a convertible in the pilothouse, and one in the saloon. According to North Pacific CEO Trevor Brice, "The NP28 seems to appeal to a much broader customer range [than the larger trawlers]. We've had people who are looking at the NP28 as their only boat, and others who own larger yachts but want the flexibility to enjoy cruising elsewhere when it is off-season where their larger boat is located."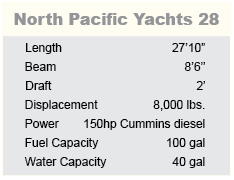 The standard 28 is capable of speeds up to 13 knots. At about 7.5 knots you should see better than 3 NMPG. With its 100-gallon fuel tanks, the NP28 has a theoretical slow-speed range of 400 NM. Even at top speed, it will have a range of better than 150 NM. Whatever cruise speed you choose, that's anywhere from a couple to several days of comfortable cruising without worrying about refueling. There are 40 gallons of fresh water aboard and the 160-amp alternator on the engine will charge even a large house battery bank in short order.
With its 8'6" beam, the NP28 is trailerable without any special permit.
Ranger Tugs 25SC
In 2010, Ranger Tugs modified the design of their popular 25SC to increase the size of the cockpit ("Sport Cockpit"), but taking some room out of the deckhouse. It was a good idea because it makes the cockpit truly useful now and ensures good access to the standard Yanmar 150 -hp diesel. The R25 has always been one of the most popular of the Ranger Tugs line. Its classic "tiny tug" lines draw visitors at the dock, and the company insists on a high level of standard equipment.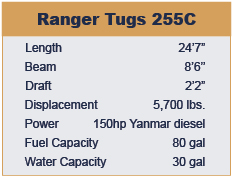 This is another truly trailerable trawler, with an 8' 6" beam and 24" 7" length. Standard bow and stern thrusters ensure great maneuverability. An enclosed head with shower, sink, and marine toilet are nice touches in a mini-yacht, and the full galley makes long weekends and vacation cruises easy. As many as five people can stay overnight aboard the R25SC.
Ranger Tugs is currently offering the R25SC at a base price of just under $130,000. Ranger Tugs is another brand that has a very social group of owners, with rendezvous on both East and West coasts. The owners' group site, Tugnuts, has lots of active discussion.
Read about this boat's big sister: Ranger Tugs R-31: More Pocket Trawler for your Trailer
Finland has a generations-old tradition of producing hardy, all-weather and all-season cruising boats. Two of these brands are now available in the United States; the Nord Star line and Minor Offshore boats. (See our recent reviews of the Nord Star 26 and the Nord Star 31.) For this roundup we chose the new Minor Offshore 25.
The Minor Offshore brand is imported to the U.S. by Skarne Marine, in Milford, CT. The look of these boats isn't so much tugboat as it is military or government patrol boat. In fact, many are sold for just those purposes. But they work as a great all-weather cruising boat for a couple or a small family, too. The 25 has a fully enclosed pilothouse, wide sidedecks, a decently sized cockpit, and a huge swim platform.
You can certainly putter around your favorite gunkholes in the 25. The electronically controlled Volvo diesel won't miss a beat. You can also open the throttle and the Duoprop sterndrive will push the hull onto plane and out to 30+ knots. With the largest 300-hp engine option, you'll top out at 40 knots. Remarkably, the fuel consumption at 25 knots is at least 3 NMPG, which means you can travel long distances at high speed.
The Minor Offshore 25 can fish, gunkhole, cruise, commute; it'll even pull the kids on skis and toys. It just might be the perfect SUV – Sport Utility Vessel for a small family. And you can get it for less than $130,000.

Rosborough RF-246
Rosborough is a family company, headquartered in Halifax, Nova Scotia, that builds a feature-packed cruiser for the rough North Atlantic waters that the company's government and military customers operate in. Interestingly, this sedan-style cruiser (also available in a Custom Wheelhouse configuration) can be powered by either outboards or a sterndrive. The hull features a full-length 9" keel for directional stability. The beam is 8' 6" and the overall length is 25'.
Rosborough's RF-246 carries a remarkable 120 gallons of fuel in aluminum tanks to feed single or twin outboards up to a total of 300 hp, or a single diesel sterndrive up to 200 hp. A V-berth forward will accommodate two adults, and the convertible dinette can sleep two kids or one adult.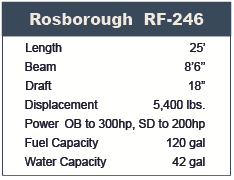 Rosborough says the boat features 100-percent positive flotation, which means that even fully swamped, it won't sink. The company builds more than 50 boats a year; when you order your RF-246, you'll start with an $89,900 base price and add to it the price of your power preference. If you choose a modest outboard solution, you could get this boat for around $100,000, which is a great price for a boat that will take you on overnight trips and keep you safe in rough water.
Want to learn more about affordable trawlers? Read Five Affordable Trawlers Under 40 Feet on boats.com.
Could Ranger Tugs have developed the perfect pocket trawler in the trailerable R-31?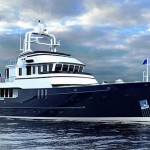 The Expedition 83 will be a world-wide traveler, capable of roaming up to 4,260 nautical miles.