Pershing 6X embodies the Pershing predatory spirit, with her taut, agile forms and innovative technology. A blast of power with a 48-knot top speed (55 MPH), she's primed to run rings around the rest and poke fun at convention. The latest Pershing of the Generation X range, the 6x immediately catches the eye thanks to her sleek and streamlined shape. The hull line and the superstructure are designed to give the boat a sporty profile.
Above: Join us for a full walkthrough of a 2022 Pershing 6X luxury motor yacht from stern to bow showing off the key features of this bold, cutting-edge vessel.
Vessel Overview And Design
Inheriting the modern, sporty lines of the Generation X model range she has a sleek appearance and highly aerodynamic profile, making her a provocative eye-catcher. At 18 meters in length (62 feet overall), the 6X is more compact and comfortable, while bringing together the best in state-of-the-art technology and functionality.
Engines And Performance
With twin MAN V12 1550 engines the boat can easily reaches her maximum speed of 48 knots quickly and has an efficient cruising speed between 30-40 knots. Let's talk about what pushes this vessel through the water she's powered by twin MAN 1550 diesel marine engines – those are compact and lightweight engines that give you 3,100 horsepower total and allow the boat at top speed of around 48 knots, or 55 miles per hour. She cruises comfortably at 32 knots and burns about 110 gallons an hour at that speed. She does have a max
range of 280 nautical miles if you slow her down but she is a fast cruiser, so if you're looking for a quick luxury cruising yacht the Pershing 6X might be right up your alley.
Key Features
Large windows along the hull, a sunroof over the wheelhouse, a large innovative aft sundeck, extensive use of raw wood, lacquer and leather for materials and furnishings all combine to provide even more comfort, light and elegance throughout the boat. She has a large water garage, separate crew quarters, optional 3-stateroom layout and a modern hull design with a sleek dashboard and dual 19-inch screens, carbon fiber control panels, an electro-hydraulic steering system, an innovative joystick with the possibility of "easy handling" mode for unprecedented maneuverability and both bow and stern thrusters. She is a sporty open yacht second to none on the market now.
Specifications:
Length Overall: 54.17′
Length at Waterline: 42.42′
Max Draft: 4.42′
Beam: 14.33′
Dry Weight: 46,077 lbs.
Fresh Water Tank: 110 Gal ()
Fuel Tank: 581 Gal ()
Related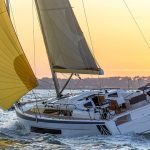 Dufour 37 Review: When Small Feels Big
Captain Zuzana Prochazka reviews the new Dufour 37, a small boat that feels and sails "big".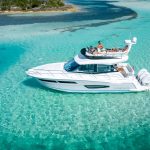 Yacht Designs And Boat Hull Types
A deep dive into all the different types of yachts, from pocket yachts to superyachts and everything...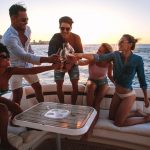 Best Boat Songs: 14 Tunes For Your Yachting Playlist
The right tunes can help set the right vibe for friends on board.