I paddled out into Hanalei Bay, HI, looking for a story and found four jubilant men on Kinetic, a gorgeous Beneteau First 47.7 that was dancing on her anchor. The wind was blowing so hard I could barely keep my surf ski kayak under control. I met them a mere hour before their eastbound departure across the Pacific Ocean, just barely ahead of Hurricane Iselle's arrival in Hawaii.
Skipper Vern Burkhardt had just completed his tenth Vic-Maui race, an offshore sailing race between Victoria, Birtish Columbia and Maui, HI. He had gathered up a return crew, and then stopped by Hanalei for two days before heading back for the West Coast of Canada–his tenth delivery home. I asked him to include me in the crew's daily reports and followed their progress home.
About three weeks later Burkhardt and I Skyped across the Pacific Ocean. I felt as if I was a fan back stage talking to the lead guitarist, after watching a great rock-and-roll concert. I told him how much I enjoyed the daily logs, especially those by Brian Drieden, the new guy. He reminded me of my own first offshore experience. On August 7 Brian wrote, "For a number of months leading up to this trip, my mind was preoccupied with what this trip would be about. As a gunkholer from the Gulf Islands and a recreational fisherman/boater, I had no idea what it would be like to do an open-ocean voyage with three racing fanatics over the course of three weeks and 2,700 miles."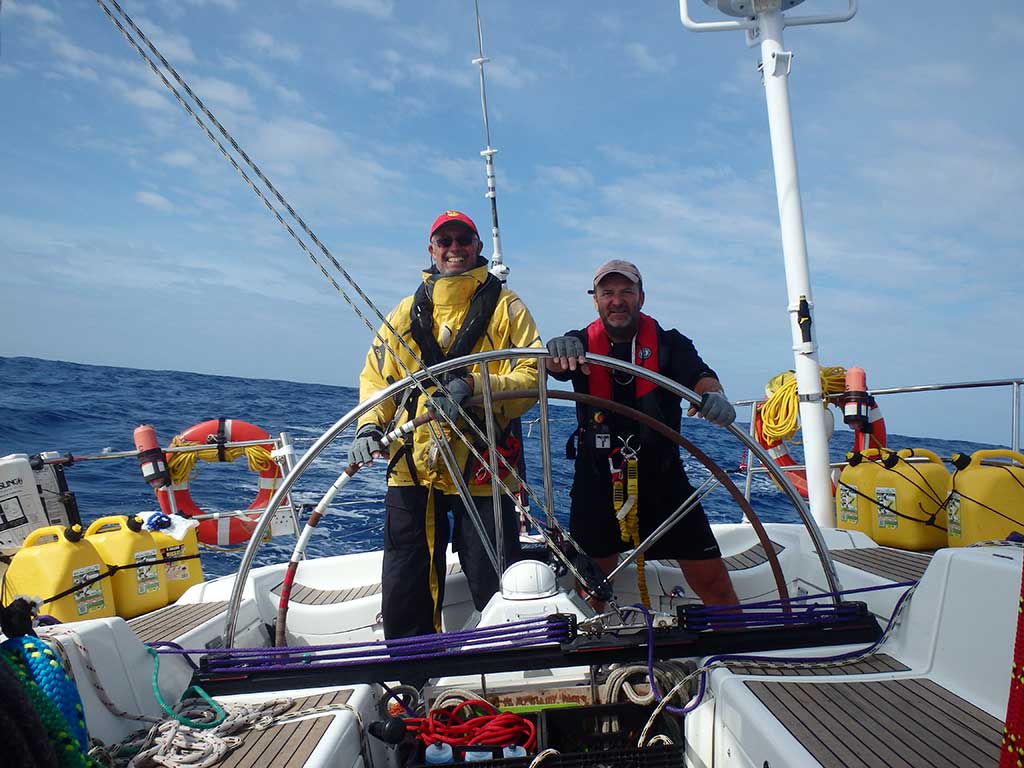 In addition to being a racing fanatic, skipper Burkhardt is an author and interviewer. He has been the Commodore of the Royal Victoria Yacht Club three different times; the chair of the Swiftsure International Yacht Race since 2011; and he also teaches ocean safety. I asked him what it is about ocean racing and adventure sailing that he loves.
"There is something very moving and almost spiritual when there is no land in sight. You have to become very self reliant as a crew, depending on each other. The sea is ever-changing and unpredictable, and sailing around the clock is a physical and mental challenge. I love heavy winds and light winds; driving the boat is always a joy. We are happily alone in our little world—a rare treat for urban dwellers."
Sailors who make go offshore once in a lifetime are a rare breed. Consider then the rarity of the offshore sailor who makes dozens of ocean crossings. I asked Burkhardt to tell me why he keeps doing it.
"It is the lure of the unpredictable, being able to rely on your boat, knowledge, and intuition to deal with whatever comes your way. We are a long way off from the nearest chandlery or grocery store. Self-reliance brings out the energy and thrill for me."
Why did they push themselves on their delivery home as if they were in a race?
"Maybe it has just become a way of life for me, because I find that whether racing or cruising, one is always adjusting the sails, trying to optimize safe speed, while trying not to break the boat. If you have been a racer, there is not that much difference between cruising and racing. Ideal winds are 10 to 20 knots for Kinetic, but she also loves up to 25. These are not challenging conditions; they are ideal, and even old men get smiles on faces and utter the odd positive comment with an excited voice."
Rob Tape (pictured above, at right) writes about different aspects of being offshore in his blog. "For those following, you may be developing an inkling as to why four guys get together and head out to sea on such an adventure. It's the beautiful environment–fishing, fine sailing, languorous long gentle swells on a close reach, and the tinkling and lapping of water on the gliding hull that all contribute to the bliss. Did I mention the endless depth of the night skies? Perhaps it is all the sweeter, as expectations on this leg were a stiff bash to weather in big seas."
I asked Vern Burkhardt to explain the vessel's three priorities, which he wrote about in his log.
"We think of it as crew, craft, and mission. The first priority is crew safety. This means wearing your life jacket all the time on deck, and at night being tethered to the boat. And when you go forward, insuring you keep your bum below the lifelines so you can't actually get flipped over. The second priority is to look after the integrity of the craft and safety preparedness. For example, Kinetic has man overboard (MOB) buttons on either side of the helm so if someone goes overboard you can press the MOB function on the chart plotter without going below. The third priority is the mission; in the Vic-Maui Race it is racing hard in competition. On the current passage it is arriving back in Victoria in a timely manner and delivering her to her owners, David and Gaylen Sutcliff, members of the Royal Vancouver Yacht Club."
"There is a sign taped on the bulkhead given to the owner before we left on the race: 'Sail it like you stole it.' We did not. We are all boat owners, and I think we live the motto, 'Act as though you own her.'"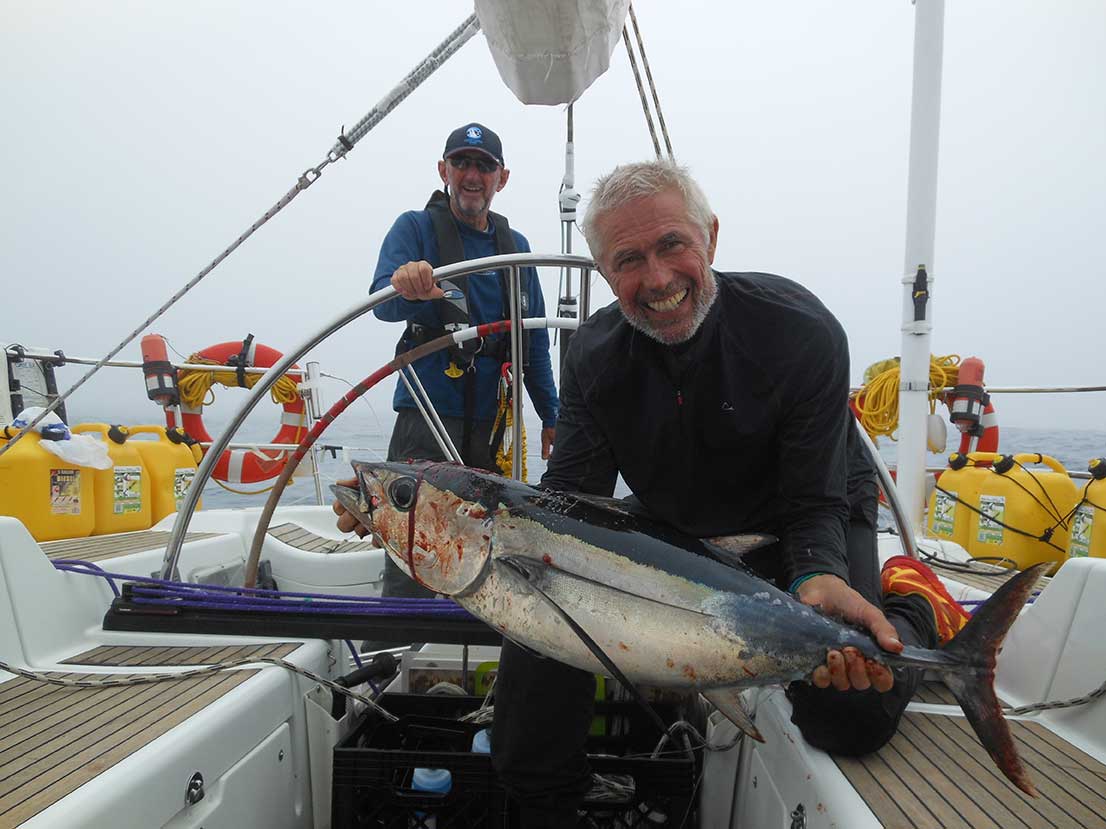 And then there was the fishing. Collective blog comments include: "Yesterday we had six lines out when out of nowhere at least half a dozen dorado came hurtling in like a squadron of jet fighters. Three lines went taught and all hell broke loose." And… "Finally, tuna today, including a 40-pounder. We bring them all in by gloved hand." And… "At one point Brian landed four at once into the cockpit; the mayhem and excitement cannot be communicated!!"
Vern agrees the fishing brought a lot of excitement. "Brian thinks there is a business to be had offering an offshore sailing/fishing charter experience that could be marketed to the guys that think they have done everything. He wrote, 'Heck, maybe we could offer night fishing in the squalls as a new extreme sport.'"
As for the creature comforts and job descriptions, Burkhardt explains about that too. "Aft of my "bed" in the settee berth is the navigation station–the nerve center of the boat. Our VHF radio is turned on around the clock to monitor channels 16 and 9. Even out here we still have a need to speak with the officer in charge on the bridge of a freighter, as to ensure they are aware of our presence. As this update is written, Brian is sleeping, Mike is driving, and Rob is making coffee. Everyone has a job to do at all times aboard the boat–even if it is sleeping to ensure fatigue does not incapacitate crew."
Once in the rhythm of offshore, it can be a big transition to hit land. Here's an excerpt from the skipper's final log entry on August 20, 2014 at 2:15 a.m.:
"What to say, what to think? Racing to Maui and returning back to Victoria is a long way not only in distance sailed, but also in the wide range of experiences. Those experiences are the friendships made, and the lasting connections that result. There also are the continual improvements in sailing abilities—one is never finished learning this complex sport. There is the wide range of weather and sea conditions ranging from becalmed to gale-force winds. There are the things that went perfectly, those that went okay, and those that were not satisfactory. Things break; some are avoidable, while others are not. Those that are unavoidable cause one to shake one's head and think or exclaim with a few swear words, "What was I thinking?" Or "What were they thinking?" It is amazing how fatigue–compared to merely being tired–can creep up on some people, and misjudgment seems to be directly related.
"Things have changed drastically. At the entrance to the Strait of Juan de Fuca the wind eased dramatically, fog filled in, it became cool, and the crew's resolve to sail to the finish cooled. Accordingly, we are motoring, but hopefully the wind will fill in by morning and we will have our final sail. We go through the waters in the Strait of Juan de Fuca in total darkness, hoping that we will not hit a dead head or other damaging object. We keep a constant lookout in the cockpit and have the radar on, 'big eyes' to watch for other vessels. Rob and Mike asleep. I guess they are recharging for their arrival in Victoria."
"So why do we do these types of adventures?" Burkhardt continues. "I am sure the answer is different for each person. Some common themes likely would be: 1) There are few places where you can experience a vast frontier uninterrupted by the human touch, other than freighters, which traverse through it. 2) It is a physical and mental challenge exacerbated by extremes. 3) You must rely on the contributions of others—no team play means unhappiness and discomfort. 4) It is dangerous. Not as dangerous as flying into space or extreme rock climbing, but sufficiently dangerous to keep your attention. We like to live in dangerous situations and environments.
"When you are over 1,000 nautical miles from any land form you must be self-reliant and self-confident. No calling for the machinist, fast food chain, mechanic, or rigger. You are what you have and the bits and pieces of parts and spares you thought of bringing are all you have. You have to be creative to solve situations that arise. 5) The social norms are what your group creates. On a boat it is fascinating to watch this happen. 6) It is not a dream; you are actually living it.
"Will we do it again? No one says no on Kinetic."
See all Beneteau First 47.7 listings.
Related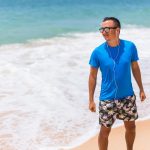 The Best Boating Podcasts: 17 Top Picks
When it's too cold to get out on the water, sometimes listening to podcasts is the next best thing.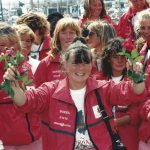 First All-Female Crew To Sail Around The World: Tracy Edwards And Maiden
Find out how a female chef on a yacht ended up being a skipper for a race that changed history forever....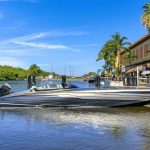 Behind-the-Scenes at Mystic Powerboats
Mystic Powerboats CEO John Cosker gives fans a behind-scenes-look at the custom builder's facilities...