The new Ocean Alexander 35R (or Revolution) took the NBC Sports Best of Show award at the 62nd Fort Lauderdale International Boat Show (FLIBS) at the end October 2021. Her hull had barely touched water, but her appeal was obvious. This 116-footer combines performance, cutting-edge technology and luxury to impressive results.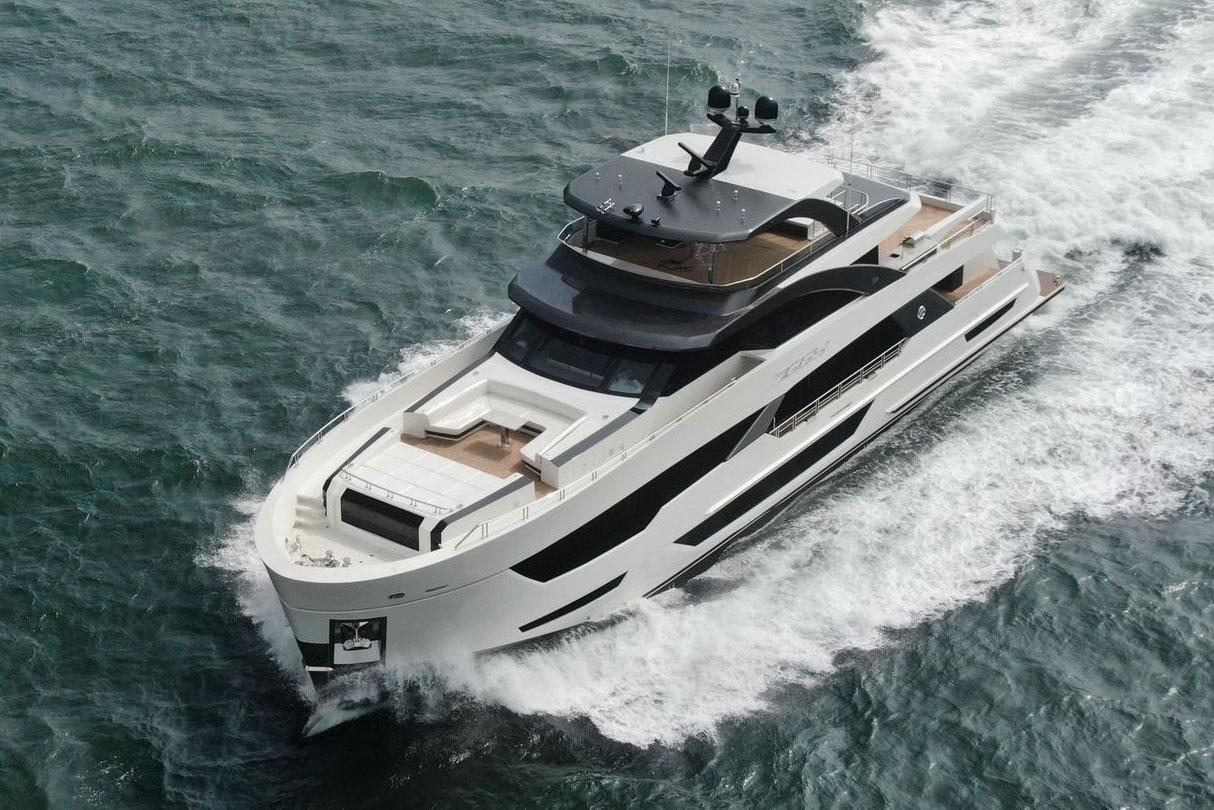 Above: The 2022 Ocean Alexander 35R Revolution Yacht. Photo by Ocean Alexander.
Vessel Overview
Designed by Evan K. Marshall, the OA 35R has a wave piercing bow and a quad deck profile. She's designed to carry 10 passengers served by five crew all of whom can scatter around six social spaces: the aft cockpit, the main salon, the sky deck lounge, the sky deck open seating/dining area, the open sundeck with a hot tub and bar, and the enormous sunbed and lounge on the bow that's protected by a sunshade when at anchor. No one will ever feel cramped.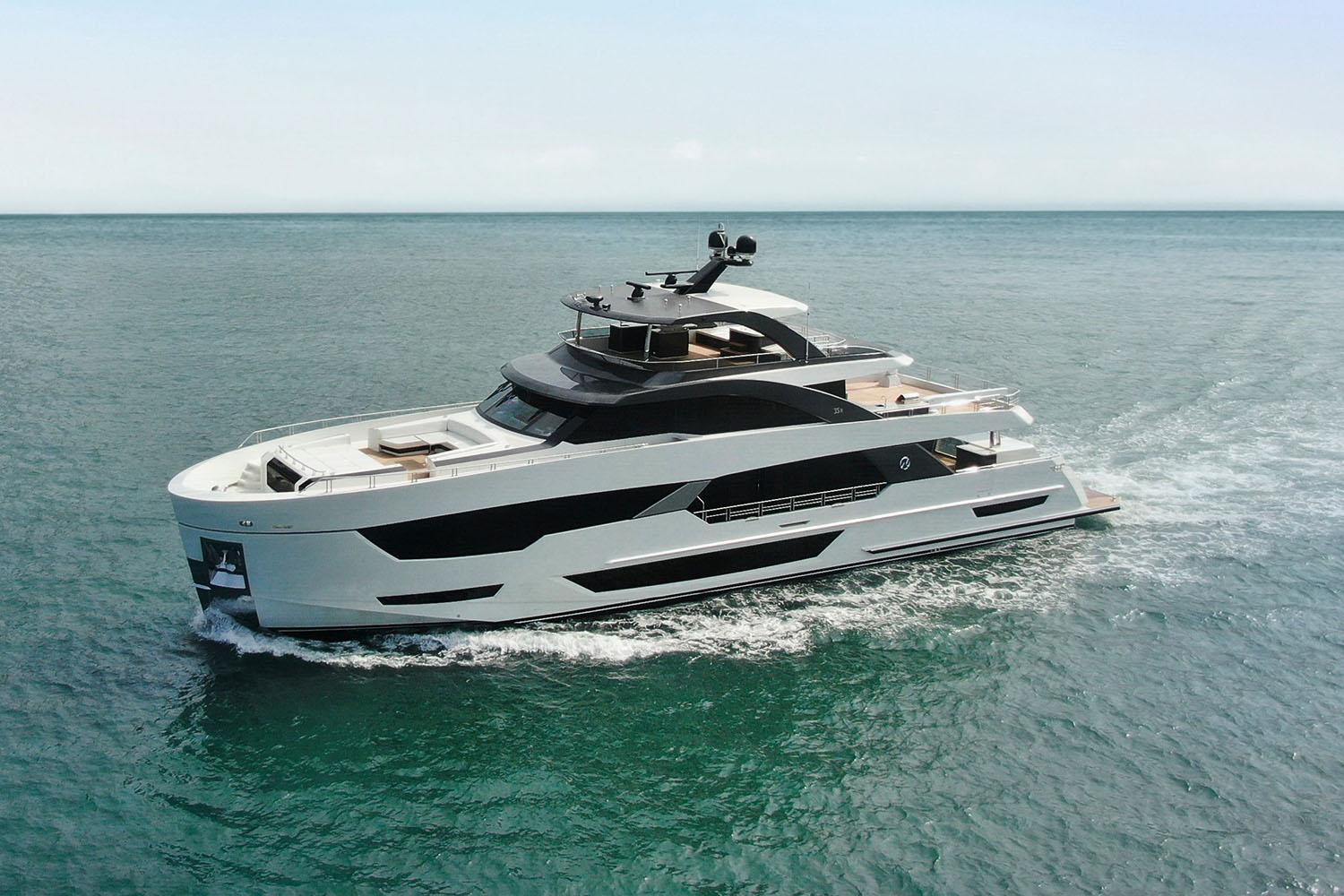 Above: The 2022 Ocean Alexander 35R Revolution Yacht. Photo by Ocean Alexander.
Propulsion And Performance
Although originally spec'd with twin 1900 hp MAN diesels, the FLIBS hull was equipped with two 2600 hp MTUs to move her 25-foot beam, 7-foot draft and 300 gross tons with ease. (Fully loaded, she displaces over 365,000 pounds.) She carries over 5,100 gallons of fuel and has a top speed of 23 knots. The technical compartments include a workshop, multiple dedicated spaces for machinery and of course, the main engine room with side-by-side diesels.
Onboard Technology
From a technology standpoint, she's a futuristic small city in herself. Two water makers, three washers and dryers, walk-in refrigeration plus four enormous freezers, dual windlasses, an electric CableMaster, an Atlas power converter and a glass helm are powered by twin 55 kW Kohler generators and ensure this yacht can visit just about anywhere on the globe and remain mostly self-sufficient for extended periods of time.
Vessel walkthrough
With the transom lowered, the entire aft end of the boat transforms into a playground with a giant swim platform, a beach club with seating and a TV, a wetbar, a gym, a head with shower and a full-sized sauna. From here, the crew can also access the workshop and utility spaces including one of the washer/dryers so wet beach towels are dispensed with quickly.
Aft Cockpit
Take the stairs on either side up to the aft cockpit where you'll find U-shaped seating that has been turned 180 degrees so it faces aft and out onto an anchorage or the ocean. A glass window lets you see what's happening in the beach club below so you can keep a tab on the kids or arriving guests.
Salon
Step inside via the dual electrically-actuated glass doors. The full beam salon is bordered by uninterrupted, floor-to-ceiling windows on both sides for spectacular views. A TV drops down from the ceiling and a bar is to starboard. Just ahead is the dining table for 10, serviced by the galley forward.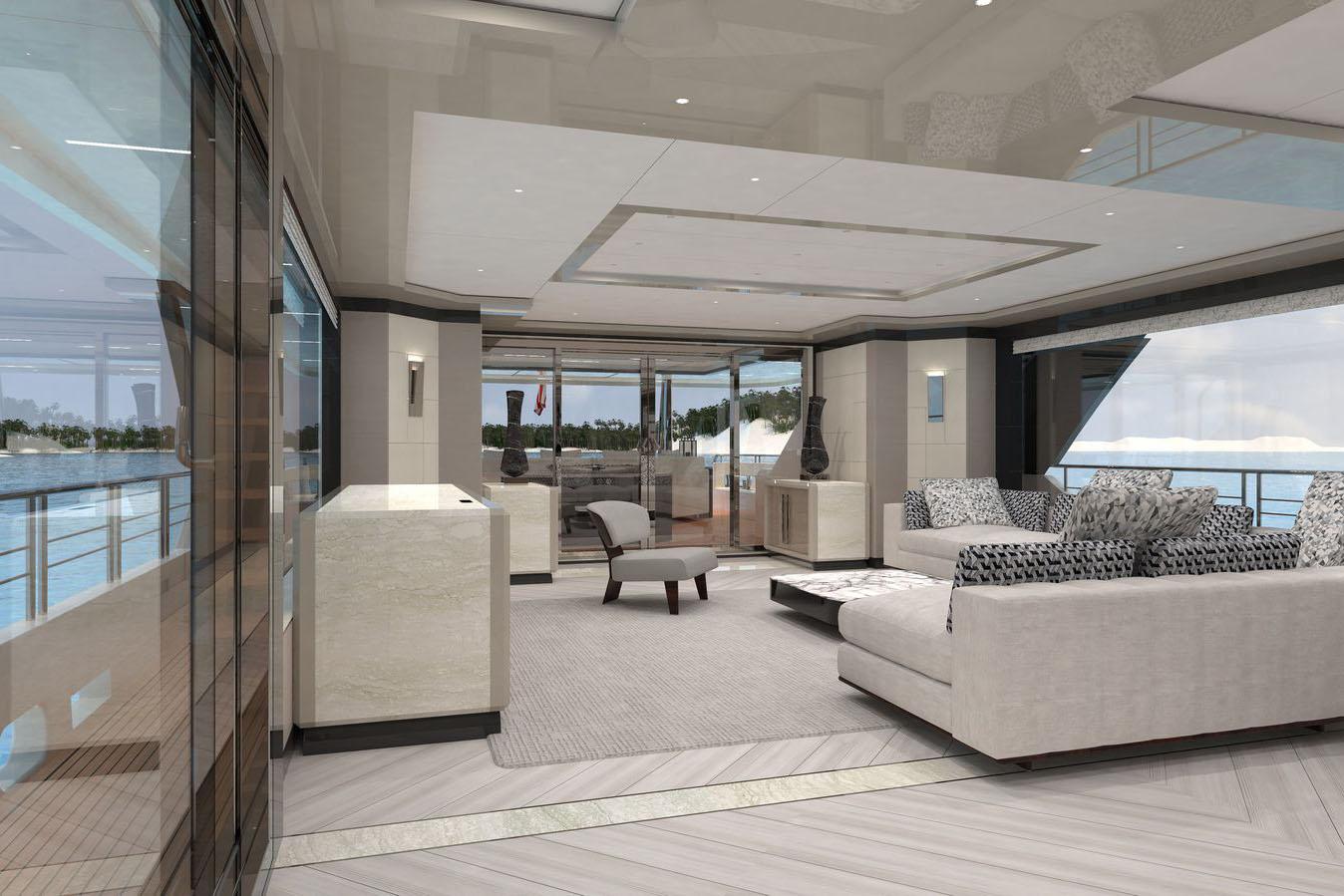 Above: The main salon on the 2022 Ocean Alexander 35R Revolution Yacht. Photo by Ocean Alexander.
Although crew has a tough job on vessels like this, the professional galley will ease the stress of service with its built-in pantry, walk-in refrigeration and enormous counter space. From the galley, you can take stairs down to crew accommodations; captain's quarters, two over/under bunk bed cabins, as well as a crew lounge and private galley.
Owner's Suite
The owner's suite is on the main deck. It's full-beam with fabulous views, a king-sized bed, seating to port, a vanity to starboard and his-and-hers sinks in the head. The shower and bathtub are in between the sinks and are on the centerline below a window that brings in natural light.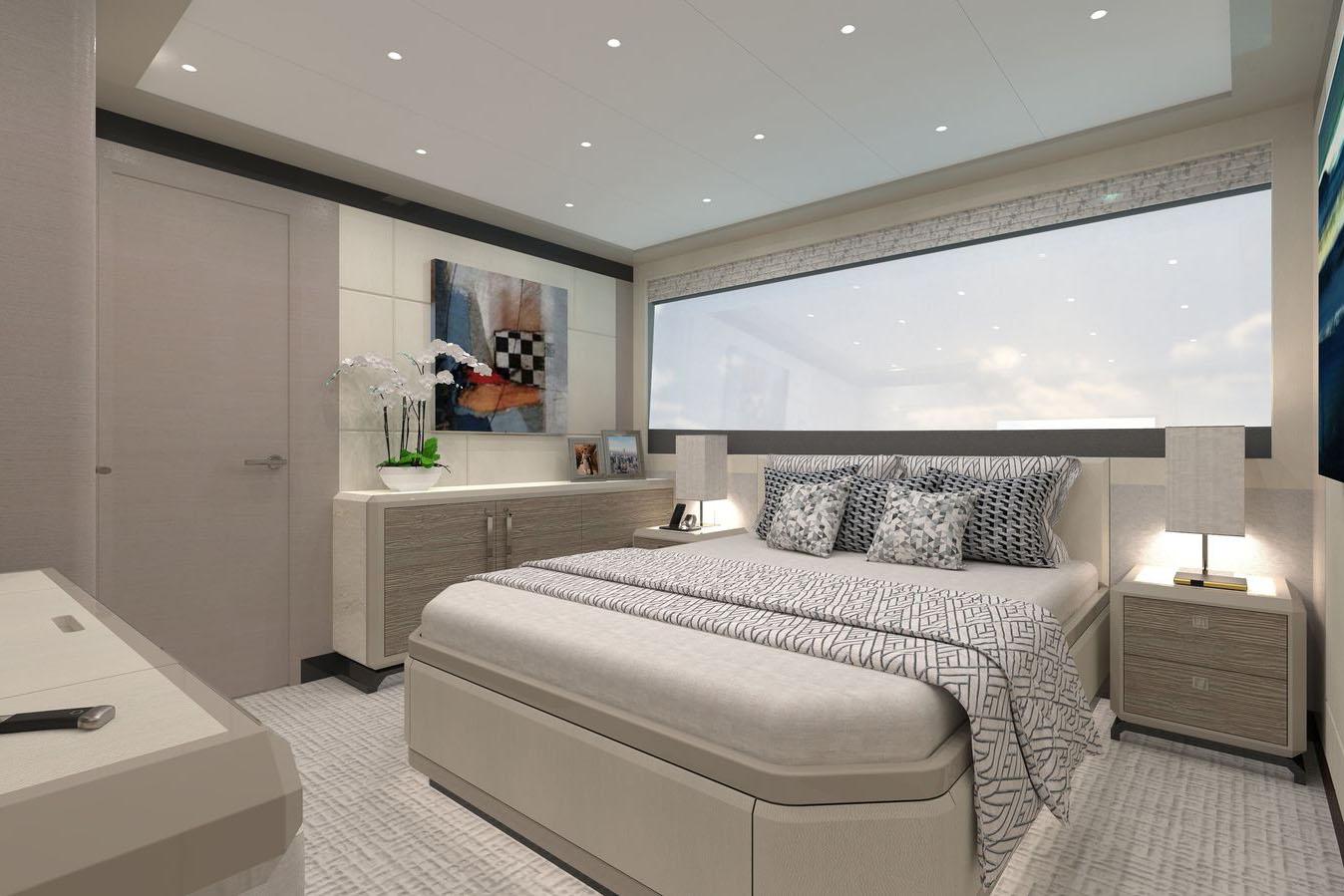 Above: A stateroom on the 2022 Ocean Alexander 35R Revolution Yacht. Photo by Ocean Alexander.
Guest Staterooms
Guests are accommodated in four beautifully appointed staterooms with ensuite facilities. They're on the lower deck that's accessed by stairs from the salon or via a secret opening where crew can enter, clean and disappear without a trace.
Sky Deck
The sky deck is noteworthy and has three separate areas. The outdoor deck has twin L-shaped settees that again, take advantage of the wonderful views behind the boat. A davit is to port so when the furniture slides together for passagemaking, there's room to carry PWCs or jet tenders under way. A grill and am informal dining table for 10 complete this space.
Sky Lounge
Inside the sumptuous and enclosed sky lounge, there's more plush seating, a bar with stools and what could be a game table for four. Just ahead in a separate and somewhat private area is the bridge with three Stidd helm chairs, multiple displays, a carbon fiber dash, a captain's desk, and doors on either side for quick deck access.
Above is the sundeck with a third bar, this one with surround-seating, twin lounges, a five-person hot tub and the best views in the house. This space overlooks the sixth and final social area which is a huge lounge and sunbed on the bow. If you're counting, that's six different areas for 10 people and that doesn't count the staterooms. Everyone can find privacy aboard.
A Notable New Family Member
A remarkable addition to Ocean Alexander's Revolution series, the 35R is bold, voluminous and a bit imposing. There are several more of these hulls currently in the build process at the Kaohsiung yard in Taiwan so expect to see one cruising in style possibly near you.
See all Ocean Alexander 35 Revolution yachts for sale on YachtWorld now.
Related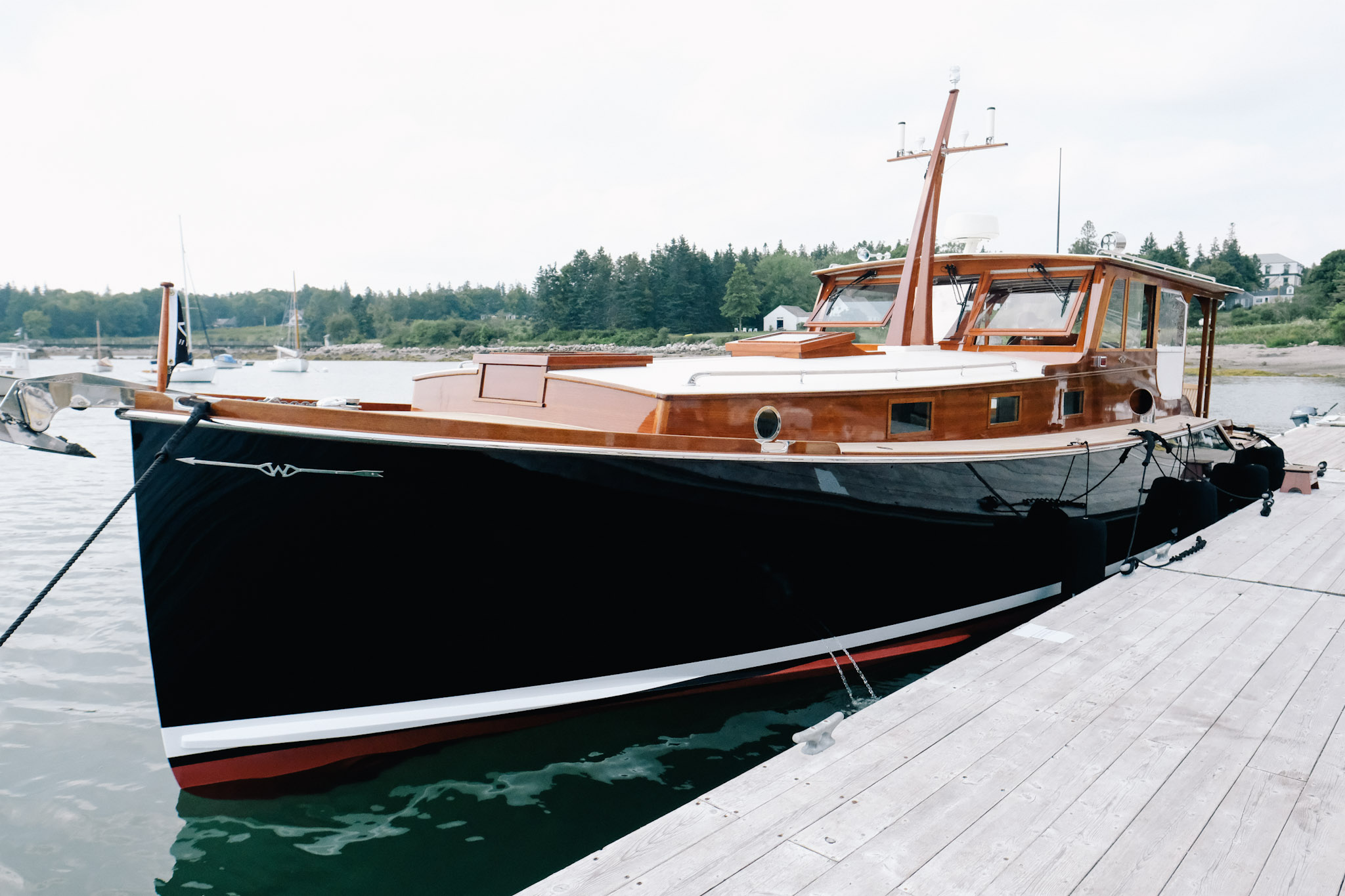 Downeast Lifestyle: Hemingway's Boat, Windjammers and Lobsters in Maine's Wooden Boat Mecca
Exploring boats and yachts on the Maine Coast including the Wheeler 38 Hemingway boat.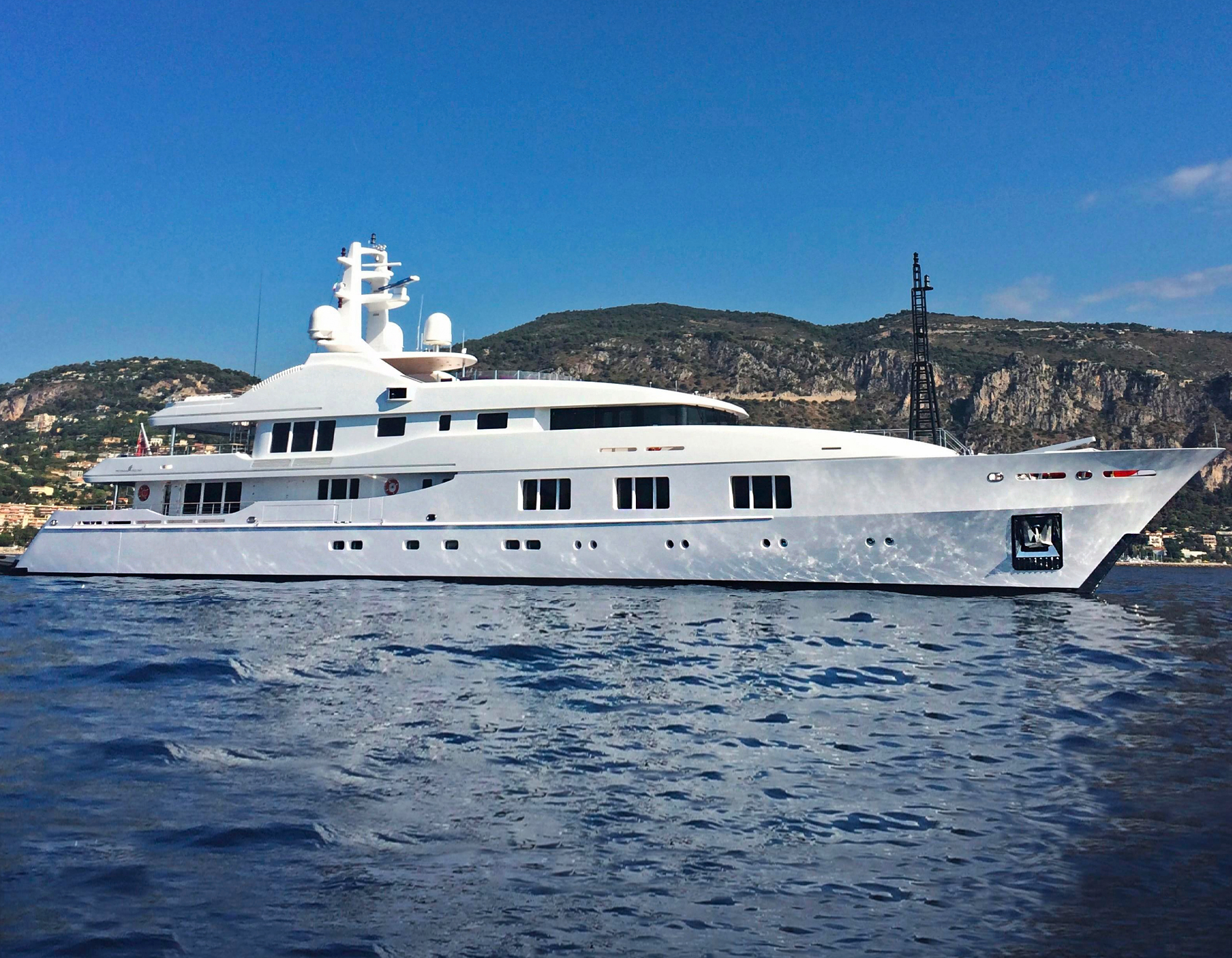 What Is A Superyacht? Is A Megayacht Bigger?
Definitions and differences between a superyacht, megayacht and gigayacht.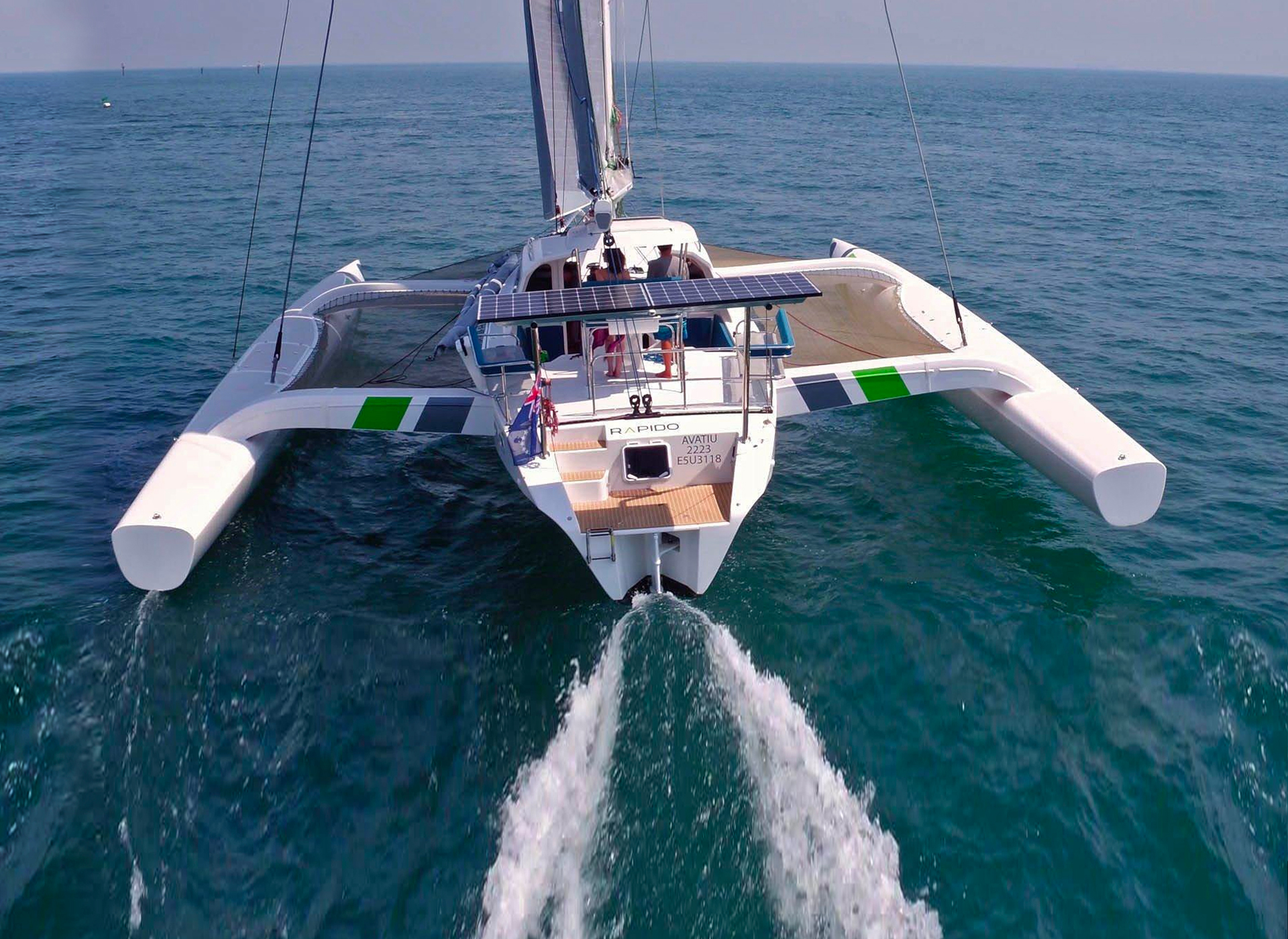 Rapido 60 Trimaran Boat Review: A Bold Gamechanger For Performance Bluewater Cruising
Zuzana Prochazka reviews the 2021 Rapido 60 trimaran, a bold gamechanger.