A Crusader In Ocean Conservation
REV Ocean is a floating think-tank, designed to incite ground-breaking discoveries about the ocean. George Gill (Miller Compton Maritime) is the Project Manager responsible for conceptualizing the vessel's blueprint and constructing the vessel for Kjell Inge Røkke, ensuring that every component supports the owners overarching mission of "One Healthy Ocean". Initiatives central to the project will address overfishing, climate change and plastic pollution. State-of-the-art technology and the extensive resources available make this vessel an unrivaled research platform.
This on-the-water lab is a fairground for marine scientists. With a 35-seat auditorium, it will aim to bring together a range of marine professionals to address global issues. The vessel is designed to be just as industrious as its Norwegian owner, Kjell Inge Rokke, who made his fortune in the fishing and offshore oil industry. The vessel is the fabric born out of Kjell's obstinate conservation advocacy to create the REV Ocean project. Kjell wants to address three pressing global issues that most need attention. And what better way to make a statement than to design a monumental boat to spark attention and stimulate conversation surrounding them? In some ways, the vessel seems like the material equivalent of an exclamation mark in which to punctuate the project REV Ocean.
REV is expected to become the world's largest research expedition vessel, both in terms of length and volume. At 600 feet in length (182.9 meters) and 17,440 GT, REV Ocean exceeds Azzam (the largest superyacht in the world) and dwarfs other superyachts in the marina.
REV Ocean render, supplied by Espen Oeino. Kjell Inge Røkke wanted to commission as many Norwegian suppliers as possible to utilise Norway's rich maritime heritage.
REV Ocean's Design Features
REV Ocean is reminiscent of a battlecruiser, bound for the icy Baltic seas. She wears an admiral-blue shell of armor to protect her in intrepid conditions in far-flung locations. REV Ocean has been developed in collaboration with a leading designer and naval architect: Espen Oeino. The design master is behind some of the most recognizable superyachts on the planet. Espen designed the late Microsoft co-founder Paul Allen's Octopus. London-based design studio H2 Yacht Design designed her interiors, with a brief for an 'industrial chic' look, large spaces with floor to ceiling glazing. A curated collection of Norwegian artists focused on environmental based art, including sculptures and light installations.
The vessel is designed to be as environmentally friendly as possible. For example, to prevent underwater acoustic pollution, the vessel is built under DNV-GL SILENT-R notation. REV is also fitted with an energy efficient rudder system, and a direct drive diesel-electric propulsion system and meets the Tier III requirements with additional DPF (Diesel Particulate Filters), heat recovery from the generators for hot water and heating plus a 3 MWh battery pack help to reduce fuel consumption. REV's exteriors are double glazed with high U-value glazing to retain the heat to help reduce loads on heating, ventilation and air conditioning requirements.
'Play-labs' Dedicated To Scientific Discovery
REV Ocean is chiefly designed to survey marine areas, currents, the seabed, and marine life biodiversity. As such, 40% of the vessel's interior is dedicated to research areas. 36% of the vessel is dedicated to technical areas and 24% to leisure space.
In research mode, the boat can accommodate 54 scientists plus 36 crew, many of whom are specialized technicians. Marine biologists, engineers, fishery management and polar research experts and other professionals will work collectively. The design will encourage individuals to foster social experiences, which is why there is a 35-seat auditorium to support the scientists' studies.
In addition to this, there are three wet labs for chilled, microbiology and geology, four dry labs, aerosol lab, sonar survey room, ROV pilots room and a media lab, and testing equipment for extracting samples at depths of 6000m (20,000 feet). In addition to this, oceanography equipment will be fitted onboard and a conference centre with two meeting rooms, classrooms plus a business centre with work stations and further meeting rooms
There's no shortage of toys for exploration either. An onboard submarine has the remarkable ability to descend up to 7,546 feet (2,300 meters) to embark on scientific exploration and discovery – and if that isn't deep enough, there's a 20,000-foot-rated (6000 meter), industrial-grade, remotely-operated vehicle (ROV). While the term "moonpool" may sound like something from Alice in Wonderland, it is, in fact, a vertical shaft (24 ft. by 18 ft.) that runs through the vessel and is open to both the air and sea. The moonpool also allows diver or small submersible craft to enter or leave the water easily in a more protected environment. Using the moonpool, scientists can lower and raise equipment more safely in ice.
State-Of-The-Art Technology On board
Project Director, George Gill leveraged state-of-the-art technology to conceptualize the extraordinary. The technology was installed to ensure that connectivity onboard is as robust as being on land. There are 400 Wi-Fi access points, 200 telephones, 8 km of linear LED and over 1,500 down lights. Moreover, drop keels and a gondola have been fitted with an extensive array of sonars along with sensitive hydrophones to listen out for marine life that may be nearby. Guests can listen out for whales singing a sweet sonar symphony.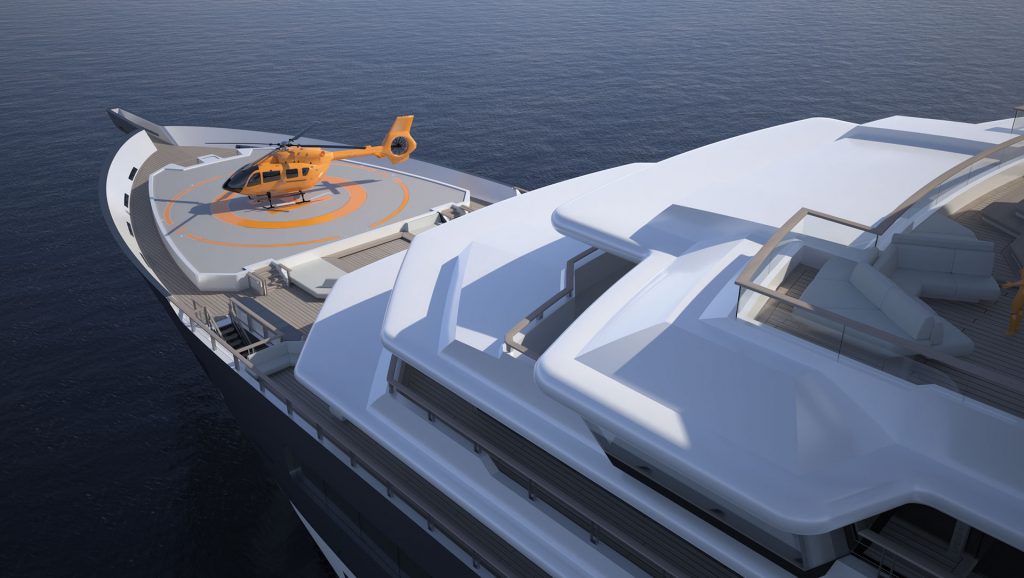 REV Ocean's helipad landing render, supplied by Espen Oeino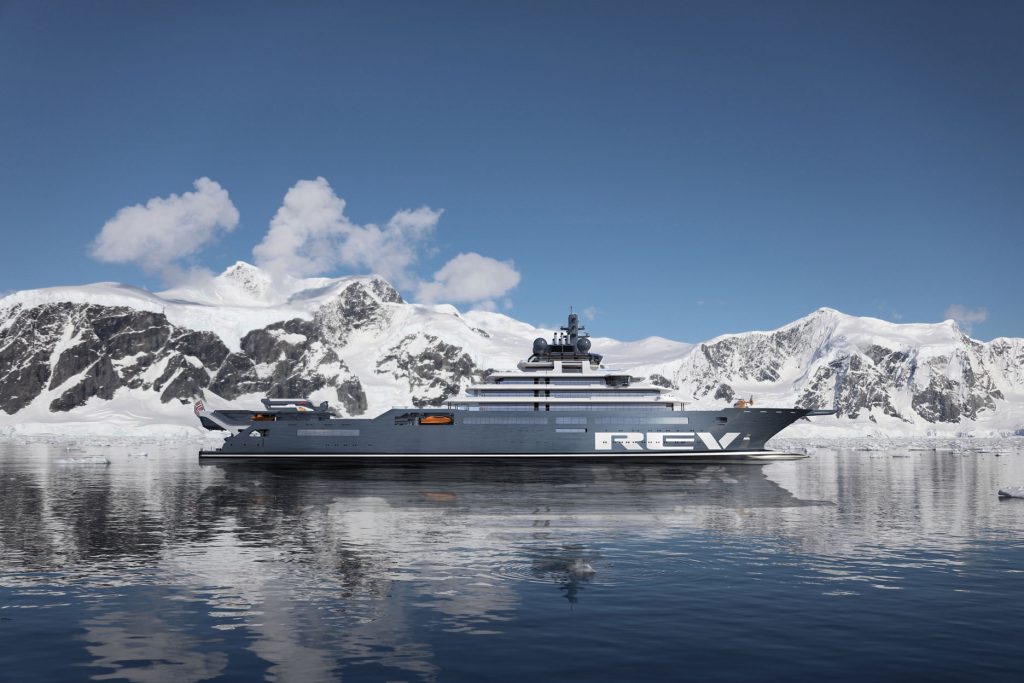 REV Ocean render, supplied by Espen Oeino
An Immersive Charter Experience
REV Ocean is not solely dedicated to education- the vessel has been designed for guests to have an extraordinary experience in a luxury setting with spacious interiors. The guests have the choice of using three swimming pools, multiple common areas, several dining rooms, and observation platforms. As a charter, the vessel hosts 28 guests in 14 staterooms, along with 54 crew. REV has been designed for 120-day trips where guests can explore remote areas and uncharted territories.
Charter guests are encouraged to embrace the scientific equipment on offer- the idea to promote and educate guests with no experience or knowledge of the marine world. The scientific platform is intended to make guests curious and to stimulate new thoughts about ocean conservation, once in a lifetime immersive and educational experiences. Join world-leading ocean researchers, innovators, educators and guides on bespoke long-distance cruises. Charter may be particularly suited for scientifically exploring less studied parts of the ocean including the Polar seas, South Pacific Islands, and the southern Indian Ocean. Any income made by chartering the vessel will be donated to REV Ocean conservation projects.
An Evolution In Vessel Design
George Gill, Project Director for REV Ocean comments on the excitement of working on the project: "The juxtaposition of a commercial vessel, research vessel and high-end cruise vessel has been incredibly exciting, because it needed to be multi-functional. In many ways it feels like we designed three vessels which we had to fit into one unit. Therefore deciding which component required more space and prioritizing space was a battle." George describes REV Ocean as an evolution. "The design process worked like a snowball- there were lots moving parts to it and the momentum of the project picked up as it moved along."
George comments on the progress of the vessel: "It is a surreal experience to move through the vessel right now. Although some of it is done virtually at the moment. Moving through the hangar deck featuring the moonpool, through to the luxurious interiors."
REV Ocean is currently undergoing the final stages of commercial outfitting at the Vard Brattvåg shipyard in Brattvaag, Norway upon which she will sail to the outfitting yard to begin the final stage of outfitting. If REV Ocean manages to evidence the clout that she promises to deliver, this may be the first of many platforms to blend innovation and change in a vessel that is as grand as the owner's ambition.
George would like to take this opportunity to credit his site team and Project Managers, Åge Linningsvoll, Solstad shipping, MT Design, MYS with REV Ocean. They have worked tirelessly to prepare REV and have been wholly dedicated to the philosophy during this exciting build process.
YachtWorld plans to visit REV Ocean later on this year to see the vessel in all of her glory as part of our YachtWorld Legends video series.
If you would like to read more about how you can reduce your environmental footprint boating read our guide for useful tips and advice. Or, you can find out more about How Yacht Owners Can Participate In Environmental Schemes. 
Related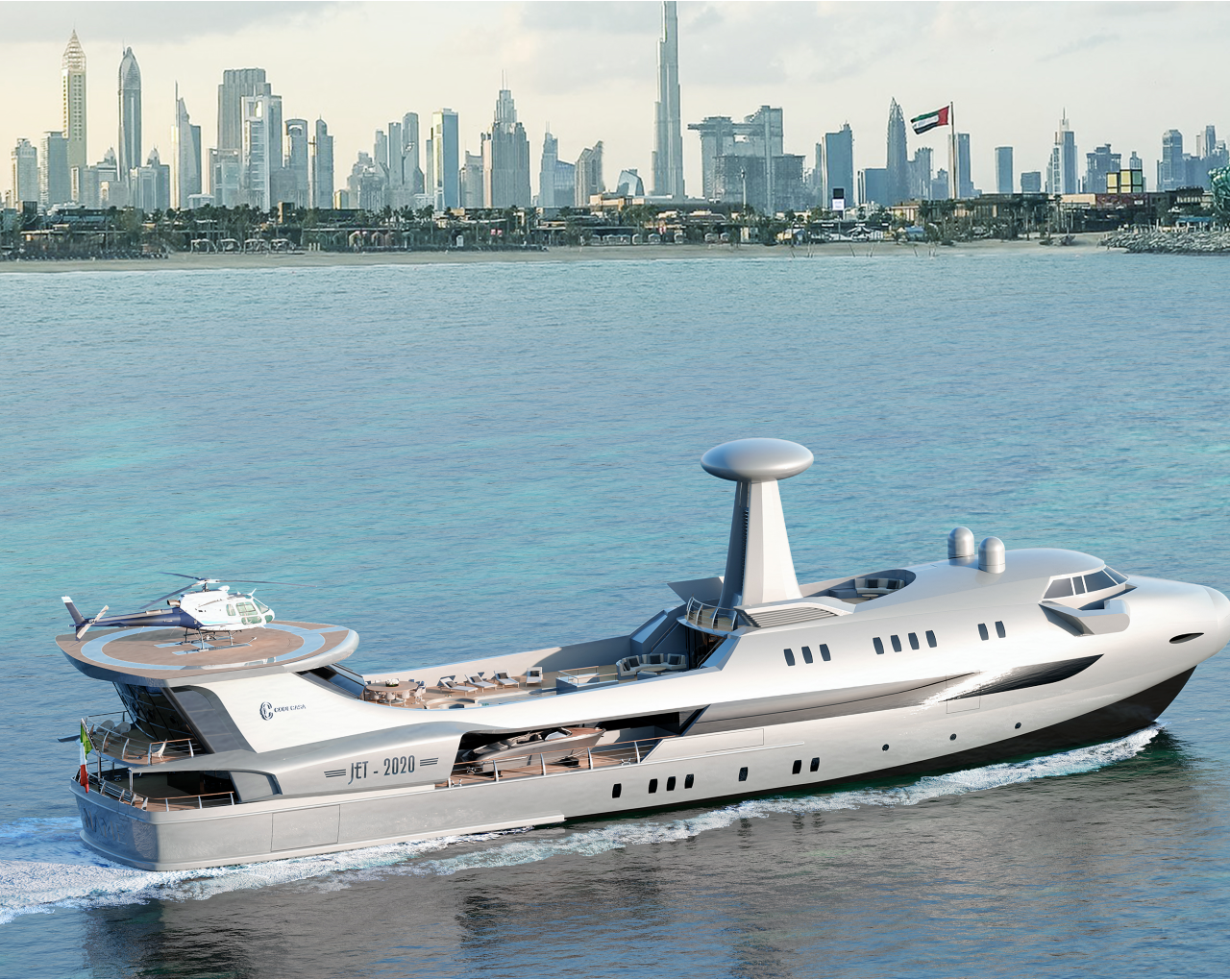 Unique Yacht Concepts: The Best of 2020
Nate Cantalupo takes at look at the best unique yacht concepts of 2020.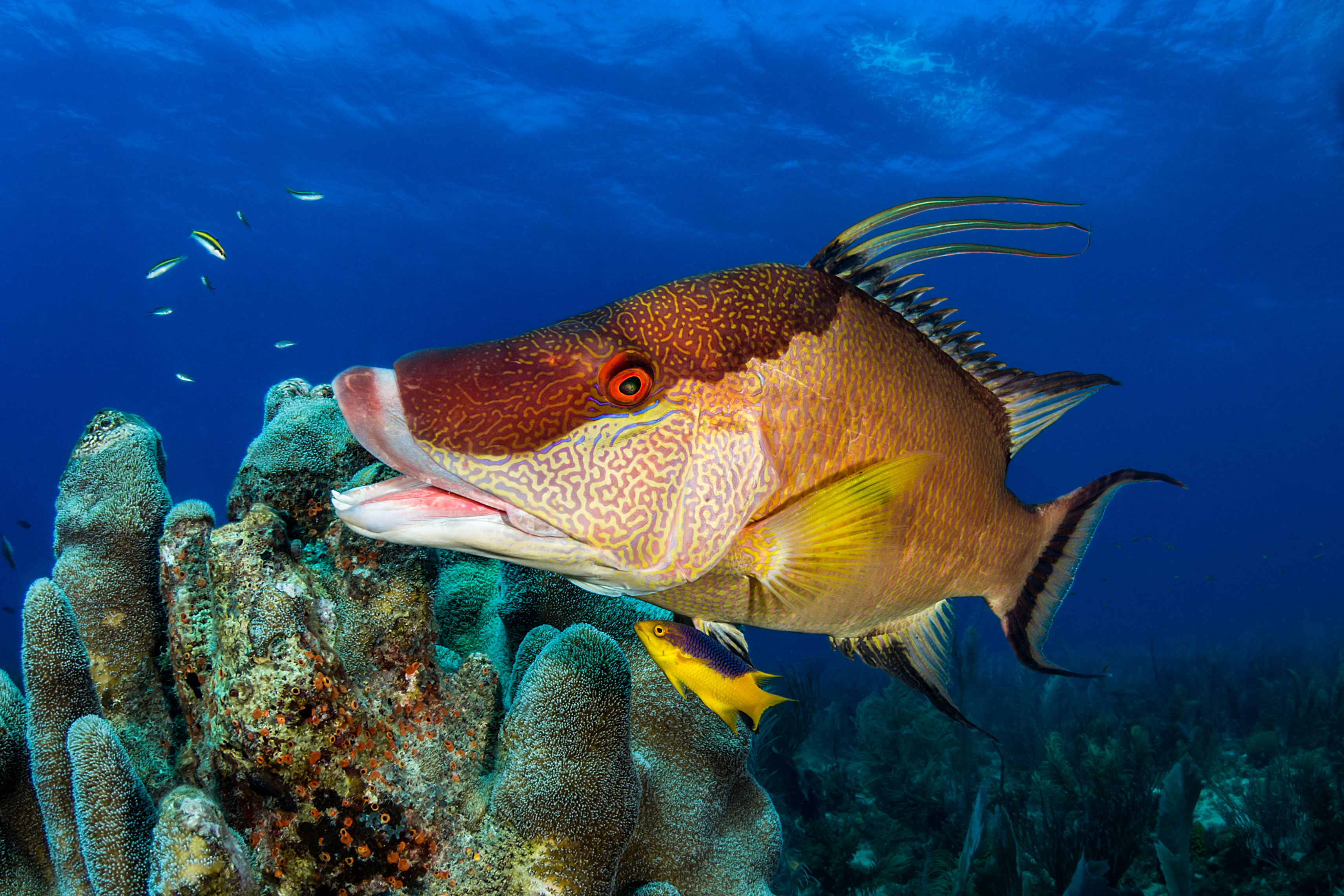 How to Reduce Your Environmental Footprint While Boating
Category:
Environment and Weather
YachtWorld's Thunberg-esque best practice guide provides you with tips on how to mitigate damage to...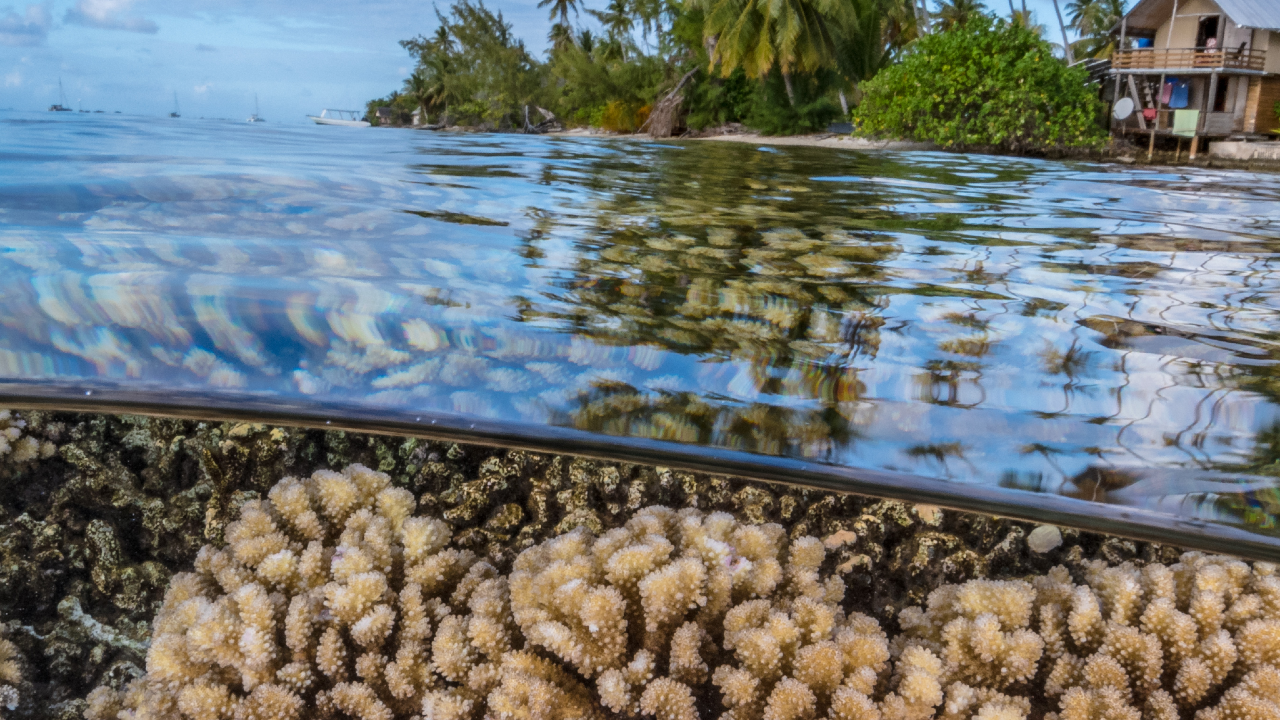 Yacht Owners Participate in Environmental Efforts
Find out how you can use your yacht to facilitate scientific research.