The Nord Star 31 Patrol, built in Finland by Linex-Boat Oy, has a nearly straight sheer from its sharp bow to wide transom, with its lines dominated by the central deckhouse/pilothouse. The reverse angle on the windshield serves a very practical purpose in reducing glare and shedding spray, but also lends a working trawler look to the boat. Sturdy sliding doors on either side of the pilothouse add to that look and also make line-handling a snap, with a midships spring cleat within easy reach.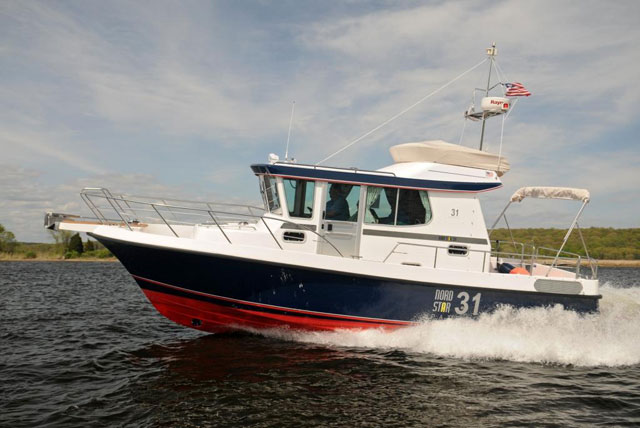 All the Nord Star boats are diesel-powered with modern, electronically controlled Volvo powerplants, all the way up to the IPS pod drives of the Nord Star 40 Patrol. The diesels drive beefy Duoprop sterndrives that help maximize efficiency and maneuverability. More about that later.
The interiors of the Nord Star line feature teak and holly soles and oiled teak cabinetry. The accommodations are somewhat cozy in the deckhouse, but when you have to go outside in a rolling seaway along the extra-wide and deep side decks, you understand the value of that small compromise. Yes, the house could be a couple of inches wider, but those couple of inches serve the boat and owner better on the side decks.
Performance
It would be hard to overstate the performance capability of this boat. Conditions on Long Island Sound on our test day were fairly wild. The seas were short and sharp, running three to five feet, with several six foot waves thrown in for good measure. The wind was out of the SW at 20 knots. The boat took the head seas handily, the sharp entry of its deep-vee hull easily slicing through the wave crests with a minimum of pounding. When my timing was off and we dipped into a trough, there was enough flare in the bow to lift the boat up the face of the wave, minimizing any green water over the deck. The wind-driven spray occasionally found the windshield but was whisked away by the heavy-duty wipers.
I ran the 31 at every conceivable angle. Beam to the sea in the troughs, she rolled a little bit but not too sharply and stopped after one cycle. When I put her in neutral she lay beam-to the wind and stayed that way. Very predictable, which is what you want.
The course back to the mouth of the Connecticut River required running exactly down-sea. The propulsion for the 31 comes from a Volvo Penta D6-370, mated to a Duoprop sterndrive unit, and it is responsive with a capital "R." In this case, that made timing our ride home on the backs of the waves very easy to do. The smooth and precise Volvo single-lever control lets you match wave speed perfectly to maintain a safe position.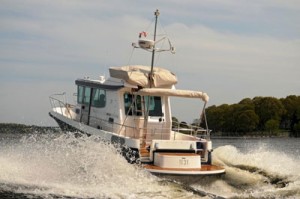 When you slam that throttle forward, the 31 gets up and goes in a hurry. Bowrise was just a couple of degrees and the helmsman never loses sight of the horizon — not even close. Add in some trim tab; or if you're proficient with trimming a sterndrive, you can practically eliminate bowrise completely, and also speed the transition to on-plane cruise. Either way, the boat is fast getting up on plane and before you know it you'll be passing 35 knots (40 mph).
A couple of other notes about this propulsion package. First, it's incredibly quiet. Some of that comes from the fact that the exhaust is down in the sterndrive, some from the extreme attention to sound attenuation in the design and construction of the boat. At idle, with the pilothouse doors open, my noise meter never even hit 70 dB. That's "conversation quiet." Even at wide-open throttle (with doors closed), it didn't rise above 79 dB. That's the kind of quiet you notice. Speaking of speeds, I found that 2400-2500 RPM was a comfortable cruising RPM, and it translated to about 21.5 to 22.5 knots as measured by GPS.
If you've been driving inboard boats with straight shafts recently, you will need to adjust to the vectored-thrust mode of a sterndrive (or outboard/jet drive for that matter). That means that in many circumstances you need to keep the power on through a turn. The sterndrive isn't that much of a rudder all by itself. So, resist the urge to pull off the power completely in a sharp turn, and understand that you may need to goose it a bit in order to swing the bow quickly.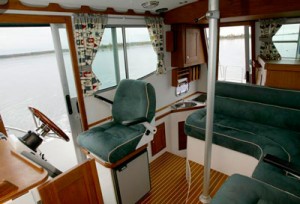 Having said that, the sterndrive is extremely efficient. The Volvo Duoprop is good in both forward and reverse and the thrust angle can be trimmed up and down to suit the conditions.
The Volvo diesel is electronically controlled, with common-rail injection, and it will take you a long way on a tank of fuel. Here is a link to an official Volvo fuel-burn assessment (PDF file) of the actual boat I tested. Interestingly, the Volvo engineers recommended coming down one size of prop, although in the lightly loaded test boat I ran, I had no trouble at all reaching recommended wide-open-throttle (WOT) RPMs. You can see in the chart that at 2700 RPM, the Nord Star 31 Patrol will achieve a mileage of 2.32 NMPG, a fantastic number for a boat that will be cruising at 26.5 knots. All this means you'll have no trouble running more than 200 NM between fuel docks, a very manageable distance given the boat's coastal cruising application.

Walk-Around
After we returned from our open-water tests on the Sound and a subsequent photo session on the Connecticut River, we docked the boat back at Wilde Yacht Sales and I got a more extensive walk-through tour with John Uljens of Nord Star USA. I didn't run the boat from the fly bridge, but there is a simple stainless ladder from the aft cockpit up to the fly bridge, where three people can enjoy an al fresco driving environment. The roof of the deckhouse will also handle kayaks and light inflatables, so you can keep the cockpit and foredeck uncluttered. There is also a massive swim platform, with a large storage box nestled up against the transom that can hold fenders, lines and hoses.
The engine room is accessed through two large hatches in the cockpit sole. The hatches come up easily and are supported by beefy gas-assisted struts, and on their undersides you can see the thick noise insulation foam that contributes to the boat's "run-silent" personality. There is plenty of room around the Volvo D6 to work and all the other major systems are there, too, including the water heater and the generator.
In addition to being NMMA-certified, the Nord Star line must conform to rigorous safety and build quality standards of the European Community. In fact its Category B rating requires demonstrated stability, freeboard, buoyancy, flotation and deck-flooding evacuation performance — standards that are not universal in the United States.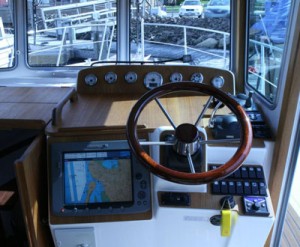 As a result of the strict European safety standards, you will see massive scuppers in the cockpit of the Nord Star 31, as well as beefy stanchions and rails all the way around the boat from the aft cockpit along the extremely wide and deep side decks to the bow pulpit. That pulpit is extra wide and sturdy. The anchor roller is mounted on the right side of the pulpit with the rode locker behind it, and there's still plenty of room for a crewman to sit or kneel securely in the pulpit next to the anchor so as to be able to wash it off as it comes up. Very nice touch.
Interior
The official name of this boat is the Nord Star 31 Patrol, and upon first viewing, you would be forgiven for thinking you were looking at a U.S. Coast Guard harbor patrol boat. But don't let the overall salty look or the "patrol" moniker confuse you. This is a family boat through and through, and will host a family of four for a nice long vacation on the water, or just a day trip to a favorite anchorage. The deckhouse has plenty of seating for the whole group and squeezes in a cozy galley and an extremely clever dining table that slides up and down on a floor-to-ceiling pole. Raised to the roof it is out of the way; lowered to normal table height it's ready for dinner.
The galley is to your right as you step into the deckhouse from the aft cockpit. Immediately to your left are some steps down to a lower aft berth; probably a little too cozy for adults, but the perfect retreat for a couple of kids. Forward, the helm is on the right side, with a captain's seat that features a flip-up bolster for those who like to drive while standing, and a comfortable seat with footrest within reach while seated.
The view from the helm is outstanding. The forward slant of the three big windshield panels eliminates glare and stays drier longer in a light rain. Sliding doors to port and starboard make line handling at the dock simple. As mentioned, a midships spring-line cleat is right outside the door.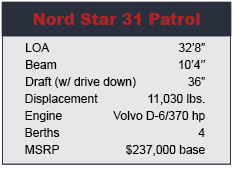 I did think the instrument panel could be laid out differently. As it is now, the chartplotter is in an angled panel below and to the left of the steering wheel, and there is an open flat forward of the wheel with a line of analog gauges standing up at the forward end of that flat. If it were my boat, I would rearrange the panel to accommodate the chartplotter in the center or just to the right or left of a more angled flat forward of the wheel, with the gauges to the left or right of it. I asked John Uljens of Nord Star about that and he said the factory suggested mounting the chartplotter in a bracket. Another possibility would be to make the entire flat more angled to create room underneath for a flush mount of the chartplotter. Either way, it's an easy fix and given that today's NMEA 2000-compatible chartplotters can take inputs from the engines and other systems aboard, it makes sense for the chartplotter to be the center of attention.
This boat deserves a look from both families and adventurers. They'll be getting a premium-quality boat that will hold much of its value over time, given the hardy construction and beefy systems. The economical diesel will conserve fuel and, properly maintained, will last many years. Check it out at Brewer Yacht Sales, or contact Nord Star USA directly.
Related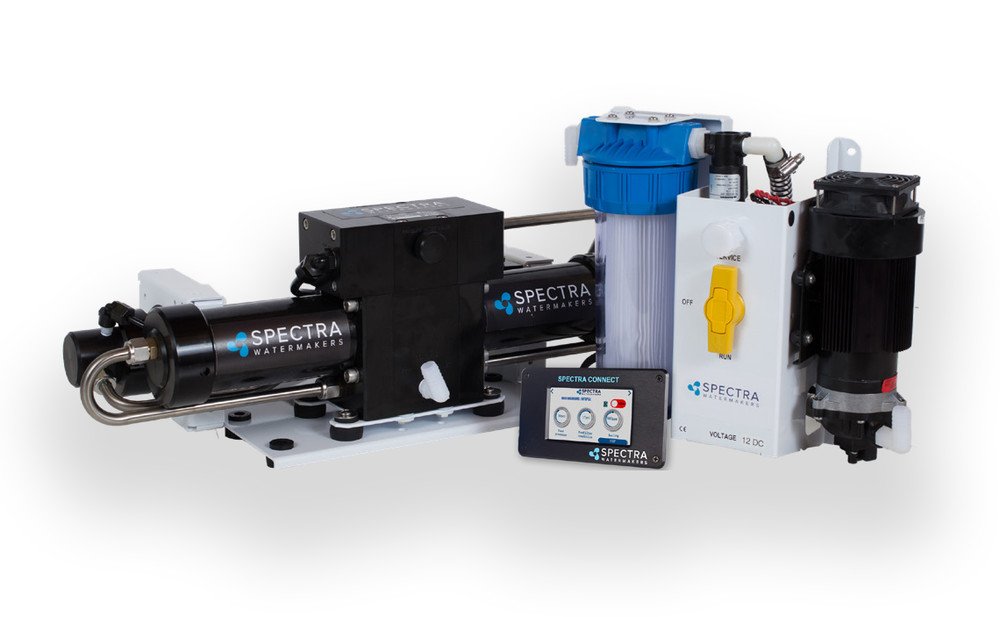 Ventura 150c and 200c watermakers. Photo by Ventura and Katadyn Group. Perhaps you are planning to stay close to docks, water lines, and shore power throughout your journey, but wouldn't it be nice to have the added security of knowing you can make your own freshwater if necessary? Especially if you are interested in exploring areas that are a little more off the grid. Luckily, recent advancements in ever-evolving technology give you plenty of affordable options to outfit your boat with a watermaker that best suits your level of adventure. Here we'll review the basics of how these systems work and take a look at some of the best products on the market right now.
The Basics of Marine Watermakers
Marine watermakers use the process of reverse osmosis to intake seawater and output clean, potable water suitable for any of your live-aboard needs. The newly made freshwater is then pumped into your vessel's current water tank, while the leftover "brine" is thrown overboard. Most marine watermakers differ with regards to the method in which the water is pumped. Typically, the water can be either electrically driven (either AC or DC) or powered by your boat's engine. Note that the colder and saltier the initial seawater is, the slower the purification process will be - so you hardy nor'east sailors may need to invest in a more high-powered system than those of us trawling down in the Carribean. Watermakers also come in all shapes and sizes, with modular options best suited for smaller boats, as the parts can be "stashed" in whatever precious extra cargo space is available.
Best Marine Watermakers
Let's take a look at a roundup of some of the best boat watermakers on the market right now for your vessel.
The Ultra Whisper
The Ultra Whisper by Sea Recovery is best for small boats and sailboats, this super low power machine is specifically engineered for boaters with limited electrical options and can run on either AC or DC power, boasting a 75% reduction in power consumption over other models. It's also very quiet (hence its name)so it won't compete with your epic sound system, and operation is completely automatic with it's simple start and stop controls. Sea Recovery also has another line with a wide variety of size and capacity options called Aqua Whisper - including a miniature version that measures only a mere 2-3 cubic feet, perfect for your day tripper vessel.
Village Marine - Little Wonder series
Village Marine also has a great line of watermakers targeted especially for trawlers and small sailboats, some with very impressive capacity, as well as considerable options for the mega-est of the mega yachts. The Little Wonder series weighs only 69 pounds yet has the ability to manufacture up to 180 gallons of freshwater per day. It also has a low RPM high pressure pump which is both economical and efficient, with the convenient modular design so you can store it in separate compartments if necessary - no "wonder" it's so popular, right? We actually had the pleasure of adding one of these to our 38 foot family yacht on a journey down the ICW for the winter and it made such a difference for us because we had 5 people aboard and a limited freshwater supply. The installation was quick and painless, much to the relief of my father. Also, as it was peak tourist season over the holidays, there were definitely some times when it was difficult to find (or too expensive to stomach) an open slip for the night, and having the Little Wonder aboard enabled us to anchor where we pleased without having to worry.
Village Marine - LW Watermaker Series
Village Marine also has something for the big dogs - the LW Watermaker Series can accommodate boats up to 100 feet in length. A practical and reliable source for long fishing voyages or ocean charters, this feat of engineering can provide you with absolute water independence. Would you believe this series possess the capability to produce up to 1800 gallons of freshwater per day? It has a manual operating system that is both durable and fail safe, and also has a modular design which still gives you some flexibility in terms of installation options. This line is perfect for that person we know that always seems to be island hopping in Greece on their 96 foot super yacht yet never seems to invite us.
Spectra Katadyn PowerSurvivor
Titan of the industry Spectra Watermakers has a variety of great options ranging from a small hand powered pump, to commercial grade hi tech gear. The Katadyn PowerSurvivor 40E/12 V is one of the smallest marine watermakers out there. It runs on a mere 4 amps at 12 volts DC, and is the only machine of its kind that can revert to manual power if necessary - making this one a great model to have aboard in case of emergencies. The PowerSurvivor pumps 1.5 gallons an hour, weighs in at only 25 pounds, and with it's space saving design, can fit in even the tiniest of compartments.
Ventura 150 Watermaker
The Ventura 150 is one of the most versatile and popular watermakers on the market. Not only is it rigged for low power consumption, but it can also run on solar or wind power if you have the capability on your vessel. Like it's name, this system can deliver up to 150 gallons of purified water per day, and possesses analog controls with an instrument panel containing a feed water pressure gauge and a product flow meter. This watermaker runs quiet, and is surprisingly compact and modular given it's capacity. There's also the Ventura 200T, which is the same size and configuration as the Ventura 150, but uses a higher displacement Clark Pump to produce more water, allowing it to operate in warm waters above 50F (wimps).
Conclusion
With all of the recent trends in boating leaning toward self sufficiency and sustainability, it's easy to see why adding a marine watermaker is an intelligent investment for your vessel. Modern advancements in technology and modular parts have made these systems easy to install and incorporate into any on board setup - it's all about deciding what is right for you and your particular boat. Consider how much time you spend on your live-aboard, where you spend your time, and where you wish you spent more time. Working to create a completely independent boat system will ultimately give you more freedom. Additionally, when coupled with solar panels or power, you have the ability to not only reduce your carbon footprint, but also to remain off the grid indefinitely - no longer having to rely on shore power or water. Imagine the possibilities./>
Best Boat Watermakers for Your Yacht
A detailed look at onboard watermaking, water filtration and desalination systems for live-aboard boats...
Mainship 34 Trawler
The Mainship 34 Trawler was designed for the cruising couple, and has proved perfect in this regard.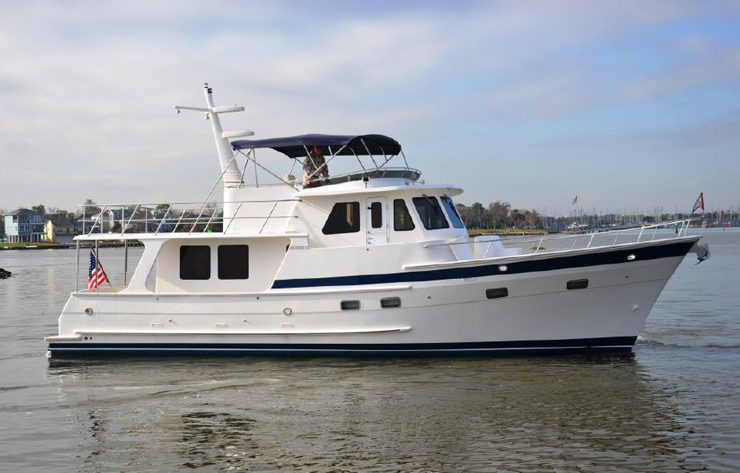 DeFever Yachts: Still in Demand after Decades Afloat
DeFever Yachts, a popular brand throughout the years, has made many long-distance cruising dreams come...