Fabricio Cordoba's Nor-Tech 390 Sport with triple Mercury Racing 450R engines is not his first boat, but it may be his last—for a long time. It checks all the boxes: speed, family-friendly, speed, it matches his cars, his wife and kids love it and did we mention—speed?
A Need For Speed
Cordoba has the "Speed Gene" and recently proved it with a half-mile record-breaking track run of 227 mph in his 5th generation Dodge Viper. (A test run in conjunction with Johnny Bohmer Proving Grounds.) On the water, he does a more moderate cruise of 50 mph but has taken the boat to 87 top speed on a smooth water day. His metallic black boat, trimmed with orange, complements the paint schemes of his Viper, GT Mercedes, Silverado truck and his wife's BMW 7-series, so looks rank high along with performance. His family shares his passion as his youngest of 3 daughters, Camilla, at age 5, grabs his arm at the helm and says, "Daddy, let's go fast!" Older daughters Emelia 7 and Kasandra 16, also want in on the action and mom Laura is onboard for all the fun.
The family started boating in a 24' Mako, but it wasn't "enough." A 34' classic '89 Donzi, which Cordoba re-did was next, but when he and his wife walked into the Miami Boat Show in 2014 and saw the Nor-Tech—it was love at first sight. He thought the price was crazy, but the boat haunted him. Laura, the pragmatic wife, shifted his focus to paying off their house instead of acquiring more fast toys.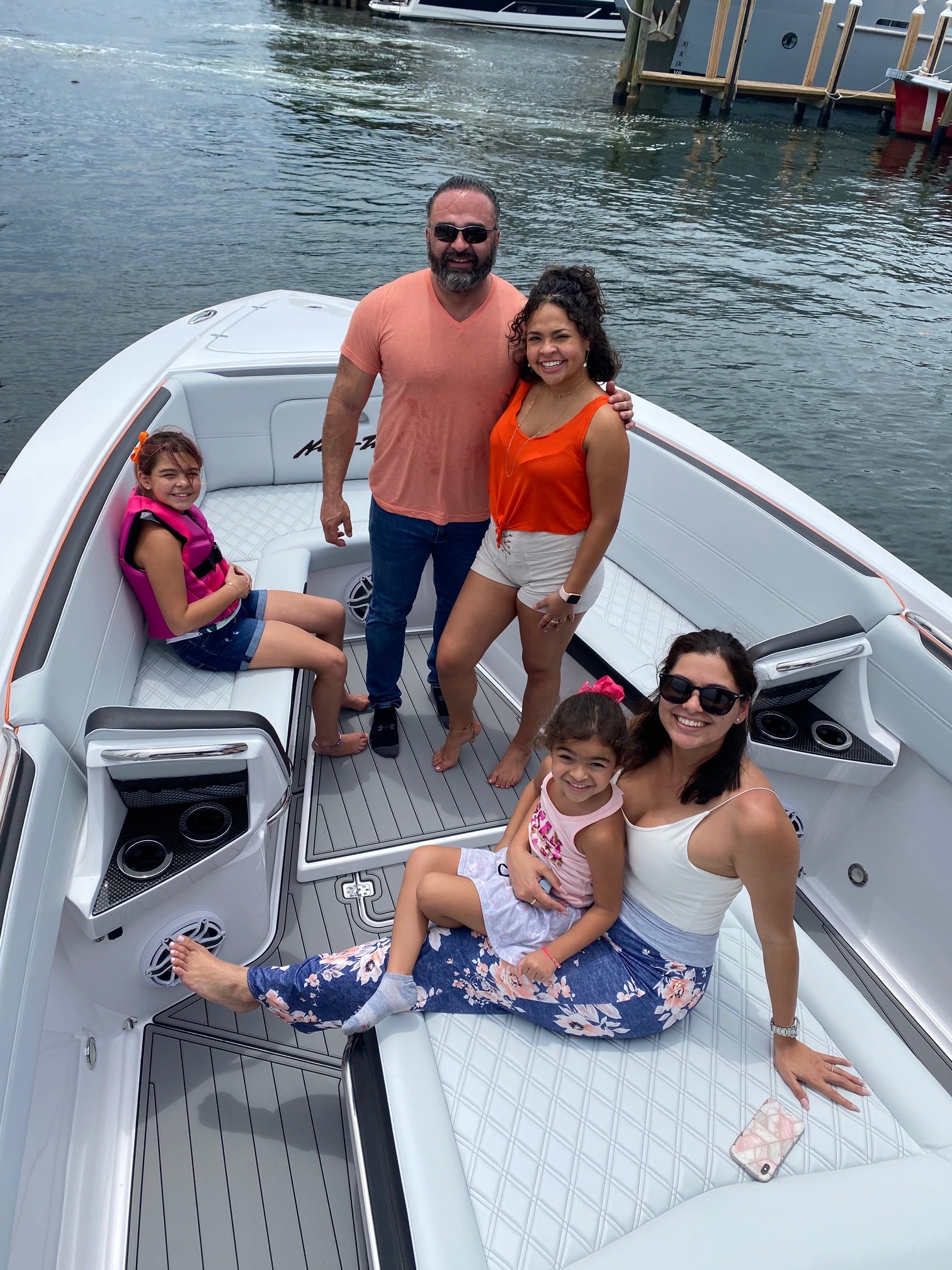 In the meantime, Bob Crow, South Florida exclusive Nor-Tech dealer, SOFLO Boats, had been in touch with him over the years and called about another 390 that came available last fall. Though it wasn't the right color—it re-ignited the Nor-Tech attraction.
Years ago, Cordoba's mother suggested he read The Secret. The book, which has a phenomenal international following that spurned sequels and a film, is about the law of attraction—like attracts like–and how laser focus on what you want helps you to achieve it. Cordoba used what he learned from the book to build his commercial air conditioning business, acquire some rental properties, and pay off his house.
Custom 390 Sport Center Console: A Tall Order
Now was the time to focus on the Nor-Tech. Just before the 2019 Ft. Lauderdale Boat Show, he made the decision to build his customized 390—complete with the color scheme and engines to give him the power he wanted to share with his family.
"When I came home and told my wife I bought the boat, her eyes got this wide!" Cordoba gestured as if holding a basketball. He recalled, "I told her, 'look, I did what you asked, I paid off three houses!' and she agreed, saying, 'Yes, you deserve the boat.'" Done deal—the new boat was under construction and delivered late in the summer.
Since he keeps the boat on the Miami River, near his downtown office and new condo, it is easy to jump aboard and tear off to the Keys, Bimini or maybe just to the sandbar on Elliot Key with the family to enjoy a day on the water. But once per week, Cordoba takes the boat out alone for an afternoon cruise. At the helm, he finds some solace and some speed, some time to get acquainted with the boat and its performance, the trim and handling—just like his cars—becoming "one" with the machine and mastering its power.
A Fishable Center Console Setup For Fast Cruising
The Nor-Tech 390 can be set up for fishing, but Cordoba is not an angler. There are copious cupholders and a few rod holders should a guest choose to cast a line. He and his family prefer to use the cabin and head below to store water toys. The big bow sun lounge and padded seats with comfy backrests are for sun, relaxation and to enjoy snacks and meals at the retractable table that can also become a sun pad.
The padded, non-skid aft deck with a dive door and ladder has plenty of room to jump in the water to play, a 6-person forward facing bench seat and an aft-facing bench with a cooler beneath to hold everyone and everything needed for a day's cruise. What would be fish boxes provide even more in-floor storage for luggage, provisions and gear.
Crow states that most of Nor-Tech's current customers fit that same mold—younger families wanting performance—a big aft bench to bring everyone together for sun and fun-filled days. Cordoba, however, was not typical; he impressed Crow with his tenacity—his dream to own a Nor-Tech and nothing else. The two kept in touch and each time, Crow reports, "Fabricio would tell me, 'I'm getting closer!' and I knew that he would get it done—I knew he was that kind of a person." And that is where The Secret no doubt came into play and why the boat is called "Plan A."
A Myriad Of Boat Accessories And Customizations
Crow and Nor-Tech's designer met with the Cordobas in one long afternoon, to plan all the colors and details which included carbon fiber accents, orange piping and gray trim on the dark upholstery that creates a very classy and sporty look. The carbon fiber dash has two large Garmin screens with additional Mercury and JL Audio screens, sporty throttles, a bow thruster, a leather steering wheel and many mesh storage compartments. The mesh storage is duplicated throughout the boat, a Nor-Tech signature, providing a place for a myriad of boating accessories.
At The Helm
The helm seats provide ergonomic comfort as the bolsters are concave curved for cushioned support while standing. Behind the helm seats is an extra-large, fold-down storage space, six more cup holders and a second row of seating, adding safety for small children—all softly upholstered with automotive diamond stitching. The T-top's metal support provides safety grab handles, in addition to those on the gunnels, and while it provides sun protection, the top also incorporates an array of speakers for the boat's robust JL sound system, extra LED lighting and FLIR night vision on the roof.
Engines And Propulsion System
But the Mercury Racing power on this fast high-performance boat makes it a class leader for speed. At 39' long with a 10' beam and weighing in at 12,5000 pounds, plus 285 gallons of fuel, the boat is no lightweight; but the 450R engines get on plane in seconds and the boat lifts out of the water without losing sight of the horizon. Its handling is smooth and easy, and I could feel the boat—as well as its owner—chomping at the bit to lunge forward as we cruised at a leisurely 35 mph to get some video footage. We quickly outran the drone with a light push on the throttles, getting up to Cordoba's "cruising" speed, eating up Biscayne Bay.
The feel of a Nor-Tech 390 is akin to Cordoba's experience behind the wheel of one of his performance vehicles, which is why he looks so at ease at the helm of his dream vessel and why "Plan A" is the perfect name for his boat.
Nor-Tech 390 Sport Specs:
LOA: 39'
Beam: 10'
Draft: 30"
Deadrise: 23 degree
Fuel: 285 gallons
Weight: 12,500 pounds
View Nor-Tech Boats for sale on YachtWorld today.
Subscribe to YachtWorld's YouTube Channel for more boat videos and follow us on @YachtWorld on Instagram.
Related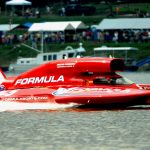 Cult Classics EP. 4 – Formula Boats: High Performance Luxury
Category:
High-performance powerboats
YachtWorld explores the rich history of Formula Boats, an iconic American boat builder.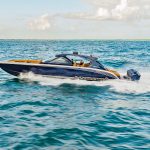 Mystic Powerboats M5200 Walkthrough Boat Review
Full walkthrough video review of a Mystic M5200 Powerboat with John Kosker.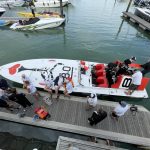 Cowes Torquay Powerboat Race 2022 Recap
Marilyn DeMartini recaps the 2022 Cowes Torquay powerboat race.