Adventure is central to Nick Giles' healthy diet, and his liveaboard lifestyle is somewhat unorthodox. Having left his full-time job working in finance back in 2020, he ditched corporate life on land in pursuit of freedom and adventure. He did not anticipate a pod of orca whales chasing his boat without another man or boat in sight for miles.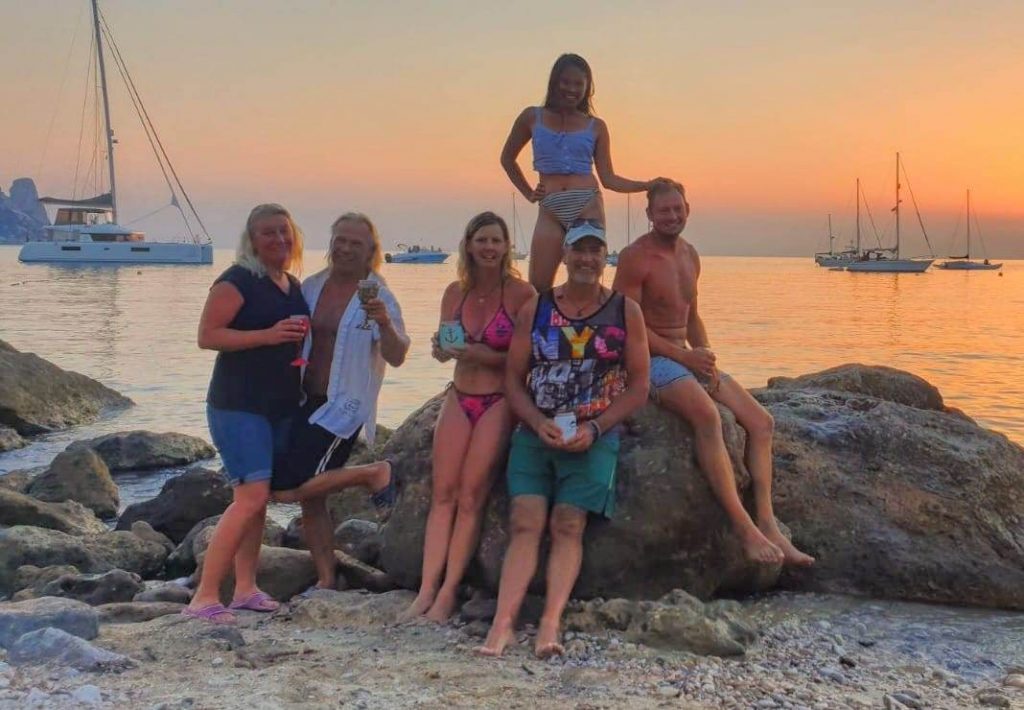 Above: Nick Giles (far right) and friends on in Cala d'Hort, Ibiza. Image via Nick Giles.
Voyage Around The Med On A Moody 346
After spending two weeks in Cadiz finding love (Every sailor does at some point), Giles made his ascent through the Strait of Gibraltar baked to a red and white crisp (You can spot a Brit a mile off, ah?). The sun was setting and the music blaring when suddenly he felt an almighty wallop, sending the boat into a spin, ripping the steering wheel from his hands, almost taking him with it. At first, he thought I had hit a colossal rock. The autopilot system went berserk, beeping continuously.
"I glanced over my shoulder at my depth gauge, and I was 500 feet deep, so I knew I had not grounded the boat," says Giles. Within seconds there was another big smack. Checking the nautical charts, he quickly realized he was at least ten miles off the coast. He looked out of the boat, searching for an answer: "A black fin as tall as me is six feet emerged out of the water. It was the blackest, shiniest thing I've ever seen and within arm's reach. The orca moved alongside the boat, at least eight meters long and as wide as a mini car. Leaning over the edge of the hull, I looked into his white-patched eyes for a steady eternity. I just swallowed everything."
Suddenly the boat flipped 180 degrees, and the hull shook violently. Giles sought refuge beneath the bow, but the orca struck the boat again, taking it off course. After a few minutes, Giles realized that two more killer whales (Orcinus Orca) were behind him. For the next 10 minutes, the pod of orca whales continued to pound the vessel, striking his sailing boat like a football, turning its small circles, causing him to become seasick and dizzy, "The orca whales were slowly terrorizing me. I was completely stuck".
Giles turned the autopilot off and handled the wheel delicately to regain control of the vessel but soon realized he had no control of the boat – every sailor's worst nightmare. It was being directed solely by sail.
Boat Damage
Giles was about to make a 'Pan Pan' emergency callout via radio but quickly realized nobody would reach him. If he wanted to live, he had to solve the situation alone. He ran to the cabin, where the ceiling was tipping to one side, and ripped up his bed to access the steering system. Immediately he could see that the orcas had rammed the rudders and snapped the cables. Giles resourcefully keeps spare tool parts on board, including alternators, fuel lift pumps, and cable clips. Deftly maneuvering the rudder mechanism, he tied up the cables in a matter of nanoseconds to avoid getting his hand sliced off.
Giles successfully fixed the rudder, regained control of the vessel, at least temporarily, and sailed toward the Straits of Gibraltar as quickly as possible, with one eye over his shoulder. After 20 minutes or so, the whales finally gave up bothering him and left the boat alone. "As I sailed into port, everywhere I looked appeared holy." That night he dropped anchor in Gibraltar and slept solidly for two days due to the stress.
Post-event Trauma
By the time he awoke, news of the Orca disruption was all over Facebook; the same pod of orcas also snapped the rudder off another two boats in the area. Incidents like this are not uncommon and are more likely to happen there during spring and summer when it's hunting season for bluefin tuna. During this time, fishing traps are abundant, and fishing boats are frequently targeted. The Strait of Gibraltar, with the adjacent Gulf of Cadiz, is the only area with a regular presence of killer whales in the Mediterranean Sea.
Afterward, Giles struggled to sleep for longer than twenty minutes at a time. "I would wake up every 10 minutes to check my radar and ensure no alarms are ringing. Now I manage to sleep for three-hour periods."
This is not the first time Giles has been caught in a precarious situation since he began sailing solo adventures in 2020. Planning and preparation are separate from his agenda, preferring to lean into the spontaneous nature of sailing. After a drama-filled few years, I asked him if he would do anything differently. "I wouldn't live my life any other way. Life as a pirate is far more interesting," he says with a chuckle and a glint in his eye.
Giles plans to travel around Ibiza and Greece later this year, where he will drop anchor in community-spirited islands that attracts bohemian tribes from all over Europe.
Coordinates and information relating to the killer whale incident:
22nd July 2020
20:00
36°05,37N
05°54,37w
Browse for new and used Moody boats for sale.
Related
A Solo Voyage: Stumbling Upon An Island Of Naked Hippies
Category:
Cruising Under Sail
Cala de San Pedro, a secret location in the Med, a summer retreat by naturist hippies.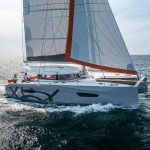 2023 Excess 14 Sailing Catamaran Boat Review
Zuzana Prochazka says the Excess 14 is sailing cat that's turning heads.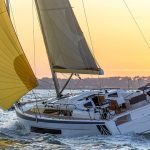 Dufour 37 Review: When Small Feels Big
Captain Zuzana Prochazka reviews the new Dufour 37, a small boat that feels and sails "big".