French builder NEEL Trimarans splashes about 30 boats per year at their factory in La Rochelle and that is about to increase since they've just added a new sailing model to the line – the NEEL 43. Company CEO, Eric Bruneel, has long prided himself on championing the concept of cruising on three hulls and he hasn't been wrong. Trimarans tend to outsail both monohulls and catamarans, and with the comfortable new layouts these models offer, more cruisers are embracing their speed and space.
Vessel Overview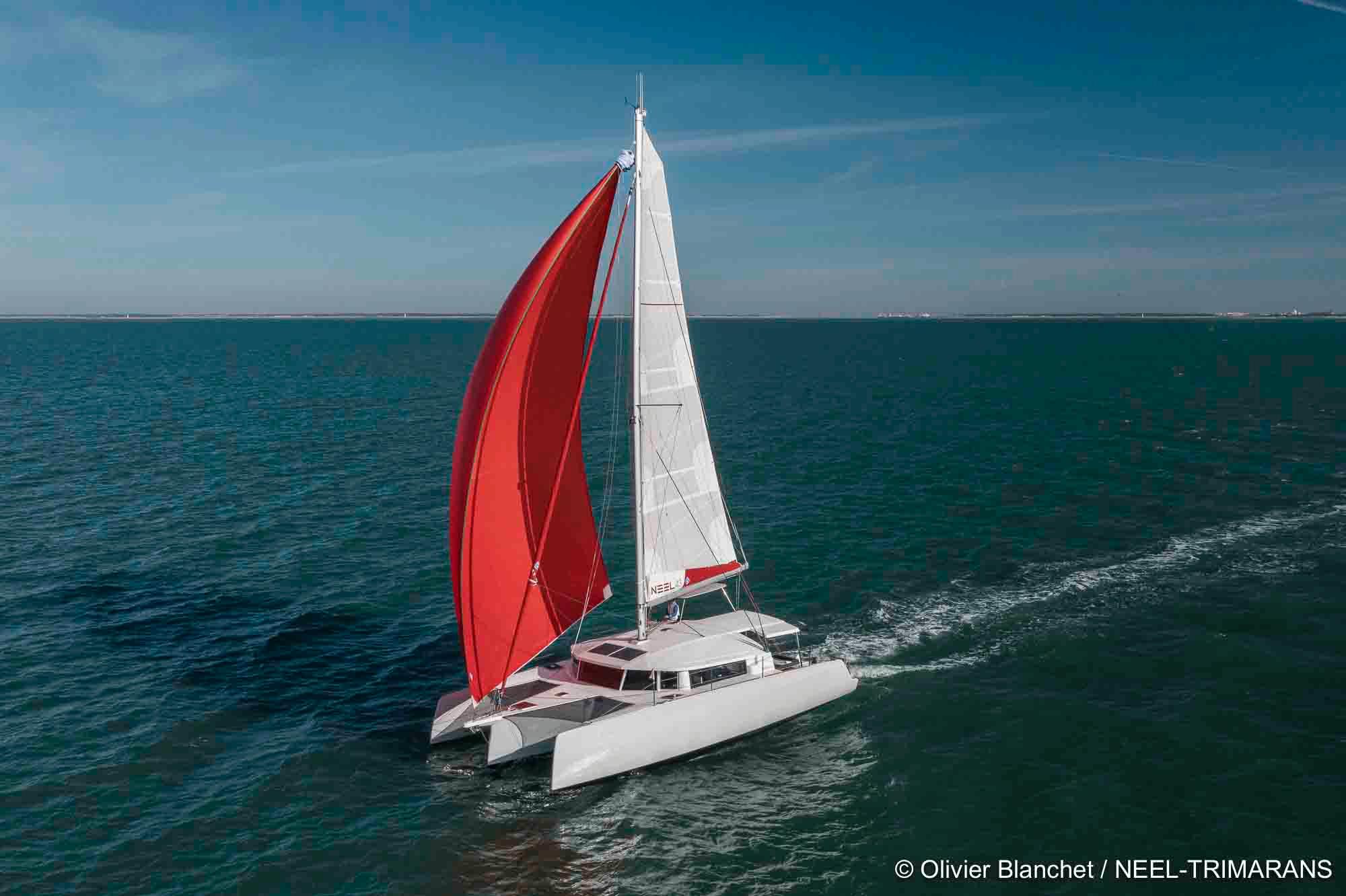 Above: A 2023 NEEL 43 Trimaran Sailing Yacht underway. Photo by Olivier Blanchet / NEEL-Trimarans.
The NEEL 43 is a Marc Lombard design with a Z-Spar fractional rig and a five-foot fixed keel. The construction includes a vinylester sandwich with carbon reinforcements in high-load areas. A new twist is the use of flax cloth in the layup. Combine that with a unique cork core (rather than foam) in non-structural elements and you have a boat that is at least partially recyclable which is important with the ever-growing focus on sustainability in yachting.
The NEEL 43 is light. In fact, at just 20,000 pounds, it's about 2,000 pounds lighter than a production catamaran of the same length which is hard to believe since there are three hulls involved. One bit of weight savings comes from the fact that trimarans only use a single engine in the center hull. Not only does this lighten the load and therefore improve performance, it also creates a smaller carbon footprint than a cat with twin engines.
Eco-Friendly Features
Since we're talking about eco-friendly features, let's look at an option that NEEL offers to make this yacht even more sustainable. Owners have the ability to add an Integrel high performance alternator which charges batteries so quickly and efficiently that it eliminates the need for a traditional generator. This option necessitates an upgrade to lithium-ion batteries for expanded energy storage and the addition of an array of solar panels for passive energy regeneration. Owners looking for autonomy at anchor for extended periods will love this arrangement. Early adopters especially are likely to step up to this system which adds thousands to the price but will be well worth the investment in the long run.
Performance Under Sail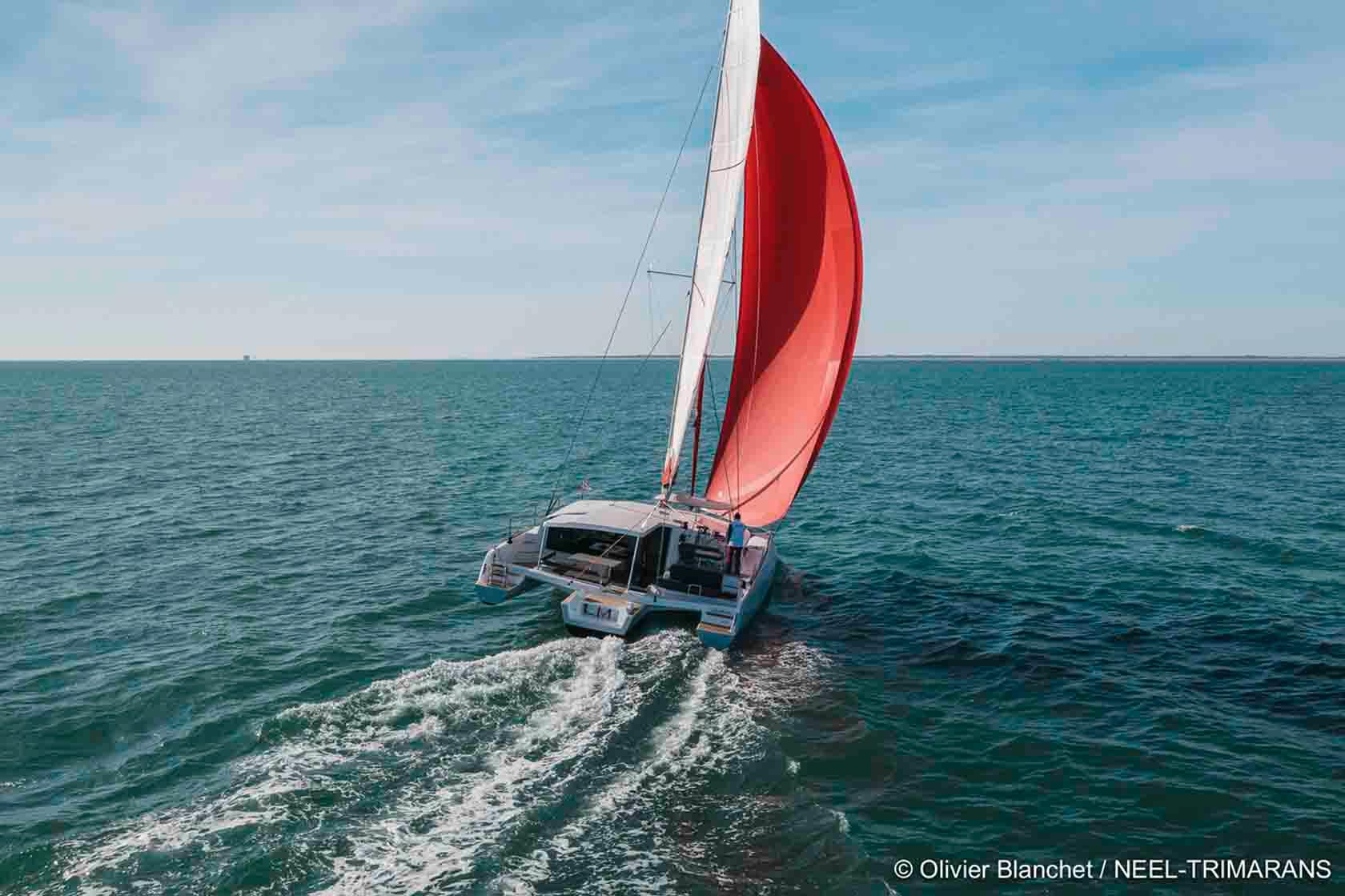 Above: A 2023 NEEL 43 Trimaran Sailing Yacht underway. Photo by Olivier Blanchet / NEEL-Trimarans.
We tested the NEEL 43 on the relatively flat waters of Chesapeake Bay in a healthy breeze of 18 to 22 knots. We found the key to powering up this model was the North Sails reacher on its top/down Facnor furler. This big sail hung onto the wind all the way up to 40 degrees apparent wind angle (AWA) where we clocked 9.3 knots of speed over ground. When we cracked off to a beam reach, the boat stiffened and sped up to 11 knots. There were big grins all around. Even when we dipped to 150 degrees AWA, we still held onto an impressive 8.1 knots.
Four notes here – 1) Trimarans point more like monohulls, which is to say much higher than most production cats and that's why we were still slipping along nicely at 40 degrees AWA. 2) Although it's possible to gybe the big reacher without furling it, the jib forestay got in the way and gave us a workout. When sailing short-handed, it would be better for both the crew and the sail to just furl, gybe, and unfurl on the other side. 3) The sightlines forward were excellent and the helm felt light and responsive, more like on a monohull than a cat which will be welcomed by sailors who like to really "feel" the boat. 4) For even better performance, it may be worth it to spec the taller carbon fiber mast which reduces weight aloft and the larger square top mainsail to catch more air up high.
Looking aft, it's odd to see only two wakes on a boat with three hulls. This is because when sailing to weather, the windward ama lifts out of the water, thereby reducing wetted surface and generating higher speeds. When sailing off the wind, all three hulls are in the water, adding stability. By the way, that stability factor extends to comfort at rest especially in a rolly anchorage. No flopper stopper will be needed on a NEEL.
Motoring back to the marina, we put the 50-hp diesel to the test and eked out 7.5 knots at 2200 rpm. Again, because this is a multihull that requires only one engine, emissions as well as fuel bills are reduced. With a nearly 25-foot beam, the NEEL 43 can be tricky to maneuver in tight quarters, so a bow thruster is more of a must than an option.
Living Aboard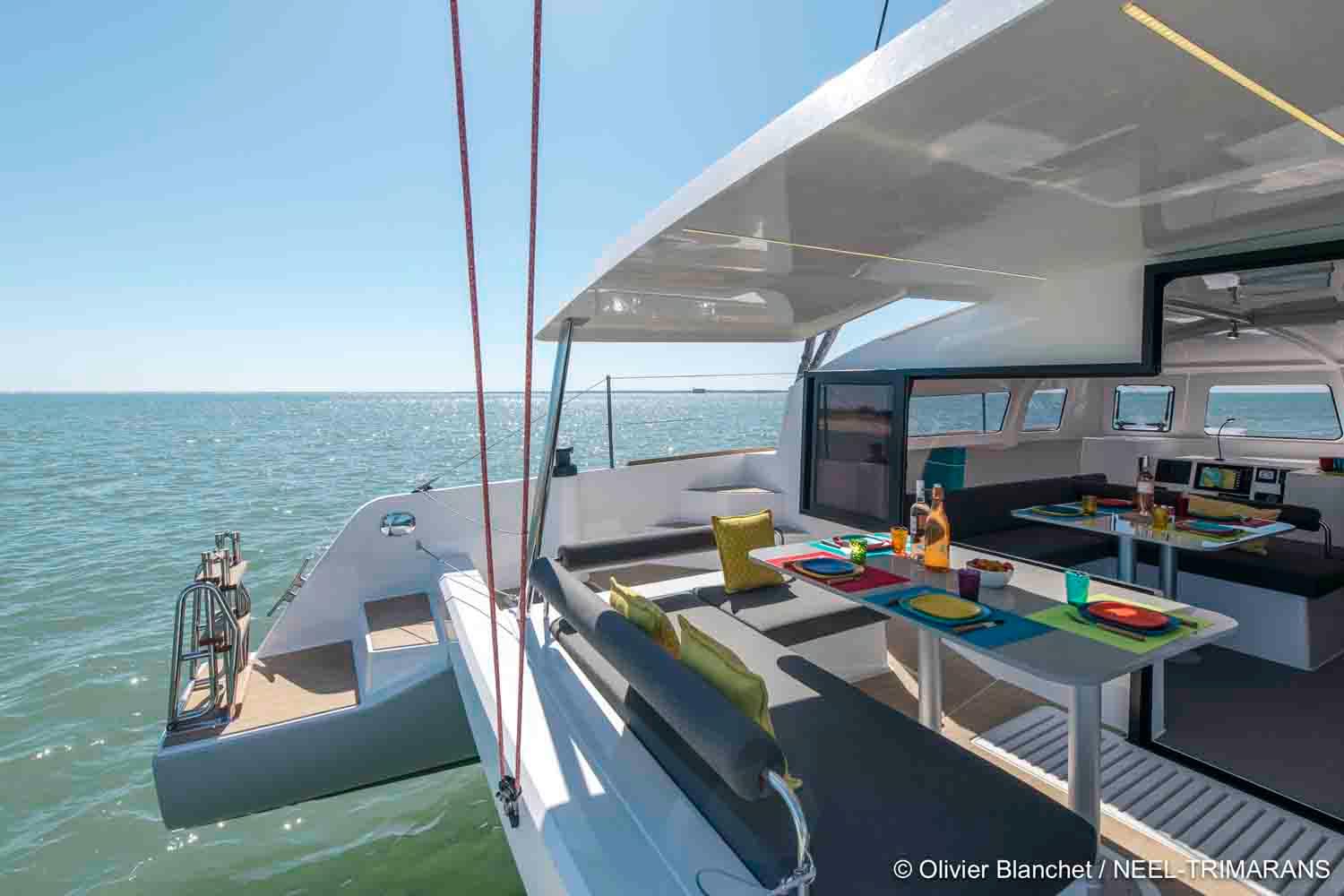 Above: A 2023 NEEL 43 Trimaran Sailing Yacht aft cockpit and stern. Photo by Olivier Blanchet / NEEL-Trimarans.
Traditionally, trimarans haven't excelled at providing onboard comfort and space, especially for cruising. Most trimarans are spartan with a hull on the centerline and two amas that are either too narrow or fairly inaccessible to provide much living space. NEEL designs have turned that perception on its ear. Much thought went into the livability of the NEEL 43, especially for extended cruising.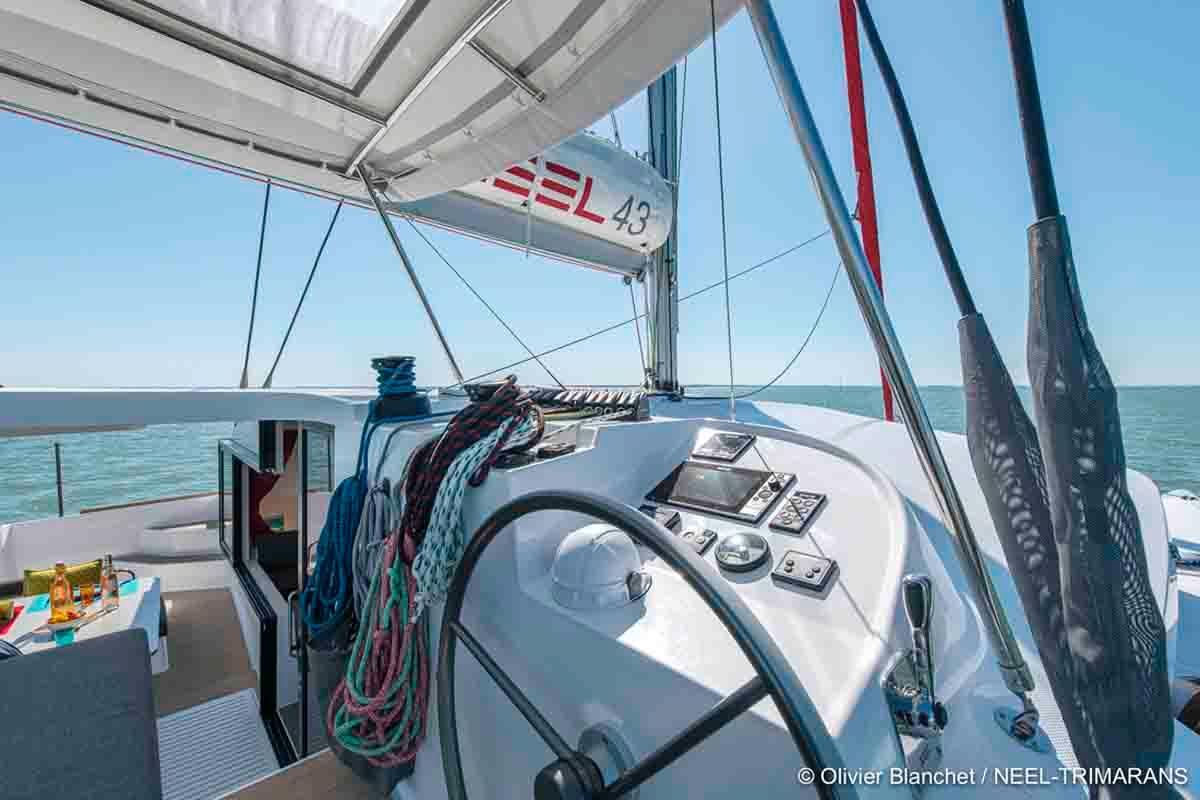 Above: A 2023 NEEL 43 Trimaran helm station. Photo by Olivier Blanchet / NEEL-Trimarans.
On deck, there's an elevated helm station on the bulkhead to starboard. From here, the skipper has excellent sightlines all around but is also directly connected to the activity in the aft cockpit which, in this case, is just about the size and layout of a normal catamaran cockpit with a large dinette and plenty of space for multiple people to mill about. Most cats carry the tender on davits but here, a nice feature is the cradle on the swim platform of the main hull that carries the dinghy. With the dink launched, there's room to don snorkel gear or just play near the waterline. Even if the dinghy is on board, there's still good water access via the two mini platforms at each ama.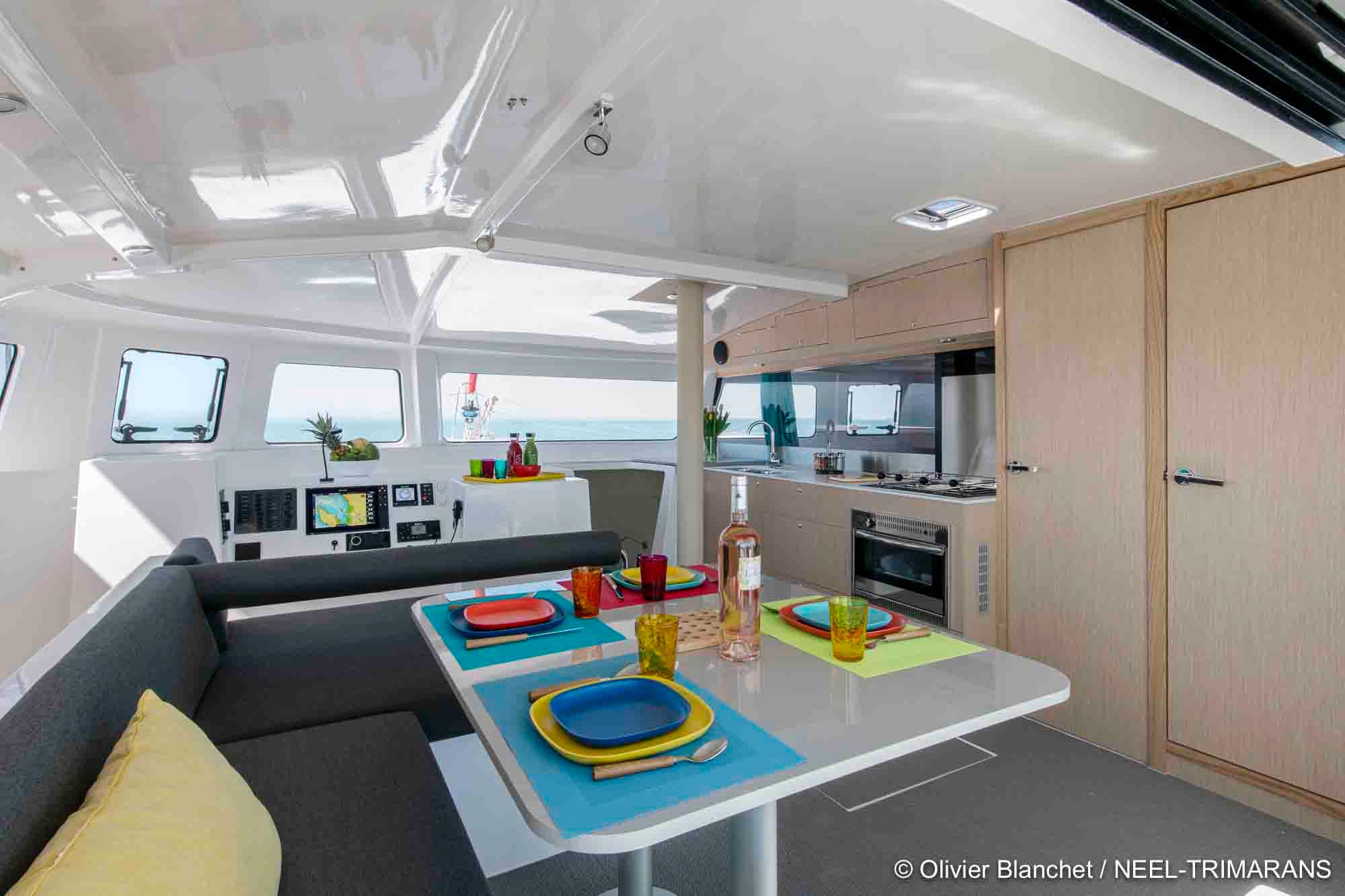 Above: A 2023 NEEL 43 Trimaran sailing yacht salon and galley with dinette. Photo by Olivier Blanchet / NEEL-Trimarans.
So, it's clear that NEEL trimarans feel like cats on deck. Now, let's step inside into the sizeable salon which is on the same level as the cockpit. Here, you'll find a dinette on the centerline and a compact galley in the forward starboard corner just ahead of the single head that also doubles as a storage space and wet locker. Forward and offset slightly to port is the nav desk – a feature distance cruisers will applaud.
Interior Cabin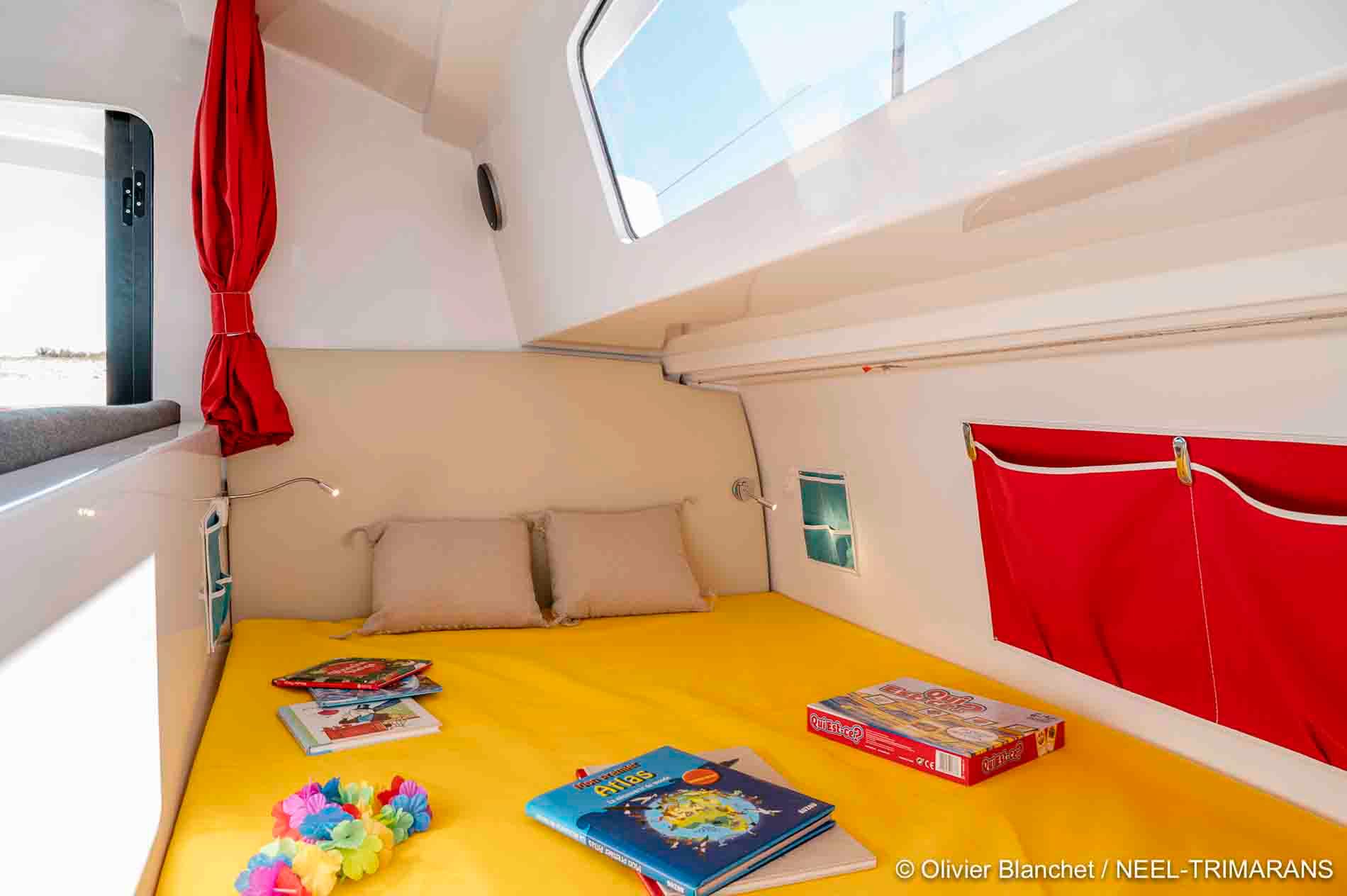 Above: A cabin onboard a 2023 NEEL 43 Trimaran Sailing Yacht. Photo by Olivier Blanchet / NEEL-Trimarans.
Next are the three cabins – yes, three. To starboard and on the same level is the master stateroom with an athwartships bed and large windows for plenty of natural light as well as ocean views. Opposite is a cabin that is similar but slightly less private since it lacks a door. The third "cabin" which is down in the bow of the main hull, can be a stateroom or a generous stowage space for cruising necessities.
Space is always at a premium on a sailboat so equipment is often shoehorned into spaces that are too tight to work in comfortably. However, on the NEEL 43, there's a roomy dedicated machinery space under the salon sole with easy access to all systems for maintenance and troubleshooting. It's large enough to crawl into and work comfortably. Any additional equipment, like a water maker installation, can also find a home here. Practical cruisers may find this to be their favorite feature since it was clearly designed by experienced sailors who know what it takes to function offshore.
Living On Three Hulls
Every boat is a tradeoff and the NEEL 43 is no exception in various ways. However, a trimaran offers unique benefits like easier and faster sailing than a cat and more liveaboard comfort than a monohull. The NEEL 43 can point high, stay stable under way and at rest, and slice through chop without pounding like a cat. It also has more room than a 43-foot monohull and offers single level living that doesn't leave you buried down in a dark hull. The NEEL 43 is all about out-of-the-box thinking that just may make you ponder life on three hulls.
Specifications:
LOA: 43' 0"
Beam: 24' 7"
Draft: 5'0"
Displacement: 19,850 lbs
Sail Area: 1,096 sq ft
Power: 50-hp Volvo Penta diesel
Designer: Marc Lombard
Builder: NEEL Trimarans/ neel-trimarans.com
Price: $575,000 (as tested)
View NEEL 43 Trimaran boats for sale on YachtWorld.
Related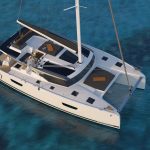 Fountaine Pajot Tanna 47 Review: So Much Space!
French catamaran builder Fountain Pajot's new FP Tanna 47 is a winning formula.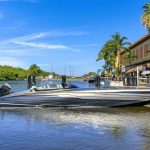 Behind-the-Scenes at Mystic Powerboats
Mystic Powerboats CEO John Cosker gives fans a behind-scenes-look at the custom builder's facilities...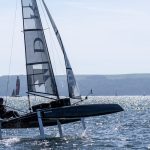 Drift Energy: Are Hydrogen-Powered Yachts In Our Future?
Drift Energy's hydrogen-powered yacht propels the marine industry into a clean-energy future.