According to reviewer Zuzana Prochazka, the Monte Carol MC4 isn't just designed for modern entertaining; it's also designed for modern performance. This boat runs on Volvo Penta IPS pod drives, which have proven superior to traditional inboards in many ways. In fact, this 45'3″ long, 17'10″ wide, 26,499 pound boat hits 30 knots and cruises in the low 20 knot range while burning just 28 or 29 GPH. And even though Zuzana didn't move it from the dock at Fort Lauderdale, we have confidence in these numbers because another one of our reviewers, Gary Reich, ran this boat in Annapolis, Maryland, shortly before the show.
Gary was also impressed with the creature comforts. "The outside spaces on the Monte Carlo 4 are nothing short of spectacular. Starting aft, there's a huge, teak-decked swim platform with tons of space for just about anything you'll do close to the water." (Read more in the full review on boats.com: Beneteau Monte Carlo MC4: Plush Performance.)
When you're ready to shop, here's a link to MC4 listings on YachtWorld.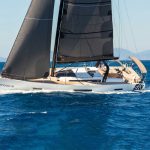 Zuzana Prochazka reviews the Dufour 61, a sailor-friendly, bluewater cruiser.
Find out why NFTs superyachts in 3d reality are becoming hot property in the marine industry.