Modern yachts are complex creatures, and they require a complex maintenance schedule. In fact, effectively managing a yacht in this day and age requires virtually constant attention. Luckily, you can do it virtually. That drawer full of operating manuals is no longer required; there is a way to make the process of getting to know and maintain your yacht much simpler.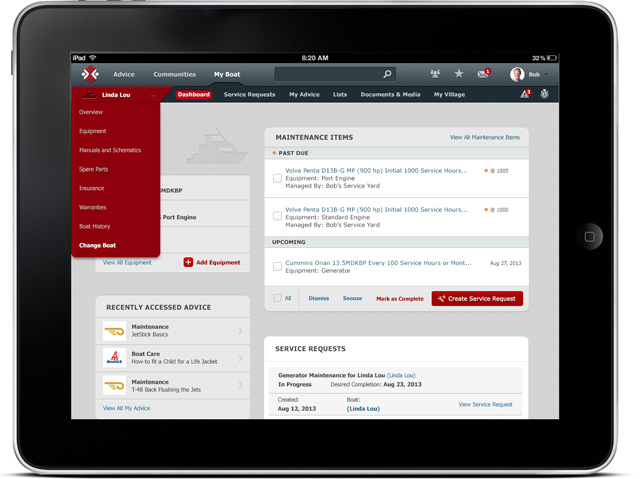 Today, you can sign up for a subscription service that digitally catalogs all of your yacht's manuals, parts, and service data so you can track and schedule maintenance for each system from your computer. In fact, you can access it with a tablet, or a smartphone. These digital yacht maintenance management services are available for new and used yachts, whether they're production-built or custom, in a range of sizes. Service providers catalogue all the information about your boat's operating systems, and typically host the data online, often in the cloud, so the information is kept on a secure remote server.
Just think of having access to a service that tells you when maintenance is due on your engines, generators, or air conditioning system, as well as what needs to be done during a specified window of time. You, your captain and crew, or your dealer can schedule the work—with the click of a mouse. And once it's done, a master calendar resets your reminder schedule for the next service interval.
Just how popular are services like this becoming? A number of major boat builders now include a multi-year subscription to one  with every new yacht they launch. And consumers who buy pre-owned yachts are discovering that some insurance companies offer the subscriptions, since regular maintenance minimizes insurance risk. You can also contact one of these service providers and order a subscription on your own.
Among the top companies are The Boat Village, Wheelhouse Technologies, and Vessel Vanguard. Vessel Vanguard and The Boat Village are services that are being offered by a number of big players in the production market. The Ferretti Group recently announced that the brands under its corporate umbrella will be offered with a service from The Boat Village. Vessel Vanguard is offered by brands such as Grand Banks and Beneteau (this builder will even extend a warranty to owners who subscribe to this service).
Wheelhouse Technologies appears to be a popular choice for owners of heavily customized yachts. Pricing is often contingent on the size and nature of your yacht. Vessel Vanguard structures pricing in based on boat length, for example. Silver service ($299 for setup and $99 annually) is for boats up to 30 feet; Gold ($599 for setup and $199 annually) is for yachts 31 to 65 feet; and pricing is custom for yachts and mega-yachts over 65 feet. By comparison, the premium edition of The Boat Village sells for a dollar a foot per month, plus a $239 activation fee.
Wheelhouse Technologies charges an hourly rate (just under $90) to gather all the necessary data to set up the service, which can include a ship's log, maintenance history, and an inventory of all parts kept on board. Once the information is gathered, the company creates a customized program that's specific to the yacht or mega-yacht.
If you're looking for a simpler, straightforward relationship with your yacht—or if you just want to make life easier and maintenance simpler for your captain and crew—a digital maintenance management system could be the ideal solution.
Related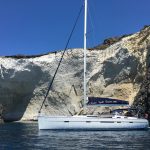 Fall Cruising Focus: Milos Island
Zuzana Prochazka reports on fall cruising around the Greek Islands.
Hurricane Prep For Boaters: Protecting Your Yacht In Storm Season
Category:
Boat Maintenance & DIY
Get your boat ready for hurricane season with these tips from Captain Heather Francis.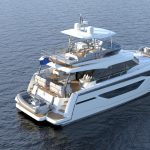 Sneak Peek: 6 Top New Yacht Models
Here's another sneak peek of six new power and sail designs.