By nature, express cruisers appeal to a wide audience, with some boat builders opting to create performance-minded, sporty yet cruising-friendly boats, while manufacturers on the other end of the spectrum may opt for more modest performance numbers and improved efficiency and comfort. But either way, yachts that are considered express cruisers are one of the few types of boats on which you're likely to see all of the different power choices, from straight inboard propulsion systems to stern drives and even jet drives. More recently, outboard-powered express cruisers have been making a splash, and with good reason.
MJM Yachts has entered this market with a strong line up of express cruisers, purpose-built for outboard power. This makes them ideal for people who may be upgrading from a center console, or perhaps scaling back from a larger motoryacht. Either way, if you love the feel of open boats and being close to the water but you also want superior overnight accommodations and ample protection from the elements, MJM Yachts outboard express cruisers are worth a serious look. These boats offer the comforts of a yacht while retaining an open day boat feel along with an airy 360 degree view of the water. Check out our overview of this lineup of luxury, downeast-style yachts from this builder in the video below.
Shallow Draft: Shoal Friendly, Island Hopping, Coastal Cruisers
MJM's line of outboard-powered versatile island hoppers have a shallow draft making it possible to access many secret harbors sandbars nooks and crannies that other bigger yachts simply cannot approach. This is a major selling point of these boats, giving you a lot more versatility for a yacht of this size, than many competitors. A Doug Zern designed hull makes for some of the cleanest lines on the water while providing a safe efficient and see kindly ocean-going experience allowing passengers to enjoy a smooth dry and stable ride.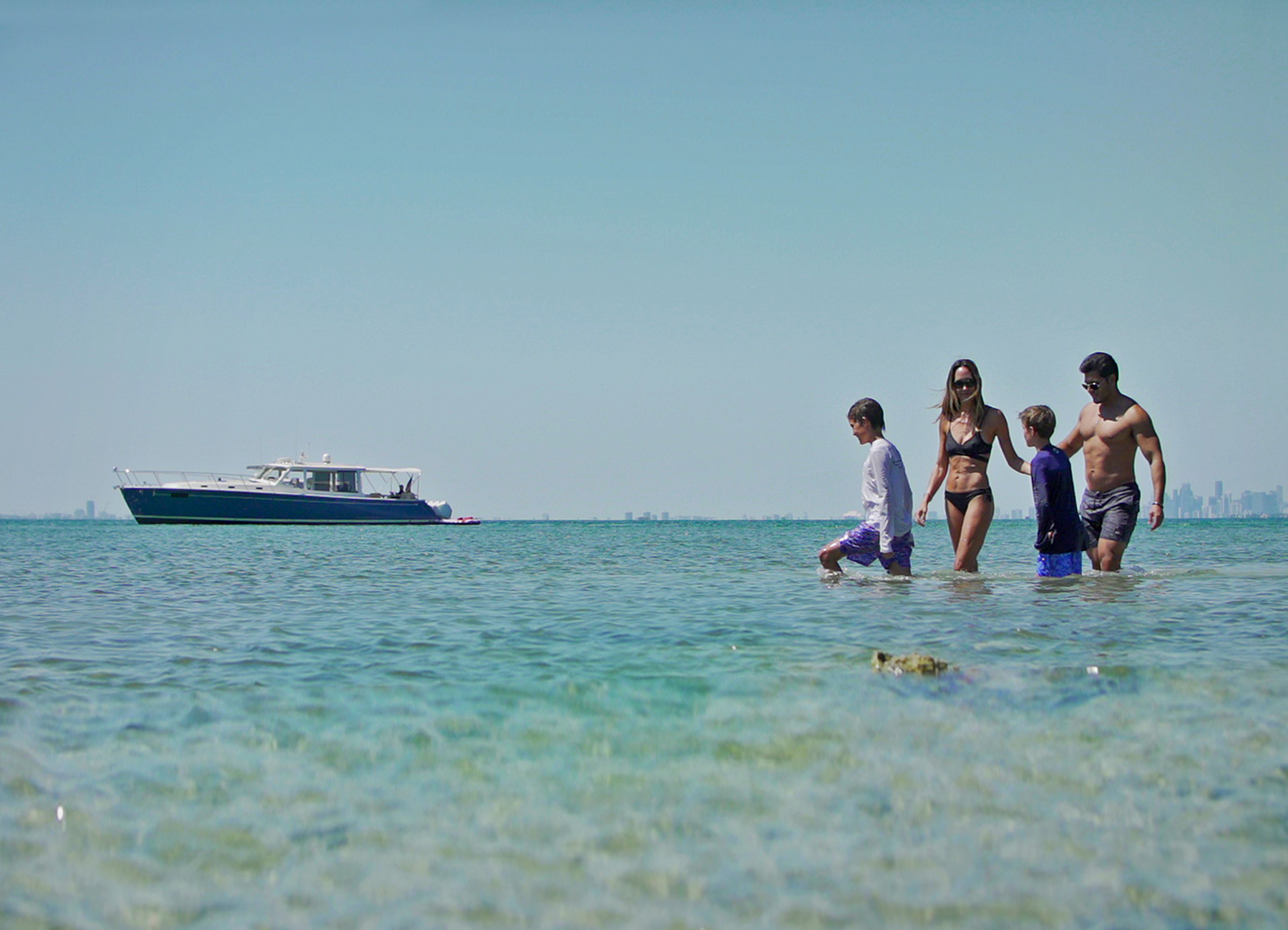 Above: A family walks in shallow water near an MJM Yachts anchored by an island in Southern Florida.
The Full Lineup: Family-Friendly Entertainers
The full lineup of MJM's outboard powered boats starts with the MJM 3z and includes the 35z, 43z and 53z. These outboard express cruisers all share MJM's unique design and build process featuring a variable-warped V-hull, flat aft and sharp forward with a fine entry and narrow beam.
Above: An MJM Yachts 43z (left) running alongside an MJM Yachts 53z (right) – both yachts powered by outboard engines.
The flagship of MJM's outboard express cruisers is the MJM 53z – a boat that the builder touts as "the world's largest outboard powered express cruiser". She has a generous 15-foot beam that sits over a remarkably shallow draft, a characteristic that makes her surprisingly nimble and maneuverable in skinny water. Two en suite cabins with power options for four outboard engines make this yacht a serious, long-distance coastal cruising option for many families. For more on this model check out our full MJM 53z boat review and overview video below.
In comparison to the MJM 53z, the slightly smaller 43z has a 12' beam making her a bit easier to maneuver in marinas and tighter spaces, while providing much the same features as the bigger flagship. This relatively easy to operate, slightly scaled-down version of the larger yacht may appeal most to young couples that like to entertain and cruise, or a small family building their yacht cruising life. For more on this model, read our full MJM 43z boat review by Marilyn DeMartini and watch our 43z overview video below.
Best Of Both World's: Protected Yet Open
The indoor-outdoor pilot house on these boats enables owners to extend the boating season by staying comfortably cool in the heat or happily warm in the cold large sliding safety glass side windows and powered windshields can be opened wide to let in plenty of fresh air or close tightly for a completely climate controlled experience without sacrificing the feeling of openness. Lushly cushioned settees premium upholstery and big yacht comforts combined to create an optimal setting for owners to welcome aboard extended friends and family with ease.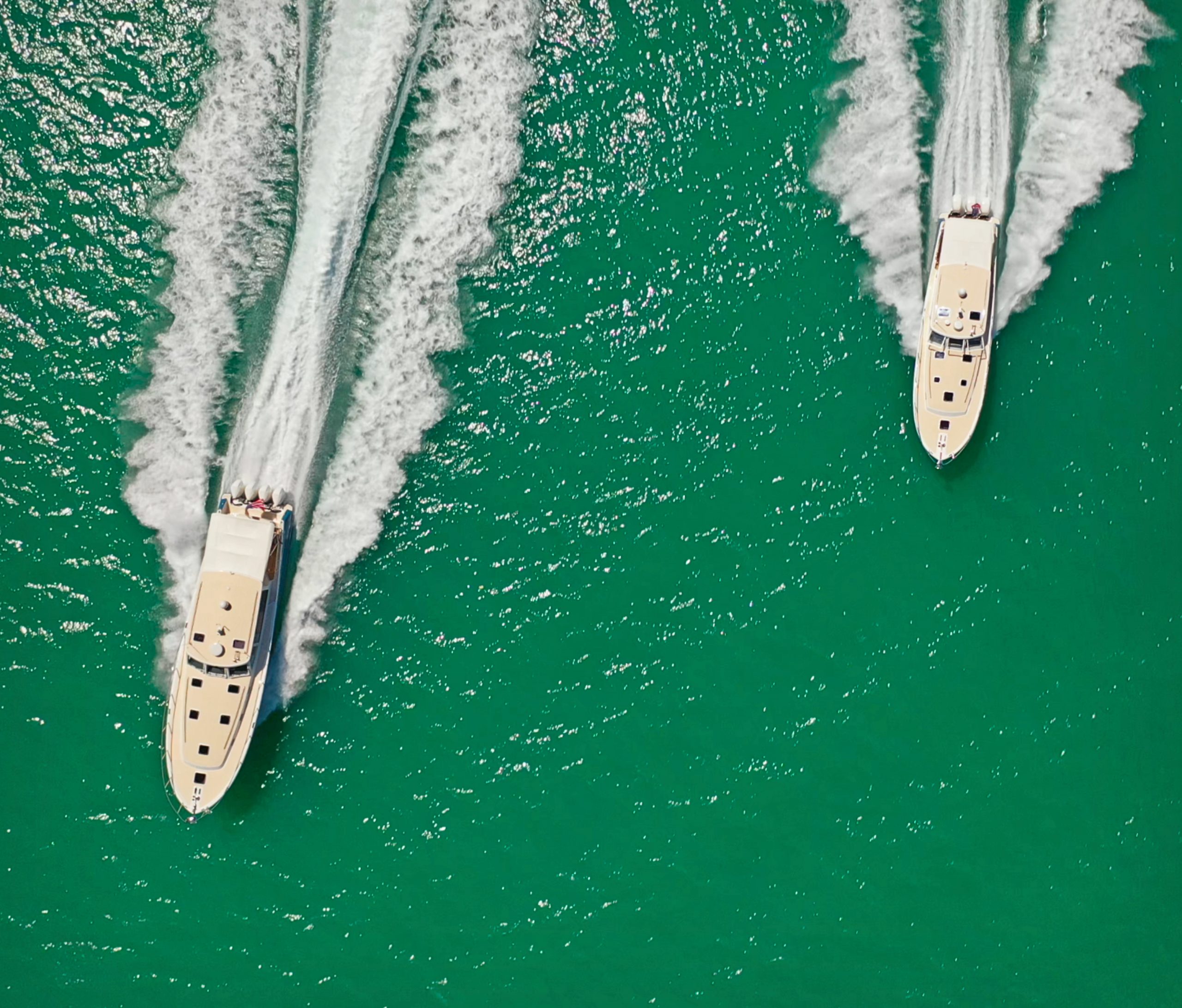 Above: An overhead bird's eye view of the outboard-powered MJM Yachts 53z (left) and the 43z (right) underway on the water. Note the closed bow with skylights in the forward cabin of the vessel, offering full accommodations and protection from the elements, along with an open aft deck.
Cockpit Layout And Features
An expansive aft deck layout with side and rear boarding doors along with a spacious cockpit produces an organic connection to the environment and water while providing passengers a roomy feel. From towing a tube with the kids to entertaining friends onboard MJM turns your boating dreams into reality by keeping the owner's use in mind first and foremost.
So again, if you're considering a move from your current center console or sport boat up to something with better accommodations while still retaining the performance low maintenance and easy handling of outboards, prepare to be wowed by MJM's lineup of outboard powered express yachts. We certainly are.
View MJM Yachts for sale on YachtWorld today.
Visit MJM Yachts for more information.
Related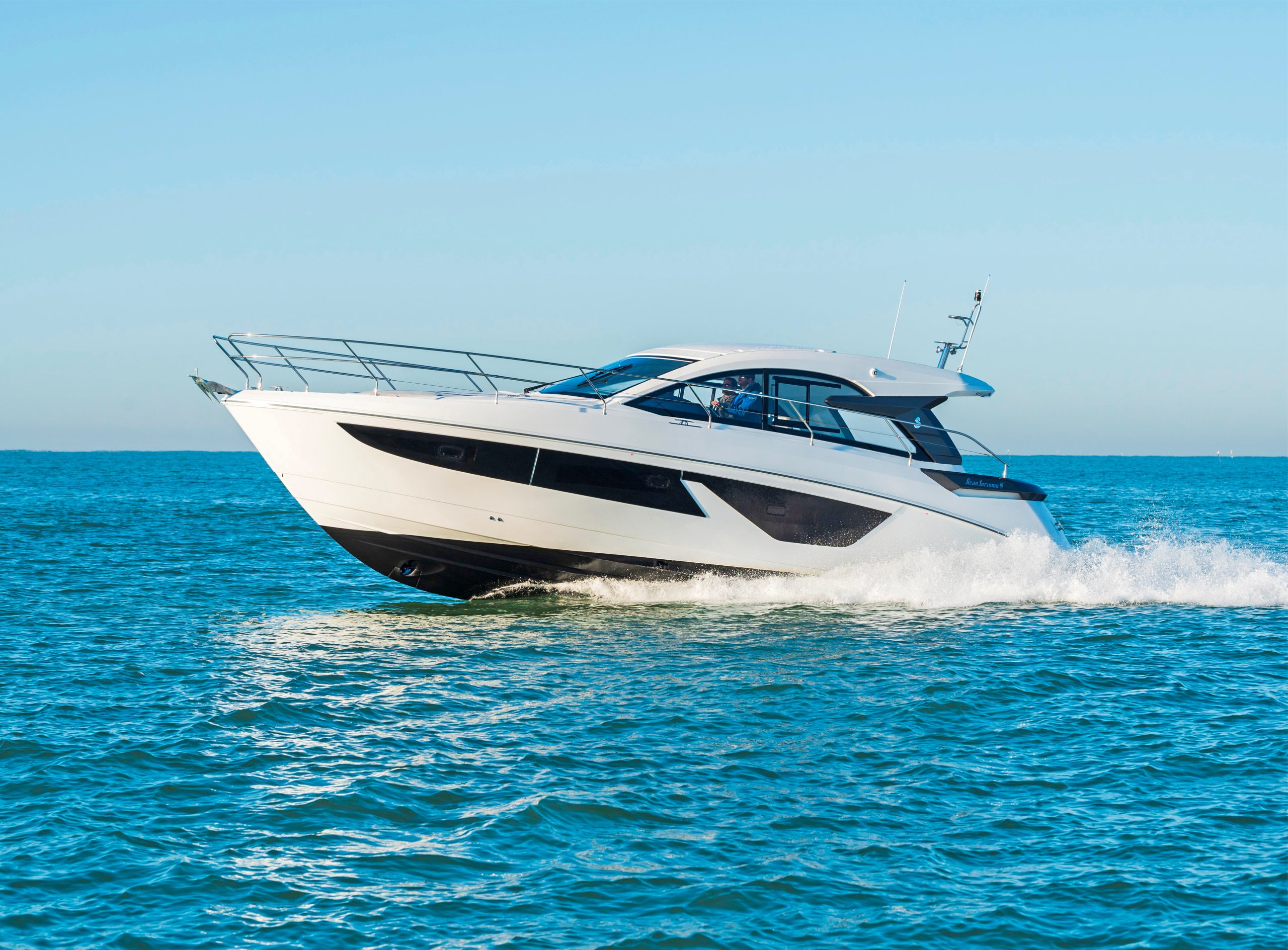 Beneteau Gran Turismo 41: Fluid Motion
The new Beneteau Gran Turismo 41 adds some sporty sophistication to the express cruiser genre.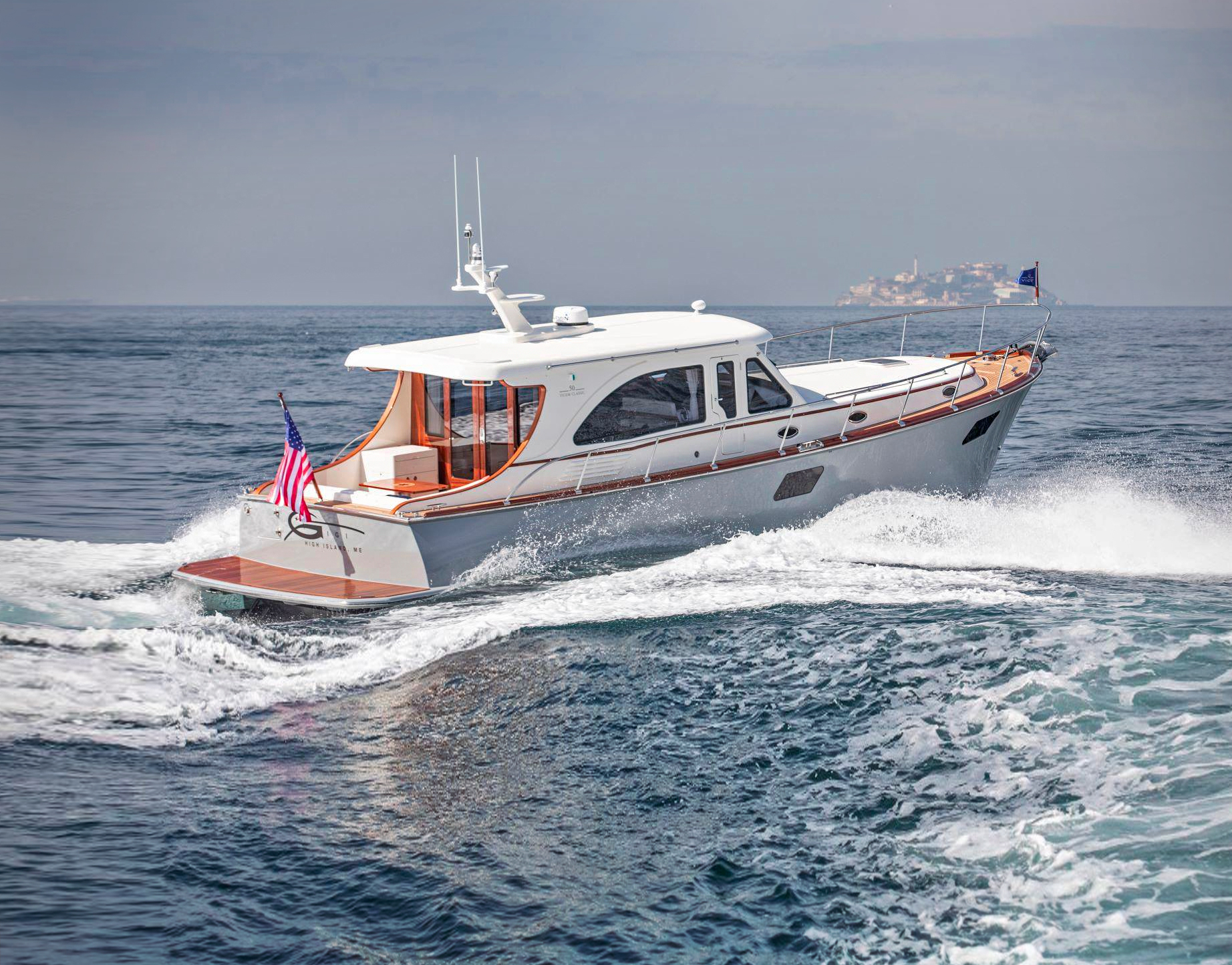 Vicem 50 Classic: A Modern Downeast Style Express Cruiser
The latest evolution from Turkish yacht builder Vicem Yachts: a composite fiberglass downeast express...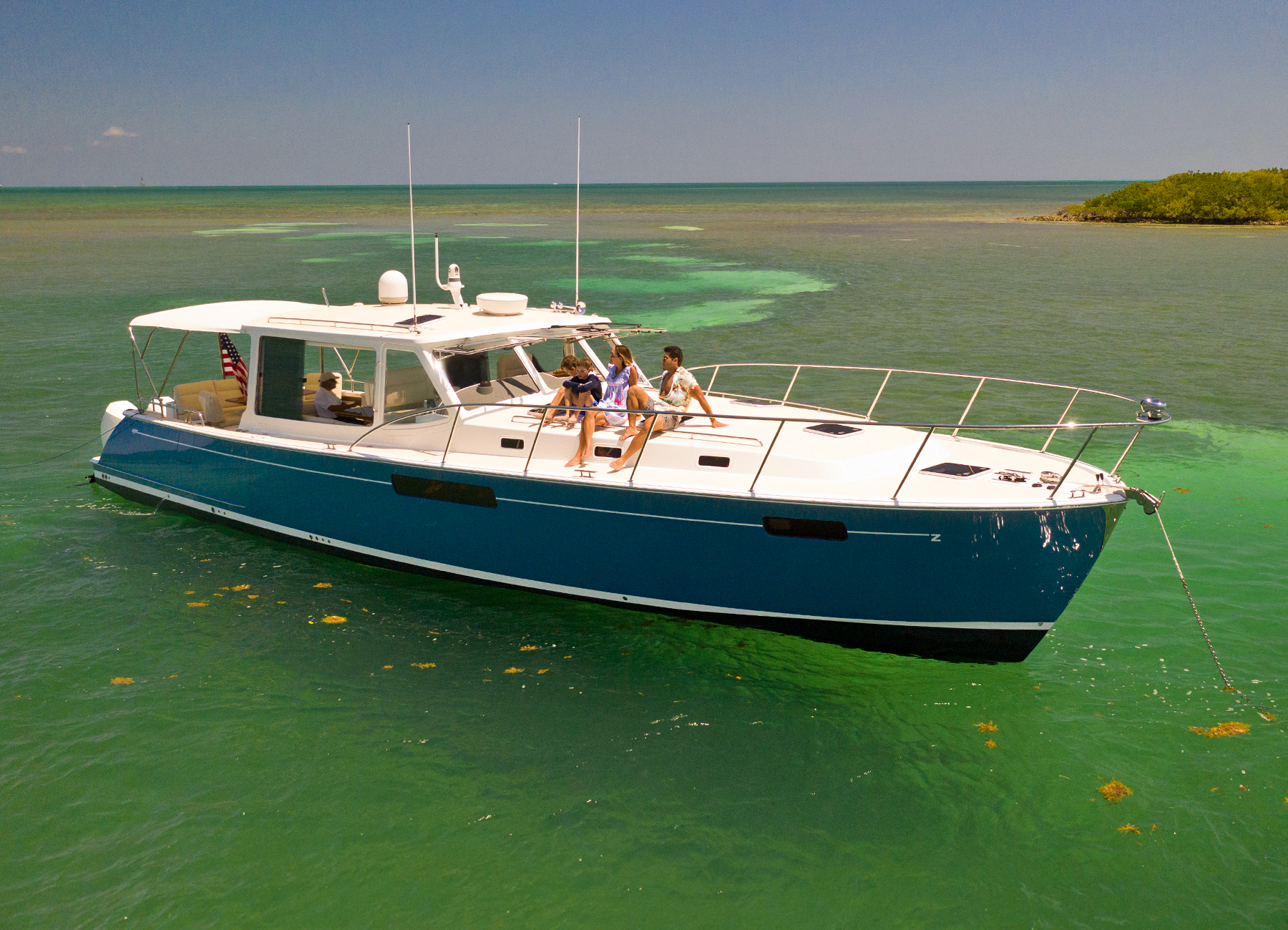 MJM Yachts 53z: World's Largest Outboard Powered Express Cruiser
Ryan McVinney reviews MJM Yachts' flagship outboard-powered express cruiser yacht.