Imagine cruising along an undeveloped natural coast on a sunny day in your dream luxury yacht when you come upon a picture perfect island ahead on the horizon. A world of its own, surrounded by bright azure water, this pristine oasis beckons you to drop anchor and come ashore to explore. You begin to approach – but wait! The alarm on your depth finder starts to blare. The water surrounding this little tropical paradise is far too shallow to get near. Then you notice the blacktip sharks circling it's rocky coast just below the surface. Suddenly it it doesn't seem within safe range of your small tender. Even if you get there, it would be 4 trips back and forth to get your family and requisite accoutrements ashore. Enter the MJM Yachts 53z. With her shallow draft and easy to handle outboard power, she's able to access precisely these types of waters.
Above: An MJM Yachts 53z crossing shoal water as it approaches an island in Southern Florida.
One of the funny oxymorons about the yachting lifestyle is this: some of the best fun you'll have with your boat is getting off of it! When you find those secret spots with no one else around and you capture some relaxing quiet time for you, your family and friends, there's nothing else like it in the world. After all, islands are whimsical places and sandbars are temporary treasures, where things that you're normally concerned about just don't matter. Nature tends to be that way. Out on the water, out on the sea – there you forget the utility bills, daily errands and endless paperwork waiting for you back on land. The last thing you should be concerned about here is running aground!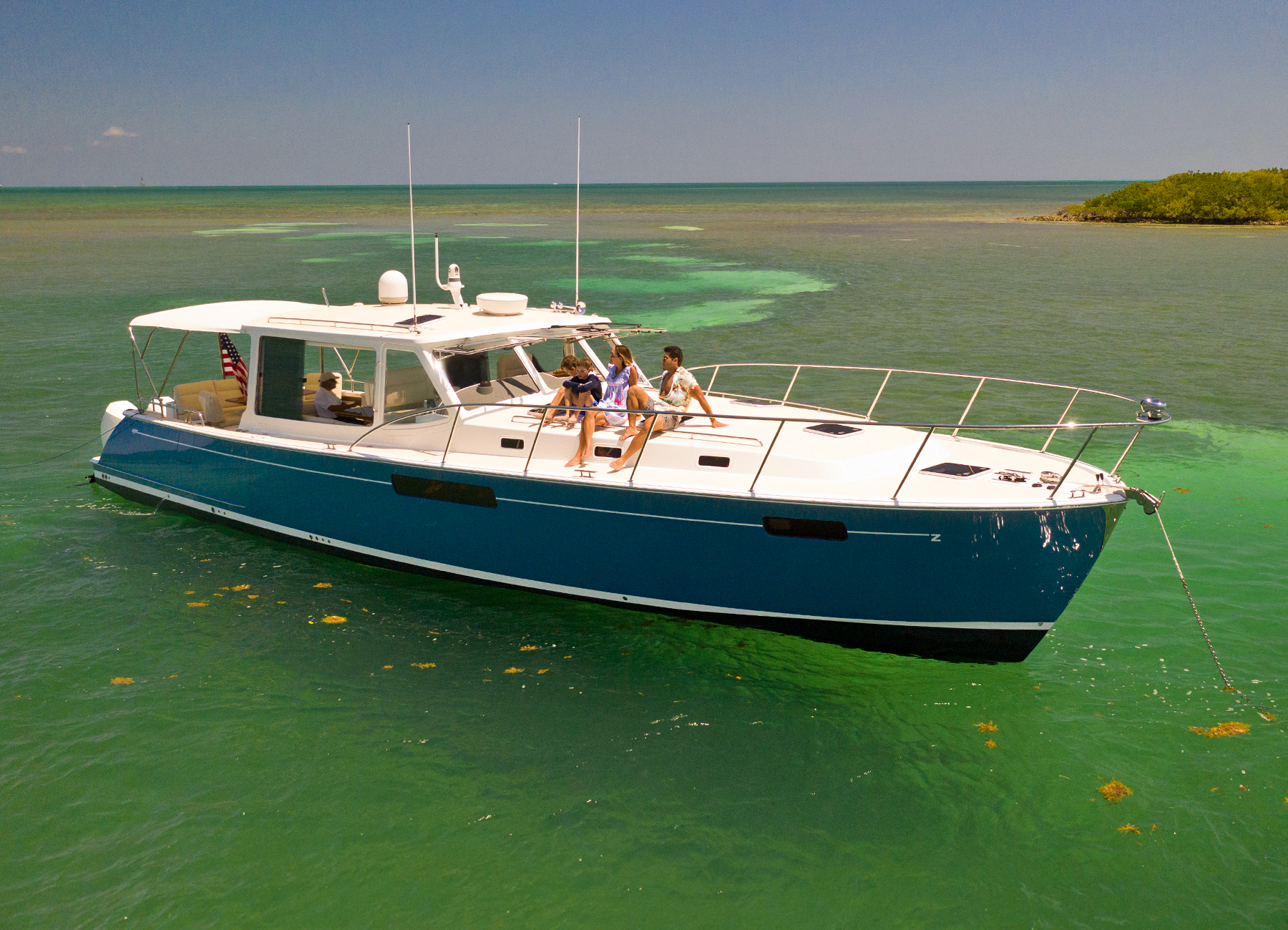 Above: A family relaxes on the forward deck between the stainless steel bow rails onboard an MJM Yachts 53z while anchored in shallow water by an island in Southern Florida.
A Flagship For Family Cruising
The 53z is MJM Yachts' flagship outboard-powered express cruiser that the builder touts as "the largest outboard-powered express cruiser yacht in the world". She is a two-stateroom (optional layouts), downeast-style luxury yacht that evokes a dash of Hemingway and a touch of "lobster yacht" practicality, combined with shrewd craftsmanship and an air of subtle sophistication. Her 56-foot length and generous 15-foot beam sit over a remarkably shallow draft, meaning she can be nimble and maneuverable when needed, allowing families to approach and anchor at sandbars and island bays with confidence and ease.
Above: A full boat tour and overview video of the MJM Yachts 53z outboard-powered express cruiser including performance specifications, physical dimensions and options. 
With her family-centric design, enhanced living space and all-weather capability, the 53z is refined yet unpretentious. A consummate entertainer she's the perfect platform for enjoying shared adventures, summer picnics, swimming, water sports and cruising.
Cockpit Design And Cabin Layouts
With layouts available for every owner, family and adventure, versatility and accommodation are key. Multiple layouts can be selected, with various options for en suite staterooms, flexible guest rooms, convertible dinettes and berths. She can sleep up to 8 passengers comfortably with room to spare. And for long-haul, fuel-efficient cruising the 53z makes for a luxurious liveaboard entertainer. For those who love so-called "picnic boats" for their open-air relaxing and entertaining capabilities, this artful yacht will be a natural fit. Lounging with loved ones or hosting small on-the-water cocktail parties or sunset cruises with ease is the name of the game.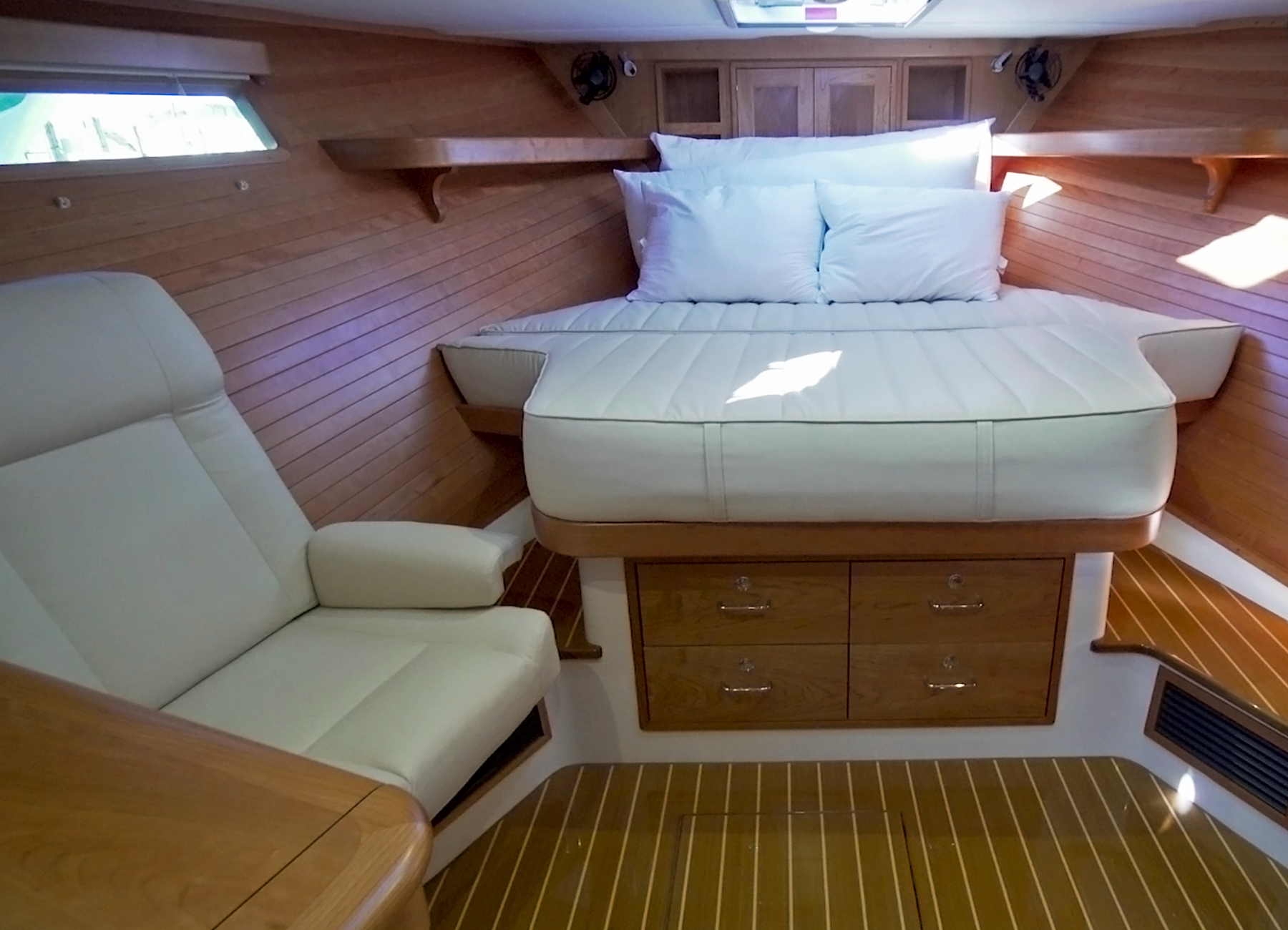 Above: The forward en suite stateroom berth on the MJM Yachts 53z outboard express cruiser.
At The Helm
Driving the 53z is sheer joy. Her hull geometry, speed and power give her tremendous stability and a sports car-like responsiveness plus the assurance of an ISO Class A certification. The 53z's standard Seakeeper gyro-stabilizer dampens 93 percent of any roll – a great feature when anchored or entertaining at the dock. Whether seated or standing, captains at the helm of a 53z will have a commanding view along with a great sense of connection to the environment.
Power And Outboard Engine Options
Standard power is provided by quad Mercury 300 HP Verado outboards, allowing her to achieve a top speed of over 50 MPH. She cruises efficiently at 42 MPH, thanks to her lightweight, high-tech epoxy-composite construction. Optional quad 400-HP Mercury Verado outboards are available as well.
Upgrading From A Center Console? Here's A Serious Contender
Granted, big center consoles have been all the rage in recent years for a reason – they're great for fishing and quick cruises and the outboard power makes them easy to maintain and handle. But many boaters (even some of the more hardcore anglers) may eventually get tired of having to constantly worry about range, sea states and limited passenger/fuel capacity. Not to mention they may dream about having certain creature comforts onboard that enable families and friends to spend more time together on the water (think galley, head, shaded areas, storage and more fresh water capacity).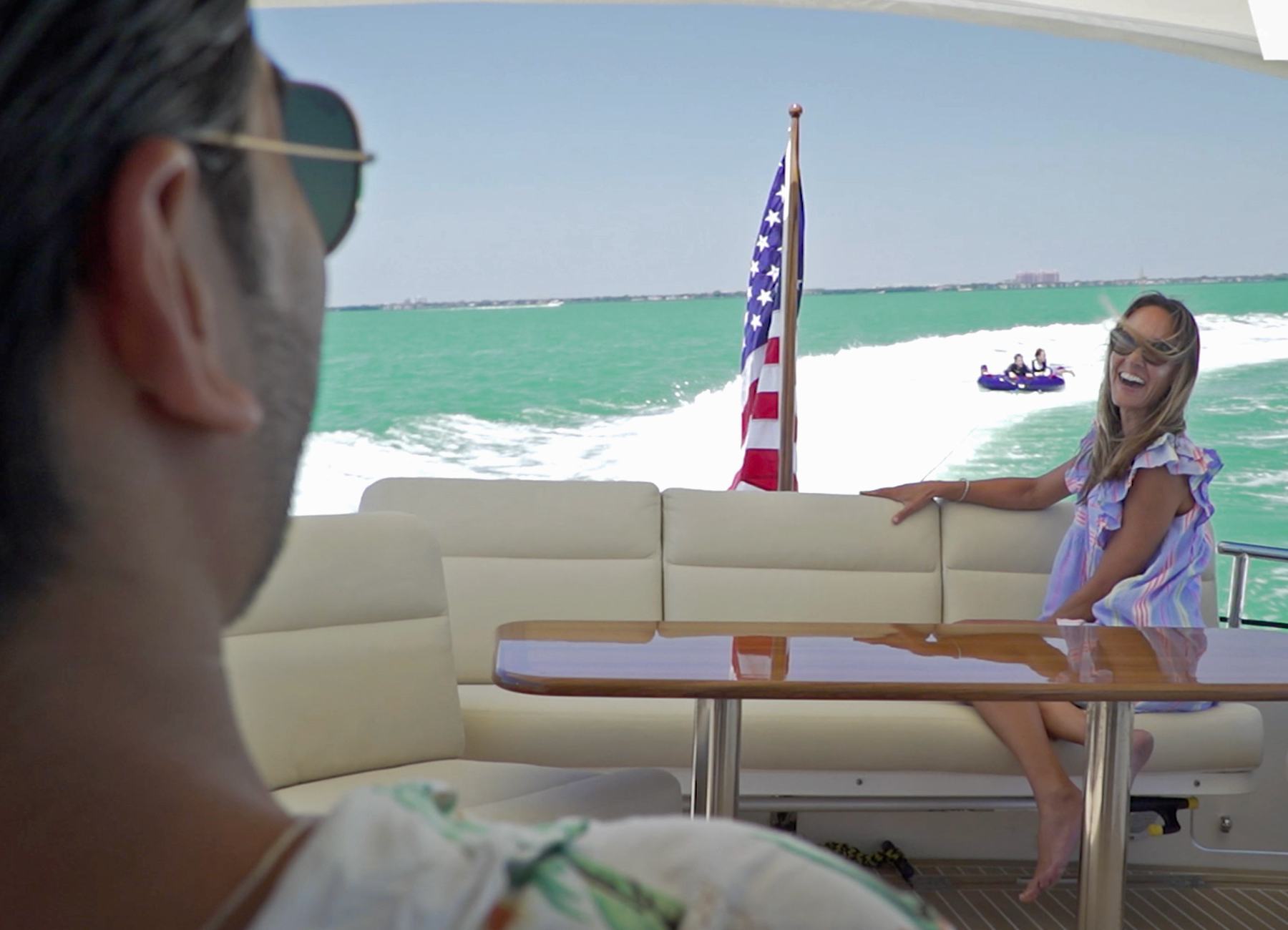 Above: A couple enjoying some watersports action aboard an MJM 53z yacht as they tow their kids on a tube behind.
As Jacques Cousteau put it, "The sea, once it casts its spell, holds one in its net of wonder forever". That net can have owners longing for more capability to expand their yachting experiences into new realms. So if you're considering a move from your current center console or sport boat up to something a bit bigger in order to enable you to extend your cruising into sleepover trips, or welcome more guests onboard for entertaining, this should certainly be a vessel worth taking a long hard look at.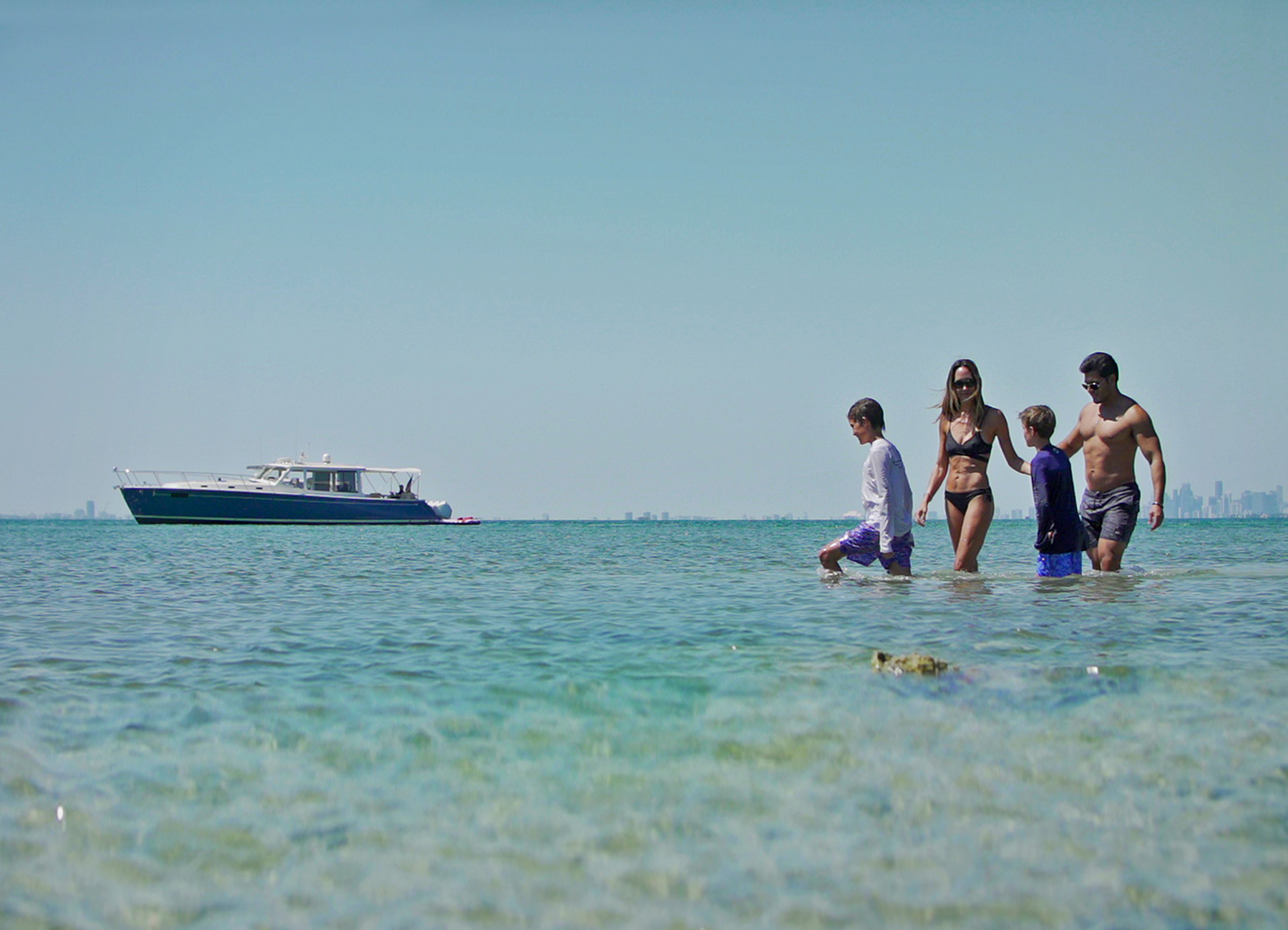 Above: A family walks through shallow water at a sandbar with the MJM Yachts 53z anchored nearby in the background.
Specifications:
Length Overall:

56′ 3″

Length on Deck:

53′

Beam:

15'

Draft Engines Up:

27″

Draft Engines Down:

36.5″

Displacement:

38,669 lbs

Deadrise at Transom:

18.6°

Fuel Capacity:

920 gal

Water Capacity:

250 gal

Air Height:

10′ 6.5″

Standard Power:

4x 300 hp

Optional Power:

4x 400 hp

Top Speed:

50 mph
View MJM Yachts for sale on YachtWorld now.
Visit MJM Yachts for more information.
Related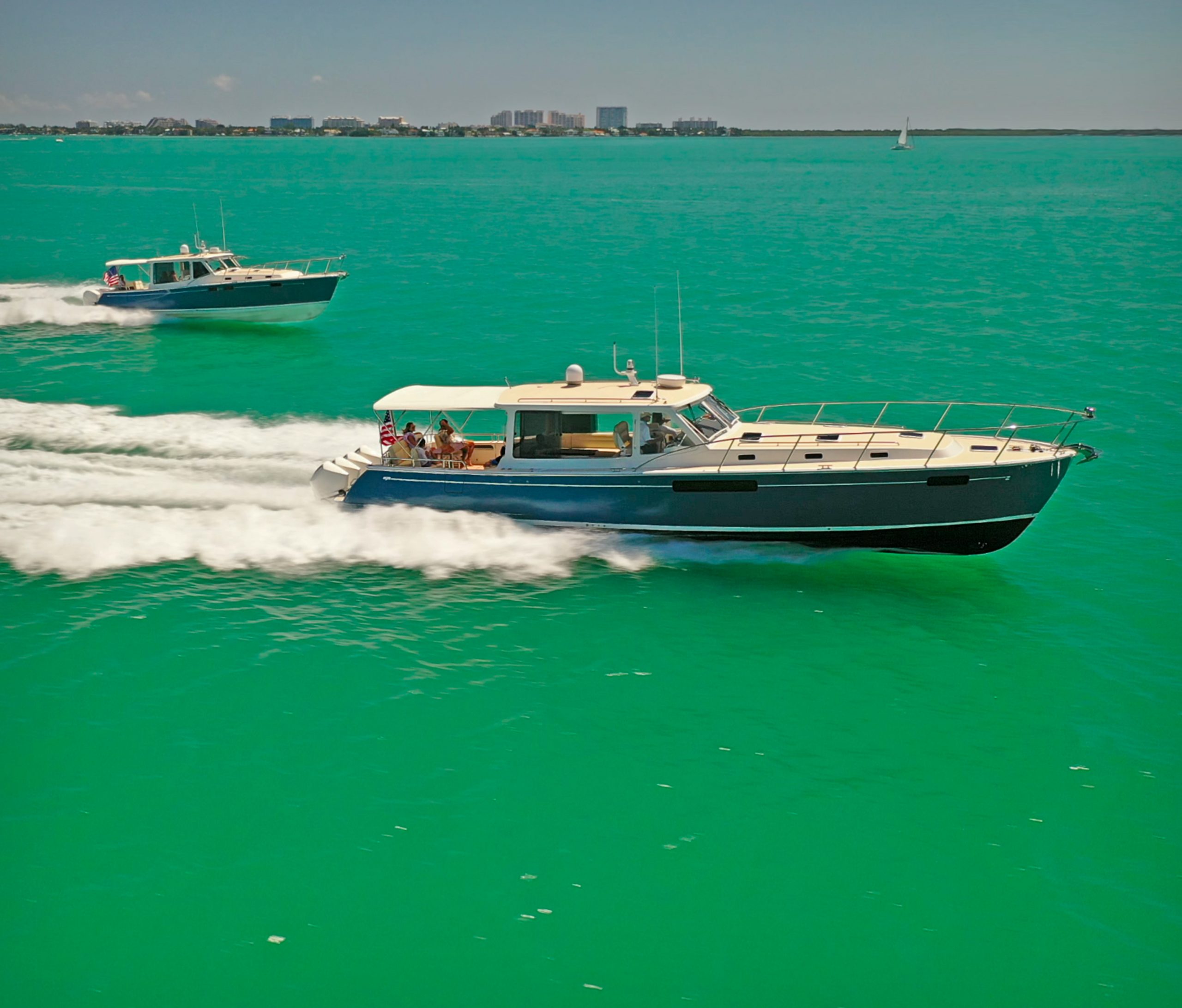 MJM Yachts Outboard Powered Express Cruisers
MJM Yachts shakes things up with a family of shallow draft, downeast-style express cruisers.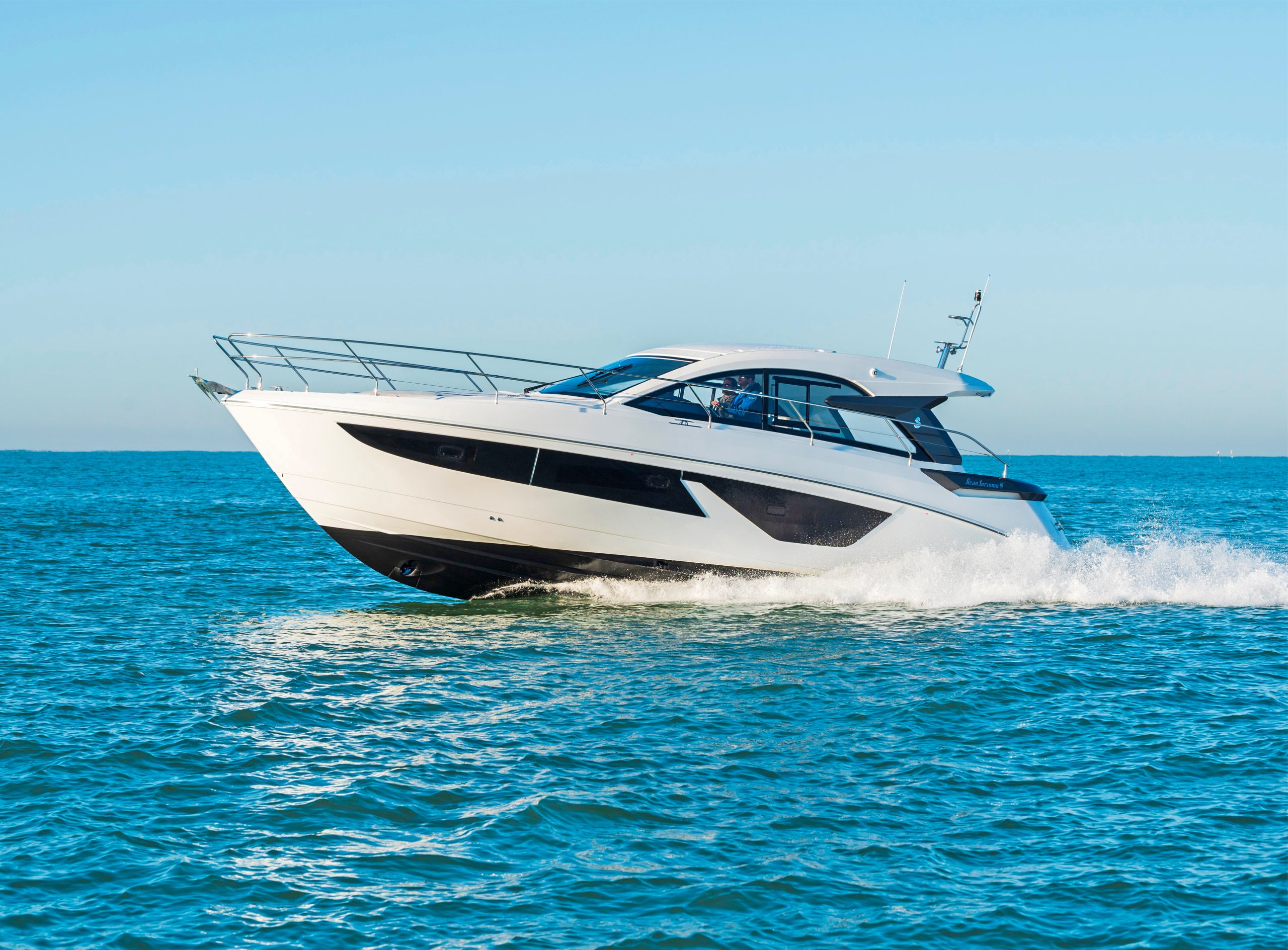 Beneteau Gran Turismo 41: Fluid Motion
The new Beneteau Gran Turismo 41 adds some sporty sophistication to the express cruiser genre.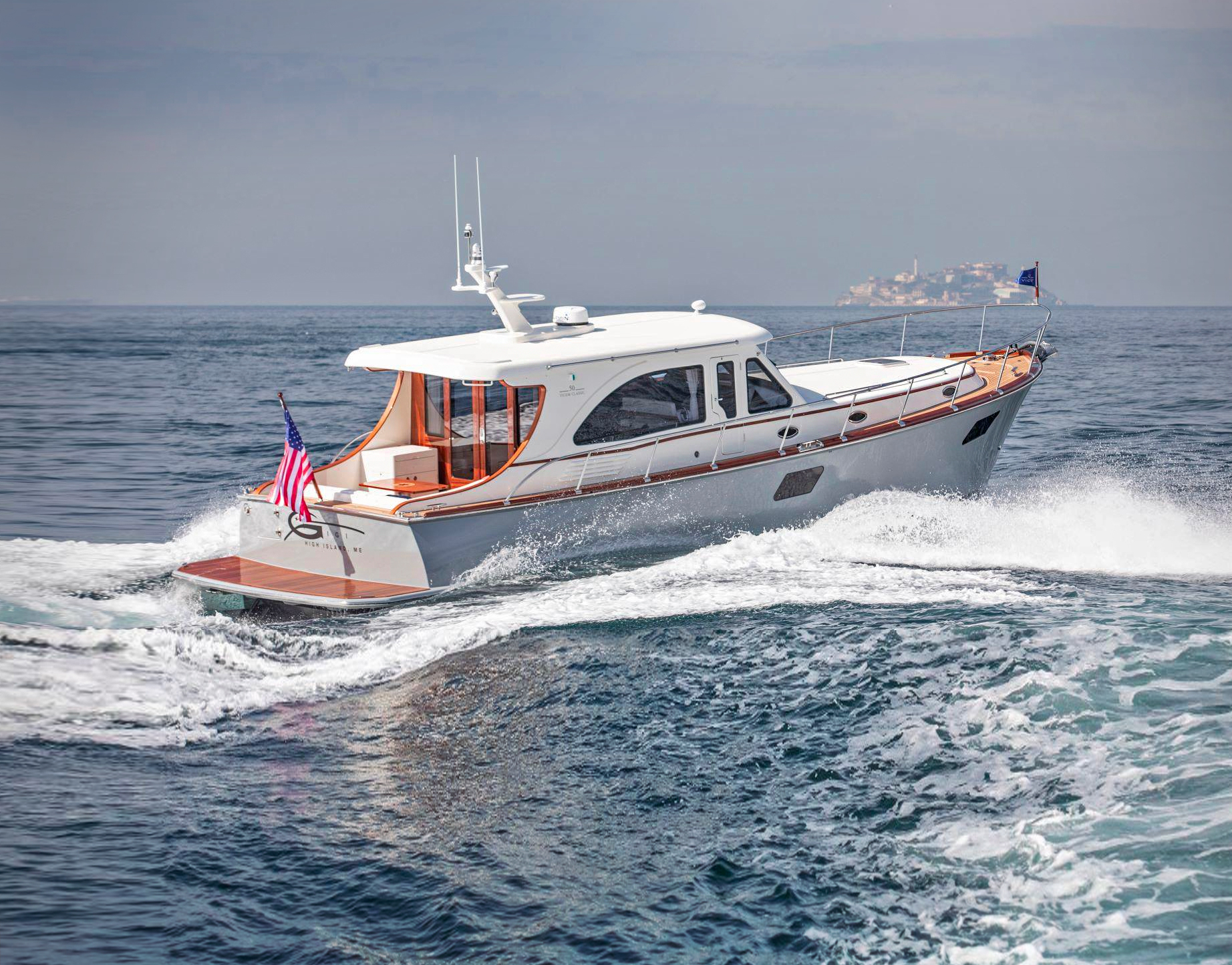 Vicem 50 Classic: A Modern Downeast Style Express Cruiser
The latest evolution from Turkish yacht builder Vicem Yachts: a composite fiberglass downeast express...