Like many avid sailors, Bob Johnstone opted to add a powerboat to his dock as age made him ready for the ease of joystick operations, rather than the rigors of sailing. Finding the right powerboat in 2002 became problematic however, so for the long-time builder of J/Boat sailboats, designing and building his ideal boat that could be easily operated by a couple who wanted to entertain and cruise efficiently became the more practical alternative.
Naming the boat for his wife, led to the name MJM Yachts, for Mary Johnstone's Motoryacht. The boat marked Johnstone's evolution from sailboats to comfortable, sociable power cruisers and helped create a new gold standard for a yacht that could easily be captained single handedly, had room for three couples to sit comfortably and provide all-weather protection while cruising at 25 knots.
Above: Watch our lifestyle video sea trial and boat overview video above that showcases the MJM yachts 43z model in action and highlights some of her key features.
The Evolution Of MJM Yachts Power Cruisers
With Bob's sailboat building heritage, the cruiser boat demanded the same disciplines—lighter, stronger, faster design and construction. Bob fancied the strength of a PT boat, coupled with a Carolina flare and the tumblehome of an Adirondack style yacht. With Doug Zurn design and the build of Mark Lindsay of Boston BoatWorks, the first 34 MJM was created.
Fast-forward to 2020 where outboard power dominates the market. The popular MJM 43zi inboard was converted to the new 43z, featuring triple 300 stock or 350 HP Mercury Verado outboard engines. While cruising in the mid-30 mph range with a top speed in the low 50s, the MJM 43z became a performance cruiser, still capable of island hopping and sandbar visits with its 26" draft, making it an ideal, easy to maintain, fun family and friends' boat.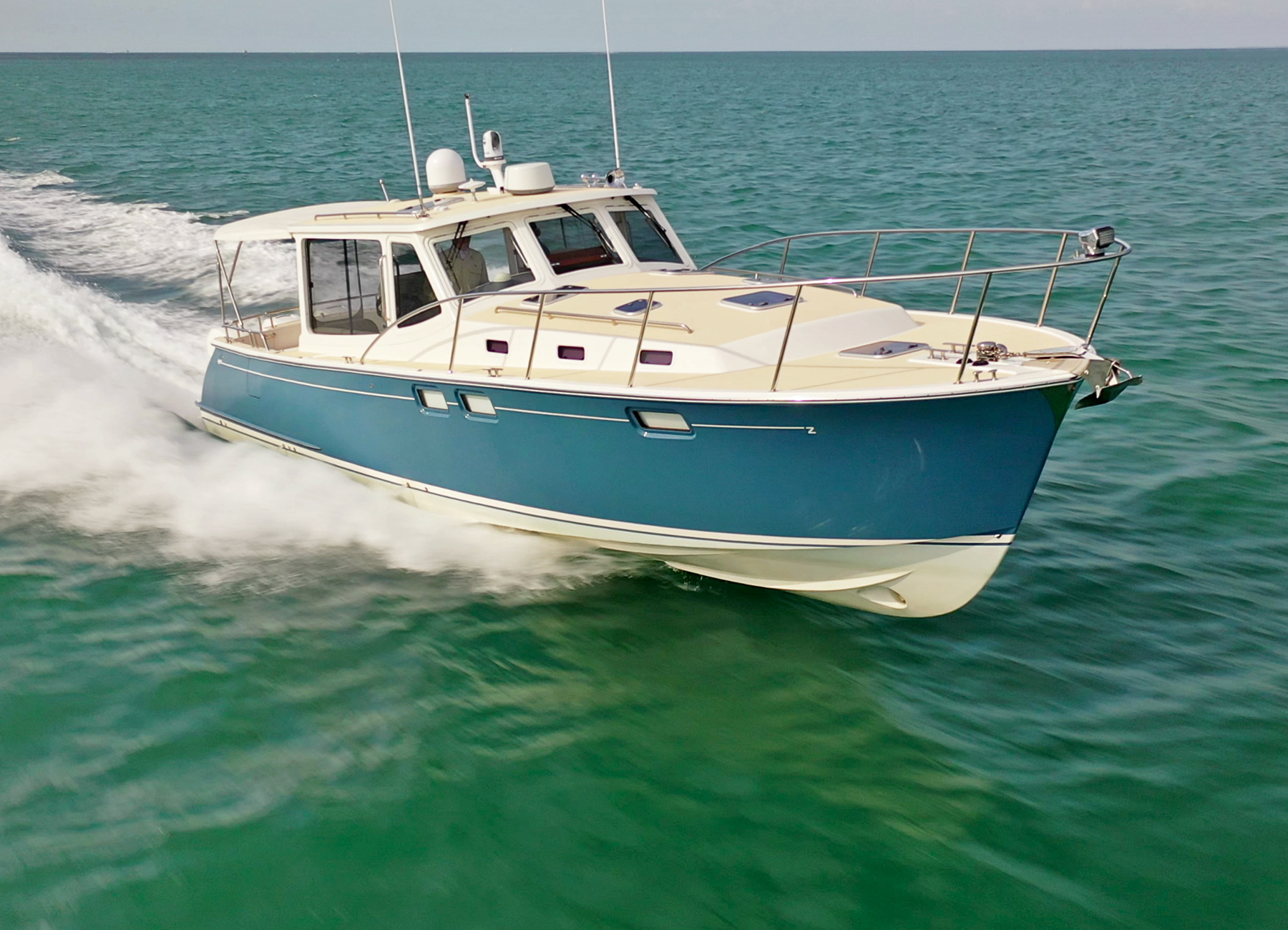 Above: A downeast style express cabin cruiser, the MJM Yachts 43z is a seaworthy motoryacht with Doug Zurn designed hull. 
Aft Deck: Key Features
The broad aft deck features comfortable, deeply upholstered and oversized bench seating, with one moveable, and two aft-facing seats. Dive doors both port and starboard provide entry and exit ease, as does a ladder to the large swim platform. This boat includes aft deck controls for the Reverso engine flushing system—a nice convenience for quick post-trip motor maintenance. Utilizing outboard engines provided extra-large storage space in the floor for luggage, life vests, and water toys, while additional hatches hold the generator, Seakeeper 5 and batteries.
Another "neat" touch is fold-down cup holders that can stow-away when underway, keeping the space clear and the cups from holding water. A full Bimini canvas shade covers the entire aft deck for sun protection while still providing an open-air feel.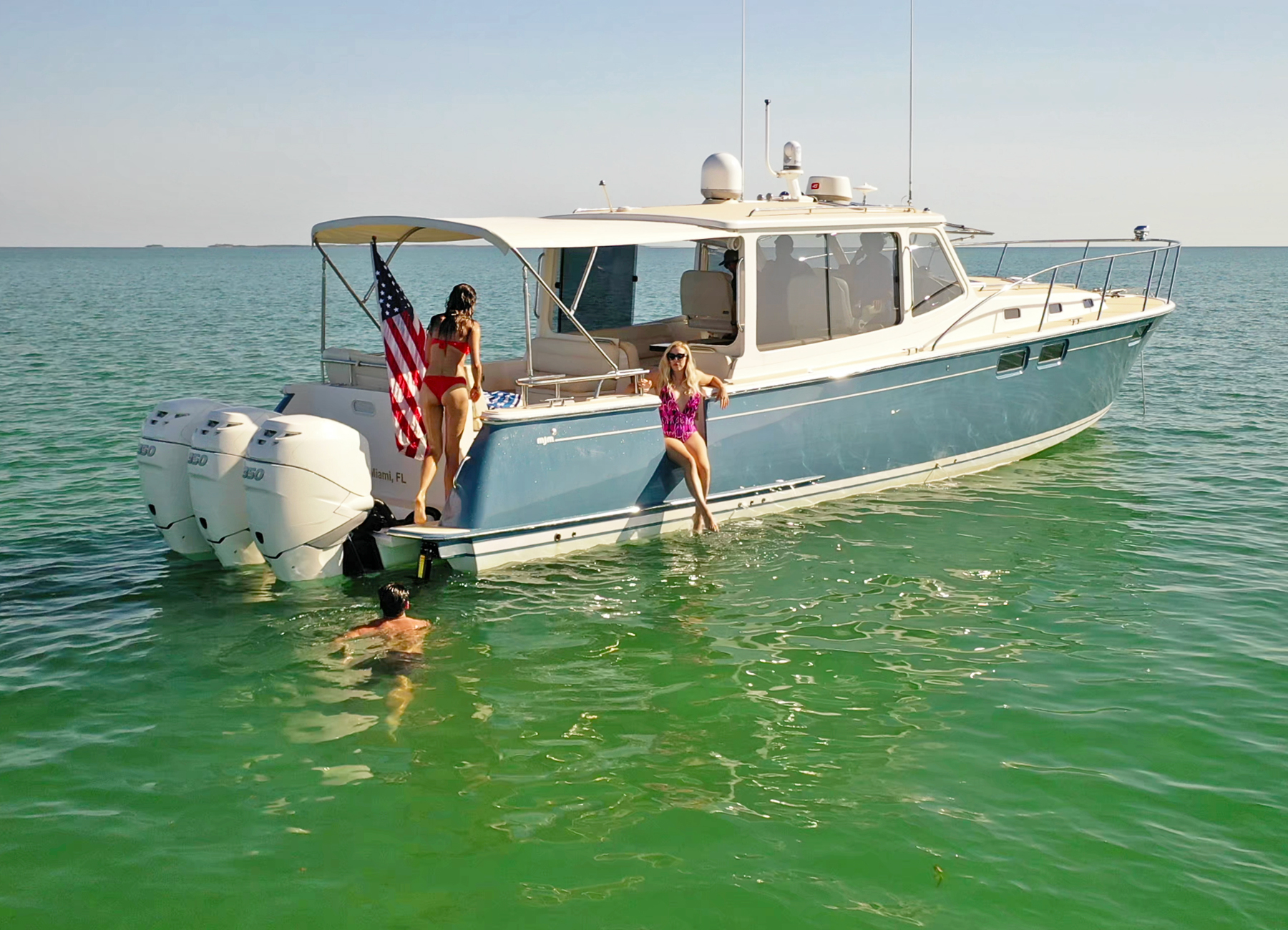 Above: The aft deck on the MJM Yachts 43z outboard express makes for a sociable, open-air layout with easy access to the water via transom and side dive doors and a swim platform that extends to the side of the triple outboard engines. 
Cockpit Features: Flexible And Sociable
The teak flooring throughout adds a warm richness as the aft deck opens to the pilot house and helm on one level. Exceptionally large windows on both sides open for those who love the wind, and close, along with additional zip-up aft deck isinglass, for weather protection and air conditioning when needed.
A cherrywood dining table folds out, framed by matching large, plush upholstered lounges, port and starboard. The table can be moved to the aft deck—another design flexibility feature. It can also become a sleeping porch with added cushions if needed.
Above: The openable, glass-enclosed forward cockpit gives way to a flexible open air design in the aft deck of the MJM Yachts 43z , giving passengers the feel of a center console or day boat but in the form of a larger yacht that provides ample protection from the elements while delivering a smooth and stable ride.
At The Helm: Comfort And Control
The air-conditioned helm is set up for a passenger/navigator with matching large, upholstered Stidd seats and Simrad screens both port and starboard. Along with Mercury throttles and joystick, a bow thruster and FLIR camera facilitate captaining. Cherrywood accents include the large captain's wheel and an accordion pull-down privacy door which separates the galley and cabin from the helm and becomes a chart table. A TV screen folds down from the ceiling above the helm for more cockpit entertainment.
Above: The main helm controls on the MJM Yachts 43z features a large wood and stainless steel steering wheel, three-panel opening windshield, premium Stidd seats, Mercury throttles and joystick plus a bow thruster and FLIR camera.
Cabin Interior
Between the galley and cabin, the head is to port while the stand-up shower is starboard. There is a private door to the head from the master, while another door opens to the galley way, providing passenger privacy and access. A classic Herreshoff style with wood accents gives the interior a refined feel that evokes the vessel's downeast roots. The berth has more wood storage cabinets, a large bed and skylight with privacy shades, making this a very comfortable live-aboard boat that can easily accommodate visitors.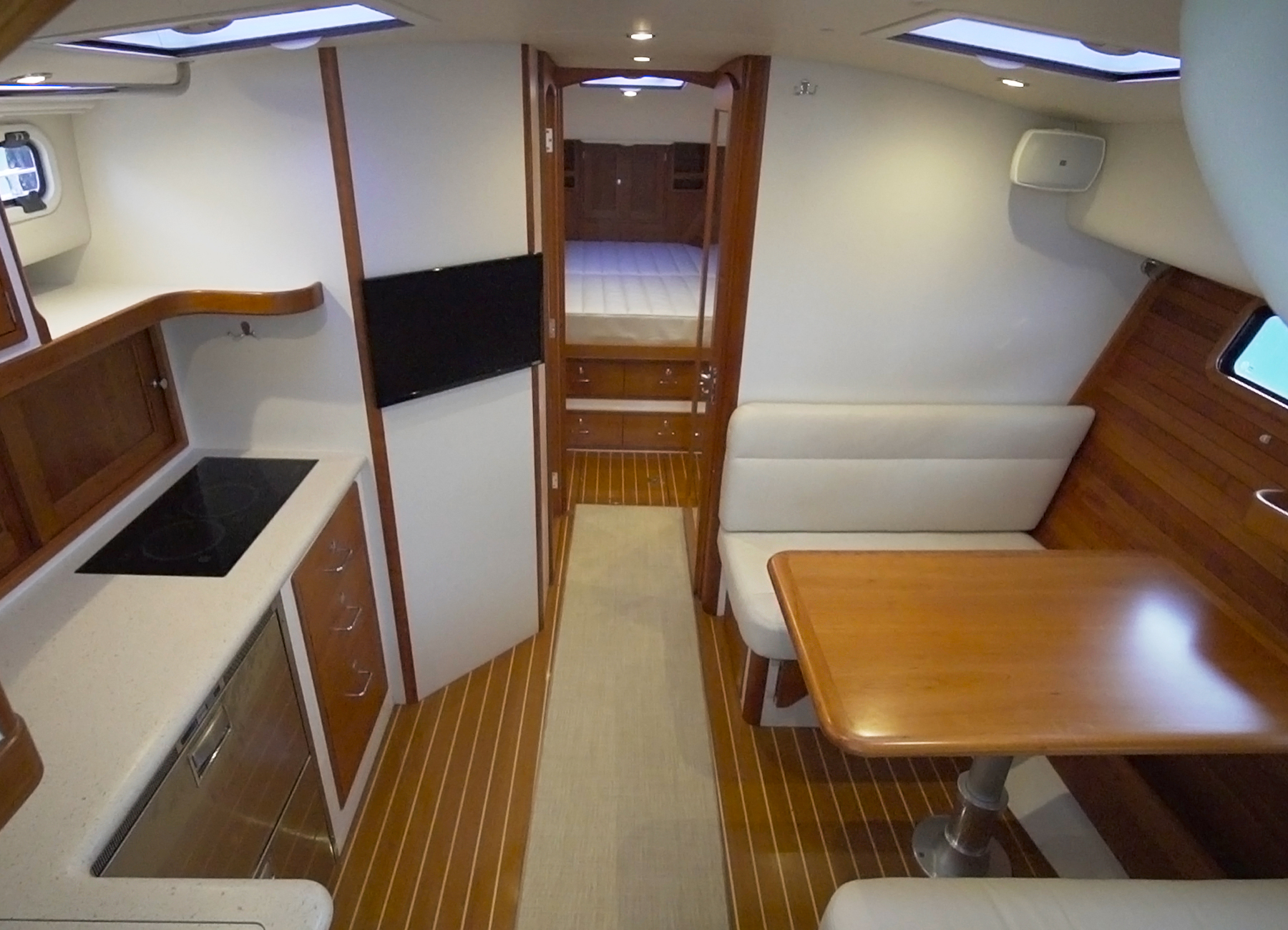 Above: The cabin interior aboard the MJM Yachts 43z is done in a classic Herreshoff style with wood accents and tasteful, clean white surfaces.
In comparison to the MJM 53z – her larger sister ship – that has a 15′ beam and two en suite cabins with options for four outboard engines and more speed, the 43z has a 12' beam that provides much the same features as the bigger flagship, but in a relatively easy to operate, slightly scaled-down version. Some MJM customers have added fishing features like live wells and rod holders to accommodate anglers on this cruiser.
Galley Layout
Stepping down to the fully equipped galley, one is surrounded by glowing natural light and rich cherrywood walls, shelving, table and cabinetry, topped by Corian counters. A sink, Kenyon stovetop, refrigerator/freezer and additional countertop freezer facilitate cooking and entertaining. The galley dining table can drop into a berth, creating more sleeping room and the cockpit could also sleep a few children.
Construction Process
All MJM yachts are built of strong, light and moisture resistant epoxy resins, vacuum molded and oven post-cured, true to their sailboat structure heritage. The lighter hull provides additional speed and fuel efficiencies and combined with the attention to design detail, this aesthetically pleasing boat will provide long-lasting and fond boating memories. MJM cruising vessels are ISO Category rated by the International Marine Certification Institute, (A, Ocean for the 53, B, Offshore for the 43), certifying their seaworthiness.
Above: Access to the shoal water, sandbars and harbors on the MJM 43z is easy thanks to a relatively shallow draft, side and transom dive doors. 
From coastal cruising to days on the sandbar, Mary Johnston's Motoryacht truly pleases everyone, giving the MJM name an endorsement for comfortable cruising in whatever size fits your boating lifestyle.
Above: Friends enjoy a cruise together onboard an MJM Yachts 43z as triple 350-horsepower outboards propels them through the clear azure water of South Florida and the keys.
Specifications:
Length Overall

46′ 3.5″

Length on Deck

42′ 7″

Beam

12'

Draft Engines Up

26″

Draft Engines Down

36 7/8″

Displacement

17,949 lbs

Deadrise at Transom

18.5°

Fuel Capacity

540 gal

Water Capacity

100 gal

Air Height

9′ 9″

Standard Power

Triple 300 hp Outboards

Top Speed

53 mph
View MJM Yachts for sale on YachtWorld today.
Visit MJM Yachts for more information.
Related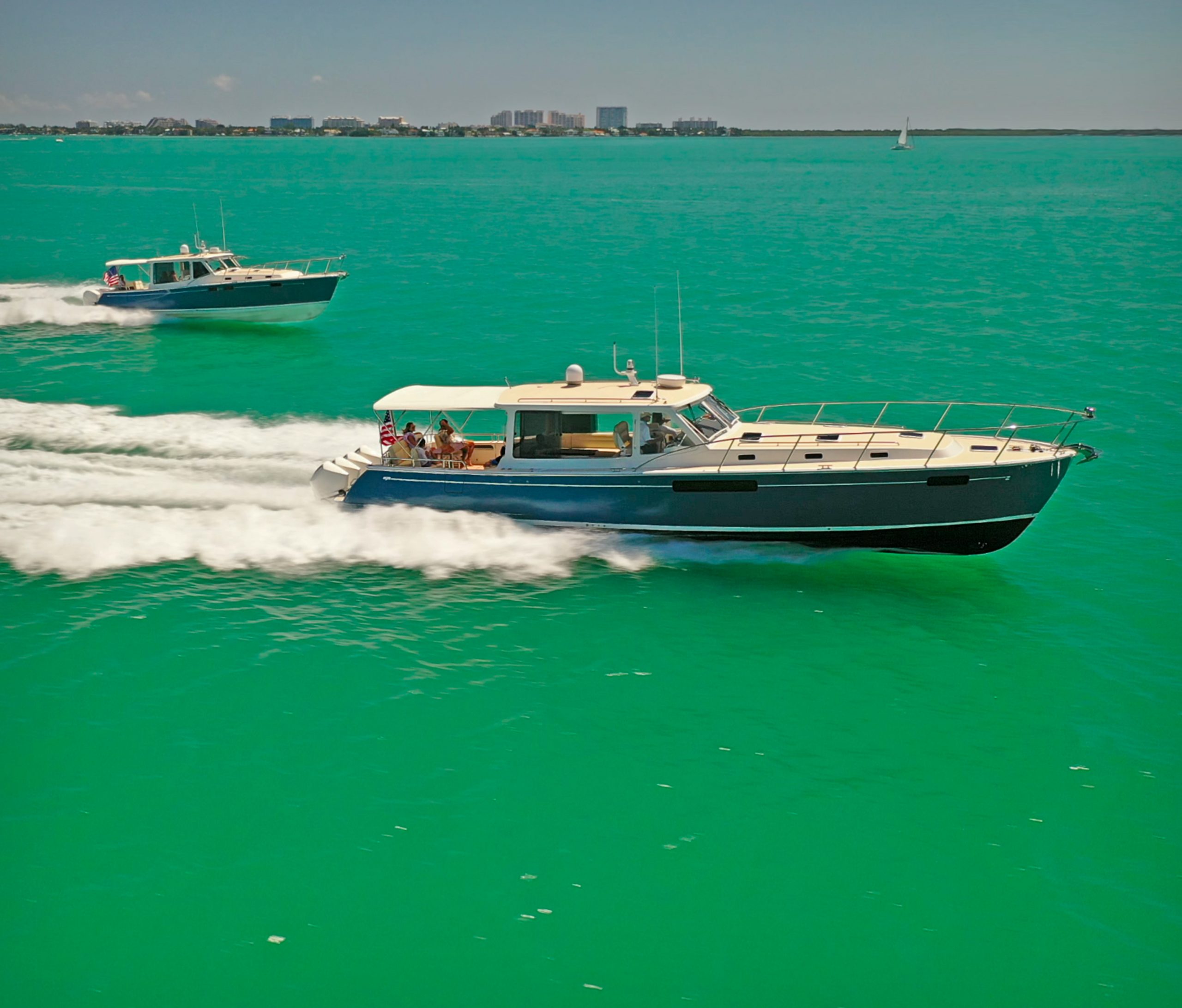 MJM Yachts Outboard Powered Express Cruisers
MJM Yachts shakes things up with a family of shallow draft, downeast-style express cruisers.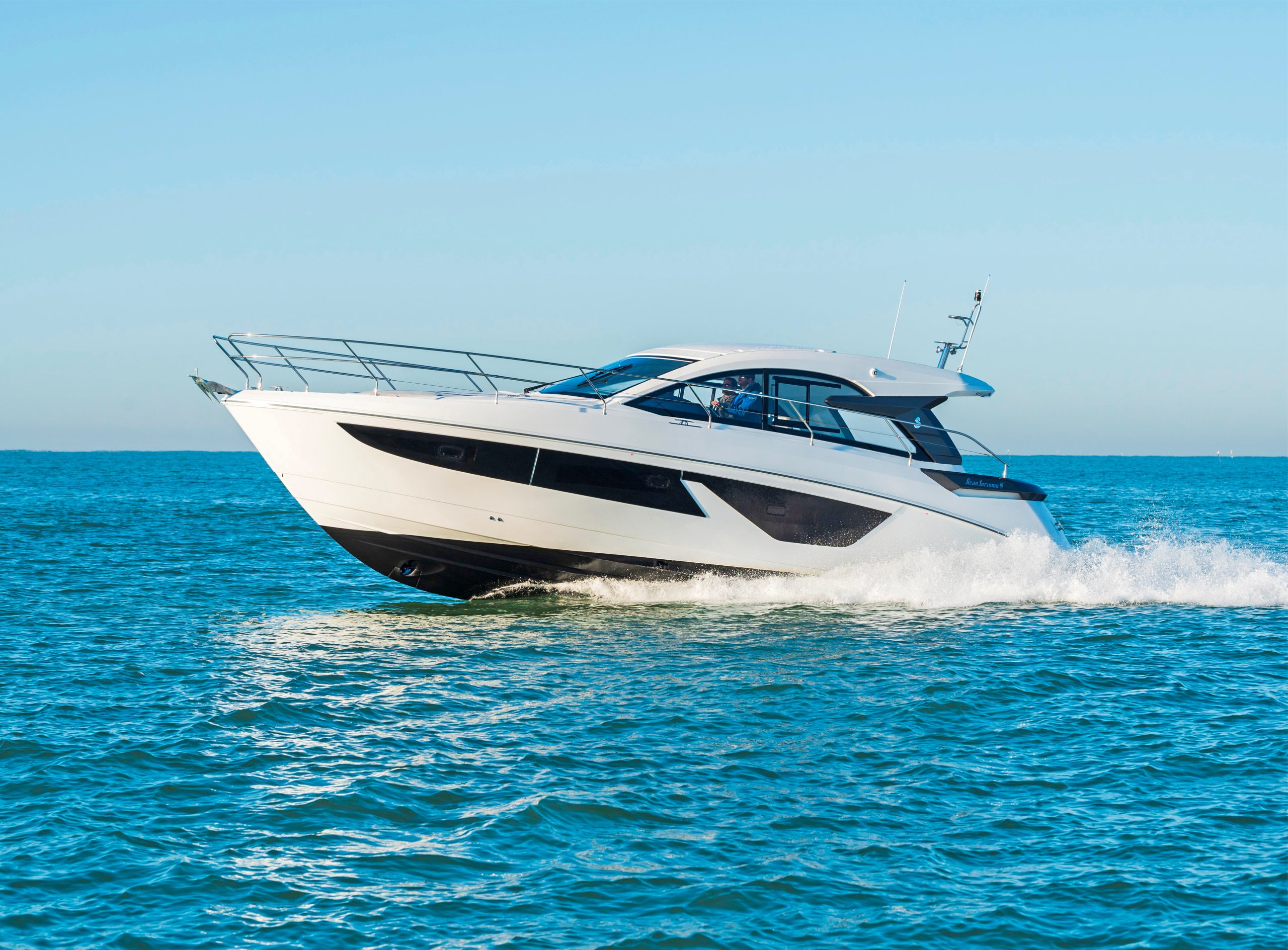 Beneteau Gran Turismo 41: Fluid Motion
The new Beneteau Gran Turismo 41 adds some sporty sophistication to the express cruiser genre.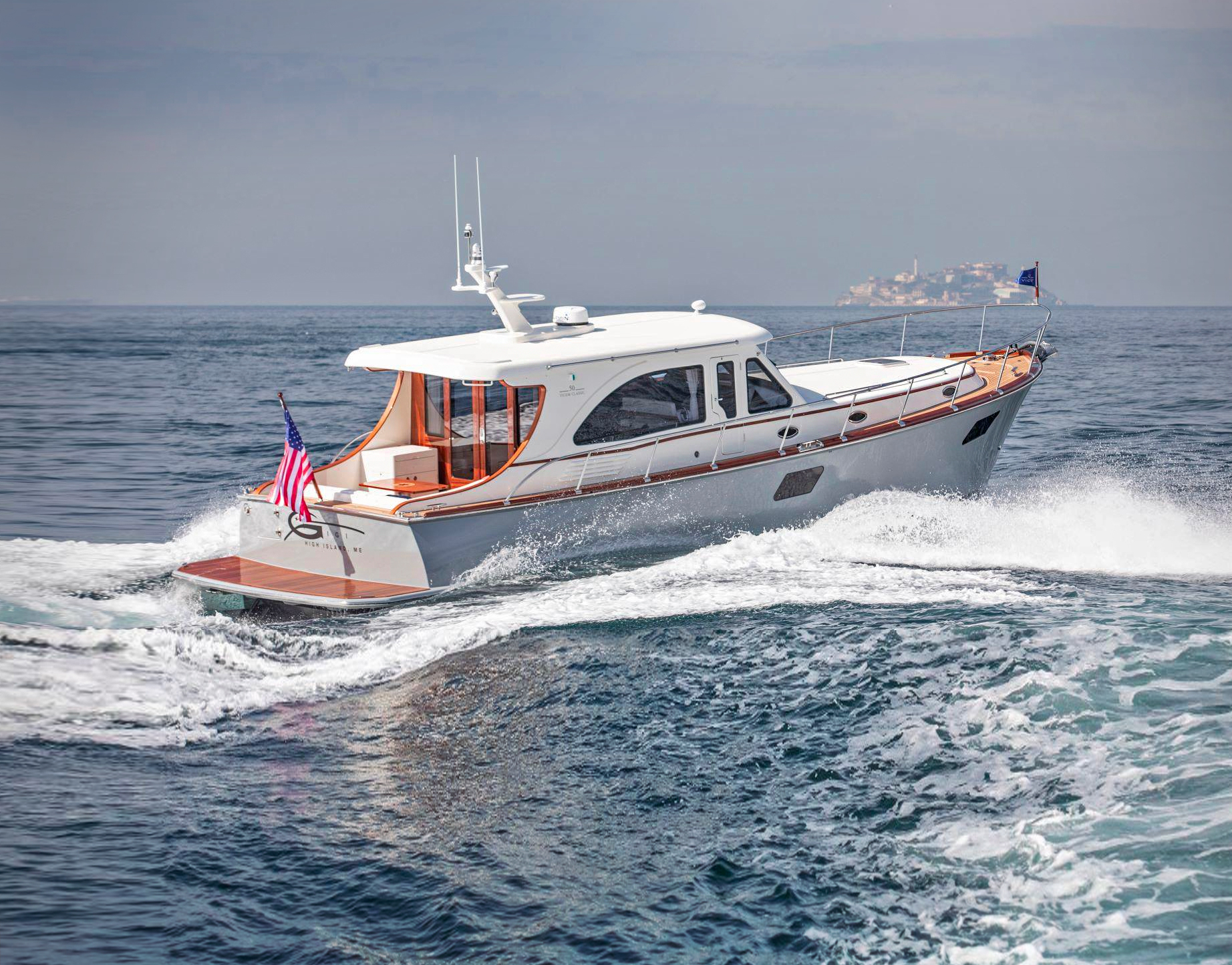 Vicem 50 Classic: A Modern Downeast Style Express Cruiser
The latest evolution from Turkish yacht builder Vicem Yachts: a composite fiberglass downeast express...