You've seen it time and again–a fast center console with 4, 5 or 6 behemoth engines on the back rides by–heads turn. Why? Who needs all that power? Well, simply because the people who are buying them can! The industry has literally jumped into gear to serve this new market and both boat builders (such as HCB Yachts) and engine manufacturers like Mercury are creating bigger, faster and more reliably than ever before.
Mercury Racing's new V-8 450R outboards are "empowering" OEMs and service shops as the echo heard from everyone who test drives a 450R-powered boat is, "It's the torque!" First-hand, we agree, because the engines are so quiet, you don't hear it, but you feel it. The pull doesn't feel mechanical, it's visceral.
The outboards use the Quad Cam 4 Valve (QC4) platform and while new to this V-8 configuration, the QC4 is not really "new" as Mercury Racing initiated this concept back in 2010 with its 1350, 9-Litre stern drive engines.
So let's recap an abbreviated history…
Mercury Racing Outboard Engines
Mercury's name has been recognized as a leader in outboard engines since in 1939, when Carl Kiekhaefer turned his new company, Kiekaefer Corporation, on a dime, to salvage Montgomery Ward's order of 500 rejected Thor outboard engines. He redesigned and machined the dis-functional engines, turning them into a new order and saving the company. Kiekhaefer and his father had rescued a local manufacturer in Cedarburg, Wisconsin, planning to produce magnetic separators and had little interest in staying in the marine industry; but his success story with these engines gave birth to Mercury outboards in 1940 and the company's outboard division grew steadily over two decades.
The rest as they say, is history, including the economic roller coaster ride that forced Kiekhaefer's sale of Mercury to Brunswick and the workaholic's subsequent founding of Kiekhaefer Aeromarine. Carl Kiekhaefer's story is one of drive—and drives and engines. What he didn't know, he figured out quickly with the smarts of a farm boy who knew how to run machinery and motivate people.
Kiekhaefer passed his resourcefulness to his son Fred, who worked with his legendary father for 7 years at Aeromarine, then left to pursue his own education and business interests in the financial field. However, Fred went full circle when his father died. He bought the assets of Kiekhaefer Aeromarine and turned it around, focusing on developing drives. After demonstrating success through multiple world championships in offshore racing and being pursued by Brunswick that wanted his technology, Kiekhaefer eventually agreed to sell the company. In 1990, another Kiekhaefer—though one with an MBA and a very different management style—was again at the helm at Mercury's Performance Products.
The Mercury Racing Name Is Born
Fred Kiekhaefer also turned Brunswick's performance division around, changing the name to Mercury Racing to reinvent the brand and products. Racing had always been used to test the latest new products in the harshest environments, but its sponsorships were also a large money drain on the company. Kiekhaefer favored innovation and the more profitable aspects of production and Mercury Racing became increasingly valuable to Brunswick.
Challenges With Emissions Regulations
Emission regulations were coming into play in the early 1900s. Unburned hydrocarbons were problematic in conventional 2-strokes, so their future was dim. Direct fuel injection (DFI), with secondary air injection (Optimax), suffered air pump problems in early Mercury DFI engines. Mercury Racing addressed the OptiMax issue by upping air injector PSI and improving compressor structural support. Direct injection technology was rolled over to Mercury Racing's participation in the 24-Hours of Ruen races, where it was forced to run in an experimental class and took third. Though the F1 engines had higher top-speed, due to its increased fuel efficiency, Mercury eventually won first place in all classes.
The U.S. Navy Looks To Mercury Racing Engines
Just as racing was a test ground for innovation, so was the U.S. military. Mercury Racing's version of OptiMax powered the U.S. Navy's spark-ignited diesel engines as the Navy sought to eliminate gasoline from ships. Mercury utilized what it learned from race victories and government service and put it into production.
In the mid-late 1990s, the 2 and 2.5 liter 2-stroke engines were a work in progress and the 225 HP engines were slowly maturing and becoming more reliable, thanks to the Optimax direct fuel injection. Mercury's international business grew and so did the varied needs of fishermen and recreational users across the globe. Engineering innovations to improve performance continued.
Mercury Verados Introduced
Verado'a 4-stroke then became the platform for 275 HP engines. Mercury Racing's 350 HP variant ran on high octane fuel and a "next generation" to create more power was needed. Outboard R&D continued, but in the meantime, stern drive engines were heavily utilized, and Mercury was at the drawing board. Car blocks were getting smaller and Mercury Racing realized that marinizing big and small block automotive engines was not the future. The company knew it needed to come up with its own block—a bigger aluminum one––just as a smart, young engineer came to work there, Erik Christiansen.
Mercury QC4 Engine Introduced
Fred Kiekhaefer recognized Christiansen's potential, and mentored him for a growing role as Racing's director of engineering. Christiansen headed a 25-person team that developed the Quad Cam Engine in 2007, just as the economy took a dive. Kiekhaefer fought for funding and was prepared to create the engine on his own, but Mercury Racing eventually anted up and the engine was introduced in 2010. Kiekaefer remembers his first test ride in a 35' single engine boat. The acceleration literally threw him into the back seat, and he knew he had a winner.
The power of the engine was so high that it blew up the old Bravo drives, so a new M8 drive was created to handle the new QC4. The engine concept was successfully tested in a 46' Cigarette Racing Team powerboat in a secretive project on a private waterbody at Tyndall Air Force base on the Florida Panhandle. The engine was further refined into the 1350 HP Super Charged Injected (SCi) 9-litre engine, which ran on pump gas. A new Cigarette 46' with the twin 1350 SCi engines made its debut at the 2010 Miami Boat Show; that engine became the first of a series of even higher horse powered SCi engines that also debuted in ensuing Cigarettes.
In the following years, Mercury built on the growing outboard market with its Verado 4-stroke engines including the 4.6 L V8 and the 2.6L supercharged L6. The Racing division continued with its version of the engine, working from the 300R up to 350R.
In 2012, Fred Kiekaefer left Mercury Racing and Erik Christiansen became GM. This history all leads to the new 450R with roots and philosophy from the stern drive engine. And while Fred Kiekhaefer notes, "I can't take credit for the new outboards, but I can take credit for the culture that made them possible."
On to the growing outboard market…
Outboard Engines Grow Bigger, More Powerful
First, let's understand the identities of Mercury "mainstream" and Mercury Racing. Though both are produced by the same manufacturer, there is a bit of "church and state" rivalry. In the stern drive world, anything 500+ HP was considered Mercury Racing territory. But as outboards grew bigger, the delineation grew a bit fuzzier. Racing's business is to push products to the max and achieve the most power and durability under stress. Both divisions produce top-quality engines, but the buyer who doesn't require full-throttle power or weight shift differentials—like the U.S. Navy or a competitive Poker Runner–has many more affordable Mercury or Mercury Racing options.
As far back as 2014, the 450 was part of Mercury Racing's master plan for the V8 platform says Steve Miller, director of marketing, sales and service. Miller, a second-generation Mercury team member, followed in his father's footsteps who was hired by Carl Kiekaefer, spent his life fishing and boating and earned his position, steeped in Mercury culture and boating.
As center consoles kept getting bigger, engines had to keep up. All manufactures were upping their platforms with Yamaha and Mercury going head-to-head with Seven Marine charging alongside, with its corporate boost from Volvo Penta's acquisition in 2017. "A 32-34' boat with twin engines used to be considered big, but now, these center consoles are surpassing 50' and they don't want to lose power," Miller states. "We knew we had to keep top speeds and torque, staying on plane and delivering the acceleration our brand is known for."
The growth of this market came largely from the performance customer, whose boats had been powered with the QC4V engines. This group was aging and had more people and family to entertain on the water, requiring room for water sports equipment, children and comfortable luxury for adults. That customer may be older, but not ready to slow down. "These boaters still wanted to roar up the coastline and head to the sandbar. They want to stand out from the crowd," says Miller.
Outboard Catamaran Market Expands
In addition, 2016 saw the outboard catamaran market expanding with Skater, MTI, Mystic, DCB, Donzi and Doug Wright building 37-40' racing cats that were trending to recreational. "The cat market was on fire!" says Miller, "And the 400R became the engine of choice for top speeds. Mercury Racing attached the rear tie bar bracket to the engine so the package could be bolted on, simplifying installation.
By this time, Erik Christiansen had left Mercury, and after a brief period outside the industry, he became president of Cigarette Racing Team, continuing the "strategic alliance" with Mercury that owner Skip Braver had established when he bought the company in 2002. The Mercury Racing 400R outboards—6 of them–powered the newest and largest 59' Cigarette Tirranna at the 2019 Miami Boat Show and it boasted speeds in the 70s.
Mercury Introduces The 450R Racing Engines
Mercury Racing chose a media event in 2019 on Old Hickory Lake in Nashville to showcase the 450R. The engines were mounted on a variety of performance boats including a Cigarette Tirranna, with five, a Formula 430, Nor-Tech 450, Midnight Express 43, MTI-V 42, Mystic Powerboats M3800 cat and a Wright Performance 420 cat—all with twin, triple and quad versions. Media reports were almost giddy with excitement.
Brunswick CEO, David Foulkes was on hand at that event and was quoted as saying, "Four or five years ago when we launched the 400R, we were at the height of transition…from inboard stern-drive propulsion to outboard power, and we had the most powerful, quietest and compact mainstream outboard in the segment. As soon as we got into the development of the V-8 platform we knew we would eventually offer a supercharged derivative of it."
Foulkes was also quoted recently in an International Boat Industry (IBI) article discussing design of the engines as a cross between aesthetics and function, placing importance on how the engine looks on the boat. Engineering included making the profile slimmer to accommodate the multiple engine configurations, while the interior of the engine was shorter and wider. The 26" wide cowling is wrapped tightly around the core of the engine to keep it compact which also makes it stiffer, stronger and quieter. Said Foulkes, "Mercury is continuing to push all the elements of design and innovation. Design is not just the way it looks, it's the way it sounds and the way it operates. We innovate to make things simpler to enjoy," he added, noting the access panel on the top of the cowling that enables easy release of the cowling and access to measure and fill the oil.
Key features of the Mercury Racing 450R:
Torque – 40 percent more than the Mercury Racing 400R outboard due to a combination of the added boost from the higher displacement (2.4L) supercharger along with the transient spark feature.
Weight – 689 pounds, about 300 pounds lighter than its nearest competitor according to Mercury
Fuel – 89-octane (or 90 Rec) makes it easier and more affordable than its high-octane predecessors
Block – The V-angle of 64-degree aluminum block, topped with aluminum cylinder heads, provide a slim profile to maintain a 26" centerline distance, (important for multiple engine configurations), while the Quad Cam Four Valve (QC4) design and double overhead camshafts provide maximum air flow and power.
Valve train – a high-performance intake cam profile is coupled with racing exhaust valves. The chain-driven camshafts and buckets are lubricated by high pressure oil galleries in the cylinder heads.
Adaptive Speed Control system – with custom Mercury Racing calibration, automatically holds engine RPM when loads or conditions are changing, so it maintains boat speed with less throttle input.
Propellers – Mercury Racing will customize propellers depending on customer use. Aggressive boat operators (over 75 mph) may like the cast Revolution 4 XP or Max5 while the 5-Blade CNC cleaver models are favored for optimum performance (85-120 mph).
Warranty – three-year limited factory warranty can be extended by purchasing from 1 year to up to an additional five years of Mercury Product Protection. The warranty is transferable to a new owner when sold. (Prices for the warranty range from $3,965 for 1 year to $17,910 for 5 years.)
Price – Depending on options MSRP $54,000 to $64,700. Compared to $35,000-43,500 for the 400R.
So while the price tag for the 450R is hefty, a segment exists that is motivated by the latest, fastest product on the market—not affordability. Other buyers realize that the 300R and 400R—or the "mainstream" versions, are still provide all the power they need or want in an industry-accepted price point.
So whether you need to own or want to fantasize, we provide some insights from a recent test of HCB's first 42 Siesta with quad 450R Engines.
(Video link)
Sea Trial: HCB 42 Siesta + Quad Mercury Racing 450R Outboard Engines
While HCB doesn't build a boat strictly for speed, but rather for long, luxurious cruises, the 42' Siesta with quad Mercury Racing 450Rs, easily lifts to plane with little bow rise and literally takes off in seconds. The speed is palatable, but comfortable and smooth and you can feel the power of the superchargers not only at the wheel but through the whole boat as it takes turns easily, holding—not sliding.
The no-step hull is balanced with modified strakes and chines which are partially stepped, to provide lift and reduce drag. The hull bottom works together with the 23-degree deadrise from midship, aft, then increases toward the bow. This construction reduces banging in choppy water, and we had to run over our own wakes on this calm water day to try to coax a bounce. Rather, the boat ran smooth across the minimal chop as the solid, heavier build accommodates the weight of the engines, 3 fuel tanks totaling 614 gallons, an added optional 130-gallon fuel tank, generator and Seakeeper.
The switch to the Mercury Racing engines is a big step for HCB which has favored Yamaha engines for years. However, to please its customers, the company tweaked its build and reconfigured the helm with Mercury VesselView and Garmin instrumentation and was convinced with the 70-mph top speed, and easy cruising at 65.
The 42 Siesta is ideally set up for fishing with two transom live wells, fish boxes with chill plates, plenty of rod holders and a new fresh-water rinse incorporated into the T-top. Cruisers who are happy to relax in the padded bow and sun lounge or at the air-conditioned helm area will enjoy the robust JL sound system with flush speakers and the cabin comforts like the enclosed head and shower, berth and mini galley.
Our captain, a young boater with a good feel for a vessel, sunk into a relaxed "gangster lean" as he navigated through the clear Atlantic waters doing tight turns to get the desired underwater and drone shots for our video. While I enjoyed driving the boat, I was content to be one of the cruisers that day, just taking in the blue skies, clear seas, relishing in the boat's performance and the real feel of power. Mercury Racing upholds its tradition and heritage.
Related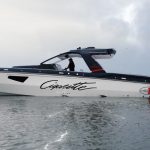 Cigarette 52 Thunder: 90MPH Center Console with 6 Mercury 500R Engines!
Hear a Rumble? It's the Cigarette 52 Thunder powered by six Mercury 500R engines!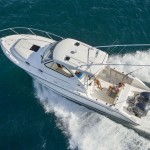 Saltwater Fishing Boats Guide
From center consoles to expresses and convertibles, which fishing boat is best for you?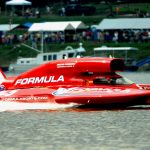 Cult Classics EP. 4 – Formula Boats: High Performance Luxury
Category:
High-performance powerboats
YachtWorld explores the rich history of Formula Boats, an iconic American boat builder.