The World's Largest Sailing Yachts might seem diminutive when compared to the record breaking, largest power yachts in the world. The biggest vessel that can move under sail alone is currently 127M (417 Ft.). Anchor that next to the current largest power yacht, the 184M (603 foot) gigayacht REV, and it might not seem very impressive. But think again because marrying the romance of sailing with the high-tech world of super yacht building is no easy task.
Building a super yacht takes a whole team of highly skilled people trained in extremely specific fields. Naval architects, marine engineers, structural engineers, ship builders, interior designers. Everyone must work together to make a dream not only become a reality, but one that can withstand the rigors of being at sea. Building a sailing super yacht takes this monumental task to the next level.
Yachts designed to sail must take into consideration the immense forces that the wind will put on the vessel, the rig, and its crew. From properly counterbalancing the height of the masts with the weight of the keel, to creating a sail plan that is efficient, safe, and easy for the crew to control, to designing interior spaces that are secure when the vessel heels over.
Sailing superyachts and gigayachts pose a lot of challenges for boat designers and builders alike. Let's take a moment to respect and admire the skill, design, and artistry of these sailing giants. They might no be the biggest boats out on the planet, but I think you'll agree that these vessels are some of the most attention grabbing on the water.
1. Sailing Yacht A – 142M (465 Ft.)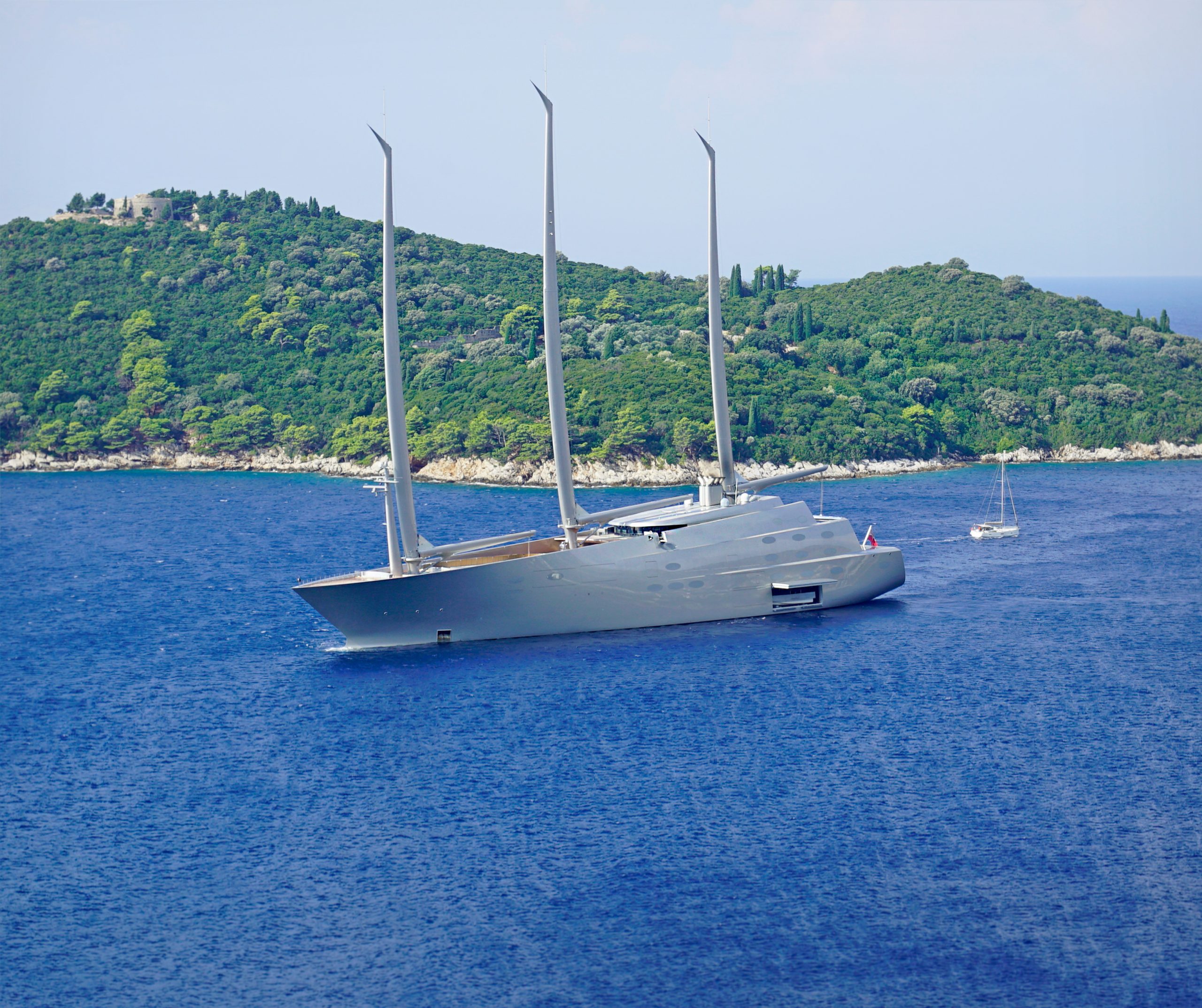 Above: The largest sailboat in the world, "Sailing Yacht A" (a sail-assisted vessel) at anchor in a harbor in Europe. Note how the sailboat to her stern is dwarfed by her sheer size. Photo by Brock Harris for YachtWorld.
This vessel is both innovative and controversial. Built by Nobiskrug in Keil, Germany and designed by Philippe Starck Sailing Yacht A launched in 2017 and is classified as a "sail-assisted motor yacht" meaning she is not a pure "sailing vessel" per se. Her large, monochromatic, and uniquely-shaped hull is arguably more motor yacht than sailing vessel, but the three 100-meter unstayed carbon fiber masts do nod to the sailing ships of yore. Therefore we include her on the list here as she at least partly a sailing vessel and is worthy of note and discussion when we rank these huge boats.
Above: Video of "Sailing Yacht A" on the water in Saint Barths. Video by Superyacht Times (via YouTube).
Weighing in at over 12,000 GT and with a draft of 8 meters (26.2 feet), this schooner has garages for four tenders, a submarine, and a touch-and-go helipad on the bow. Almost 50 meters (164 feet) longer than the world's next largest sailing yacht, this unusual boat is sure to keep its place on the top of the charts for decades to come. And, the radical hull design of Sailing Yacht A is sure to keeping turning heads in harbors around the world.
2. Koru (Formerly Y721) – 127M (417 Ft.)
Second on our list (although she is technically first, when only considering "pure" sailing yachts) is Oceanco's new 417-foot, $485 Million Masterpiece, commissioned by Jeff Bezos and dubbed Koru. Constructed with a steel hull and an aluminum superstructure she has three towering masts that measure over 230 feet (the same height as the Great Pyramid of Giza), making her the tallest sailing yacht in the world. Named after the Māori phrase for "new beginnings," Koru showcases a glossy black hull and a white superstructure. Additionally, the big sailboat boasts a capacious pool located on the aft deck and several plush outdoor lounges for guests to relax in.
Previously known only as Project Y721 or simply Y721 she eclipsed the former second place holder Black Pearl on our previous list by 69 feet (although we've since amended our list to include the cruise ship sailboat Sea Cloud). Built at the Zwijndrecht shipyard in Holland, the hull caught the attention of city dwellers and the world alike when it was spotted traversing the narrow canals of the Dutch countryside onboard a barge in October 2021. The gigayacht is an Oceanco design and keeps in line with their other sailing yachts, sporting crisp, classic lines. The vessel is rigged as a three-masted schooner and features a bowsprit.
This behemoth, black-hulled sailing yacht is owned by Amazon's Jeff Bezos, the second richest individual on planet Earth, according to Forbes. Perhaps that's a prerequisite title for footing the nearly $500 million dollar price tag. In addition to Jeff Bezos' yacht, the American entrepreneur has also been making news by blasting into space onboard his company Blue Origin's New Shepard spacecraft, named after Mercury astronaut Alan Shepard, the first American to go to space.
3. Sea Cloud – 109M (357 Ft.)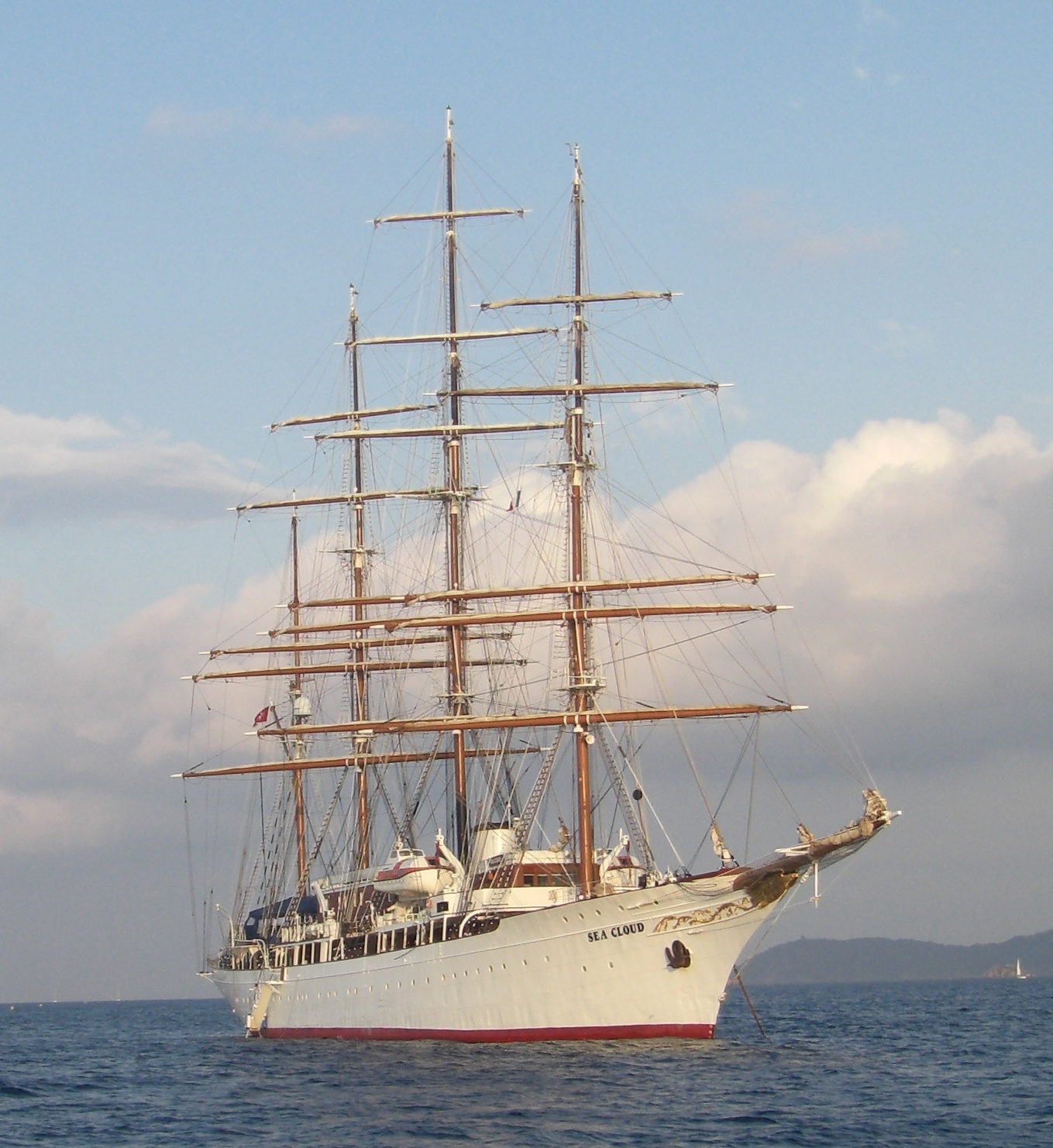 Above: The 4-masted, barque sailing ship "Sea Cloud" on September 10th, 2007 in front of Porquerolles harbour, France. Photo by Bas on Wikipedia, released under the public domain.
Often included on the world's largest sailing yacht lists, Sea Cloud was built in Germany in 1931. Launched as a private yacht, this ship served as a weather reporting vessel for the US Coastguard during WWII. She was designed by Cox & Stevens and her interiors were initially conceived by her owner heiress Marjorie Merriweather Post, who was trained in marine engineering. Returned to its owners after the war this vessel has had many owners and travelled throughout the world over the last seven decades. Launched in 1931, Sea Cloud is, by most accounts, the oldest passenger ship still on the water in the world and is steeped in history.
Notably, Sea Cloud played an important role in racial integration when Lieutenant Carlton Skinner famously sailed his first weather patrol with a fully-integrated crew. Eventually 50 black sailors were stationed on the ship and helped illustrate to the U.S. Navy that integrated crews could work just as efficiently as segregated crews.
Since then, the yacht has been rebuilt (notably in 1979 and 2011). She has changed hands several times and is used today as a luxury charter yacht and cruise ship. Currently boasting 32 cabins and a complement of 60 crew, her distinctive four masts and sweeping bow make her easy to recognize. Her age and stately vintage appearance have helped earn her the title of "World's Oldest Ocean-Going Passenger Ship." Sea Cloud is surely impressive, but as it used as more of a cruise ship, can she still be considered a sailing yacht? That's up for debate.
4. Black Pearl – 106M (348 Ft.)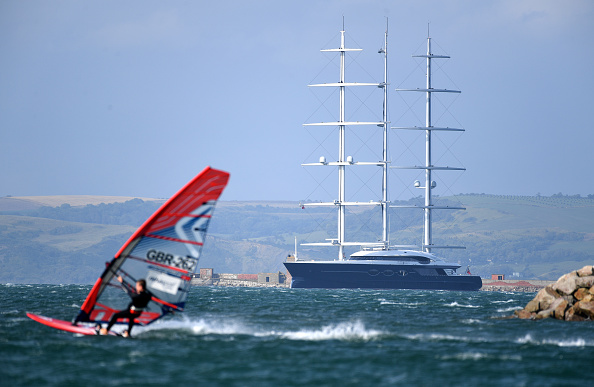 Above: Mega sailing yacht "Black Pearl" moored on July 30, 2019, in Portland harbor, England. The 106-metre, 200 million dollar, mega yacht was designed and built to cross oceans under sail power alone and is owned by Russian billionaire Oleg Burlakov. Photo by Finnbarr Webster/Getty Images.
Black Pearl is a privately-owned yacht that was delivered in 2018 by Oceanco shipyards in Holland, she is one of the most advanced sailboats in the world. Sporting a sophisticated solar array for power generation she's pushing boundaries when it comes to modern yacht design.
Above: Video footage of the 350-foot, steel Black Pearl sailing yacht on the water. Video by Louis Nineteen (via YouTube).
With her steel hull, an aluminum super structure and carbon fibre masts, Black Pearl carries over 31,000 square feet of sail. This impressive array of canvas can be unfurled at the touch of a button in just under 7 minutes! Her official max speed is listed as 17.5kts but she is rumored to be able to reach speeds of nearly 30kts under sail.
5. EOS – 93M (305 Ft.)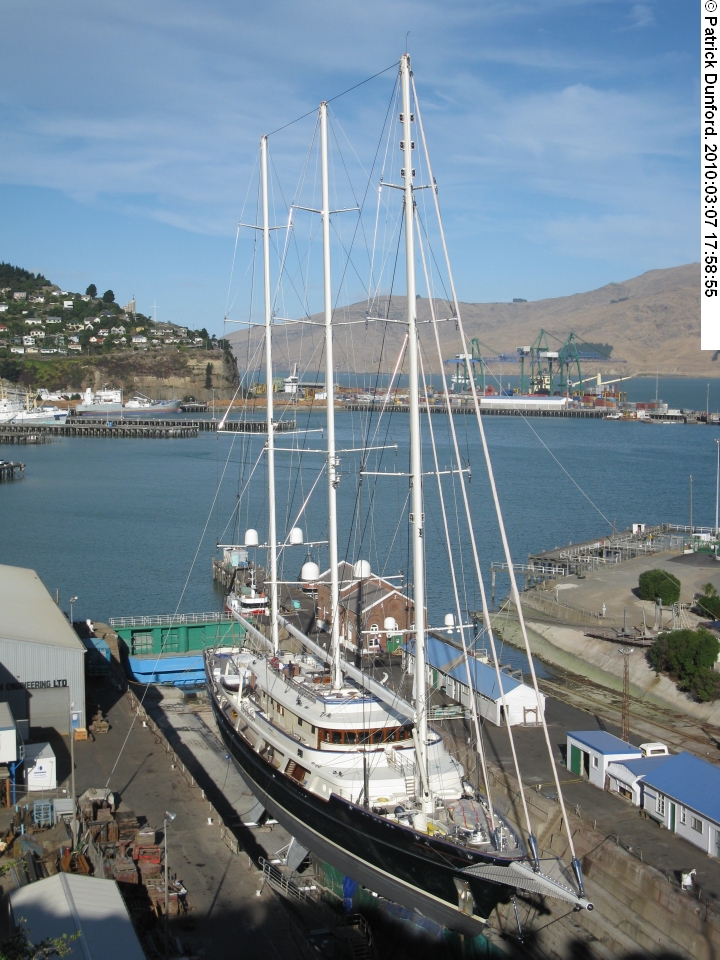 Above: The superyacht "EOS" in the drydock at Lyttelton, New Zealand. Photo by Patrick Dunford, licensed under the Creative Commons Attribution-Share Alike 3.0 Unported license. 
Launched in 2006 by Lürssen, a world renown super yacht builder, EOS is a 3-masted, Bermuda-rigged schooner. She has a beam of 13.5 meters (44 feet), a draft of 5.5 meters (18 feet) and weighs in at 1,500 GT. Designed by Langton Design Associates her aluminum hull is as graceful as it is strong. The interior design was completed by Françios Catroux and offers accommodation for 16 guests. Carrying a compliment of up to 21 crew this is one of the most privately-run yachts in the world, and few details about this vessel have been released over the years.
6. Athena – 90M (295 Ft.)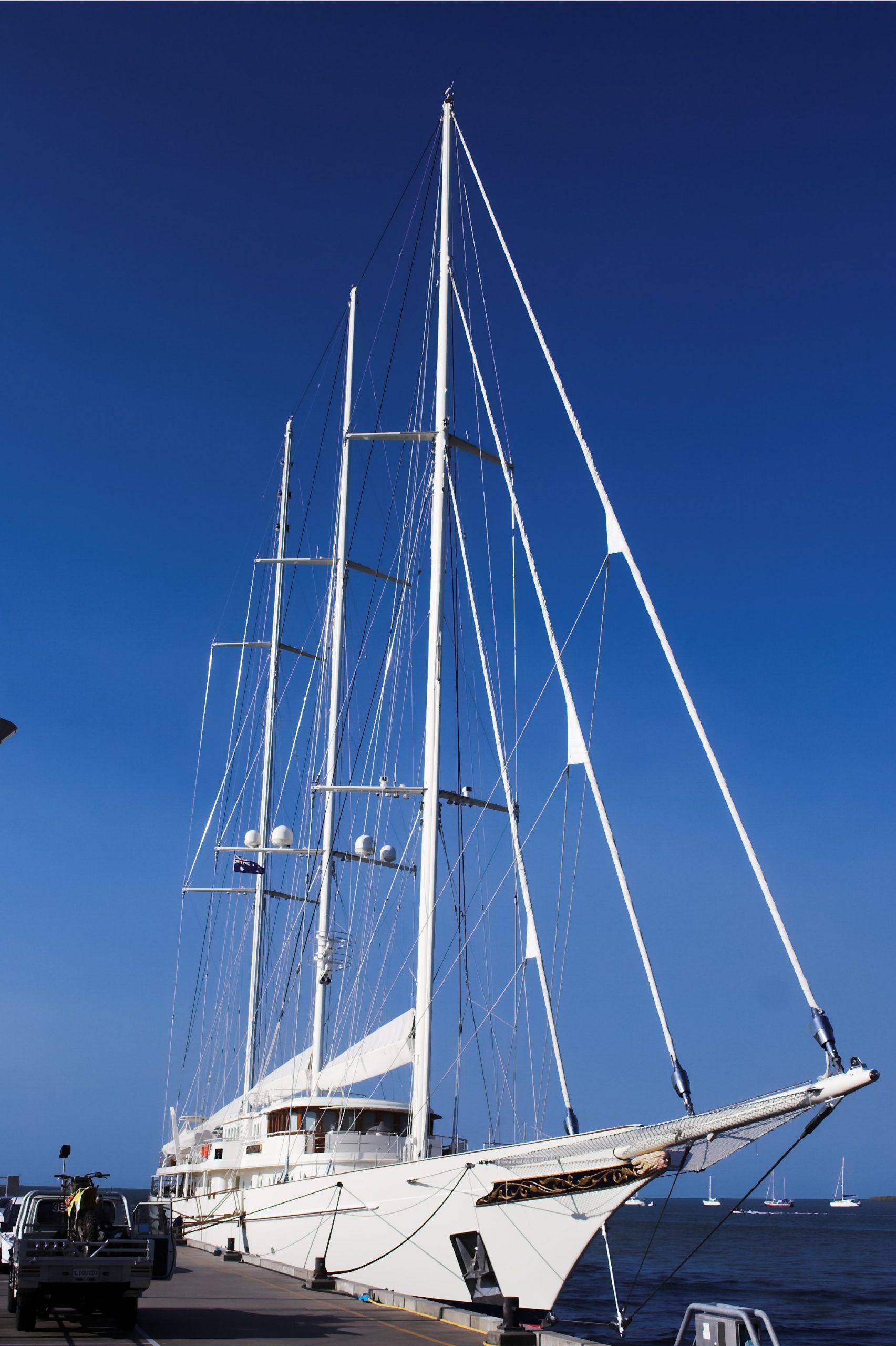 Above: "Athena" is a clipper-bowed, three-masted gaff-rigged schooner sailing yacht built by Royal Huisman in 2004 for Internet entrepreneur James H. Clark. Photo by Fosnez at English Wikipedia, released into the Public Domain. 
With clean lines and a classic design, Athena is reminiscent of large sailing ships of the early 20th century. As the flagship of Royal Husiman, Holland, she was designed by Pieter Beeldsnijder Design in conjunction with naval architecture by Dykstra & Partners. Named after the Greek goddess of wisdom and war, Athena is as elegant at anchor as she is underway. Her 3-masted schooner design carries 26, 909 square meters of sail and can reach 19kts underway. Able to sail in light airs she is nimble and sleek. Her sails can be set at the press of a button and her extensive hydraulic rigging allows for quick tacking. The interior includes 5 guest cabins that comfortably sleeps 10, with rich mahogany finishes that echo the classic exterior design.
7. Maltese Falcon – 88M (288 Ft.)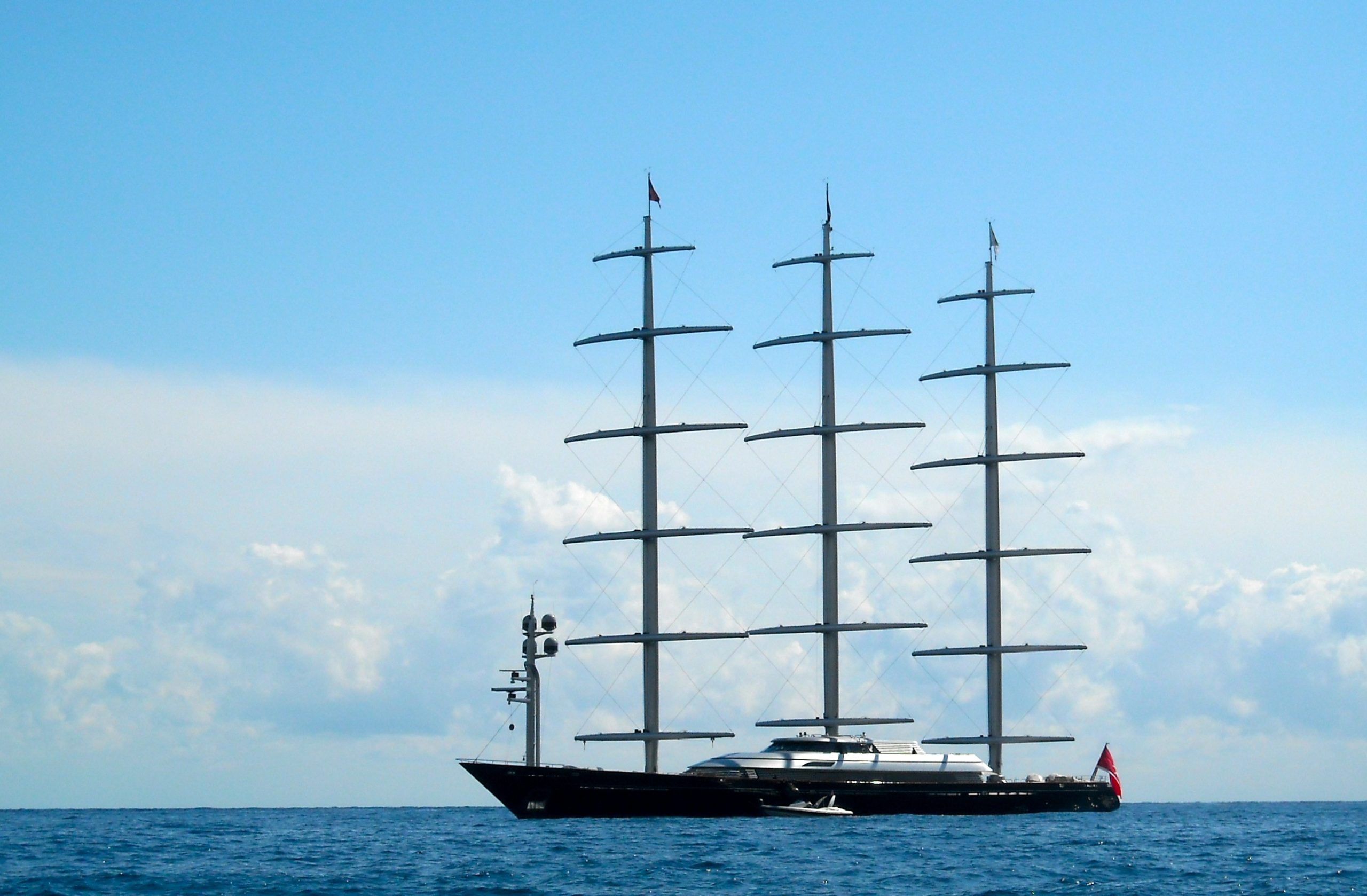 Above: The "Maltese Falcon" sailing yacht at anchor in the Adriatic Sea. Photo by David Orban of New York, licensed under the Creative Commons Attribution 2.0 Generic License.
Launched in 2006 the Maltese Falcon once held the title of "World's Largest Sailing Yacht." Although she has been knocked off the podium she is still one of the most recognizable sail boats on the water. Built by Perini Navi, she has a steel hull and a sleek aluminum superstructure. Frequently photographed, her iconic automated "DynaRig" square rigging design makes her look like a vintage tall ship. However, the three free-standing carbon fibre masts not only hold over 25,000 square feet of sail, they rotate. This pioneering "dynarig design" gives her exceptional handling and manoeuvring and allows her to sail at 25kts. No mean feat for a vessel of this size. She has 6 guest staterooms that can sleep 12 in luxurious comfort. She charters regularly, so why experience the height of comfort, innovation and luxury sailing while her crew of 17 take care of your ever needs?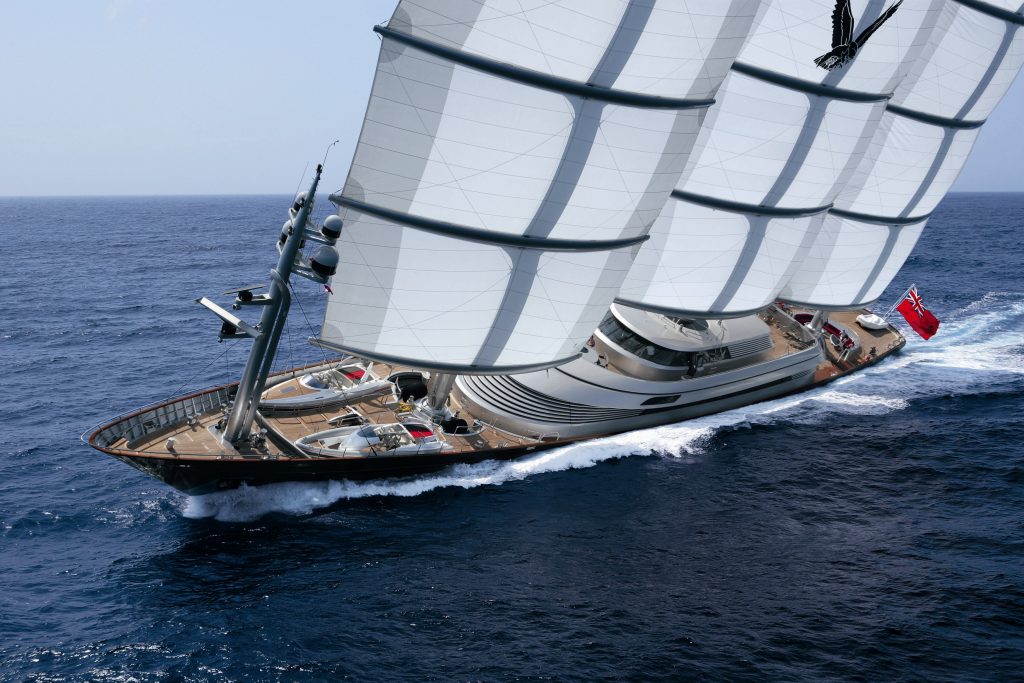 8. Aquijo – 86M (282 Ft.)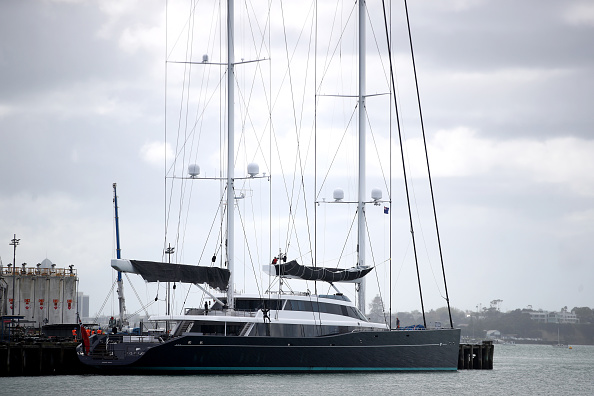 Above: The superyacht "Aquijo" is seen berthed on September 28, 2018 in Auckland, New Zealand. The 282-foot long yacht is one of the world's largest private sailing ketches and has a mast that is 299 feet high. (Photo by Phil Walter/Getty Images)
A collaboration between Vitters Shipyard and Oceanco resulted in Aquijo, the world's largest high-performance ketch. The project started in 2010 but was only launched in 2016. Designed by Tipp Design she is a beamy 14.48 meters and a hefty 1538 GT. Like the unique partnership between Vitters and Oceanco that created Aquijo, there isn't much that is standard on this yacht. Her two 90-meter masts carry nearly 1200 square meters of sail each! This meant that the rigging, winches, even the sheets had to be custom designed and fabricated. She features a steam room, sauna, and ocean view jacuzzi, very unusual amenities on any sailing yacht.
9. Sea Eagle II – 81M (266 Ft.)
One of the most recent additions to the top ten largest sailing yachts in the world lists, Sea Eagle II was splashed in 2020. Built by Royal Huisman in the Netherlands, this vessel is the largest yacht delivered by this well-known Dutch shipyard. Her contemporary schooner design is thanks to the Dykstra Naval Architects and Mark Whiteley Design and features an assertive plumb bow and Panamax rig. Her traditional blue hull and white super structure are sleek and elegant, and her towering triple-masts will ensure that she turns heads wherever she sails. Sea Eagle II is slightly smaller than her sister ship, Athena, but she does hold the claim as world's largest aluminium sailing yacht. Definitely a sailing yacht to keep an eye on.
10. M5 – 77.6M (255 Ft.)
This sailboat has the distinction of being the world's largest sloop, which means she only has one mast! Built by Vosper Thornycraft Shipbuilder in England to a Ron Holland design she was launched in 2003 as Mirabella V. A decade later an extensive refit not only gave her a few cosmetic touch ups but extended the stern section by 3 meters. Unfortunately, these design changes negatively affected her performance. Another refit was completed in 2020 which, besides a slick new paint job, included cutting the keel in hopes of rebalancing her. M5 has a hefty 10.2-meter draft (33 feet) to counteract her mast that soars to a dizzyingly 86 meters tall. I shared an anchorage with M5 in Papua New Guinea, and although this single-masted boat looks a bit like a child's model that's been super-sized, she is definitely not a toy.
11. Badis I – 70M (230 Ft.)
Badis I launched as Sybaris in 2016 in Viareggio, Italy by Perini Navi Shipyard. Although she is at the back of the pack, she still has good pedigree and elegant design. Naval Architect Phillipe Briand consulted on the technical design of the steel hull and aluminium superstructure, and PH Design oversaw her interior. She cruises at a comfortable 12.5 knots, has a 13.24 meter beam and a 12.5 meter draught. Badis I is a ketch design with teak decks and classic lines. Privately owned and operated, public information about her is to a minimal.
12. Vertigo – 67.5M (220 Ft.)
Vertigo launched in 2011 to much acclaim and awards. Built by Alloy Yachts in New Zealand, she is an all aluminum sailboat designed by Phillipe Briand. She has a max draft of 5 meters (16 feet) and is a bit of a featherweight at 837 GT, which results in a cruising speed of 12 knots. A recent refit in 2019 has ensured that all her systems are upgraded, modern and efficient. The interior is design by the highly regarded Christian Liaigre is New York loft minimal and was specified to be child-friendly. She also has a dedicated gym with ladder that descends directly into the ocean, a flybridge BBQ and wet bar, an aft projector cinema and a 10 person on deck jacuzzi. Although privately owned, this "sailing icon" is available for charter and is much loved by her guests.
13. Hemisphere – 44.2M (145 Ft.)
Launched in 2011, Hemisphere still holds the title of The World's Largest Sailing Catamaran. Designed by Van Peteghem Lauriot Prevost, naval architect's renown for multihull designs, Hemisphere is a fusion of extravagance and dynamic performance. Although set up for sailing, the decks were designed to be uncluttered and many of the winches and other deck fitting have been cleverly concealed to allow guests maximum accessibility underway. The well-appointed interiors boast 15 varieties of stones, 18 types of leathers, and are described as "Polynesian 6-Star Luxury." The sun deck sports a pool and dinning table to seat 12. The aft section of the port-side hull is dedicated to diving, and even has a special wet suit dryer! This world cruiser was created with luxury charter guests in mind and sleeps 12 guests. Her shallow 3-meter draught she can reach places that monohulls of her size can only dream of.
Related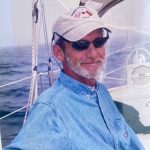 Seamanship: 7 Lessons From Old Salt Captain Andy Mason
Andy demonstrates that a career path in sailing is not always a straight line.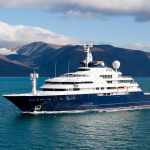 Celebrity Yacht Octopus: All Deck And No Legs
Find out more about the iconic $285 million mega yacht steeped in history.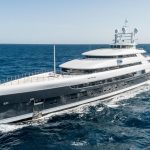 Most Expensive Yachts In The World: Top Contenders In 2023
The top 10 most expensive yachts for sale in the world today.