Classic Boat Charm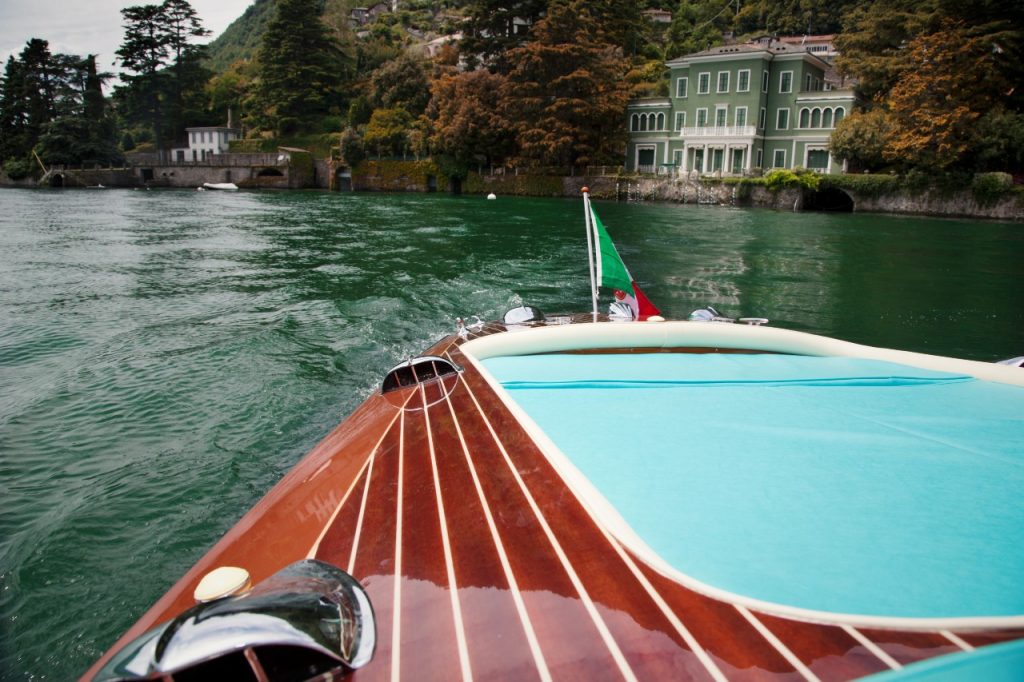 A classic boat in Lake Como. Image credit: Como classic boats
Classic boats – specifically classic runaround boats – are the epitome of glamour. Classic boats were initially conceived for waterskiing around the lakes, or as a vehicle to enjoy slow, scenic travel. It was considered the height of fashion to be seen cruising, wearing an oversized hat and glasses, with a prosecco in-hand. In the 50's and 60's celebrities and royalty used classic boats such as the Riva, as a 'catwalk for the river', typically spotted in the Italian lakes and Monaco. Some celebrities even boarded these boats wearing full-length ball gowns, diamonds and pearls. And while classic boats were very much 'in vogue', they have never lost their charm and remain an iconic symbol of beauty and wealth.
Classic boats are the preferred choice among royalty including H.S.H. Prince Rainier III and Princess Grace of Monaco, King Farouk I of Egypt, Prince Pignatelli Cortes of Aragon, the sheikhs of Kuwait and Qatar, Count Giovanni Agusta, and Prince Alessandro Ruspoli.
A couple cruising in Lake Como. Image credit: Como Classic Boats
Celebrity Boat Appeal
Countless celebrities seen cruising in dreamy run-arounds include Brigitte Bardot and Peter Sellers, George Clooney, Sean Connery and Elizabeth Taylor and Richard Burton, Sofia Loren and many more.
What Defines A Classic Boat?
The average length of these boats is 41 feet, while they can vary in size from 9 feet to 125 feet. They are manufactured by a wide variety of yacht makers and their hull types include displacement, planing, deep vee, modified vee and other designs.
When we refer to a classic boat, we tend to envisage the elegant shape of The Riva Tritone- one of the most famous models of the Riva line. The Tritone is widely considered the most beautiful Riva model of all time. The shallow V-shaped hull offers the right mix of comfy suspension in a slight chop while providing a rail-like grip when taking a turn at speed. But what really defines a classic boat? It is worth noting that the Antique & Classic Boat Society has five categories of older vessels based on when the boats were constructed.
Prior to 1918 are considered Historic Boats
1919-1942 are considered Antique Boats
1943-1975 are considered Classic Boats
1976-1995 are considered Late Classic Boats
Technically speaking, a classic boat is one that was built between 1943 and 1975. Any boat made over the past 25 years is categorised as a contemporary boat. We will refer to any boats modelled and inspired by this period as a classic boat for ease.
Contemporary versions take cues from classic boats iconic and timeless designs yet benefit from modern technology and design improvement.
Classic Boat Brands
The art of building wooden boats is declining partly due to the intensive level of craftsmanship required which is impossible to produce on a large scale. Buyers will seek out a few select brands based on their specialist skills necessary to build well-crafted boats.
Chris-Craft is an American manufacturer of recreational classic power boats based in Sarasota, Florida. Their boats accommodate today's boaters with features like fully equipped kitchens, spacious sleeping berths, and other custom touches. Chris-Craft created The Plywood Boat Division which marketed both Kit and pre-built plywood craft.
Riva is the flagship classic boat brand and recognised globally. The roots of classic Riva yachts go back to 1842, when a young Pietro Riva began repairing and building yachts on Lake Iseo in northern Italy. RIVA boats were often the subject of Aaron Slims who photographed anything synonymous with glamour. There are several Riva boats in his photographs, with models skiing on the back of the Riva boats, and photos of the boats lined up like skittles in the water by Hotel Du Cap-Eden-Roc.
Other brands known for their specialist skills in classic wooden boat building include Custom, Graf, Cris-Craft, J-Craft, and Boesch.
Key Styles of Classic Boats from the 50's and 60's Era
Most classic boats reinterpreted today harken back to Riva's iconic designs. There are three keys styles which remain iconic today.
1. Tritone. The first twin-engine classic range Riva yacht was the Tritone, built between 1950-1966. It wasn't long before The Super Tritone, a more powerful version was created and blew the original out of the water.
2. The Ariston (1950 – 1974) is perhaps Riva's best-known model, considered to be the purest classical Riva shape, and certainly one of the most popular. The Ariston was a personal favourite of late Carlo Riva. The Ariston was available in three different versions. The 'normal' Ariston, 804 built between 1950 and 1972, was superseded by a more powerful Ariston Cadillac in 1956-7. This was transcended by the Super Ariston in 1960, distinguished by their larger engines (275 – 350 hp) and a wooden 'gunwale' around the bow deck's rim.
3. Riva Aquarama. (1962-1996) once hailed as the 'Ferrari of the boating world'. Its most recognisable feature is the sweeping wrap-around windshield, which conjures images from another time.
Between 1972 to 1996 The Aquarama Special then emerged to steal the Aquarama show. With only 278 boats ever built, the boats are highly sought after. The rare gems are found in exclusive auctions such as Christie's and Sotheby's, expect to bid a fair sum and bring a handkerchief to mop up tears of both glee and for the price tag, should you win the bid.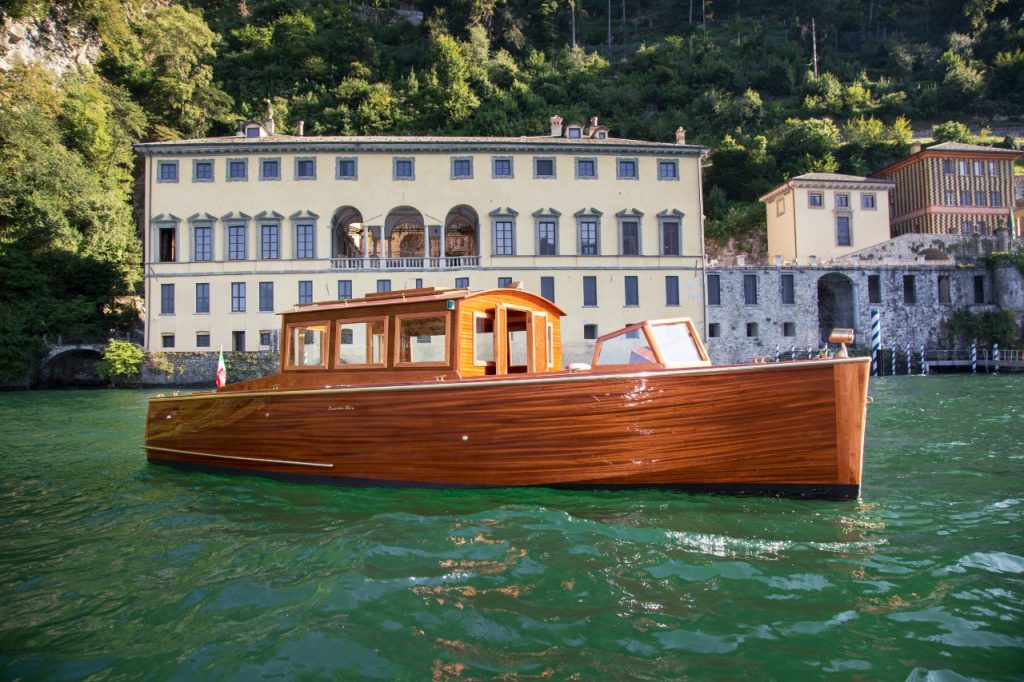 Image credit: Como Classic Boats 
Slow Cruising at A Glacial Pace
Classic run-arounds are designed for the sole purpose of enjoying the boat and your surroundings. And if you manage to get from A to B- then all the better! You can feel the purr of the engine and sit comfortably. They are built to glide through still water, and the sensation of cruising requires an entirely different mindset from other boats. It is not about going from 'A to B ', the journey should be enjoyable, with less focus on speed and efficiency.
Duilio Reina, founder of Como Classic Boats comments on how to treat a classic boat, "When you are driving a classic boat- you have to remember they are old ladies, treat them with love and care, they".
When cruising in Lake Como you take in Roman style palatially sized villas with extended gardens featuring subtropical and Mediterranean plants.
Modern Meets Heritage
By 1960, wooden powerboats had become rare since most new vessels used fibreglass or other lightweight materials, including fibre reinforced plastic materials to reduce the boat's weight and maximize speed, particularly in the racing craft. Classic-inspired modern boats benefit from modern technology. Some of the latest moderns are constructed using fibreglass, making them more suited to cruising in the sea and ocean.
Contemporary designs such as the Aquariva, born in 2001 benefits from underfloor lighting, an electro-hydraulic bimini shade, air conditioning and a Seakeeper NG5 stabiliser.
Classic Boats Meets E-Romance
An electric boat in Lake Como. Image credit: Como Classic Boats
Electric boats inspired by classic boats are a welcome addition to the classic boat market, proving that substance and style can work in harmony. Some motorboats burn through diesel at a turbulent rate, and discerning travellers and adventurers seek an eco-friendly alternative without compromising style. Como Classic Boats offers tours around e-tours around Lake Como on a classic electric boat. During the tour, you will see some of Lake Como's most beautiful villas, including Villa Erba, Villa D'Este, Villa Fontanelle (the former Villa Versace), Villa Pliniana and Villa Oleandra (George and Amal Clooney's Villa). Enjoy stunning views of Comacina Island, the Roman bridge of Nesso, and the cascading waterfalls. The local's pace is glacial, like the lake. You can marvel at the home to Renaissance architecture and verdant mountains.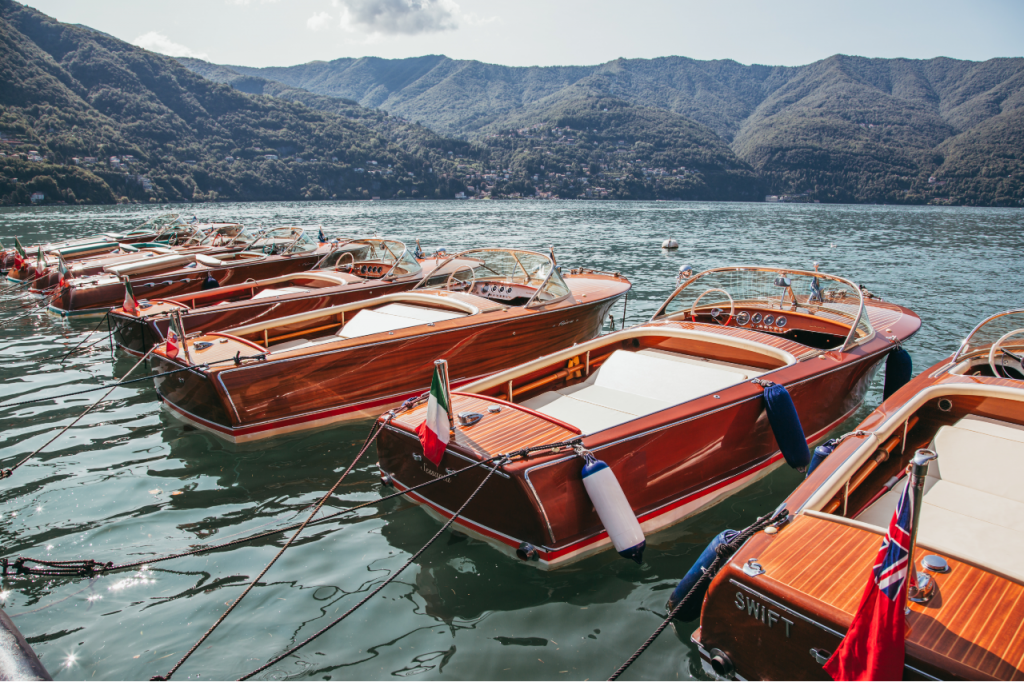 Classic boats berthed in Lake Como. Image credit: Como Classic Boats
Classic Boat- To Buy or To Rent?
Before you commit to buying a classic boat, there are some key points that you will have to consider. Owning a classic boat is not for everyone- most boat owners have a strong passion for fine craftsmanship. If you like classic boats, but you do not have the time of passion to make them your hobby, you are better off renting out a boat.
According to Duilio from Como Classic Boats, classic boats are typically bought for one of two reasons, for pleasure, or as a financial investment. For some, the process of building a boat which is rich in craftsmanship and heritage is to live in pursuit of art. Investing in rare items can be a shrewd investment. Interestingly, rare and scarce classic boats can exist in both vintage and new build boats in parallel.
Before you commit to buying a classic wooden boat, there are some key things that you should consider. If the answer is yes to any of the following questions, a classic boat may not be for you:
Do you want to go on a long-haul journey across the sea?
Do you want a high-performance powerboat?
Will you be able to cover the weighty maintenance costs of the boat easily? Repair and restoration costs are high.
Classic wooden boats are best suited to day-sailing or river cruising in freshwater, hence their popularity among the Italian Lakes.
How To Maintain A Classic Boat
Keep it in freshwater (not saltwater);
Use it at least four or five times a year (or lose it!);
Purchase a boat with a unique feature- this makes it more sellable;
Pricing A Classic or Vintage Boat
Five Criteria To Help You To Assess Classic Boat Values:
History – who owned it (a celebrity or statesman), did it win any famous races, and was it used in a notable event or movie? Documentation is generally needed to prove it has historic merit.
Rarity – how many were initially produced and how many have survived?
Styling – as with cars, a unique or much-appreciated aesthetic will raise the boat's value.
Condition – is the boat in excellent and original condition or was it restored and how expert and accurate was the restoration?
Seaworthiness – can the boat be used on the water?
To help price a vintage boat you want to purchase or sell, get acquainted with available online resources. Boat clubs and shows are great places to learn the basics and classic and wooden boat shows occur worldwide. Other resources include the Antique and Classic Boat Society, the Chris-Craft Antique Boat Club, the Antique Boat Center, Antique Boat America and Woody Boat magazine. A visit to a wooden boat restorer will help assess what it takes to work on, maintain and budget for classic boat ownership.
Vintage Boat Pricing Guides
The Hagerty Guide, which classic car enthusiasts often use, can also help with actual sample pricing. In this guide, evaluation of condition will range from Fair to Bristol for each model and year, with three levels in between. A Bristol version can go more than five times as much as a fair example of the same boat.
Bewitched By A Vintage Boat
As with other collectables, a classic boat can be an investment or a money pit. It's not uncommon for restoration to cost four times what the boat will end up selling for even if beautifully and adequately restored. The key is to not fall in love, especially if it is with a project.
The Relevance Of A Boat Valuation
A Boat valuation isn't just to sell or buy a vessel. Although boat valuation is generally commissioned when a boat will be purchased or sold, insurance is another reason to determine what a vessel is worth. To properly insure an asset, you must value it for market and replacement value, although the latter will not be what an insurance claim will pay-out in case of loss. A survey may also be needed to secure financing, so a lender knows how large a loan and how much down payment is required.
If you would like to look at renting a boat in Lake Como- you can contact Como Classic Boats or if you're interested in taking on a classic boat project on your own, browse our antique and classic boats for sale page. YachtWorld currently has 716 antique and classic boats for sale, including 44 new vessels and 672 used and custom yachts listed by professional yacht brokerages mainly in the United States, Italy, United Kingdom, Spain and France.
Related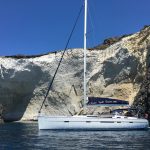 Fall Cruising Focus: Milos Island
Zuzana Prochazka reports on fall cruising around the Greek Islands.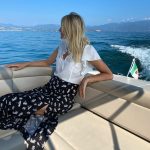 Aboard A Classic Retro-Style Runabout Boat In The Heart of Italy
Category:
Antique and Classic
Emma Coady cruises round the largest lake in Italy on a luxury boat.
Tenders Guide: From Dinghies To Luxury Superyacht Playmates
Find out which tender type is best suited to your needs.