At first glance, boating may seem easy. There aren't any lanes or traffic lights and in some states you don't even need a license to drive a boat. That's true for open water but once you get near the hard stuff – docks, moorings or narrow channels, piloting a boat gets much trickier. Single screw boats drive differently from those with twin engines, and vessels with inboards don't react the same way as those with outboard motors. Mix in wind, current and an audience at the yacht club, and the pressure is on. Docking, close quarters maneuvering and keeping station are the most difficult boating operations and by far the most stressful for new boaters.
However, over the past decade, technology has leveled the playing field between newbies and experts and it's easier than ever to bring a boat in looking like a rock star. Regardless of the kind of boat (power or sail), the number of engines, or vessel size, there are now tools to assist in making everyone comfortable in critical situations.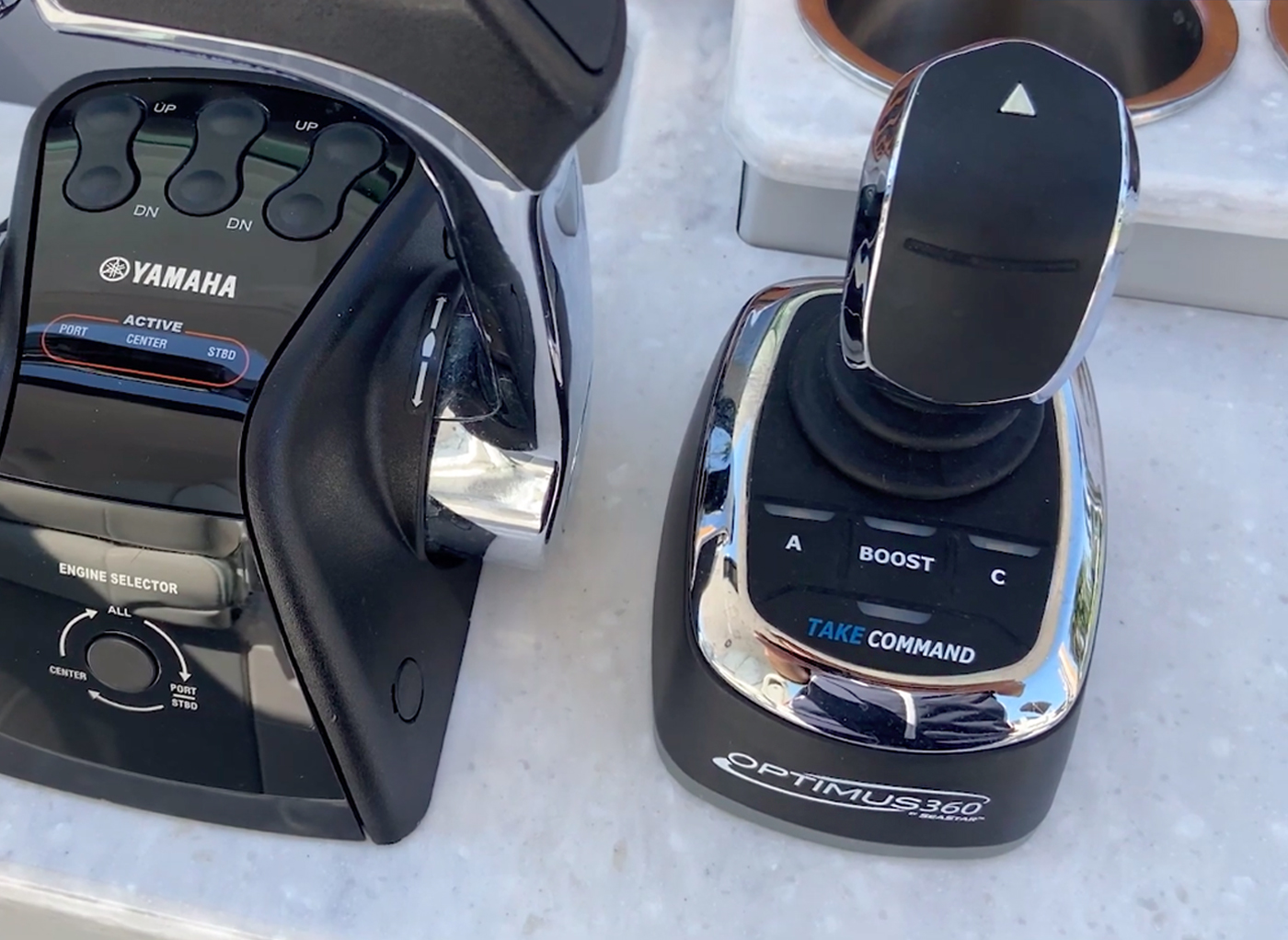 Joystick Piloting
Engine throttles and the wheel were all we used to have to maneuver a boat. But then the joystick concept trickled down from commercial vessels and ferries and a game-changing product was introduced in the recreational marine segment. Volvo Penta launched the IPS pod drives in 2005, which was quickly followed by Cummins Zeus and ZF Marine pods. Pod drives eliminate shafts, struts and rudders and instead use directional thrust by a pod that packages together the transmission, outdrive and propeller in one location. The interface to pod drives at the helm are traditional levers but also a joystick, which at low RPMs, makes docking a boat almost like a video game. Push to the stick to the side and walk the boat over or twist to turn the vessel in its own length. The ease-of-use of the joystick revolutionized recreational boating.
Pods produced joystick envy so it wasn't long before other types of propulsion including sterndrives and outboards got in the game. Joysticks were no longer the domain of pod boats. Outboard manufacturers came up with proprietary versions like Yamaha's Helm Master and Mercury's Joystick Piloting while others adapted SeaStar's Optimus 360 for use in their twin, triple and quad applications. Even single engine sailboats joined in the rush to the joystick by integrating autopilot, engine throttle and thruster – more on this below.
Bow And Stern Thrusters
Thrusters have been part of yacht maneuvering for a decades with bow thrusters becoming nearly standard equipment today on vessels 50 feet and over. A thruster creates lateral propulsive thrust, meaning it can move the boat sideways and that comes in handy when current pushes the hull around erratically or a gust of wind catches the bow. For more precise control, boats today are also adding stern thrusters so the movement at both ends can be fine-tuned. Needless to say, thrusters have contributed significantly to skipper confidence.
Thrusters are typically water cooled and can be either propellers or jet drives mounted in tunnels. Single engine, deep keel sailboats, which are notoriously hard to control, have benefited greatly from thrusters as have motor yachts with lots of windage. Thrusters tend to be loud due to cavitation and they can be power hungry so they often have a dedicated battery installed nearby inside the vessel. They can be AC or 12 or 24V DC, electric or hydraulic, and single or dual propeller. For smaller applications, certain bow thrusters can even be externally mounted rather than operated from an integrated tunnel. Some advanced thrusters like those from Side-Power are offered with variable speed, allowing the helmsman to apply a little or a lot of thrust, an improvement over early models that were all or nothing.
Thrusters are primarily used during docking or maneuvering in narrow channels or against significant forces like wind. It's not a good idea to navigate with the thruster rather than using the wheel although the telltale rumble of a thruster would suggest there are those skippers who do both.
Integration
Joystick and thrusters may sound like stand-alone systems but today, they're really individual parts of larger solutions. One of the earliest integrations was Beneteau's Dock & Go system introduced about a decade ago. This early system married a small pod drive with a bow thruster and autopilot to create a sailboat docking assist. It made even crusty sailors want to try something new.
Some motor yacht experts will tell you that once you have twin pods, you don't need a bow thruster but it still helps. The problem is that large engines operating twin props at the stern often overpower the bow no matter how carefully you try to twist the joystick to angle the boat as needed. Integrating a thruster into the system finetunes the control at the joystick or you can leave the thruster on an independent switch to add a little push only when needed.
Integration with GPS has also opened up new capabilities in the yacht market. Dynamic positioning systems, or DPS, allow the boat to keep station at the touch of a button and have been in use in commercial vessels for decades. Regardless of current or wind, the boat holds position and in some cases, even heading orientation. For recreational boating, this helps anglers when fishing a specific spot where you can't anchor, setting out kites or keeping the bow into the waves. It also comes in handy when you're waiting for a bridge to open or a space to clear at the fuel dock. DPS ties in engines, autopilot, thrusters and GPS off the MFD (multifunction display).
Joystick drive has revolutionized boating, especially since you can take it with you. Some yachts provide a second fixed station on the flybridge and a third in the aft cockpit where there's better visibility when backing into a slip. But if you really want flexibility, opt for a system like DockMate or Yacht Controller that can be used standalone or supplementary to the main system. Integrated via WiFi or Bluetooth, these are portable systems that you can carry around the deck with you. That's priceless if you're single-handing and need to get the fenders down and the docklines ready by yourself. You can even pull into the slip, step ashore, and leave the boat pressing up against the dock with pods and thrusters while you tie up.
Self-docking
For a peek at the very near future, check out true self-docking functionality, which is now in development by Raymarine and Volvo Penta. A combination of FLIR cameras, sensors and integration software that brings together propulsion and steering, Raymarine's DockSense doesn't yet dock the boat completely by itself but it does provide a generous amount of feedback to the driver and offers safeguards that will avoid a collision.
Swedish manufacturer, Volvo Penta is working on a self-docking product on a 68-foot yacht. It's slated to be introduced in late 2020 or early 2021. Both of these systems have been presented in testing environments with success and no small amount of wow factor. But the idea of pulling within a few dozen feet of a dock and letting the boat take over from there is still future speak – at least for the boating sweet spot of vessels 30-40 feet both inboard and outboard driven. Once the proper combination of technology is uncovered, expect self-docking systems to spread quickly throughout all sizes and segments of boating.
It Couldn't Get Easier
Much of the amazing progress in vessel maneuverability has been made in just the past two decades and there's one thing for certain, technology is speeding up, not slowing down. So, if you haven't driven a boat lately and are intimidated by the prospect of docking, maybe it's time to visit your dealer for an on-water demo of some of the most James Bond technology out there.
Related
Navigating Bridges and Locks
Bridges and locks assist in moving vessel traffic efficiently and can even be a fun distraction during...