It may be a tired cliché but small is the new big. Not all sailboats have to be large and expensive to get families and couples on the water for great weekending or coastal hopping and that's what French builder Jeanneau focused on with their new Sun Odyssey 380.
This model refuses to be pigeonholed. At a recent boat show, three different sailor types signed contracts on this versatile design: One couple was upsizing, one downsizing and one was purchasing their first boat.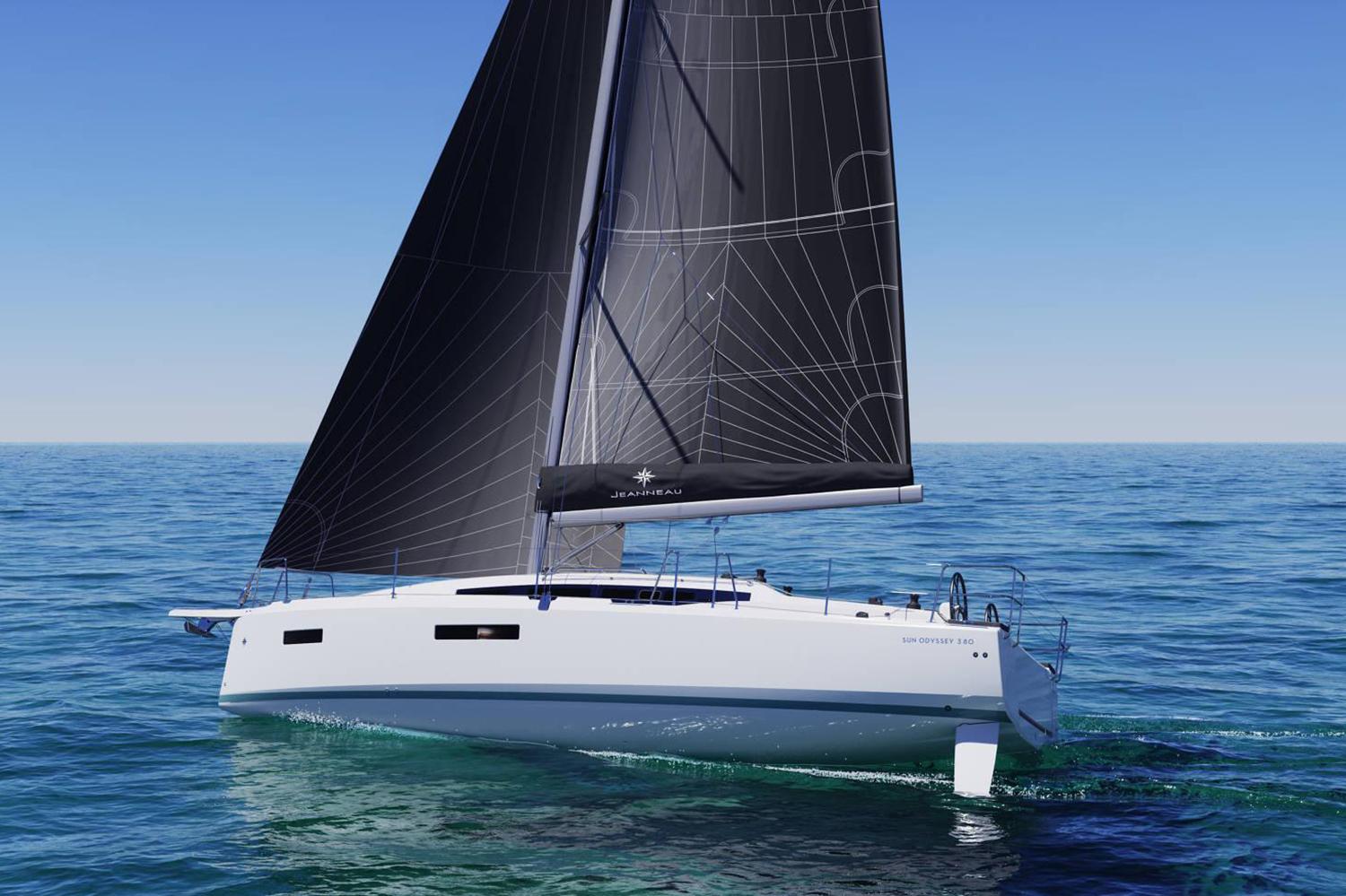 Above: A 2022 Jeanneau Sun Odyssey 380 for sale on YachtWorld. Photo: Coneys Marine in Huntington, NY. 
Performance
We tested hull #2 and our sail took place in 10-18 knots on the flat waters of Chesapeake Bay – and yes, the wind was that fluky. The boat was equipped with Technique Voile sails and a shoal keel which was ideal for the Bay which is filled with skinny water surprises. At 60 degrees AWA, we reached 8.7 knots in 17 knots of breeze without a reef.
You'd be hard pressed to make that speed in most boats with 20 more feet of waterline. More importantly, the boat never felt overpowered or uncomfortable. Hardening up to 30 degrees, we still made good 7.9 knots of speed in the same wind with the traditional hoist semi-battened mainsail. There's an option for in-mast furling and a self-tacking jib but we enjoyed the performance of our 110% genoa on a Facnor furler.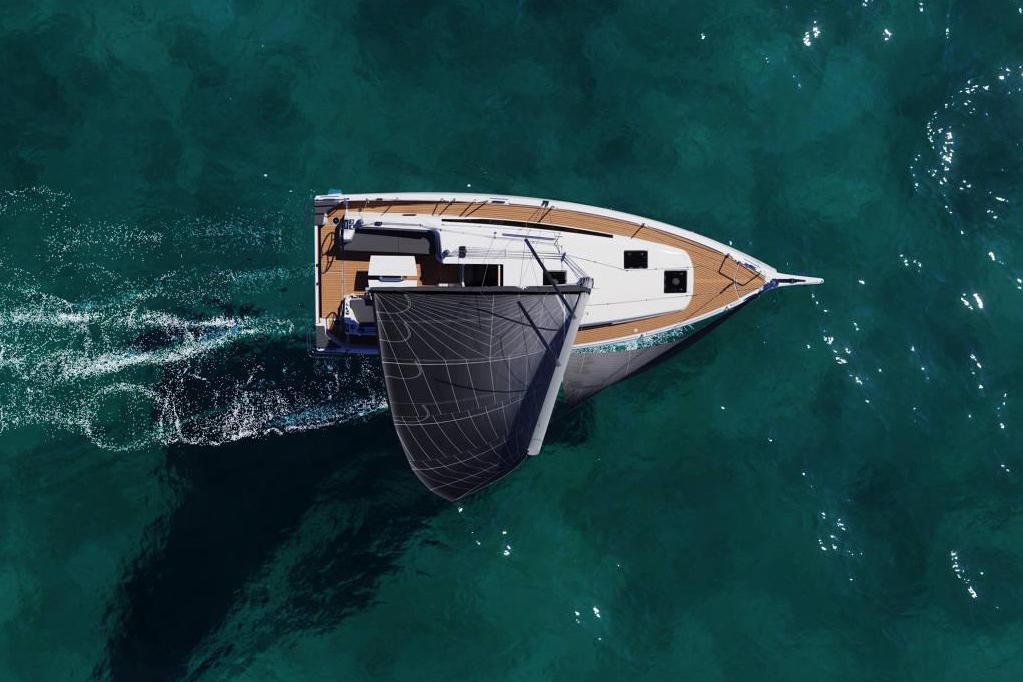 Above: An overview view of a 2022 Jeanneau Sun Odyssey 380 for sale on YachtWorld. Photo: Coneys Marine in Huntington, NY. 
There is no backstay so it's possible to upgrade to a square-top main with a smidge more sail area up high. The helm was responsive and we managed crisp tacks without a lot of sloppy slowing after each turn.
Coming back into the marina under power, we tested the upgraded Yanmar 40-hp (29 hp is standard) which delivered 9.3 knots at 2900 rpm with a fixed three-blade propeller. The ideal cruise is at eight knots around 2300 rpm. For simpler maintenance, the 380 is outfitted with a straight shaft rather than a Saildrive.
The optional bow thruster came in handy when approaching our snug slip because backing in a straight line wasn't this boat's favorite trick. Some of that is due to the twin rudders not experiencing immediate water flow over the centrally-located prop.
Design And On-Deck Walkaround
Marc Lombard has been Jeanneau's designer of choice for quite a while and for this Sun Odyssey he delivered a sleek profile with a low cabintop, moderate freeboard, a large cockpit and a hard chine that runs the length of the hull. The bow is slightly reversed and the bottom of it rests just above the waterline to reduce wetted surface when sailing in light winds. The standard version doesn't include the bowsprit, but most sailors will want this option both to have an attach point for a Code 0 and to move the anchor farther out and away from the hull.
There are twin rudders and a choice of keels including our tested cast iron 5' 3" shoal version and an optional lifting keel that draws 8'10" in the down position. Construction is a monolithic laminate with no coring in the hull and an integrated engine liner is used to reduce noise and vibration. A watertight bulkhead is aft of the anchor locker.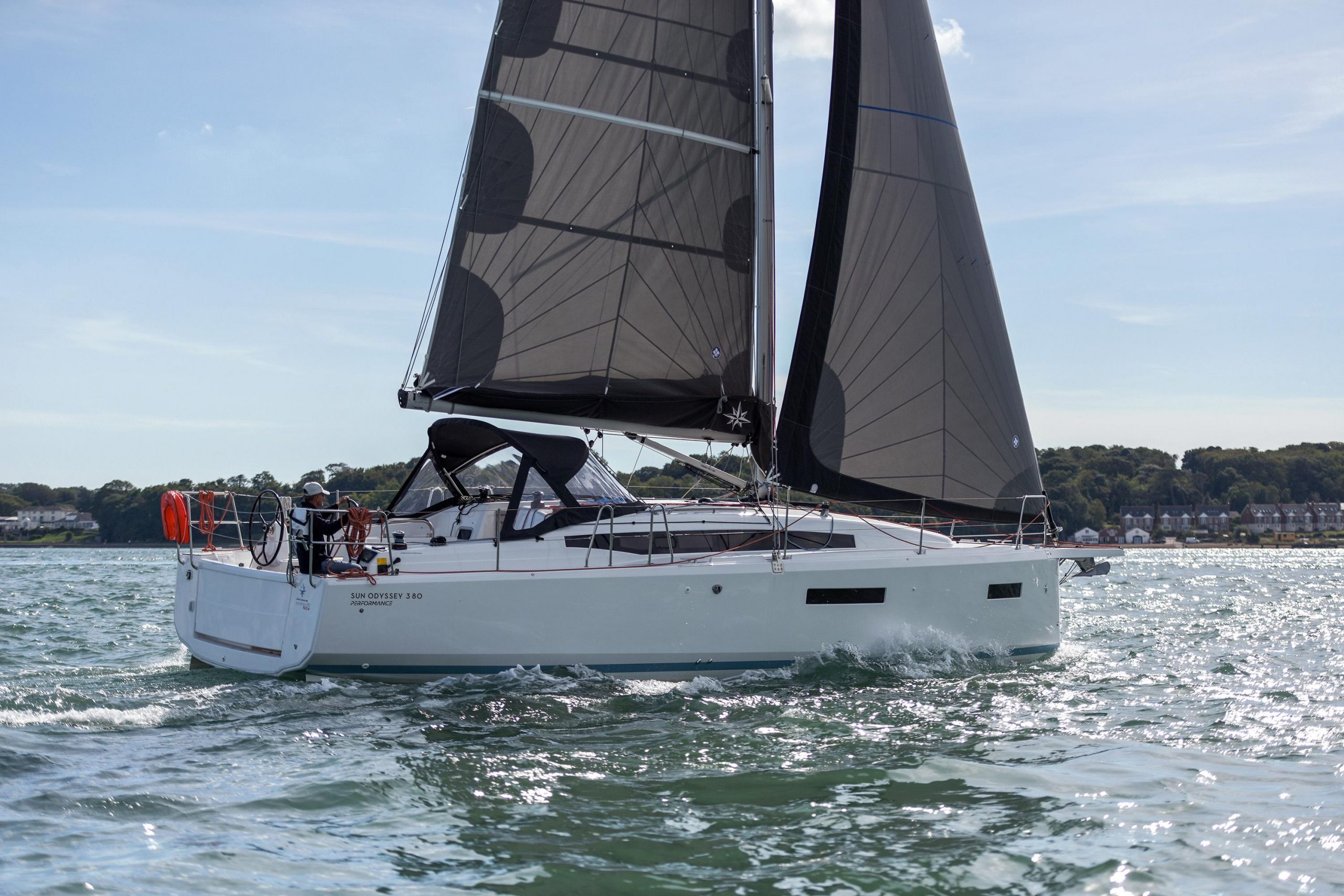 Above: Starboard aft view of a 2022 Jeanneau Sun Odyssey 380 sailing on the water, vessel for sale on YachtWorld. Photo: Coneys Marine in Huntington, NY. 
The Sun Odyssey features Jeanneau's innovative walkaround deck that was introduced a few years ago. Instead of climbing over a cockpit coaming or stepping down toward the helms, you can walk all the way around the boat from bow to transom and back again because the decks slope toward the twin wheels with no break or barrier. The feature was introduced on their 44-footer and it's commendable that they brought it to a smaller platform. It's a design element that you get used to very quickly.
The fractional rig includes a Selden mast with twin aft-swept spreaders, no backstay and a Selden Rodkicker rigid vang. The adjustable friction rings help to create the ideal headsail shape. Twin wheels sit on pedestals that are part of the cockpit coaming layup. Engine throttles are to starboard along with a Raymarine charplotter, a Quick windlass remote panel and thruster controls by Side-Power. Wind instruments and the autopilot panel are on the other side.
The drop transom was covered in teak on our test boat and it's a wonderful extension of space when you're at anchor. Not only does it make the cockpit longer and more comfortable, it creates a nice place to play near the waterline. The standard cockpit table is white GRP with drop-leaves and the davits (which are optional) pivot out when not in use, so they don't add to the LOA when storing the boat in a marina and that can save you money.
Layout And Comfort Options
There are four configurations available so each owner can dial in his/her own livability. You can have 2-3 cabins and 1-2 heads. In the US, two cabins and one head are likely to become the most popular choice. The standard layout includes the master stateroom forward with a berth that is angled along the starboard hull. It's possible to spec an additional head here instead of a hanging locker but it's a tight fit. The bed is rectangular so it's easier to find sheets that fit and it stays on the same angle regardless if the head is added or not.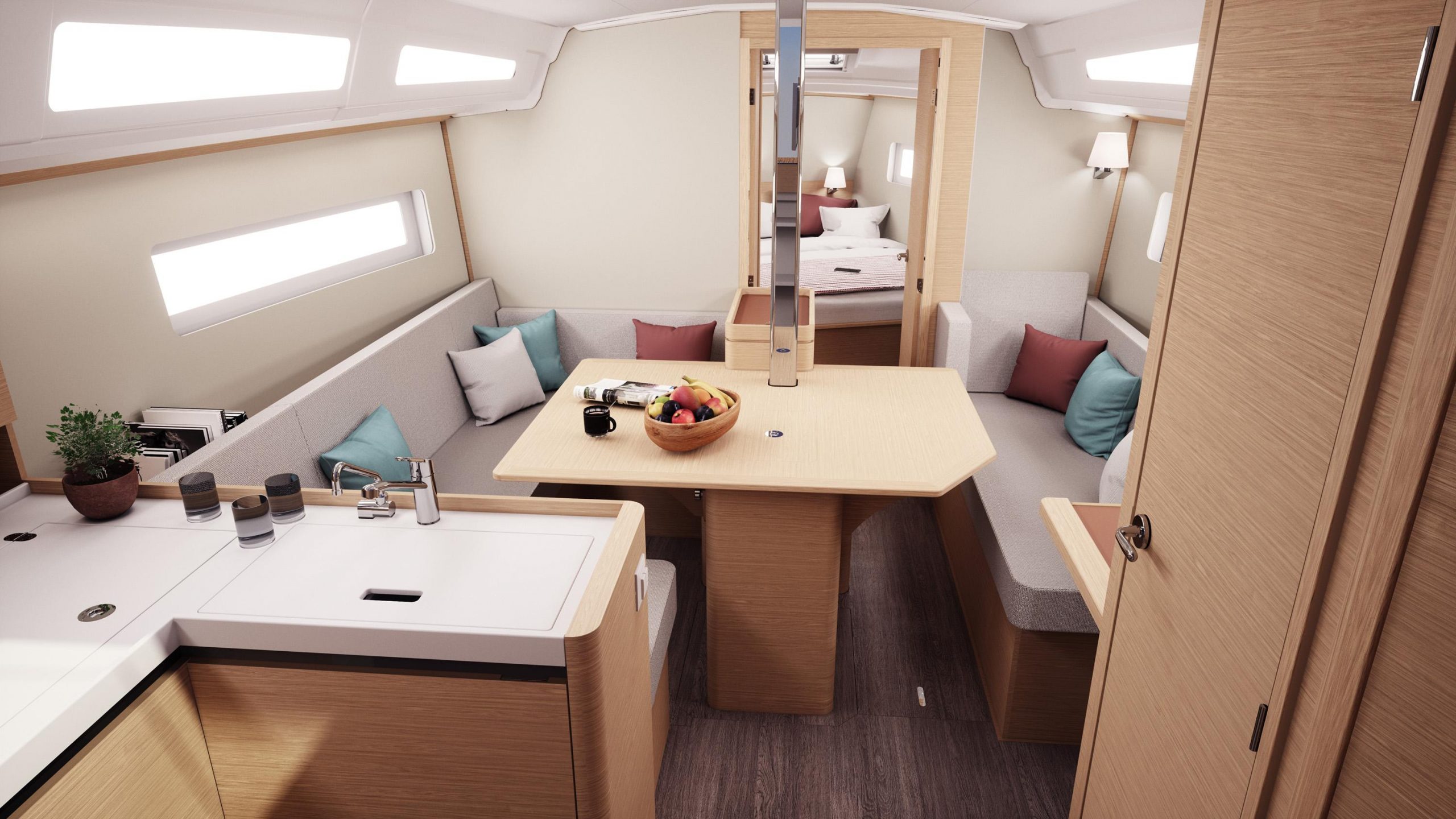 Above: Above: The interior cabin aboard a 2022 Jeanneau Sun Odyssey 380 for sale on YachtWorld. Photo: Coneys Marine in Huntington, NY. 
The spacious saloon makes the boat feel much bigger. Interior designer Jean-Marc Piaton seems to have shaved a little room off the master suite and added it to the saloon which makes the boat feel larger than its actual 37 feet. Jeanneau kept their signature lounge – a nook on starboard where you can tuck in and remain secure regardless of what tack the boat is on. The standard saloon table is small and fixed so most people will upgrade to the drop-leaf table that connects the settees and creates a comfortable dining area for up to six. The aft-facing nav desk is at the end of the starboard settee and below the aft end of the dinette is a deep drawer that will be a blessing for anyone doing extended cruising and needing every inch of usable space for stowage.
Galley Features
The galley has a two-burner Eno stove/oven, a double sink and a top-loading 42-gallon fridge/freezer. Air circulation is provided by one overhead hatch in the master, one in the salon and a small opening port above the stove to let cooking heat and odors out. Wine bottle storage is below the saloon sole because it's a French boat after all.
Accommodations
There's a choice of one or two aft cabins. When one cabin is spec'd, it's on port and wider than standard, leaving the rest of the space on starboard for stowage. The saloon, galley, and nav desk remain constant with one exception. You can add a separate shower stall (with its own door) to the main head in the two-cabin layout. The shower becomes a walkthrough to the stowage room.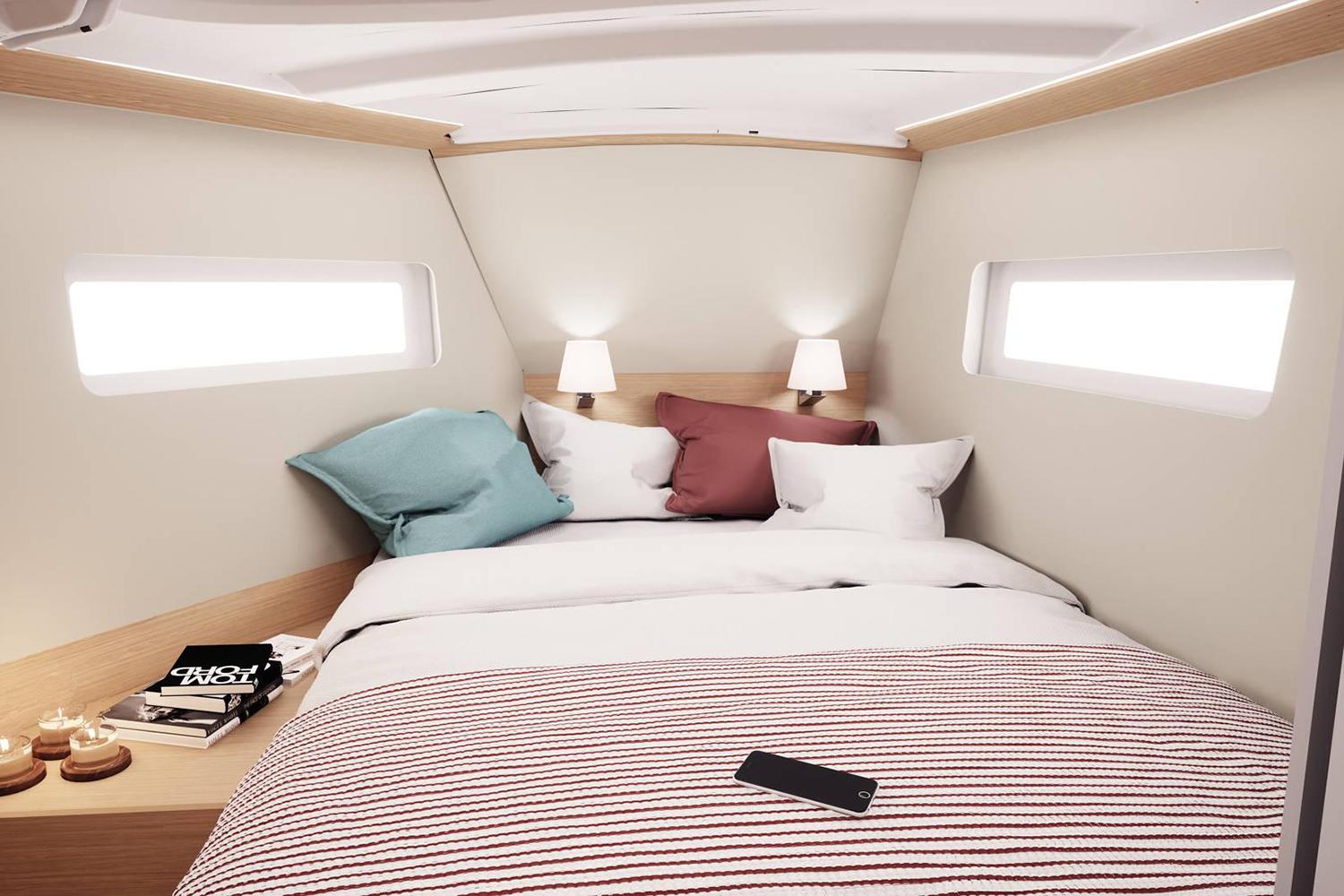 Above: A sleeping berth onboard a 2022 Jeanneau Sun Odyssey 380 for sale on YachtWorld. Photo: Coneys Marine in Huntington, NY. 
Our test boat was finished with light fabrics and teak-colored wood which is standard although grey cedar, and light and dark oak are also available.
Overall Impressions
The 380 replaces the Sun Odyssey 389 and slots in just above the popular 349. The base price is $237,000 but equipped as tested with the second head, AC, bowsprit, davits, electronics and the upgraded engine, expect to pay around $350,000. Pricing is done via two packages – Premiere and Preference. There's no limit to the adventures that can be had with a boat under 40 feet and at roughly half the price of much bigger models on the market today. It's a short list candidate for couples and families looking to escape onto the water for day sails or extended coastal cruising.
Specifications
LOA: 38′ 6″
LWL: 35′ 1″
Beam: 12′ 3″
Draft: 5' 3" shoal, 8′ 10″ (lifting down)
Displacement: 15,203 lbs.
Sail Area: 682 sq. ft.
Fuel/Water: 34/87 gallons
Engine: Yanmar 29 or 40 hp
Designer: Marc Lombard
Builder: Jeanneau Yachts
View all Sun Odyssey 380 yachts for sale on YachtWorld today.
Related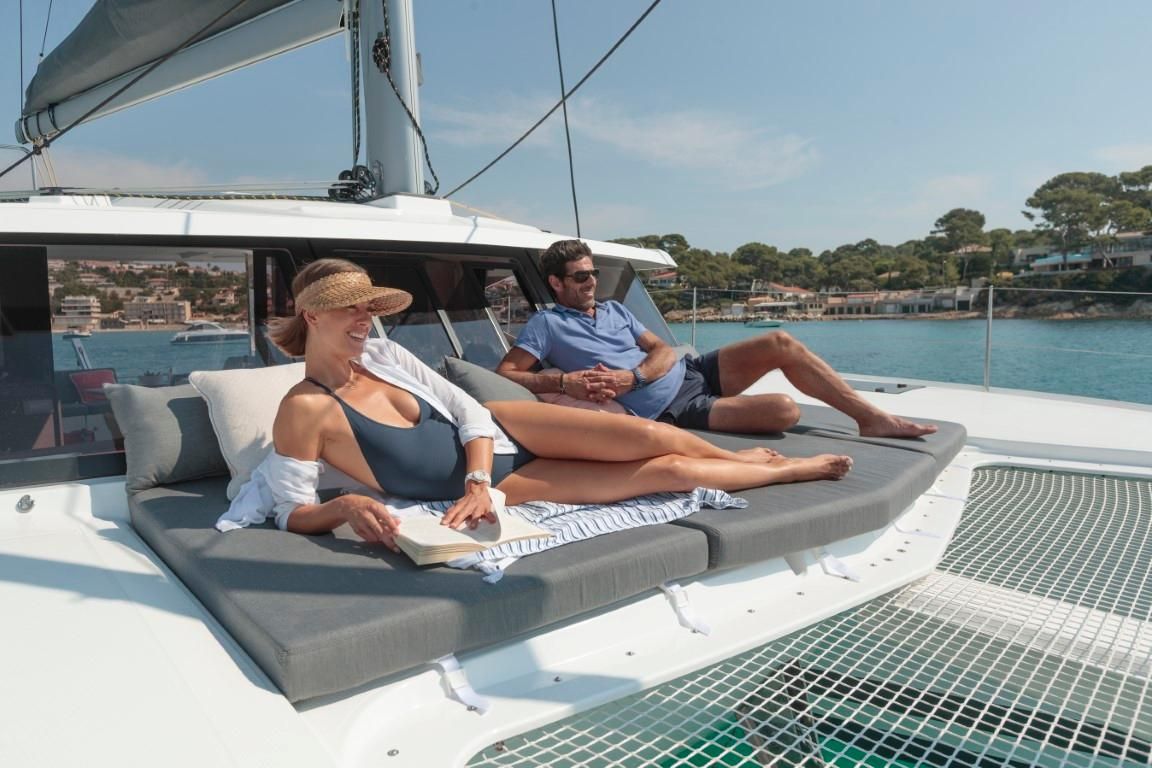 Best Sailboats of 2022: From Top To Sail
Category:
Cruising Under Sail
Are you looking for a new sailboat? We select our top five sailboats of 2022.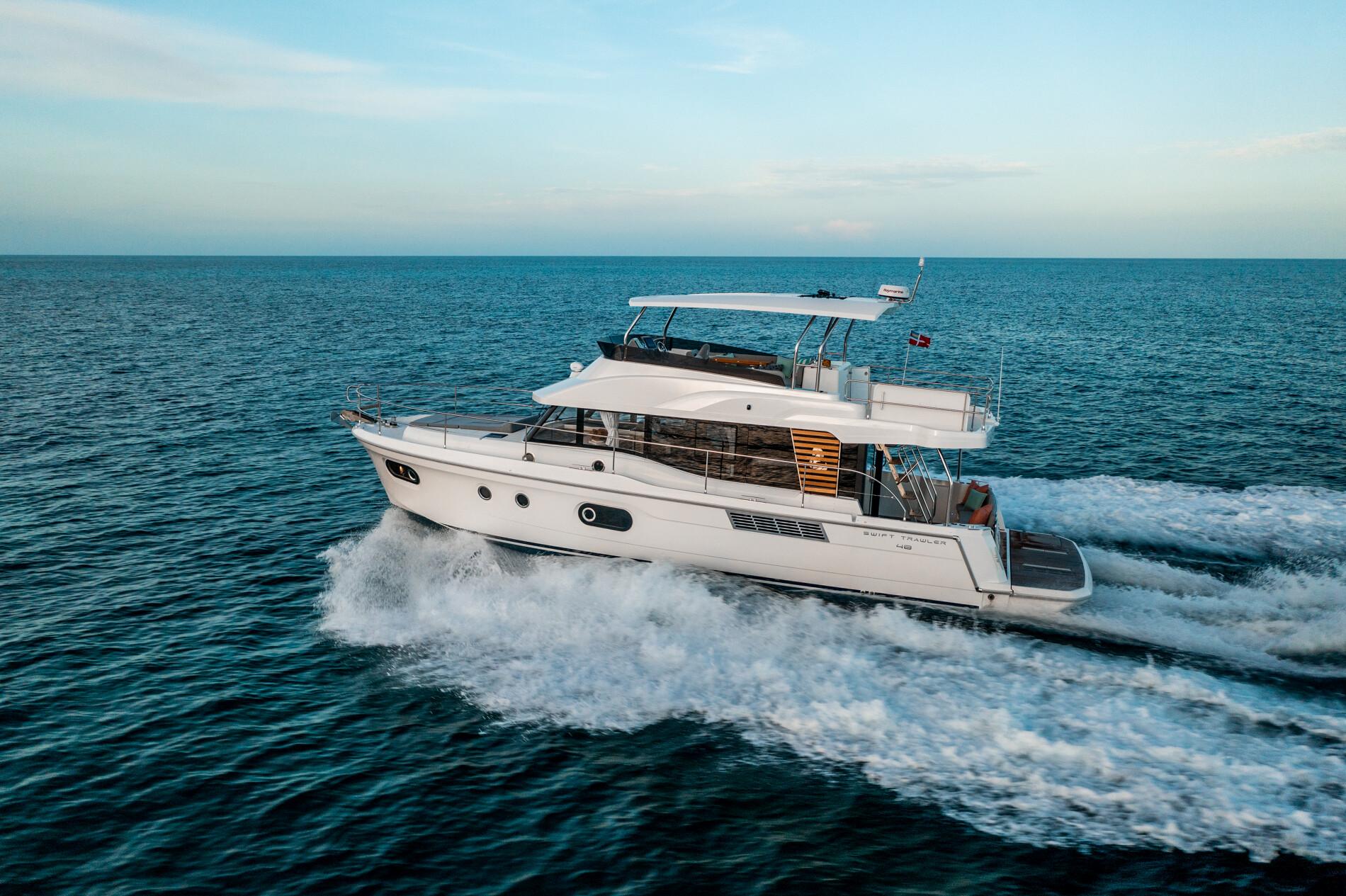 2023 Beneteau Swift 48 Review: New Fast Trawler
Beneteau's new swift trawler builds on success for even better results.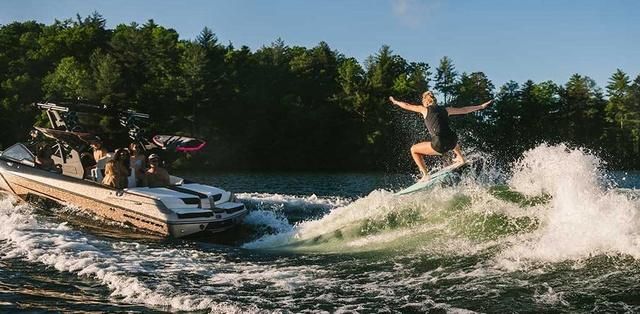 Best Wake Boats Of 2022: A Golden Lineup
These wake boats are more than just boats- they are a lifestyle choice. Read about the game-changing...