When onboard a yacht, a lot of time is spent socializing around dining tables. Whether it's breakfast, lunch, dinner, informal barbeques, or afternoon tea, tablescapes are a talking point amongst guests and can dramatically influence the table's mood. Follow these eight design principles for table laying to possess that WOW factor when entertaining guests on a yacht.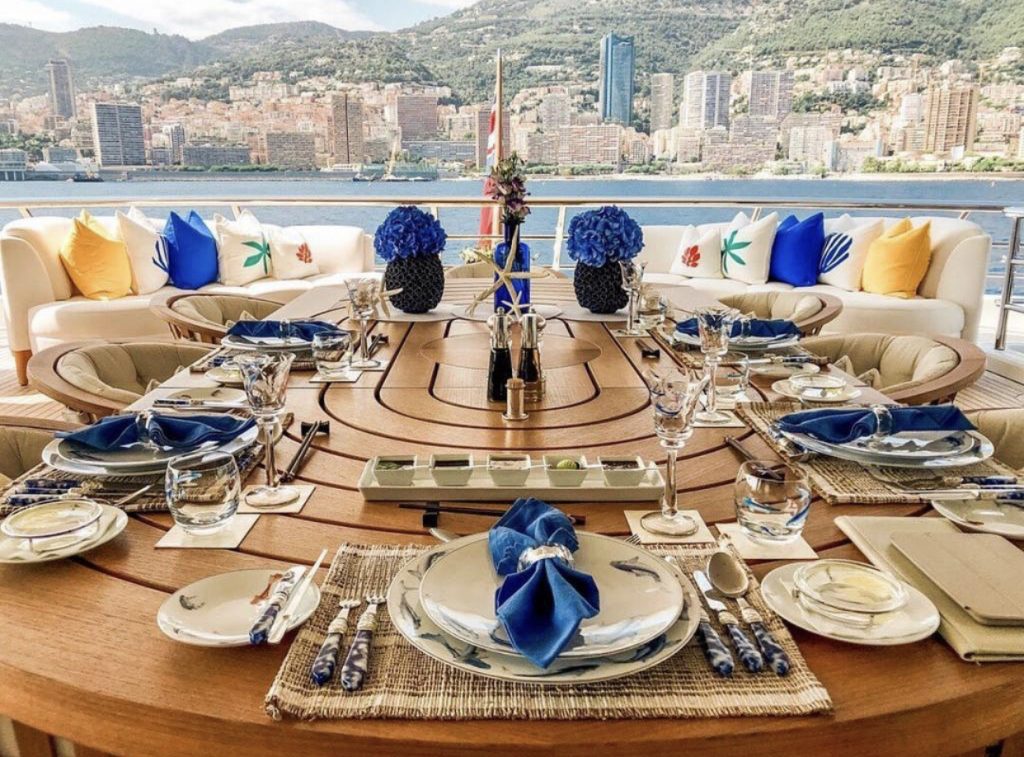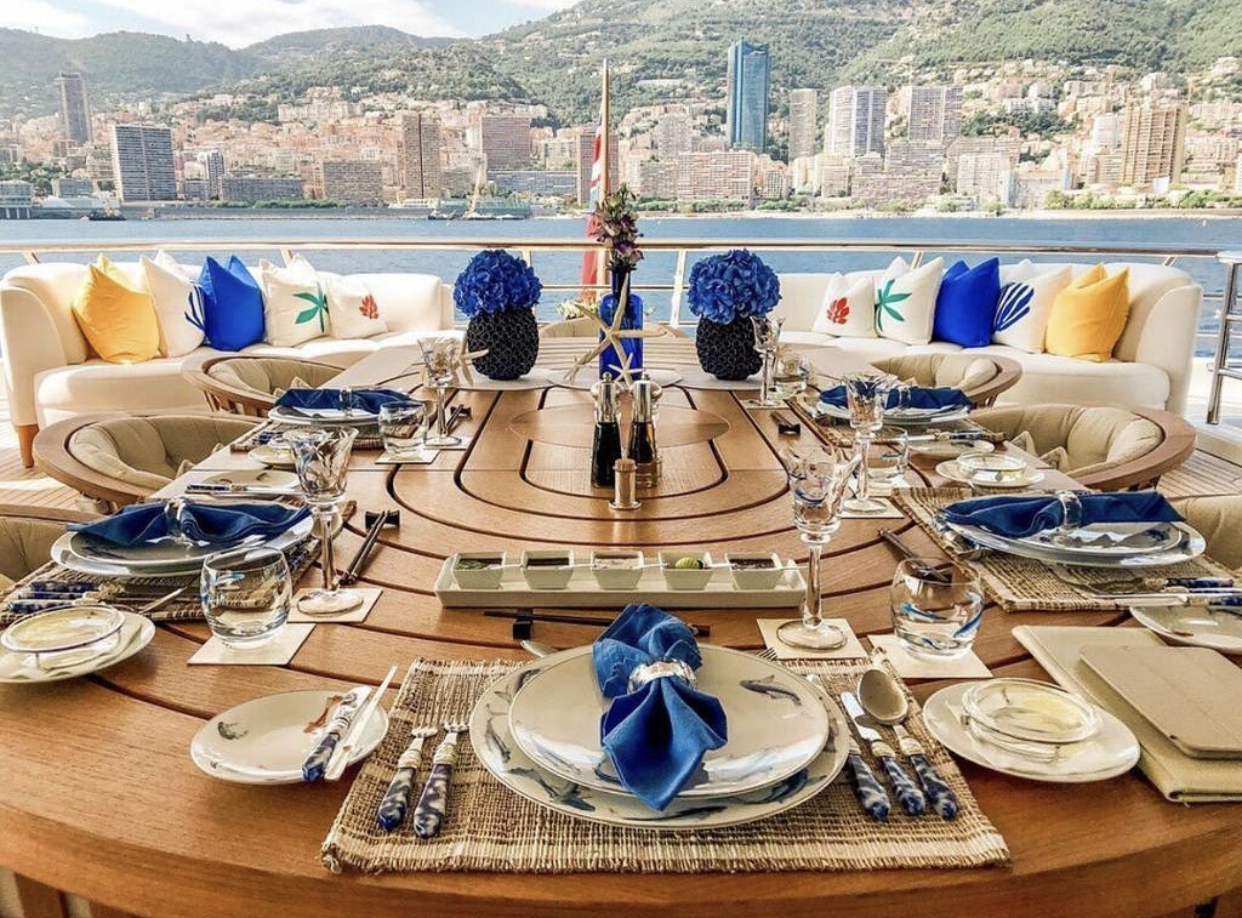 Byzantine blues. Lunch with a view. Image credit: Gemma Hulbert, recently co-founded LUXM Training Academy and will be launching a Table Setting Fundamentals Course in September 2021.
1. Repurpose Artwork Onboard the Yacht
Create wonder from the objects available onboard by using artifacts as props, antiques from local markets, sculptures by local artisans, or even pebbles from a local beach provide a unique touches.
Go on a voyage of discovery and gather treasures to create one distinct theme. A historical nugget can often become a talking point around the dinner table. Although mixing styles can work well together, antiques can enhance contemporary design when used sparingly. Consider using a vintage anchor, old maritime signs, used shellac rope, repurposed kerosene lamps, old porthole windows as picture frames, etc.
2. Build Upwards and Outwards
Using a range of textures will look multidimensional and add softness to the table. Build height by using cake stands, candlesticks, lanterns, or vases to give additional height and elevate the tablescape. Another idea is to stack ceramic plates and bowls from the inside outwards. Napkin folding wizardry will never cease to impress guests, and styling them as birds of paradise is an easy win!
3. Use No More Than Three Accent Colours
Accent colors should consider the furniture in the room and other design selections. Be mindful not to exceed more than two or three colour shades. There is a classic tablescape dressing rule, 60 percent of the table should be a neutral color, 30 percent should be a secondary color or texture, and 10 percent should be an accent color.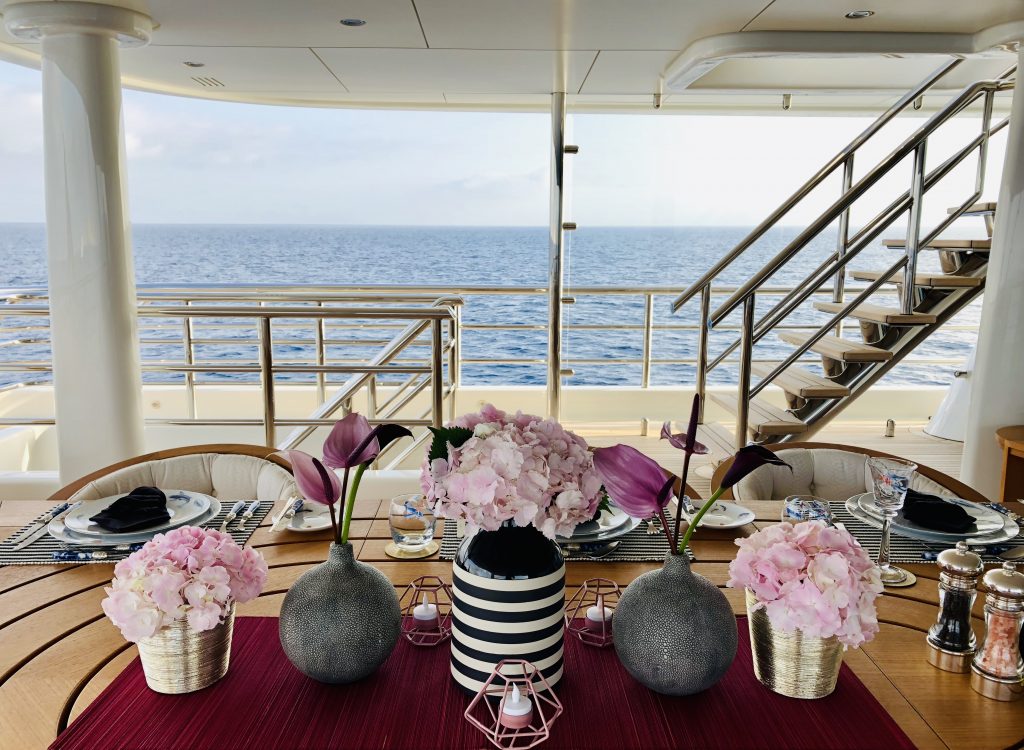 Pretty in pink. Image credit: Gemma Hulbert, co-founder of LUXM Training Academy .The  LUXM Course Library will be accessible to students around the globe through an interactive online training platform, providing them with the interior skills to thrive in a yachting career.
4. Pay Attention To Detail
Small details in a simple setting will provide a touch of finesse. Whether you choose palm trees etched into crystal wine glasses, beaded placemats, or hand-embroidered napkins, guests will take notice. Superyachts are inherently bright, open and spacious. The abundance of sunlight that floods inside the saloons (thanks to the use of glass) means that every design detail is picked up by the naked eye.
5. Invest In Striking Overhead Lighting Designs
Lighting is a key element which can impact the mood of a dinner and clever lighting schemes are used extensively to create a feeling of intimacy, romance, formality or a party atmosphere. Winch Design prefers to frame the main yacht dining tables with a striking overhead lighting design. Traditionally, more formal settings for dinner utilise neutral colour schemes such as creams, silvers and gold with mirrors and reflective items that create additional ambience from light from the candles. Crystal glasses, mirrors and vases can be used to reflect light.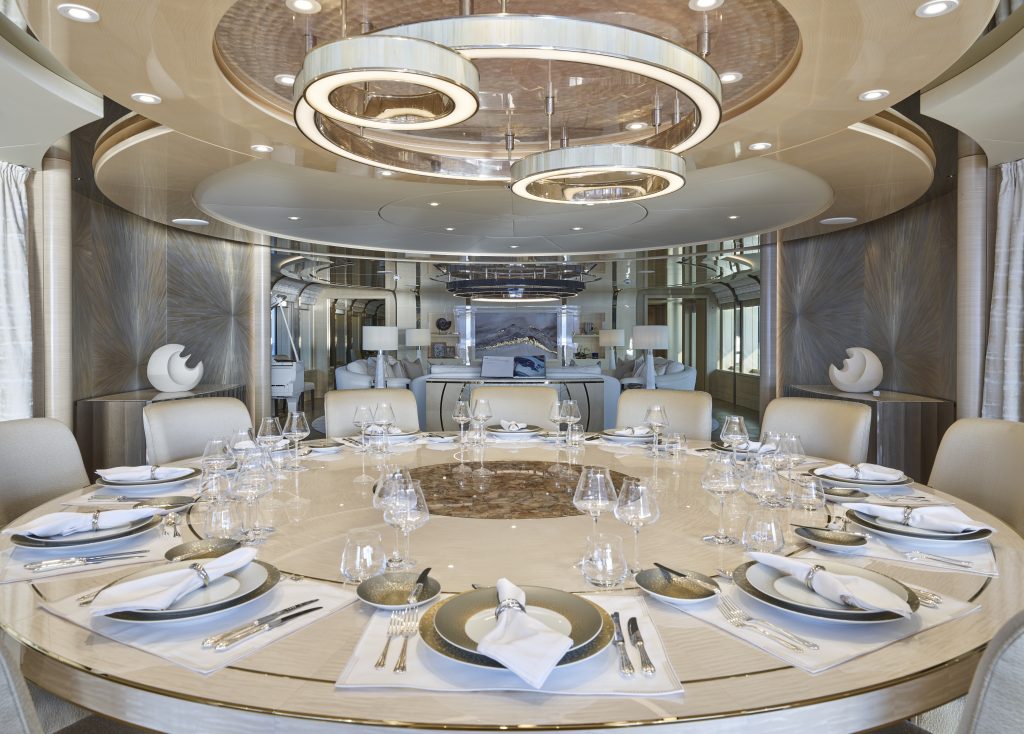 A neutral colour palette was adopted on Nenika, allowing the architectural light design to crown the room. Image credit: Winch Media
6. Guests Eyeline Sight Should Remain Unobstructed
Have you ever found yourself sitting at the table talking to a vase of flowers? When you're dressing a table, be mindful not to obstruct the guests' vision of each other. There could be a budding romantic liaison happening across the table.
7. Incorporate Living Objects
Simple natural objects such as fruit and flowers breathe life into a tablescape. Garlands, colourful blooms and fresh limes piled-high work particularly well. Deep-purple grapes and figs add a welcomed earthiness. Local fruit and flowers will give the guests something to marvel over across the table.
8. Let Decorative Tables Crown The Room
It's common for the main dining table onboard the yacht to feature some of the finest craftsmanship on the planet, as lots of superyacht designers commision artisans to create standout bespoke dining tables. High-quality ornamental finishes include eglomise, gilding, inlays, veneers, marquetry and pen-work. In this instance you may want to opt for a minimalist tablescape to let the furniture crown the room. For a few final touches, you can scatter jewels around the table to complement the accent colour to create an instant 'ta-dah' finish. Refer to the image below styled by Winch on onboard Excellence.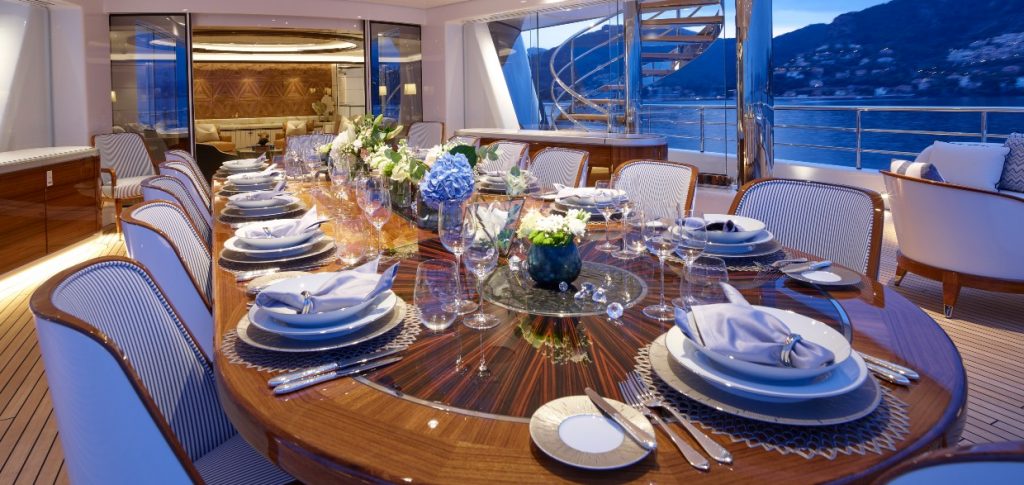 A tablescape in the main dining areas onboard superyacht Excellence. Perspex diamonds were scattered across the table providing the table a splash of understated bling. Image credit: Winch Media
Why not have a themed evening? This lunch setting is fit for mad hatters. An Alice in Wonderland tablescape imbues an air of playfulness at lunch. Image credit: Tim Gosling
Superyacht Considerations: Tim Provides A Few Top Tips
Tim Gosling, Director at Gosling comments, "Every time you walk onto a yacht to style a tablescape you are passed a baton. There is always lots of adding and removing, but that's all part of the fun!" One of Tim's simple tricks is to transform a napkin arrangement by using a bit of chiffon or gauze, "You have to consider how the table will be impacted by the natural elements. Will it be windy outside? If so, everything needs to be weighed down. I use rocks in flower vases and avoid tall objects which could easily fall over. Liaise with the captain to find out what the expected sea conditions are – rough seas can easily shatter fine glass."
Secret Splendor: Picnic Tablescapes By Appointment
Impress your other half when they least expect it. Winch Design and Gosling remain at the disposal of guests who want a special tablescape for a specific purpose, be it Christmas, a safari-themed party or perhaps a special engagement dinner for two. Organise a surprise for a loved one by organising an impressive tablescape inside a secluded island cove lit by the moon and candles, or even a lunch at sunset inside romantic ruins, tablescapes can elevate a natural setting and add a touch of magic to your occasion.
For more on creating the perfect ambiance and aesthetic onboard, check out our New Wave of Superyacht Furniture Design and our Guide To Boat Interior Design And Yacht Decor articles.
Related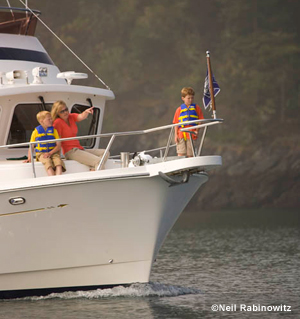 Managing Your Yacht: Tips For Delegating Family And Crew
Laila Elise provides tips on how to how to maximize your boating experience as a family.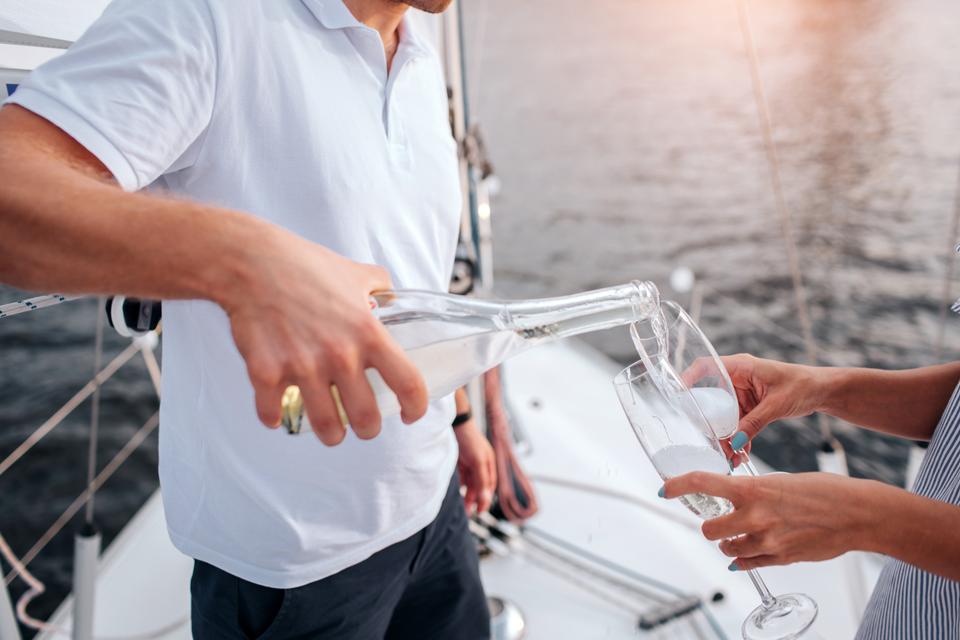 Yacht Etiquette For Guests: 8 Top Tips
Laila Elise rounds up tips for perfect onboard guests.
A First Time Boat Owner: 8 Lessons Learned
Have you considered becoming a boat owner but have no experience with boats?