Boat winterization is a big part of boat ownership and proper yacht management. Photo: Pond5.
Winterizing your boat, can be fairly easy and straightforward, or very detailed, costly and complex, depending on the size, features and onboard equipment. Not to mention your location and the tyoes of boat storage options available to you. Regardless of the specifics, proper boat winterization is key to making sure your vessel is in good shape and ready for your maiden voyage next spring. Do you know how to winterize a boat yourself? Or will you trust a professional to handle the job for you? Let's take a look at some of the basics, so you can understand your choices.
If you live in one of those nice, warm places where you don't need to winterize your boat and then spend months working on winter boat projects, congratulations. You lucky year-round boaters can stop reading. May your worst worries be UV and mildew! For the rest of us, the onset of winter and sub-freezing temperatures means that we have to take precautions to protect that floating investment, and learn about properly winterizing our boats and yachts.
Boat Winterizing Steps Include:
Winterizing the engine and outdrive
Winterizing the fuel system
Winterizing freshwater systems
Preparing the batteries for storage
Removing (or covering) deck furniture
Covering the entire yacht or boat
Choosing a suitable storage option
Why Winterize a Boat?
Everybody knows that water expands when it freezes, but not everyone has seen the damage it can do if it freezes inside an engine, a galley hose, between a toerail and a cabinside, or in a bilge. It can be bad. Very bad. And, expensive. Meanwhile, dirty oil left in an engine over the winter will degrade the metal it's meant to lubricate. Uncovered cockpits will collect leaves and debris that will clog drains and cause stains.
Winterizing your boat properly isn't a bad chore – it's a satisfying one. You'll rest easy over the winter knowing it's protected, and in the spring there's little to do but take off the cover, renew the wax, and relax.
The Basics of Winterizing a Boat
If this is your first winter with a new boat or yacht, you'll need to decide, first of all, how to handle your winter boat storage. Again, depending on the size and type of your vessel, this could be in your own driveway or garage, in a storage area run by your dealer or repairer, or perhaps, in a full-service boatyard or marina (especially for larger yachts over 35 feet in length).
If you have a wooden boat or one that you plan on using occasionally during the winter, in-water boat storage might make sense. In many areas this can be cheaper than being hauled out, but make sure your insurance company allows it; many boat insurance companies require boats to be hauled out for the winter months.
If your boat has been in a wet slip during the season, after haul-out the bottom should be pressure-washed. This is typically part of the haul-out fee in most boatyards, and some yards will go the extra mile and remove barnacles and fouling from your running gear. After that you're on your own, so you'll need to decide how many winterization steps you'll want to take on yourself, and how many you'll want to hand over to the pros.
Winterizing Boat Engines And Outdrives
Winterization procedures will vary depending on what kind of engine or engines you have — inboard or outboard, gas-powered or diesel, big or small, four-stroke or two-stroke. But the basic principles are the same. For example, winterizing a four-stroke outboard involves carefully flushing with fresh water and (where needed) salt remover. Both the main lubricating oil and the lower-unit oil should be changed, so that dirty oil doesn't cause corrode the engine over the winter, and any water that might be in the lower-unit oil doesn't expand and cause damage.
If you don't plan to run the engine occasionally over the winter, the engine should be brought up to temperature to remove any moisture, then the carburetor or air intake and cylinders should be sprayed with fogger. In the case of modern EFI engines fogging is a much simpler process, because it can be accomplished by merely running the engine with a special winterization fuel additive.
Zincs should be replaced, and the whole engine checked for salt deposits, loose connections, and other gremlins that might cause a problem in the spring. Winterizing small outboards, two-stroke engines, and stern-drive inboards all follow the same basics, with some variations. Outboards and all outdrive units should be completely drained of water, while inboards and diesels with raw-water cooling need to be stored with non-toxic antifreeze distributed throughout pumps, hoses, and heat exchangers.
Winterizing Fuel Systems
No matter what type of engine you have, it's vital to set up your fuel system for a successful return in the spring. This means using the correct additives in the right amounts — in gasoline to mitigate the bad effects of ethanol, and in marine diesel fuel to ward off microbial growth and fouling. Make sure to run your engine for a few minutes after putting in the additives, so that the treated fuel will run through the whole system. And don't leave your tanks partially filled. Top them off to reduce condensation (leaving a bit of room for expansion) and make sure deck-fill caps are snugged down for the season.
Winterizing Freshwater Systems
Now take a look at any and all freshwater systems, sources, and reservoirs on board. These all need to be prepared for winter. Tanks, pumps, and water lines serving the galley and head (and any other system that uses water, including air conditioning) either need to be completely emptied or filled for the off-season with non-toxic water system antifreeze (the pink kind, not the toxic antifreeze meant automotive radiators).
Preparing Boat Batteries For Winter Storage
It used to be that boat owners and yards would painstakingly remove batteries for the winter, but the advent of more sophisticated batteries and electrical systems, "smart" charging systems, and cheap solar trickle-chargers has changed the common wisdom. Now there are much better arguments for leaving batteries in place. To prep them for the winter simply make sure that the batteries are fully charged after haul-out, and set them up to be maintained with a smart-charging system from an outside electrical source or with a low-wattage solar trickle charger. If you have traditional wet-cell batteries they should be topped up with distilled water and checked a couple of times during the cold months.
How To Cover A Boat Or Yacht For The Winter
Fiberglass and aluminum boats are amazingly resistant to water intrusion from any direction, but, as mentioned above, they are not immune to the effects of ice. Even more important over the long run are the effects of ultraviolet rays from the sun, in both summer and winter. Sunlight eventually degrades most plastics, making them chalky and brittle, So even though some people say that boats can be left uncovered for the winter, it's much better to cover them. You can learn how to shrink wrap a boat, have a pro do the job, or cover the boat with a high-quality tarp (not the cheap blue plastic kind, which rarely last so much as a full season). All methods require making a high-quality framework that will shed water and resist the winter winds while allowing for some ventilation and air-flow inside the boat.
Winter can be a long season for northern boaters, but if you take the right steps to protect your boat in the cold months, you'll reap your reward in the spring with a sound boat and an early start.
When the weather turns nice again, you'll be ready to get your boat ready for the spring and summer months again, by doing the reverse, and going through a pre-launch, spring commissioning checklist.
Editor's Note: This article was originally published in December of 2020 and was last updated in October 2021.
Related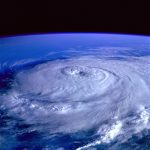 Hurricane Prep For Boaters: Protecting Your Yacht In Storm Season
Category:
Boat Maintenance & DIY
Get your boat ready for hurricane season with these tips from Captain Heather Francis.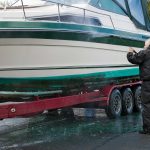 Spring Commissioning A Yacht: Getting Your Boat Ready For The Season
Tips on how to get a yacht ready for the boating season.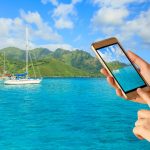 Booking Transient Slips And Mooring Reservations: Staying Tech Savvy
Tips on finding and booking anchorages, moorings and dock slips at marinas.