Houseboat living combines all the positive aspects of mainland real estate and luxury yachts, but they tend to be more individual and architecturally striking. The latest wave of houseboats embraces clean living, purpose-built to deliver owners with a carbon-neutral footprint on the water. They use solar power and electric propulsion, outstepping some of the more dated houseboat competitors of the 90's. Here are five of the rarest houseboats for the perfect castaway escape.
Orion, Orsos Island
Orion is a hybrid between a motor yacht, a private island, and a houseboat. It combines all the positive aspects of mainland real estate and luxury yachts, situated on Orios Island, surrounded by miles of spectacular beaches and stretches of vivid coral reef. You can relocate any time by using a tug or cargo ship.
Designed for the eco-minded, power is supplied through a used wind energy system and 160 m² of solar panels. There are six spacious staterooms with ensuite bathrooms to accommodate 12 guests. The houseboat is split across three floors, each with a private deck providing plenty of leisure space for sunbathing, dining al fresco, and entertaining.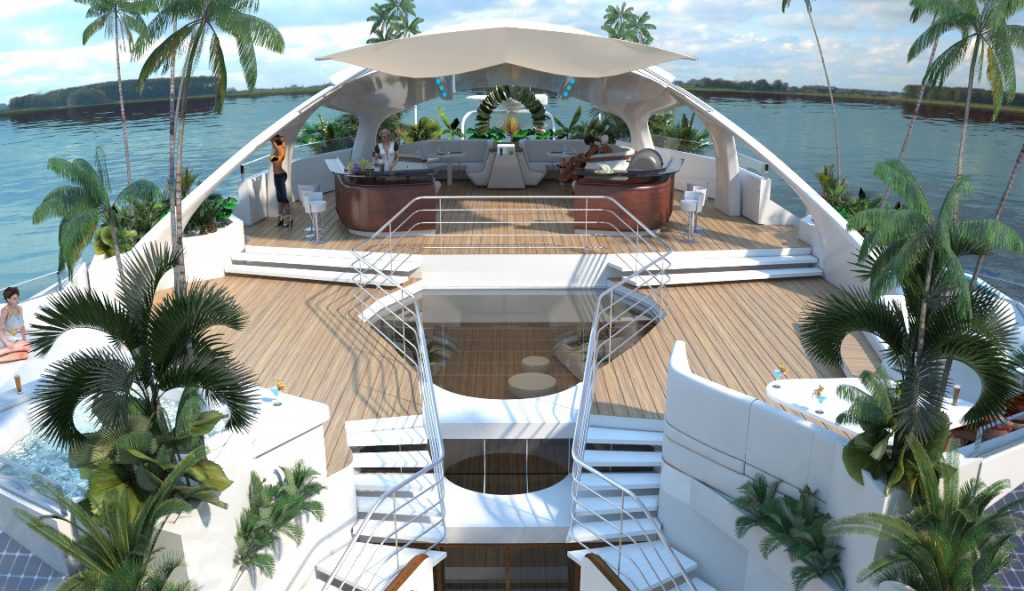 Orion is currently for sale for $10,500,000 on YachtWorld.
Arkup 40
Baby sister to the ArkUp 75 mothership, this one of the world's first fully solar-powered livable yachts. It looks and feels like a penthouse apartment perched above water level. The 7.5-feet, floor-to-ceiling windows illuminates the interior. ArkUp is ideal for anybody who equally loves the city and the water. Situated near downtown Miami, it has the perfect cityscape backdrop. You can keep one foot in urban life, while providing an easy escape with unlimited water access. The hydraulic jack-up system allows the vessel to remain stable, even in 20-25 ft of water.
Imagine being able to change your bedroom view on a whim? Two Miami-based French engineers designed the floating mansion with a passion for the ocean and renewable energy. The vessel is a blueprint for sustainable living; with 2,400 sq. ft. solar panels on the roof, it produces 36 kW of energy, which is enough power to run all of the vessel's electrical systems. As long as the sun is shining, the electric propulsion system can generate enough ability to move the house-yacht at a 8.5 knots. The net result is that this waterfront building uses zero carbon emissions.
ArkUp 40 comes fully customizable with the option of having either one, or two staterooms. It comes with folding decks, ideal for launching toys for watersports.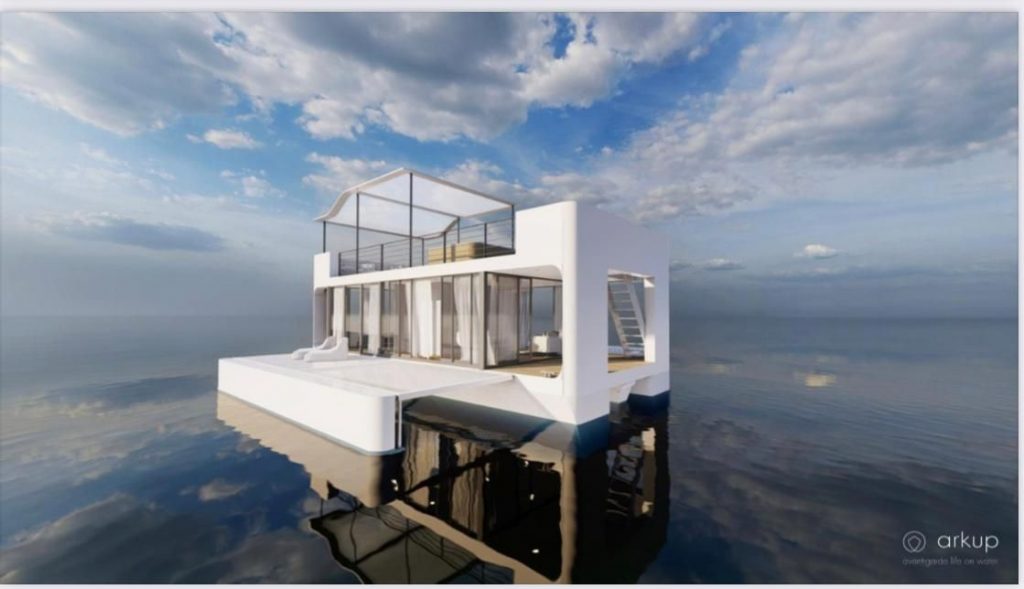 ArkUp's 40 house yacht is currently for sale at $450,000 on YachtWorld.
The Floating Seahorse
Seahorse is the world's first floating villa to offer a fully immersive underwater experience. It's located in the Arabian Gulf moored around the World Islands, a Nakheel Properties development off the Dubai coast in the United Arab Emirates.
Seahorse villas comprise 300 artificial islands shaped to look like a world map, and each island represents a country. Every island floats, partially submerged in water. Unlike the other houseboats on the list, it doesn't use propulsion and navigation systems to move around. Instead, they are deployed by construction cranes and then tethered to the ocean floor using an anchor.
Decks on the sea level and sky level offer an abundance of relaxing seating areas for relaxation and dining al fresco. It has two staterooms and three bathrooms to accommodate eight guests on board. The underwater staterooms offer views over the coral reef gardens teeming with marine life. There is also an outdoor kitchen area, a jacuzzi, and an over-water hammock. Multiple ladders provide access straight into the water. Choose from a range of models available and select a layout to suit your lifestyle.
Adonia Yachts
Situated in Lake Powell, this 75" this houseboat is equal to the size of a large motor yacht. The houseboat is available for multi-ownership, making it owning your own slice of paradise a lot more affordable. Each and every houseboat built is made 100% bespoke to suit the owners requirements.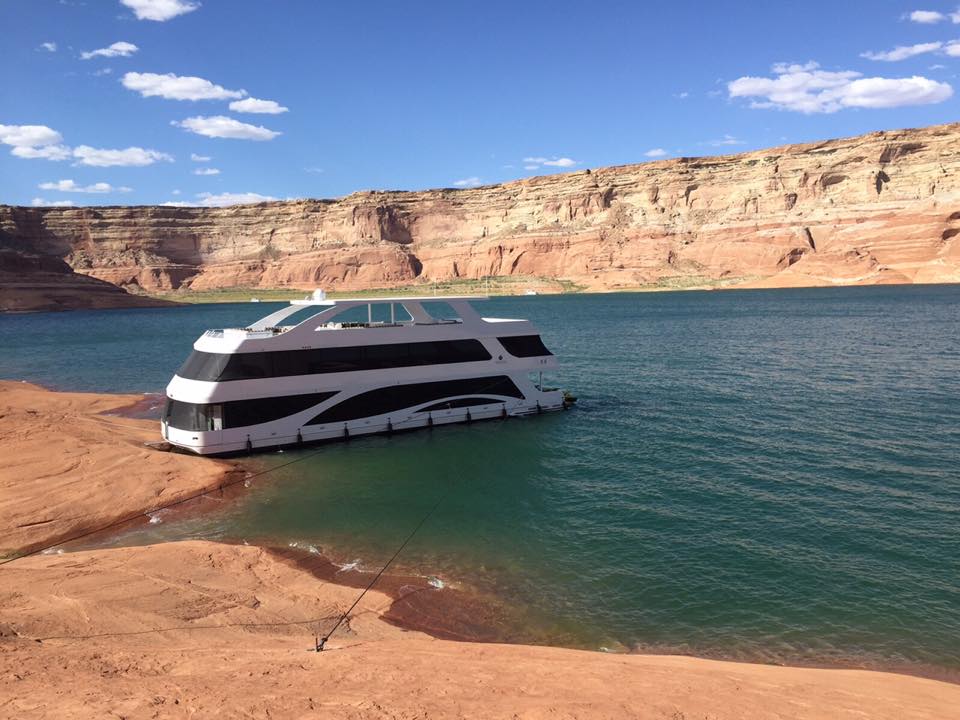 Beguiled
One of the most enchanting houseboats on our list, this unique houseboat was formerly a floating chapel. Beguiled is based at a beautiful marina on the Manatee River in Palmetto, Florida. The catamaran barge accommodates two staterooms and two heads. Most of the original fabric of the chapel has been retained, including a 30-foot steeple, seven beautiful stained-glass windows (covered with hurricane-resistant glass), arched solid-wood chapel doors, and open decks dedicated to entertainment and relaxation. The total surface area boasts 1800 square feet. Beguiled is powered by two Diamond Series Cummins diesel engines and move along steadily at 6 knots.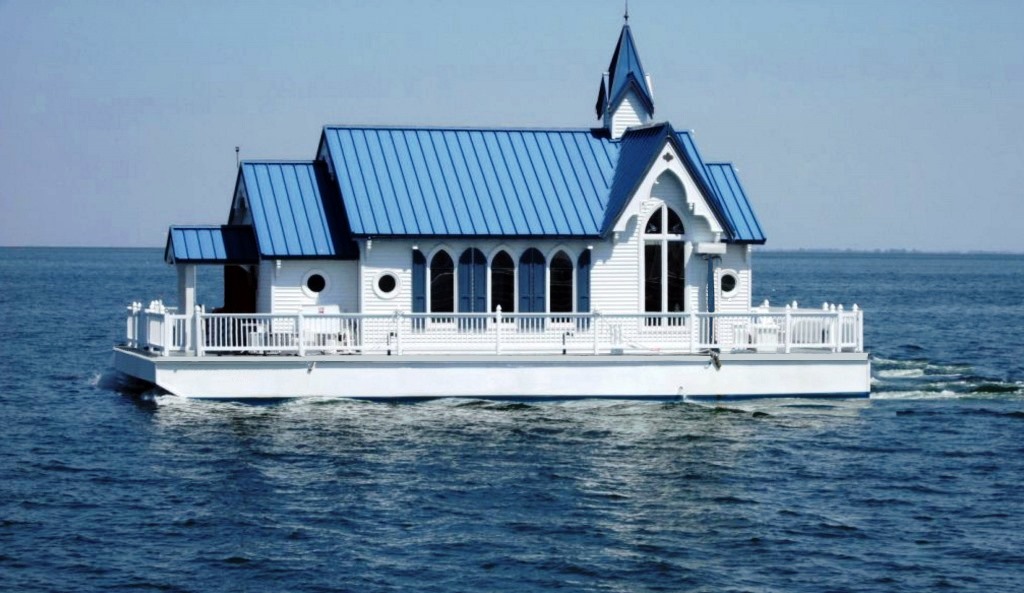 Parts of the world with the most houseboats tend to be areas where there are calm lakes and rivers. The most popular regions for houseboats include the Pacific Coast to Northern California, Seattle, Portland, the Great Lakes, Lake Powell in Arizona, Lake Cumberland in Kentucky, Lake Travis in Texas, and multiple other spots along the Eastern seaboard and Gulf Coast. If life at sea appeals to you, but you want to be location-independent, liveaboard yachts are a great alternative to houseboats that are suitable for waters across the globe.
Related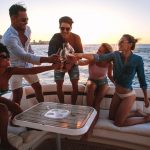 Best Boat Songs: 14 Tunes For Your Yachting Playlist
The right tunes can help set the right vibe for friends on board.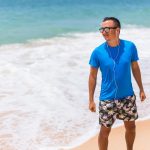 The Best Boating Podcasts: 17 Top Picks
When it's too cold to get out on the water, sometimes listening to podcasts is the next best thing.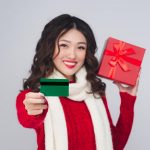 Online Gift Cards And Last Minute Gift Ideas For Boaters
A few quick, last minute ideas for the boater or boat owner in your life.