Many yachts claim to be classics, but few earn the title as well as the Hatteras 54 Convertible. Hatteras was the first production builder to offer a fiberglass convertible sportfishing yacht (in 1960) and began building the 54's predecessor, the Hatteras 53, all the way back in the 70's. In 2002, hull design went through a major change with the introduction of the first Hatteras 54 Convertible with a convex hull design. In 2010 the model again went through a metamorphosis when it became the GT54, the third sportfishing yacht to join the Hatteras GT series, sized just behind the GT60.
Obviously, since Hatteras has been building this boat for so long, there's a dramatic difference from one 54 to the next. All share two traits in common: they were fast for their time, and they were well-known for great seakeeping.
What constituted a "fast" boat in the 90s is quite different than what constitues one in today's world of sportfishing yachts. But as a rule of thumb, you can expect 90s vintage boats to cruise in the mid 20-knot range, and approach 30 knots at top-end. Today's GT version, on the other hand, can cruise in the mid 30s and hit a rather shocking top-end of 41 or 42 knots. While any 54 you look at is going to fall somewhere in this range, remember that due to differing power options and model changes through the years, each hull is different and performance can vary quite a bit.
When it comes to seakeeping, after sea trials you're likely to decide that all the 54s can safely be called good sea boats. Hatteras considers sea keeping one of its most important traits, and all of their boats handle the waves well. Part of this is due to hull design, but part is also due to Hatteras's building philosophy. They build relatively heavy boats, which are quite capable of bulling the waves out of their way. Again, due to changes through the years, refits, and original options, weight will vary. But you're likely to see yachts in the 70,000 to 75,000 pound range when looking at 54s.
There are also a number of older 54s out there that have undergone significant refits.  In fact, the 90s versions of the 54 were something of a cult classic. This can range from a few fixes here and there to full-blown refits with re-powers, new bottom paint, and all-new interiors. Don't sell older models short by assuming they show their age—many do not, and thanks to Hatteras's build-it-strong attitude, the structural components of the 54 Convertibles have essentially unlimited lifespans.
Buyers should also be aware that the Hatteras convertibles are outfitted and finished with true yacht-class interiors. Yes, again there's a lot of diversity due to the long life of this model. But regardless of age you're probably going to like what you find.
See all Hatteras 54 listings.
Related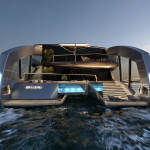 Tecnomar's Sci-Fi-Styled Powercat: This Is It
This futuristic multihull will be unveiled in less two days time at MYS 2023.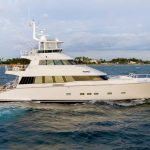 Supersized Sportfish: A 110-footer Built For Entertaining Guests
Take a look at a rare sportfish, built by a Royal Shipyard.
Viking 90 Sportfish Review: An Ultra-Luxurious Fishing Machine!
Marilyn DeMartini reviews the new 2023 Viking 90 EB sportfish yacht.