The largest yacht Grand Banks has built to date, this impressive vessel is a Grand Banks, on a grand scale. Here we take a look at what sets the boat apart from her predecessors and her competition in the market of long-distance, family cruising motoryachts.
Vessel Overview
Everything about the boat is designed to make long distance cruising comfortable and enjoyable. From the stately accommodations, to the stunning sky lounge, down to the remarkably comfortable and equipped crew quarters that go beyond just about any other boat in her class and size, the attention to detail is evident. Right off the bat, she's leading her class in fuel efficiency and overall range. As Grand Banks states, "Thanks to the hydrodynamics of our proprietary V-Warp technology, the Grand Banks 85 uses half the fuel of other 85 footers as she requires half the horsepower to achieve the same speeds and performance." The new flagship yacht is nothing short of spectacular.
Above: Join YachtWorld and Ryan McVinney along with Rob Clark from GB Marine Group for a full in-depth walkthrough of a 2022 Grand Banks GB85.
Design And Layout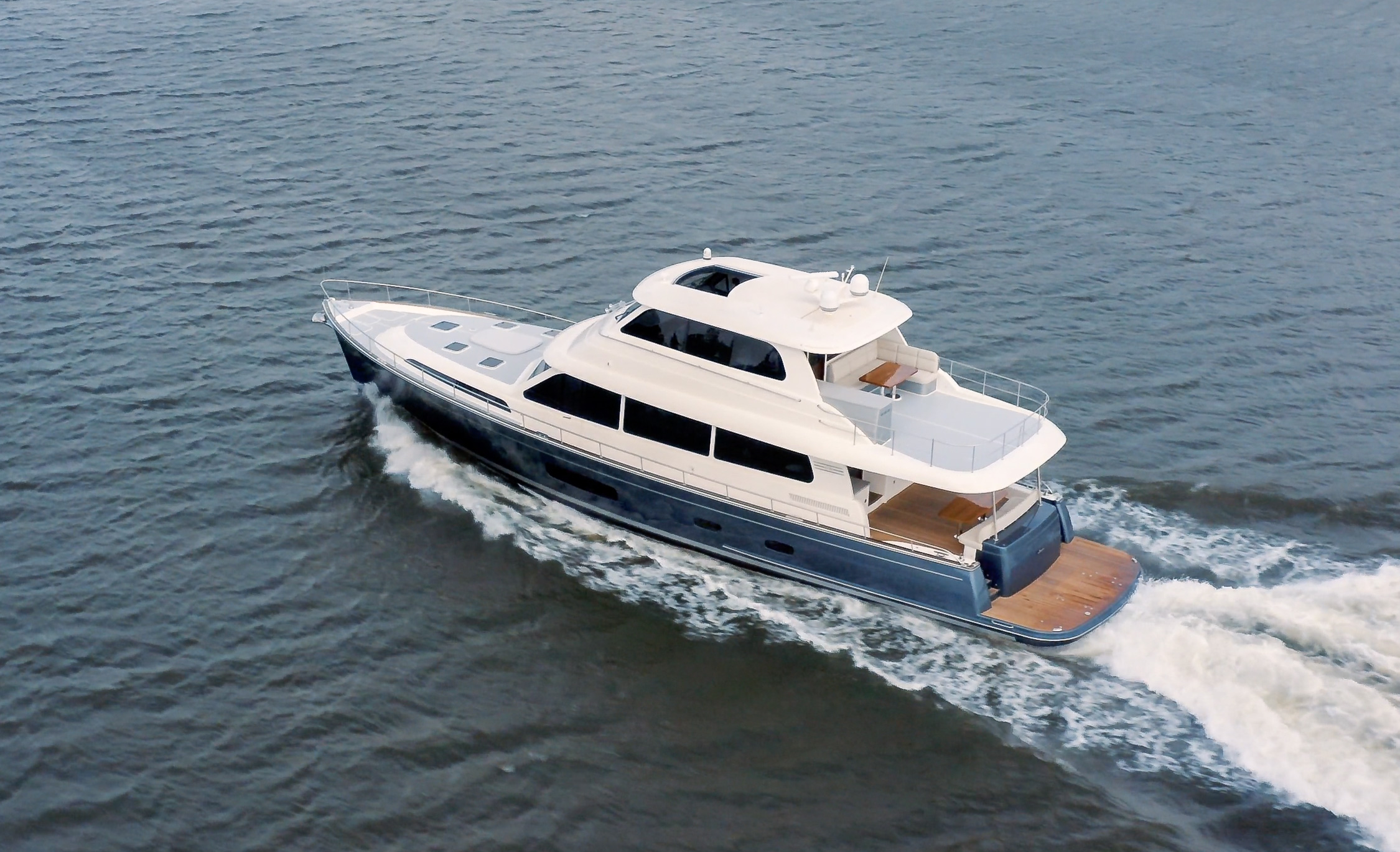 Above: The Grand Banks GB85 underway on the water. Photo by Grand Banks.
With an extended 22-foot beam and a cavernous salon, the boat is ideal for longer trips and entertaining guests. The wide beam enables Grand Banks to offer a wide range of internal configurations and amenities for all onboard, including guests and crew. For long distance cruising this yacht provides a rare combination of sociability and privacy. That is something that is very important for a lot of owners, particularly with multiple couples or intergenerational families with younger kids along. At just over 87 feet, the GB85 is inching towards the superyacht category. But as well as pushing yacht class barriers, the model is also set to break records for performance, efficiency and range in other cruising performance categories.
Power options
The GB85 is powered with either twin 1,000-hp Volvo Penta IPS 1350 engines, or can be equipped with optional twin MAN V8 1300s if desired. Performance is a big part of what differentiates this large motor yacht from others in her size range and class. She tops out at 27 knots which is quick for a boat of this size, but speed isn't what the yacht is all about of course. As Rob Clark explained to YachtWorld, on a recent ride down the east coast the boat achieve a 57 GPH burn rate at 20 knots, giving her a range of 1,000 miles. Cruising at 10 knots she can get over 3,000 miles, a very impressive number for a family cruising yacht, proving she is indeed a very fuel efficient design.
Unusually, the engines are housed in individual compartments that are separated by a garage that provides plenty of space for a dinghy and water toys. This arrangement allows for more elbow room and better access during maintenance and repairs. The power to weight ratio derived from the low-ball displacement combined with the reduced water resistance of the slippery V-Warp hull enables the GB85 to match the speed of her competitors with only slightly more than half the horsepower.
Aft Deck
Aft deck the boat's main salon opens into a nice open airy space with a drop down window. The aft dining area provides enough seating for 10 and entertaining up to 20 guests. It offers a great extension of the interior living area on nice days, as well as great access to the swim platform and towards the interior of the yacht. The dark stained teak wood provides an elegant look and style.
Main Salon
The main salon is cavernous and flooded with natural light. Another huge dining area, thanks to the wide beam, compliments a comfortable living area. The split level living area is great for entertaining and lounging while underway. There is a large U-Shape couch (although the boat can be furnished in a variety of ways).
Galley
A full size galley includes dish washer, stovetop, full-size refrigerator and freezer. One of the most unique things about the galley is there are full controls and a starboard side door located right in the galley (which also allows for great airflow while cooking). Another great feature is the separation and privacy of the galley, as it is separate from the main salon.
Sleeping Accommodations
The master stateroom can be configured in a full beam arrangement with a en suite double head, or it can be arranged as the owners choose. There's the option of a four-stateroom layout that can sleep as many as nine people, making her an ideal family cruiser. The boat YachtWorld hopped onboard even had a hidden piano stashed discreetly in one of the cabinets in the main stateroom, showcasing how Grand Banks works with their customers to create the appropriate layout for every need here.
Services Room
The unique "services room" brings features of the boats main systems into a separate area from the engine room, where they would usually appear on other boats. This feature gives owners great access to water functionality, air conditioning, inverters, bow thrusters and more in a nicely finished, teak decked room. The room is air conditioned so it is a comfortable place to work when needed.
Sky Lounge Bridge Deck
The upper deck "sky lounge" is a beautiful place to drive the boat from at the primary helm station, offering great visibility. Beyond the controls however, this is a stunning place to ride and gives expanded entertaining and lounging options, with a beautiful aft upper deck looking out over the stern of the vessel. There is a sunroof that opens and windows allow for a cross breeze on pleasant days. The boat is also available in the "sky bridge" format that is more open to the elements.
Crew Quarters
Grand Banks put a lot of time and effort into design a really comfortable, beautifully finished crew quarters. This was led by the philosophy that a happy crew makes for happy owners. The level of fit and finish matches the rest of the boat. There are two big bunks, a dedicated galley with corian countertops and a washer dryer along wtih two separate entrances – one to the aft deck and one to the salon upstairs. This is a rare treat for crew onboard a boat of this size.
Take Aways
The biggest boat Grand Banks has ever built is clearly an impressive entry into the iconic builder's line up and is perfectly designed for family's seeking a large, long-distance cruiser that is comfortable, well-thought out and fuel efficient.
Specifications:
Length Overall: 87.17′
Length on Deck: 78.75′
Max Draft: 4.08′
Beam: 22.17′
Dry Weight: 108,025 lbs.
Fuel Capacity: 2,650 Gallons
Cruising Range: 3,000 miles (at 10 knots)
Fresh Water Capacity: 370 Gallons
Cruising Speed: 20 knots
Top Speed: 27 knots
View Grand Banks GB85 yachts for sale on YachtWorld now
View all Grand Banks yachts for sale today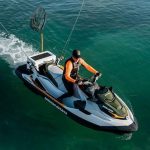 Our ultimate roundup of the best yachting toys and gear.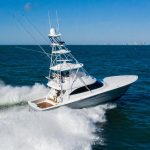 Flybridge yachts are popular for sports fishing, thanks to their enhanced visibility.