In Episode 6 of YachtWorld's LEGENDS video series about amazing yachts over 100 feet, viewers join host Ryan McVinney to hop onboard DNA sequencing scientist Dr. Jonathan Rothberg's twin 180-foot, next-gen superyachts, Gene Machine and Gene Chaser. Dr. Rothberg is the founder of Protein Evolution, a company focused specifically on climate solutions (as well as the COVID-19 at home test company Detect, Inc.), and the vessels are used to further Rothberg's ocean research throughout the world.
Above: Watch YachtWorld LEGENDS EP. 6 with host Ryan McVinney featuring Jonathan Rothberg's superyacht fleet, made up of the two superyachts Gene Machine and Gene Chaser.
Twin Superyachts: A Biotech-Backed Fleet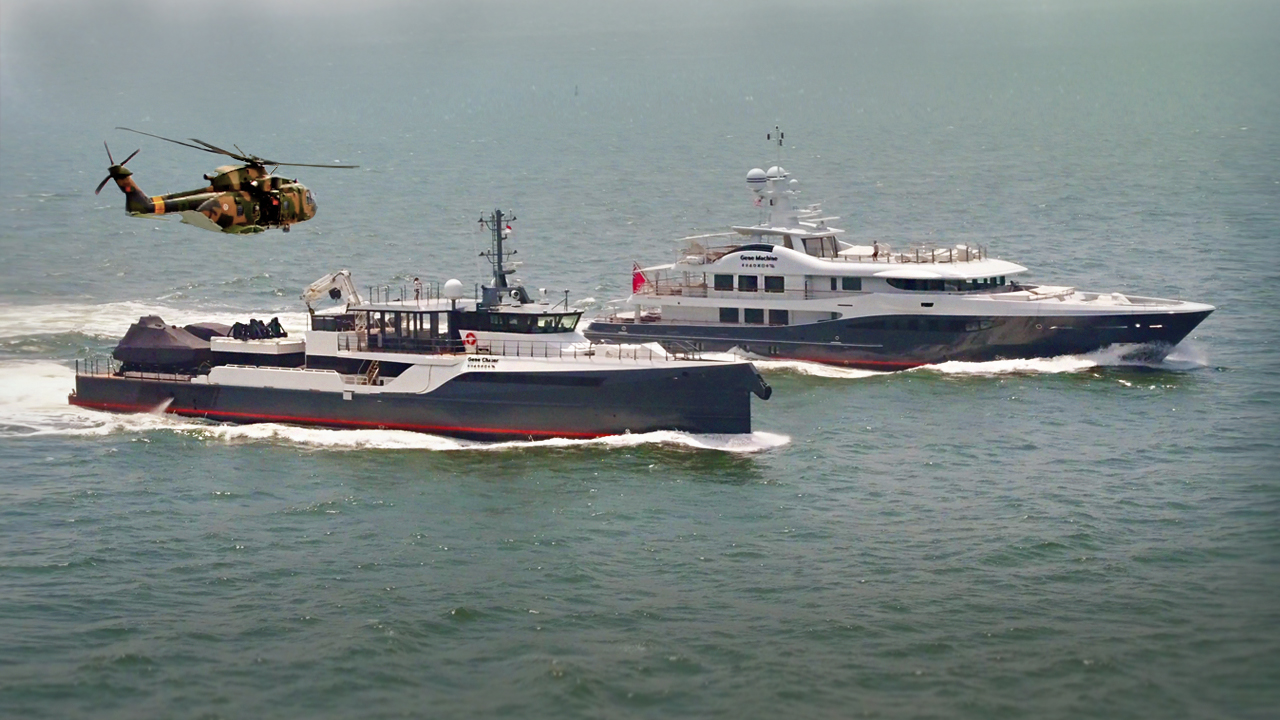 Above: Superyacht support vessel Gene Chaser shadows billionaire Jonathan Rothberg's main superyacht Gene Machine while underway with a helicopter overhead. Photo via Gene Machine crew.
The 182′ GENE CHASER built by Damen, serves as an on-the-water lab for the famous scientist and his partners, as they conduct research on oceans around the globe with various partners. Meanwhile, the 180′ GENE MACHINE, built by Amels, acts as a home on the water for his family and friends. Rothberg is also well-known for creating the Detect COVID-19 rapid test during the pandemic, contributing to his stature, personal wealth and notable career.
Gene Machine – 180′ Amels Superyacht
Tim Heywood designed Gene Machine's exterior while Enzo Enea designed her interiors. She can accommodate 12 guests and 12 crew plus a captain. She has a steel hull along with an aluminum superstructure and weighs approximately 670 tons. Gene Machine's unique beach club features a tile mosaic that depicts underwater scenes from the movie Finding Nemo complete with Bruce the fish-friendly shark.
Gene Chaser – 182′ Damen Superyacht Support Vessel
Gene Chaser serves as the superyacht support vessel by housing loads of gear and equipment. This extreme machine is powered by quad Caterpillar engines providing a total of 6,000 HP and a top speed of 21 knots. Also onboard are a primary laboratory and workshop which allows Dr. Rothberg to host meetings, conferences, scientists and investors while also showcasing his tech.
Onboard Technology & Labs
The modern marvel of a boat includes an onboard portable MRI system, among other fascinating technologies. Rothberg has succeeded at taking large medical devices and shrinking them down to make them more portable. His team takes samples from oceans around planet Earth and seeks to find new forms of life.
Superyacht Toys And Gear
Other onboard superyacht toys and support equipment carried onboard include a Super Air Nautique Paragon wake boat, a fleet of 5 jet skis, numerous electric surfboards, stand-up paddle boards and floats, 2 tenders, and a selection of land-based vehicles including scooters, ATVs.
A Bit More About The Owner
Owner Dr. Rothberg holds a BS in chemical and biomedical engineering from Carnegie Mellon and a PhD in biology from Yale University. Investor's in his latest business endeavor include fashion designer Stella McCartney, founders of Warby Parker (Good Friends) and New Climate Ventures. A major focus for Rothberg is reducing plastic waste by leveraging artificial intelligence and natural science to engineer enzymes that can break down the plastics in an economical and sustainable manner.
Rothberg founded Detect, a company that invented a successful at-home coronavirus test that uses the advanced tool of molecular analysis rather than the antigen method. Rothberg worked on this product in his onboard lab aboard the Gene Chaser, where he had previously focused on environmental studies.
Related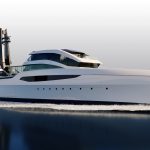 The Superyacht Explorer With A Glass Midriff: Feadship's 87m EXPV
The 285" foot Feadship EXPV concept by Harrison Eidsgaard: an unconventional explorer yacht.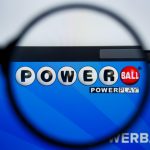 Record Powerball Jackpot Winner Yacht Options
Ryan McVinney rounds up yachts that tonight's powerball jackpot lottery winners could afford.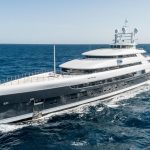 Most Expensive Yachts In The World: Top Contenders In 2022
The top 10 most expensive yachts for sale in the world today.