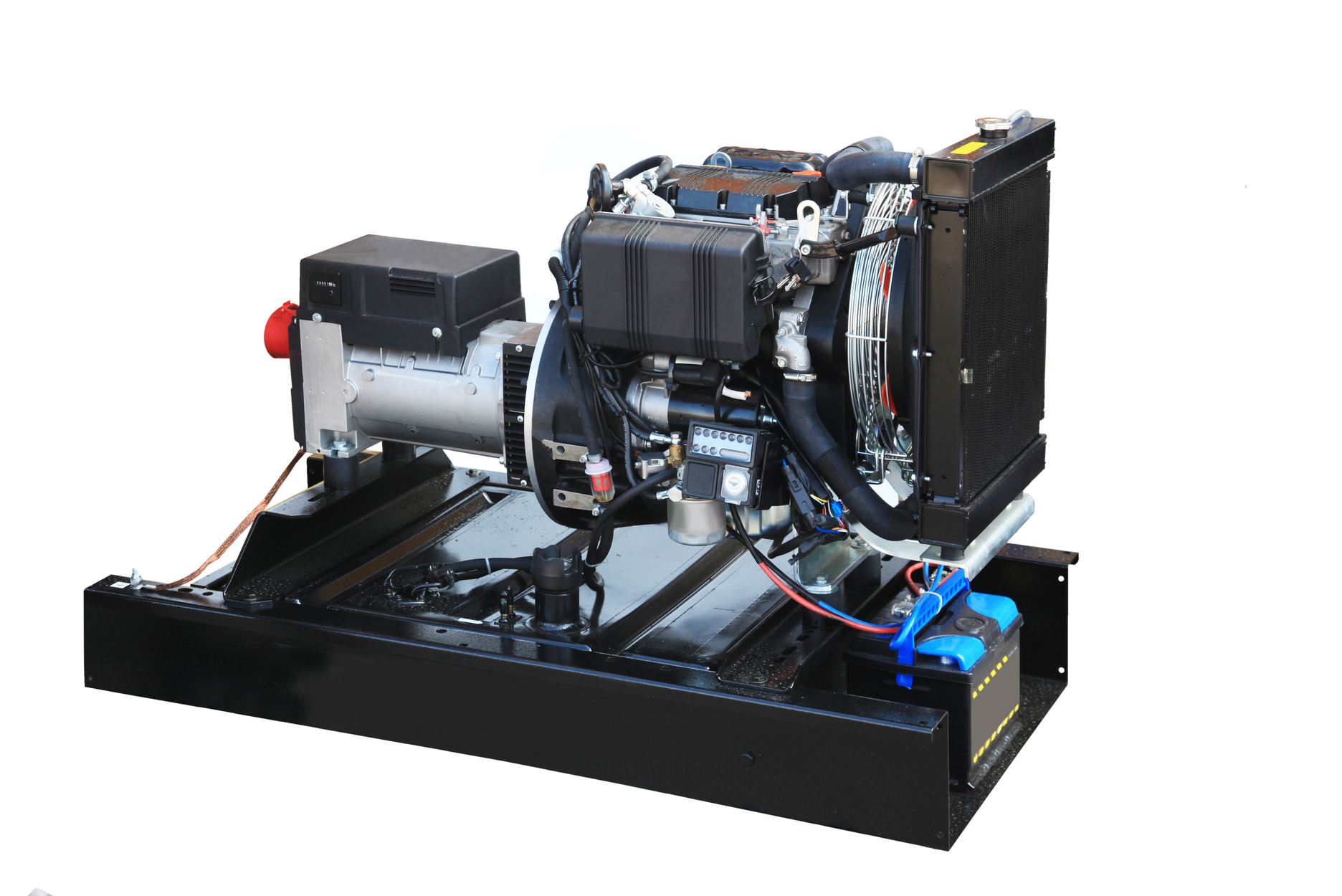 A Diesel Marine Generator Power Plant. Photo: Pond5.
It can be argued that the engine most responsible for passenger happiness while aboard a vessel isn't the one that pushes it but rather the one that is responsible for their comfort and entertainment: the generator. It's easy to take these dynamos for granted since most people don't even think about them – until they stop functioning! Only then, does their importance become crystal clear.
Having a quiet, reliable, efficient generator should be at the top of the list of important components for vessels that need lots of power such as cruisers and trawlers with well-equipped galleys, air conditioning, heating and lighting for staterooms – or large sportfishing boats with multiple livewells, an array of electronics, downriggers and electric reels. While many smaller electrical appliances like TVs, blenders and microwaves can be powered by a boat's house battery system along with an inverter to convert DC power to AC, a genset is a stand-alone electric plant that can handle the heavy lifting of providing power when away from the dock.
Whether an owner is choosing a generator for a new boat or to replace a failing model, it's an important decision. Fortunately, the newest generations of gensets are the best and safest ever and it's getting harder than ever to make a bad choice. There are differences, though, and knowing what's important will help owners choose the best model that's right for their vessel and budget. Let's take a look at some of the basics before we cover some of the better-rated models on the market currently.
Gas or Diesel?
The list of advantages for diesel generators seems like a stacked deck. They produce fewer carbon monoxide (CO) fumes, which are odorless and deadly and the failure of any safety element in the system can have tragic results. For that reason alone, diesel generators should probably get the nod if they're being used on boats that have cabins being used for overnighting. Generators also usually pile up more hours than propulsion engines and diesel motors can usually go more hours between major maintenance.
It almost seems like a no-brainer to choose diesel but other factors like cost can tip the scales toward gas.
Another factor is fuel availability. The majority of boats up to 50 feet in length are outboard-powered and choosing a generator that can use the same fuel as the hundreds of gallons of go-juice already on board can make sense. After all, a generator without fuel is just dead weight. Plus, gas generators tend to fare better after long periods of disuse. Boats like center consoles might have cabins but often they are used primarily for storage so the safety concern is lessened.
Safer Gas Generators
Westerbeke pioneered the low-CO gas generator and won the National Marine Manufacturers Association (NMMA) Innovation Award for this technology back in 2003. Generators like its 7.5 MCGA operate at 1,800 rpm, are inherently quieter and produce fewer emissions than ones operating at 3600 rpm. It produces 60 Hz of continuous power for U.S. markets or can be switched to 50 Hz for European markets, which also alters its running speed to 1,500 rpm. Its three-cylinder gas engine uses a multiport electronic fuel injection system (MPI) to provide quicker starting and better fuel economy. Thanks to its electronic speed control, it virtually eliminates "bogging" when it encounters the start of a heavy load such as when the air conditioner kicks on or the air compressor powers up. Despite pumping out 7.5 kW, the 7.5 MCGA stands less than 18-inches tall, making a good choice when under-deck space is limited.
Generators Designed to Handle Variable Loads
Modern boats have more energy needs than ever thanks to emerging technology like gyro stabilizers designed for increasingly smaller boats or stereo systems powered by stadium-worthy mega-amps. If a generator is too small for its usual load, it works too hard and can age prematurely. Conversely, if a generator is frequently run with a load of less than 35 percent of its capacity, carbon deposits can build-up in the combustion chamber. In a perfect world, generators should be run with loads between 35-75 percent. This can be tough to dial in since the load on a boat during the day when all systems are operating is far higher than at nighttime when on the hook. One way to add adaptability is with a variable-speed generator like Fischer Panda's 5000i Neo, an ultra-compact, one-cylinder, sound-insulated 4kW diesel generator. It allows the speed of the diesel engine to change, automatically, according to the load of the appliances in use.
Size Matters: Correctly Matched Marine Generators Are Vital
Matching a generator's capacity to its load is critical and companies like Kohler, which have been building generators since 1920 have 47 different models of diesel generators ranging from 5 kW to 200 kW. To handle the variable-load dilemma on yachts, Kohler features generators with built-in paralleling controllers. Its PGEN connection feature allows up to eight Kohler generators of different sizes to be connected to the same system and seamlessly selects whatever combination best matches its electrical demand. Excessive sound levels can be a mood-breaker at a quiet anchorage and Kohler handles that with a redesigned sound shield that separates the engine and alternator compartments and also includes an improved air management system to further reduce noise.
A great tool for determining what size generator to buy can be found on the Cummins website by clicking on the Marine Generator Sizing Tool. There, you can select all the appliances your boat has and it adds up the total wattage to determine how big of a generator a vessel needs. As a general rule, anything that cools or produces heat is an energy hog. Other items that are energy-needy are battery chargers (3,000 Watts) air compressors (1,500 Watts) and a Seakeeper 5 gyro stabilizer that pulls 2,000 Watts (more in heavy seas).
Best Boat Generator Brands And Models In 2020
If you understand all of the above and have properly sized your new boat generator, you may be ready to pull the trigger on buying, installing or upgrading your current onboard generator. So let's take a look at some models available on the market now for various scenarios.
Portable Boat Generators
If you have a smaller pocket yacht, sedan-style cabin cruiser or cuddy cabin that you'd like some portable backup power for, you'll probably want to check out some of the models we've rounded up below. Topping the list is the 2,200-watt Honda eu2200i inverter/generator combo unit. Due to its extremely quiet, low-volume operation that will keep the sound decibels to a minimum onboard. At the marina, you won't bother those around you, which is a big consideration in this category.
Honda's EU2200i Generator
WEN 56200i Portable Inverter Generator
Yamaha's EF2000iSv2 Portable Inverter
Westinghouse Generators (Particularly the iGen2500 Generator)
Pulsar (check out their lighter-weight Pulsar PG2000iSN Generator).
Large Yacht Generators
If you have a larger sportfishing yacht or motor yacht to rig up with a dependable backup power system, the big players in the realm are Caterpillar, Northern lights, Kohler and Nanni, just to name a few. Here are some of the best-rated models in this marketing in 2020:
Kohler's C1.5 Diesel Marine Generator Set (available in 12 or 24 volt)
Northern Lights M1066 Series
Nanni's QLS 65T Gen Set for Yachts
The above models and brands are all tried-and-true generators from trusted manufacturers that have been supporting long-range cruising yachts for decades.
[Sidebar] Deep-Sixing Your Generator
While most new generators are improved in many ways, they do have the potential to emit dangerous carbon monoxide fumes and also contribute to vibration and noise while at anchor. Recent advances in electric storage and inverter technology have made it possible to run high-energy-use items such as air-conditioning, ice-makers and electric grills without a generator.
Showcasing this emergent technology is Sea Ray's SLX-R 400e (featured in the above video), a high-tech bowrider with a weekender cabin that employs the Fathom e-Power system. This system includes a high-capacity Mastervolt lithium-ion battery bank with a power management system capable of powering all of the boat's accessory systems. The SLX 400e is powered by triple Mercury Racing 450R outboards that have alternators capable of producing 115 amps to help keep the four lithium-ion batteries charged. When plugged into shore power, the batteries can be fully charged in 5-6 hours. Many other fuel efficient yachts on the market also offer new and innovative ways to generate power onboard such as Greenline Yachts (hybrid diesel-electric boats), Volt Marine Tech and Silent Yachts, to name a few.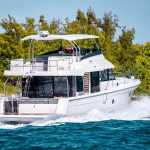 Zuzana Prochazka shares her top five new trawlers for 2022.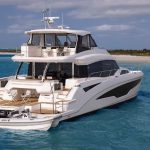 Zuzana Prochazka shares her top 5 picks for the best power yachts of 2022.