From circumnavigating the world onboard your dream motor yacht, to meandering down the intracoastal to your favorite weekend waterfront, watering hole, fuel consumption is something every motor yacht owner has in mind. Given both the cost of gas and the myriad of environmental challenges our planet faces, an increasing number of boaters and yacht buyers are seeking innovative vessels with improved fuel efficiency and alternative propulsion systems. Not only does owning one of these yachts help lower your carbon footprint and lessen environmental impact, it also helps reduce the strain on your wallet. Let's take a look at some of the most fuel efficient yachts in the world.

Greenline Hybrid Yachts
Greenline has been a leader in the hybrid diesel-electric and solar powered yacht space for years. An ecological landmark among yacht builders, Greenline combines both traditional and innovative technology in their hybrid-drive systems. All Greenline Hybrid yachts have both a diesel-electric and solar powered drive system that are reliable and cost effective, as well as completely emission-free in electric mode. Fuel efficiency in yachts is expressed in nautical miles per gallon (NMPG), and the innovative yacht builder has helped set new standards for sustainability and responsibility – while still maintaining luxury and style.
The Greenline Hybrid yacht line is currently available in eight different models, including the sleek NEO sports boat, the family cabin cruising 33, 39 and 40, and the 45 Fly, 48 Fly, 48 Coupe and the 65 OC. All of these models achieve industry leading fuel efficiency.

Greenline 40 Hybrid Diesel-Electric Solar Power Boat. Photo: Nate Cantalupo.
SILENT-YACHTS
What could be more efficient than zero gallons per hour? SILENT-YACHTS is building what they tout as the first and only oceangoing production yachts in the world that are fully solar sustainable and designed to be powered completely by solar energy alone. The company says its special configuration of components in each model guarantees the solar panels will generate more power on an average day than the total consumption for propulsion at cruising speed, and also touts that all household appliance can be powered by the solar panels, requiring no additional diesel or generator to operate.
"SILENT-YACHTS was founded on the dream of eliminating the major downfalls of yachting as well as the disastrous effects on your wallet and the environment without sacrificing the slightest bit of luxury." All water and energy production is done onboard and the vessel is designed to be long-range and self-sufficient for maximum independence and what the builder claims is an "infinite range".
For trips in foul weather or for faster cruising speeds over longer durations SILENT-YACHTS in the Cruiser and Sailor series are also equipped with a diesel generator to extend the range. SILENT-YACHTS also claims their vessels are virtually maintenance free and will always be upgradable with the latest solar technology, as the company wisely anticipates tremendous advancements on the horizon for solar and wind technology. The electric motors themselves are totally maintenance free. 44, 55, 60 and 80 (the 80 is also available in a 30deck version).
At the recent Fort Lauderdale International Boat Show 2019, we hopped aboard at SILENT 55 and were blown away by the spaciousness and comfort of the interior as well as the sleek, contemporary design. It felt like a much larger yacht, and it was easy to envision living aboard the vessel comfortably for long periods of time, perhaps indefinitely. Truly, it was a modern home on the water.
Hinckley Dasher 2.0
Hinckley's Dasher 2.0 has been designed from the ground up for fully electric propulsion. Similar to SILENT-YACHTS, this boat doesn't need to burn any fossil fuels to get you from A to B. The Dasher's Whisper Drive propulsion system provides quiet propulsion and zero emissions powered by dual BMW i3 lithium ion batteries that have been designed for compact size and superior shock resistance. The Dasher is also the lightest Hinckley Yacht ever created, built from a carbon-epoxy composite hull and full carbon stringers. Timeless styling, comfortable seating and an extended range over the first Dasher bring this newest 2019 model into the future.
MJM Yachts 50z
Debunking industry myths, the MJM Yachts 50z model has been designed with the company's GREEN Mission in mind. She is constructed out of an ultra-lightweight, strong composite of Corecell, Kevlar, Eglass and epoxy, eliminating the release of volatile organic compounds in the building process. She also burns 50% less fuel than other boats in her class, thus allowing owners to know they are doing their part to help contribute to a greener planet. MJM claims their mantra during the yacht building process was "Twice the fun, half the fuel" – and it shows.
With a choice of twin or triple Volvo Penta IPS 600's, this boat delivers both superior stability and advanced performance. At slower cruising speeds (8 knots) she burns an unparalleled, class-leading 2.4 gallons per hour. At 7 knots she has a maximum cruising range of over 1,300 nautical miles, and with a top speed of 40 knots, this is a seriously efficient yet simultaneously exhilarating yacht.
Related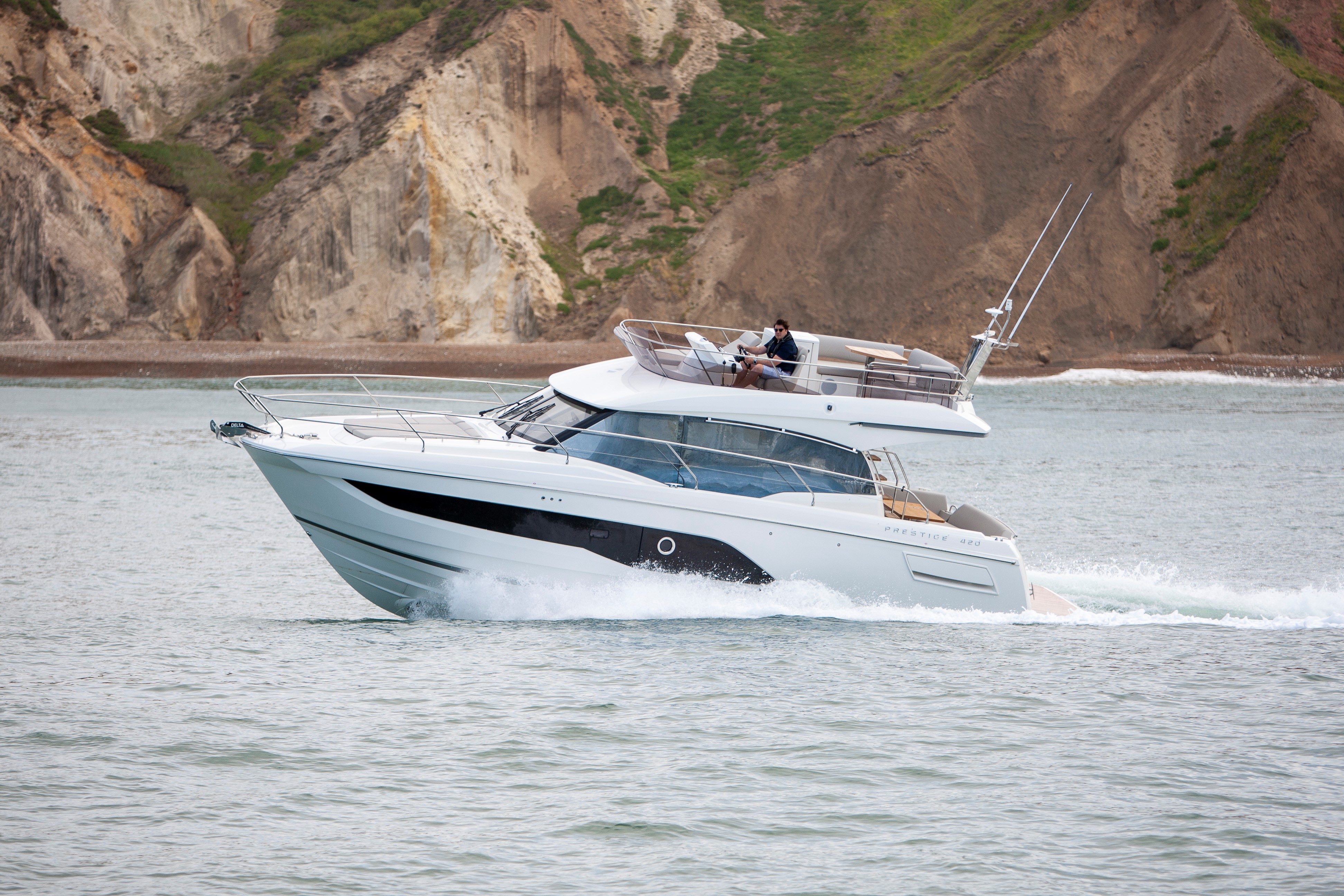 Prestige 420 Yacht Review
Lenny Rudlow walks us through the Prestige 420 Yacht. Is a smaller yachts the way forward?
Dinghy Safety And Etiquette
Heather Francis provides some simple tips on how to keep safe on the water, and how to uphold good etiquette...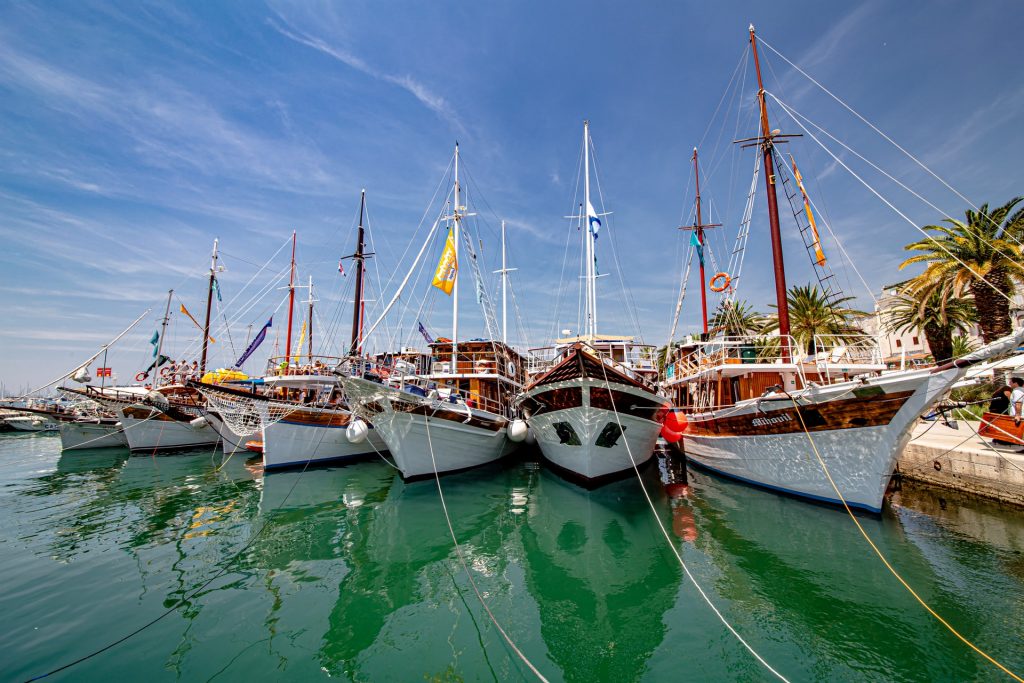 Storing Your Sailboat In The Tropics: Pro Tips
Heather Francis shares her tops tips on how to store a sailboat in the tropics.