French catamaran builder, Fountaine Pajot, has launched a new model, the FP Tanna 47. The refreshed design is based on a proven hull but has tackled all that comes above the waterline with a new flare.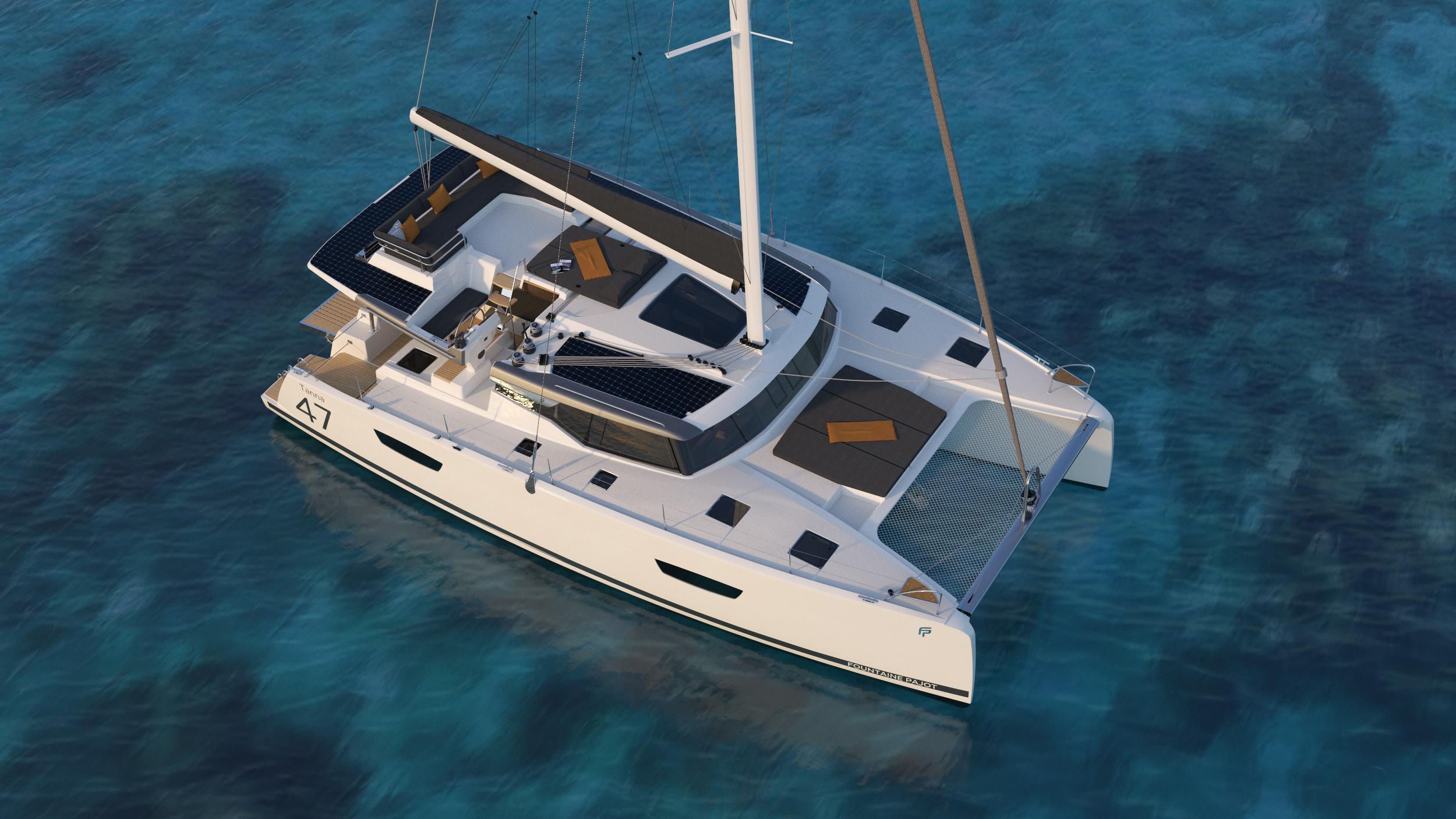 Above: A 2023 Fountaine Pajot Tanna 47. Photo via Atlantic Cruising Yachts in Annapolis, MD.
The Tanna 47 catamaran replaces the previous Saona 47 (with which she shares a hull) but features a new deck, cabinhouse and layout. The additions resemble the design of the recent Aura 51 and signal a new aesthetic that will likely proliferate throughout the entire line. It seems to be a winning formula because several Tannas were sold from drawings alone.
On Deck
Sometimes it's harder to redesign a model than to start completely from scratch. The Tanna 47 takes an approach somewhere in between. The Bimini has been reshaped and the flybridge is 40% larger than before, offering 75 square feet of space that can entertain up to 10 guests at a time.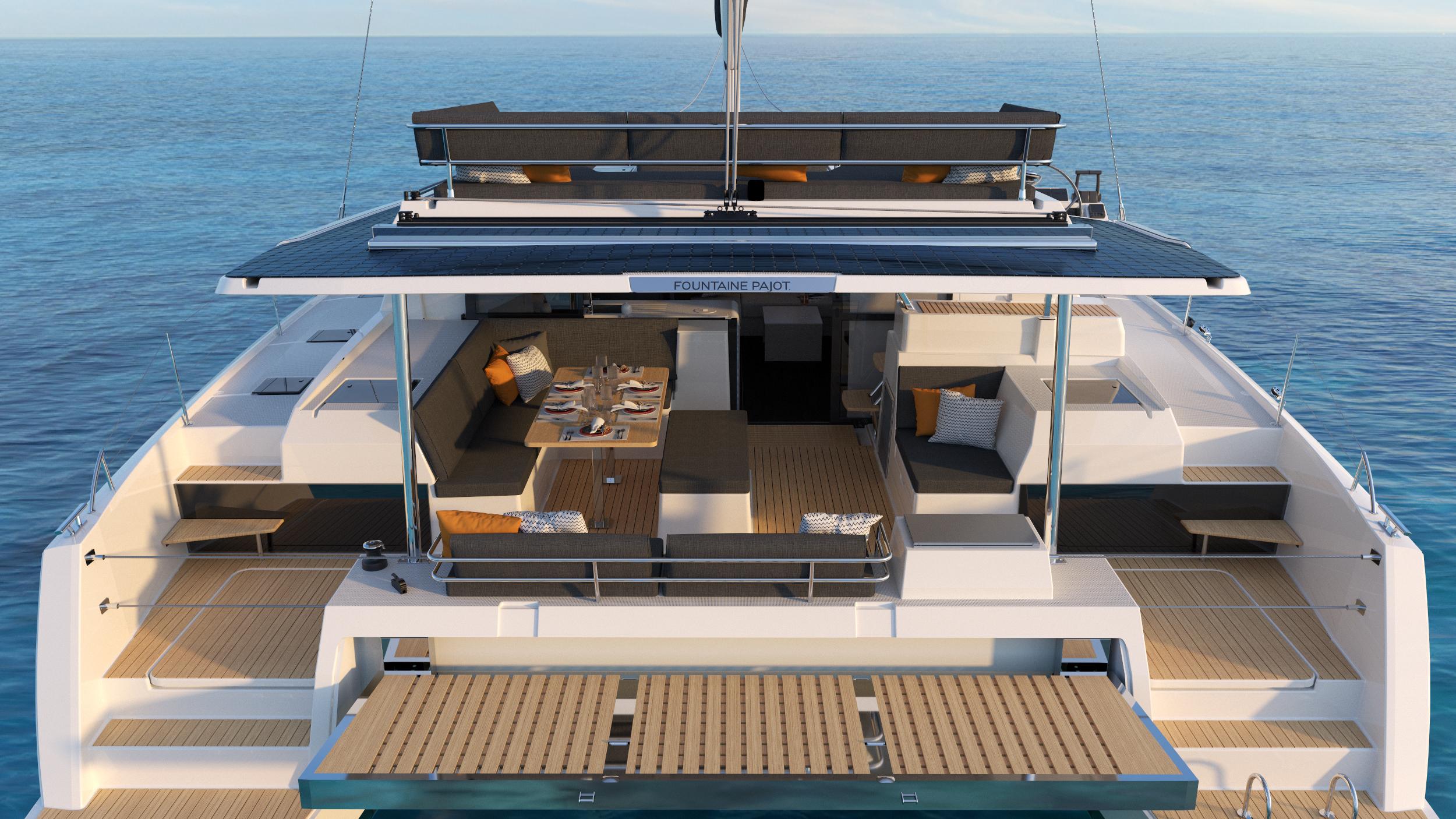 Above: The Fountaine Pajot Tanna 47 aft deck as seen from the stern. Photo via Atlantic Cruising Yachts.
A fresh approach has been taken to the design of the helm station. It takes its cue from the bigger Aura 51 and offers many benefits. First, it's situated on the starboard cabinhouse bulkhead, midway between the flybridge and the cockpit on the main deck level. This means that the sightlines forward are quite good. Also, due to its location, it enables the driver to communicate with everyone above or below, keeping him/her engaged in the social activity. The driver can also quickly step out onto the main deck to help manage lines or sight down the starboard side when coming in to dock. The helm area is also divided into two sections – one for crew to handle lines and one for the skipper to focus on the driving. This separation helps people work together without getting in each other's way.
Passive Power Regeneration
There's a heightened emphasis on sustainability with passive power regeneration. Owners can spec 700-1700 watts of integrated solar panels so all the square footage of that massive Bimini are put to good use. Sunny days will replenish most of the house bank needs unless air conditioning is used and that makes life on anchor a lot more pleasant and cheaper overall.
The main focus of the Tanna 47 revamp was on space – and there's so much of it. Dozens of people can divide into informal groups and gather on the flybridge, on the foredeck sunbed, in the cockpit with its L-shaped dinette and transom seat, or inside the vast salon. Although spec'd for 10 overnight guests (plus crew if necessary), you can entertain 30 at the dock without feeling crowded.
And speaking of added space – there's one more exciting feature. Although it's an expensive option, the hydraulic swim platform will be worth it. First, it can carry an 11-foot tender so there's no need for davits. Second, once the dinghy is launched and the platform is lowered to the waterline, it's a great teak beach for the kids to play on, for you to don your dive gear, or for anyone to exit the water easily without having to climb a slick ladder. The platform raises like an elevator, carrying those with creaking knees or sketchy upper body strength. For older cruisers or families with kids, it's a must.
Performance
The Tanna 47 is a massive platform so you'd think it would take a gale to move her but that's a misconception as we proved on our sea trial on the Chesapeake Bay in a 12-14-knot breeze. At 60 degrees apparent wind angle (AWA), we slipped along smartly at 6.7 knots which is impressive given that cats generally don't point very high. When we cracked off to a beam reach, we sped up to 7.5 knots and then still held on to 6.2 knots on a deeper reach of 120 degrees AWA. The tacks were wide and controlled and the boat was well mannered throughout the various points of sail.
Fountaine Pajot opted for a 120% overlapping genoa rather than a self-tacking jib that many of the competitor brands feature. To accommodate this, the jib tracks were made nearly twice as long as on the previous model, so it's possible to eke out decent shape from the head sail. Three winches at the helm keep the spaghetti organized without having to lock off lines with the clutches and that's handy when you need to manage sheets, reefing lines and halyards simultaneously.
Under power, we tested the twin Volvo Penta 75-hp diesels as we hurried back to the marina. That's an upgrade over the 60-hp standard propulsion and worth it if you have to push into head seas or want to make it back to port ahead of a storm. The upgraded engines delivered a cruise of 8.3 knots at 2400 rpm. The top speed was 9.1 knots at 2900 rpm where the fuel really started to burn.
Life Onboard
As mentioned before, the Tanna 47 is all about space inside and out and that includes some posh accommodations and oodles of stowage space. The sliding glass door that divides the cockpit from the salon is now 20% larger than before which translates to better air and traffic flow.
The galley in the port aft corner was rejiggered with the oven moving below the countertop and two large fridge drawers in the port forward corner. There is ample counterspace for lots of sous chefs to work together and not step on each other's toes.
The new saloon layout was also borrowed from the Aura 51. There's an L-shaped settee to starboard connected to an aft-facing lounge that has a USB charging port integrated into the armrest. It's bound to become the most fought-over spot on the boat.
The Tanna 47 is sold in three packages and multiple layouts. The Maestro, or owner's, version has a massive suite in the port hull. It's bound to impress even the most discerning clientele.
At the opposite end of the spectrum, the Quintet version packs in five cabins (all ensuite). In this layout, there are still two cabins in the starboard hull but on port, there are three staterooms including one aft with its own access from the cockpit. It's a great cabin for a captain/chef crew or for guests who want a bit of separation.
Improvements That Work
Basically, the Tanna 47 is a mini-me of the Aura 51. It's not easy taking a smaller space and fitting in all the same features, amenities and storage. It's also not easy starting with an existing (although proven platform) and making something refreshingly new and appealing out of it. Kudos to the designers.
If a large cat is something you're considering, put the Tanna 47 on your list. Soon, this model will be available in charter so you can sea trial one for a week in an exotic location and evaluate all that wonderful space for yourself.
Specifications:
LOA: 45' 8"
Beam: 25' 4"
Draft: 3' 11"
Displacement: 29,400 lbs
Sail Area: 1,388 sq ft
Power: 2x 50-hp (upgrade 2x 60-hp)
Designer: Berret-Racoupeau
Builder: Fountaine Pajot/ catamarans-fountaine-pajot.com
Price: $1,100,000 USD (as tested)
View Fountaine Pajot Tanna 47 catamarans for sale on YachtWorld now.
Related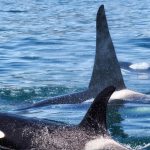 Nick Giles' Face To Face With Rudder-Thieving Orcas
Category:
Cruising Under Sail
Imagine sailing solo, chased by a a pod of orca whales.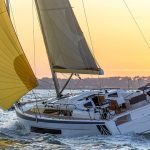 Dufour 37 Review: When Small Feels Big
Captain Zuzana Prochazka reviews the new Dufour 37, a small boat that feels and sails "big".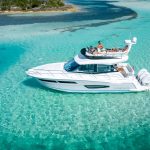 Yacht Designs And Boat Hull Types
A deep dive into all the different types of yachts, from pocket yachts to superyachts and everything...