The Formula brand as we know it today is well respected as a builder of everything from 24-foot bowriders to 45-foot cruising boats, but it didn't start out that way. Back in 1962, when Don Aronow founded the marque in Miami, the Formula brand was best known as the builder of offshore racing boats that blew away the competition. Smart performance design has always remained part of Formula's DNA, but by about 1990, the builder was chasing market trends, too, including a start at developing what would ultimately become its Performance Cruiser line.
A 27-foot PC entered the market in 1994, selling so well that Formula decided to go bigger and better. Just two years later, the builder brought the Formula 41PC to the Miami International Boat Show as the largest model Formula had ever built, ushering in a whole new generation of family-friendly Formula designs.
"They had tremendous success with the 41," says John Altergott, owner of Dry Branch Marine in Osage Beach, Missouri. "Formula is predominantly a performance-boat manufacturer, and for them to venture into the cruiser end of the industry, they experienced pretty good success with that 41PC."
That success continues today, with the range of Formula Performance Cruisers spanning from 31 to 40 feet length overall. The 41PC is no longer in production, but she remains a popular option on the brokerage market. She offers a lot of noteworthy features that are just as solid for families today as they were 20 years ago, including an oversized integral swim platform, a master cabin with queen-size bed, standard Corian countertops, and a cockpit wet bar with a refrigerator/ice maker.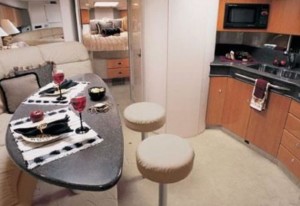 The Formula 41PC was offered with standard 400-horsepower MerCruiser 8.2 gas engines or various optional engines including 420-horsepower Cummins Diamond Series diesels. With the optional power plants, she could top 30 knots.
Base price for the standard model was about $240,000, and with the engine upgrades and other typical options, the price hit about $335,000—which, at the time, put her toward the top of the market segment.
On today's brokerage market, late-1990s models can be had for $99,000 while models from the early 2000s can run as high as $174,000—which is what Altergott has as the asking price on the Formula 41PC Carpe Diem that's listed with him.
"This one's got the champagne, which was the flagship color of that era, in 2003," he says. "The color scheme does not date the boat at all. It's very neutral, very elegant—right along the lines of the Formula line in general. It appeals to the customer who has a taste for a fine finish."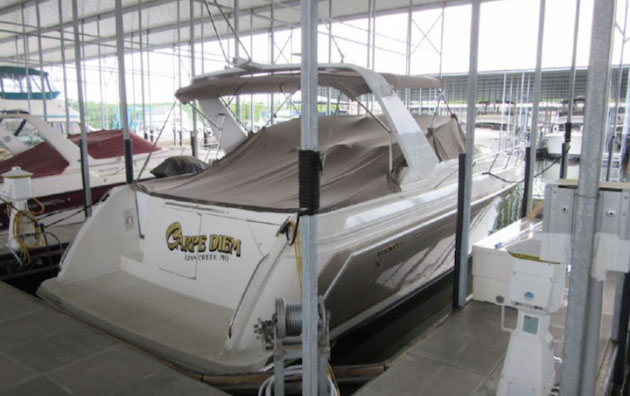 Another thing that makes this particular Formula 41PC worth the premium price, he says, is that she was bought new from a Formula dealer and kept by the same owner until now, always in fresh water on Lake of the Ozarks.
"If you look across the market, most of the 41 Formula PCs are not in fresh water," he says. "Ours is attractive with price due to what it is."
She also has had minimal usage, given the type of boating that goes on at the lake. Carpe Diem was regularly out on the water, he says, but even so, she has only 438 hours on her twin 480-horsepower Volvo TAMD75P-EDC diesels.
"We've got 30 or 40 waterfront bars here on Lake Ozark, so the average boater might travel 10 or 15 miles on an average weekend," Altergott says. "This owner is a year-round resident on the lake. His usage on the boat is basically just cocktail cruises at the end of the day. He might go for a mile or two and then tie her back up."
Related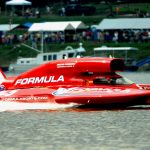 Cult Classics EP. 4 – Formula Boats: High Performance Luxury
Category:
High-performance powerboats
YachtWorld explores the rich history of Formula Boats, an iconic American boat builder.
New or Used Boats: Which Is Right For You?
Before you decide whether you want to buy a new or used boat, make sure you know the pros and cons.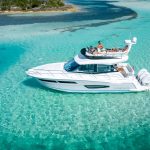 Yacht Designs And Boat Hull Types
A deep dive into all the different types of yachts, from pocket yachts to superyachts and everything...