The Fleming 55 has been in production since 1986. It's the entry-level model in Fleming's 55- to 78-foot model range and, even with last year's introduction of the Fleming 58, remains the builder's most popular design. But if you think that means any two Fleming 55s are alike, you're gravely mistaken. In fact, dealers who specialize in Fleming boats don't even talk about model years. They talk about hull numbers.
"They just delivered Hull 231, and there have been eight to 10 changes with every new hull," says John Bullock with Burr Yacht Sales, which is Fleming's East Coast dealer in the United States. "If you look at a late '80s or early '90s boat, fundamentally it's the same boat with the same hull design, three staterooms, two heads and a dedicated pilothouse, but there are new technologies, a better clasp here or there, new engine packages, larger electronics, 220-volt electricity for washer/dryers and more efficient air conditioners. Recently they added vinylester resin—there are literally thousands of changes over the years that refine this boat."
Tony Fleming, father of his namesake brand, is renowned among serious cruising couples (for whom the 55 is designed) as a builder who listens. That's the reason for all the tweaks. Owner-operators out on the water make suggestions, and Fleming implements them. He also learns from his own cruising experiences, which are extensive.
Sometimes the changes from one hull to the next are major. In 2000, for instance, Fleming delivered Hull No. 93 with Caterpillar 3208 engines followed by Hull No. 94 with Cummins 450s. "So if you were to look and say, 'Model year 2000 boats are model year 2000 boats,' that is very far from the truth," Bullock says. "That's a huge difference."
Knowing that each hull of the Fleming 55 is unique could make shopping on the brokerage market a daunting task, but at any given time, Bullock says, there usually are only a few to compare side-by-side. Fleming delivers 10 of the boats annually, on average, which means that even though the model dates back nearly 30 years, overall brokerage inventory remains low compared with similar-size boats from busy production builders.
And with rarity, of course, comes value. Most Fleming 55 owners aren't the type to skimp on maintenance and upgrades, especially after having invested a sizable amount up front to take the boat home. While other builders have offerings in this size range at about $600,000 brand-new, a new Fleming 55 will cost you about $1 million. And historically speaking, Flemings depreciate only about three percent with each year of ownership.
"Buyers never think about that," Bullock says. "They think, 'I can get a 55 for a million dollars or I can get Brand X for $600,000. Well that's great going into the transaction, but five years later, you're going to get $300,000 for that Brand X, but with the 55, you're going to get most of that back. Sure, the bottom of the market could fall out tomorrow, but that's what we see happening."
Bullock encourages anyone interested in a Fleming 55 to come spend the day with him or another member of the Burr Yacht Sales team—not for a heavy sales pitch (they don't work on commission) but instead to walk through a few different hulls and begin to understand the differences from Fleming 55 to Fleming 55. As of today, they have hulls built between 1993 and the present year available for sea trial.
"You start looking at boats, and it might be an older boat, but maybe the owner has taken care of it and retrofitted it, and all of the sudden, you ask if all the changes that have taken place matter to you," he says. "Customers who like the Fleming, once they come here to our facility in Maryland, we take them through the boats, and we spend hours with them, and they walk away saying, 'Wow—we get it.' They start to talk about hull numbers."
See Fleming 55 listings.
Related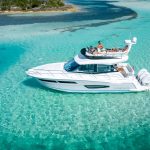 Yacht Designs And Boat Hull Types
A deep dive into all the different types of yachts, from pocket yachts to superyachts and everything...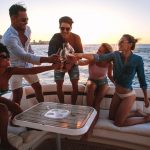 Best Boat Songs: 14 Tunes For Your Yachting Playlist
The right tunes can help set the right vibe for friends on board.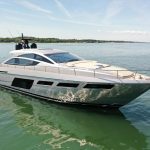 Pershing 6X Luxury Motor Yacht Walkthrough Boat Review
Ryan McVinney walks through a Pershing 6X luxury cruiser.