Fit and finish is a critical component of any yacht, and is often the characteristic that separates very high-end vessels from run-of-the-mill boats. But just exactly what is fit and finish, and how should you judge the quality in a yacht?
What is Fit and Finish?
The term "fit and finish" is generally used to describe a yacht or boat's final finish work, when it comes to trimming, furniture, woodwork, fiberglass surfaces, and other fine details. A yacht with truly magnificent fit and finish will feature touches like bookmatched-grain cabinetry that glows with thickly-varnished surfaces and seamless joinery, while one with average fit and finish will have mix-matched grain in the cabinetry, less luster, and visible joints. The top-shelf version has perfectly-fitted hatches that are smooth and shiny on both sides, while the hatches on run-of-the-mill boats close with gaps and have undersides with visible fiberglass rather than smooth gel coat. The list can go one and on, and when all the boat's pieces-parts are considered on the whole, a vessel's overall fit and finish can be assessed.
Fit and finish can be enhanced by special touches that add visual appeal, such as incorporating air-conditioning ducts behind louvered valences or integrating latches or pulls so that they aren't visible. When you get right down to brass tacks, fit and finish essentially boils down to just how good a yacht looks — inside and out — due to the builder's effort level when it comes to making all those finishing touches.
Fit and finish is, however, more than just what meets the eye upon first glance. The best builders consider the details going well beyond what you might see while sitting in the saloon or galley. What greets your eyes, when you open up a cabinet and look inside, for example? Will you see annoyances like rough edges, exposed wire runs, or unfinished structural parts? Or, will the inside of the compartment be just as well finished off as the exterior? When you pull open a galley drawer, how will it look inside? And, what about the surfaces you'll see when you look in the bilge or engine room? On average yachts you may see unfinished fiberglass, exposed screws or bolts, and wires running here and there. On a boat with excellent fit and finish through and through, however, even in these out-of-sight areas the fiberglass will be painted in slick gel coat, bolts and screws will be flush or covered, and wires will be secured inside channels or rigging tubes.
While fit and finish is most impactful from the visual perspective, it also does have a practical effect on a boat's utility. Rough edges and exposed fittings left in unseen areas of the boat are a great example. If the builder didn't finish off a fiberglass lip inside of an anchor locker, when you reach in to access the rode you may get scratched or scraped. If they didn't trim or cover exposed screws when securing the rub rail and you feel around under a gunwale, you could get a very nasty surprise. Rough edges inside of a stowage compartment could cause clothes to become ripped when you open it up. So although fit and finish may seem to be a superficial trait at first, when considered carefully it becomes evident that this characteristic can have a very real impact on a person's experience aboard.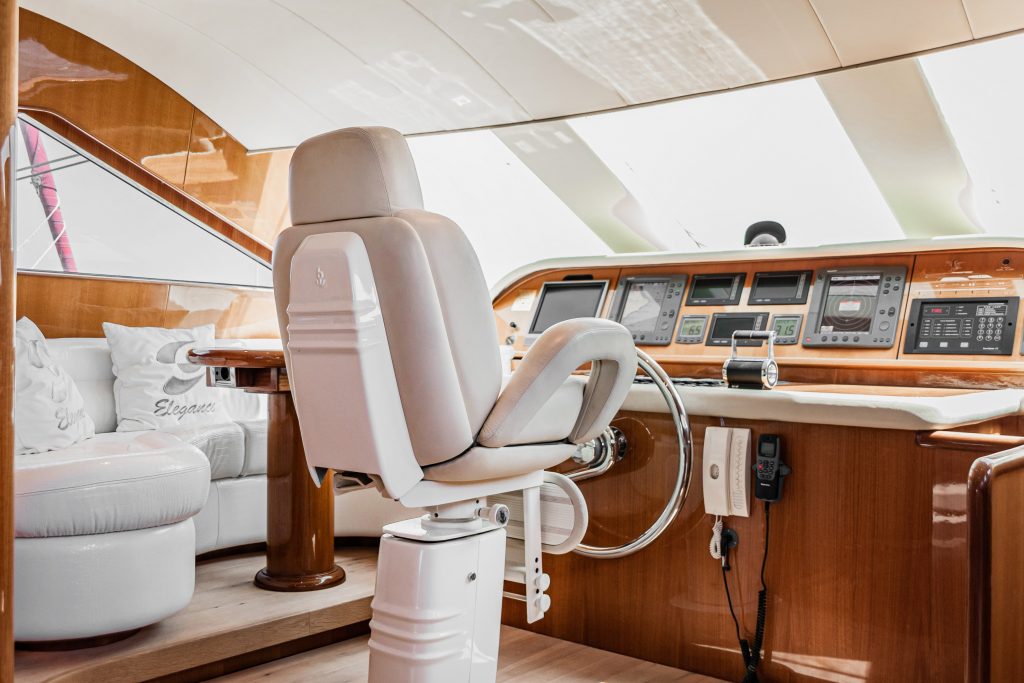 Captain's seat by bookmarked cabinetry and marble countertops. Photo credit: Ralph Ravi Kayden
Why Invest In A High-Quality Fit And Finish?
Good quality fit and finish can also contribute to a vessel's longevity because as a general rule of thumb, pieces and parts of a boat that are perfectly fitted won't move nearly as much as those that are haphazardly joined together. Through time as a boat's exposed to vibrations and the natural stresses of running through the seas, everywhere there are gaps or parts with large tolerance variations, you're likely to see deterioration over time. Those gaps will get bigger and bigger, as fasteners become stressed and aged. This trait isn't just visible: it's audible, too. Boats with poorly fitted pieces and parts will groan and squeak far more than those that are well-fitted.
There's one other thing to remember about the importance of a good fit and finish: in the long run, it increases a boat's resale value. Boats that don't look so great right out of the gate usually don't age well, and devalue quickly. A boat with a truly top-notch fit and finish, on the other hand, will still look great years down the line as long as it's maintained properly.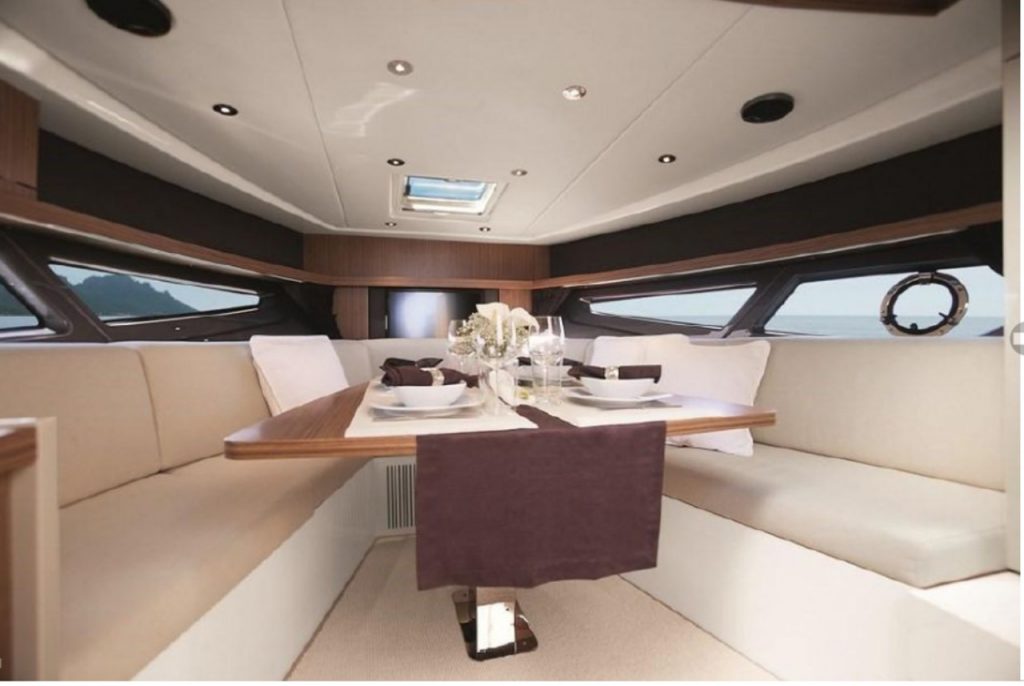 Azimut 34 Atlantis demonstrates a high-quality fit and finish
How To Judge Fit And Finish Of A Yacht
As you might expect, the easiest way to assess the fit and finish on a boat is simply to use your eyes. Be sure to dig deep and pay meticulous attention to detail. Open every hatch, look in every compartment, and try to lay those critical eyeballs on places of the boat that most people wouldn't ever think to look. Keeping a flashlight handy (or a cell phone with a flashlight app) so you can illuminate these areas is a good idea anytime you plan to look closely at the character of a yacht.
As you consider fit and finish, also be sure to manipulate moving parts like doors, drawers, and convertible furniture. This really puts a manufacturer's talents to the test, because these moving items often need to fit specific frames or spaces in multiple positions. Again, look for close tolerances and tight fits, as well as visual finish qualities. Feel how smoothly moving pieces operate, and take note of whether the builder uses touches like ball-bearing drawer tracks versus the simple friction of grooved supports. And take note of whether the latches actually latch and the catches actually catch, firmly and securely.
While fit and finish may seem superficial at first, any serious mariner who's spent years on the water and has owned multiple yachts can confirm that this is actually quite an important feature to consider. And yes, a fine fit and finish does take many hours of work to attain, but it can significantly increase the price of a boat or yacht. But in the long run, the investment is clearly well worth the cost.
Related