The Spooky Connection Between Tracy And Maiden
Whether you believe boats have spirits or not, parallels drawn between Tracy and Maiden's lives are uncanny. Maiden is a manifestation of Edwards, undergoing reinvention (more than once), facing numerous challenges, endurance battles, victorious successes, trials, tribulations, toppling over and emerging from the ashes. Today, the two are inseparable. And they make a formidable duo, helping to raise funds and awareness for girls' education for a non-profit organization, The Maiden Factor.
Going against the grain sits well with Tracy Edwards MBE. So when everybody told her that sailing around the world with an all-female crew was a bad idea, it only spurred her on. Edward's technical virtuosity combined with true grit and dogged determination helped the all-female crew to win two legs and come second in their class in the 1989-90 Whitbread Round the World Race; the best result for a British boat since 1977, and to this day it remains unbeaten. And until the mast broke halfway around, her crew were on track to break the record for a non-stop circumnavigation on one of her subsequent sailing projects.
But Edwards and Bruce Farr-designed 58-footer Maiden's relationship faltered, and not long after the race finished, the boat was sold on, but the connection between them didn't end there. For better, for worse. YachtWorld speaks to Edwards to find out how their lives intertwined.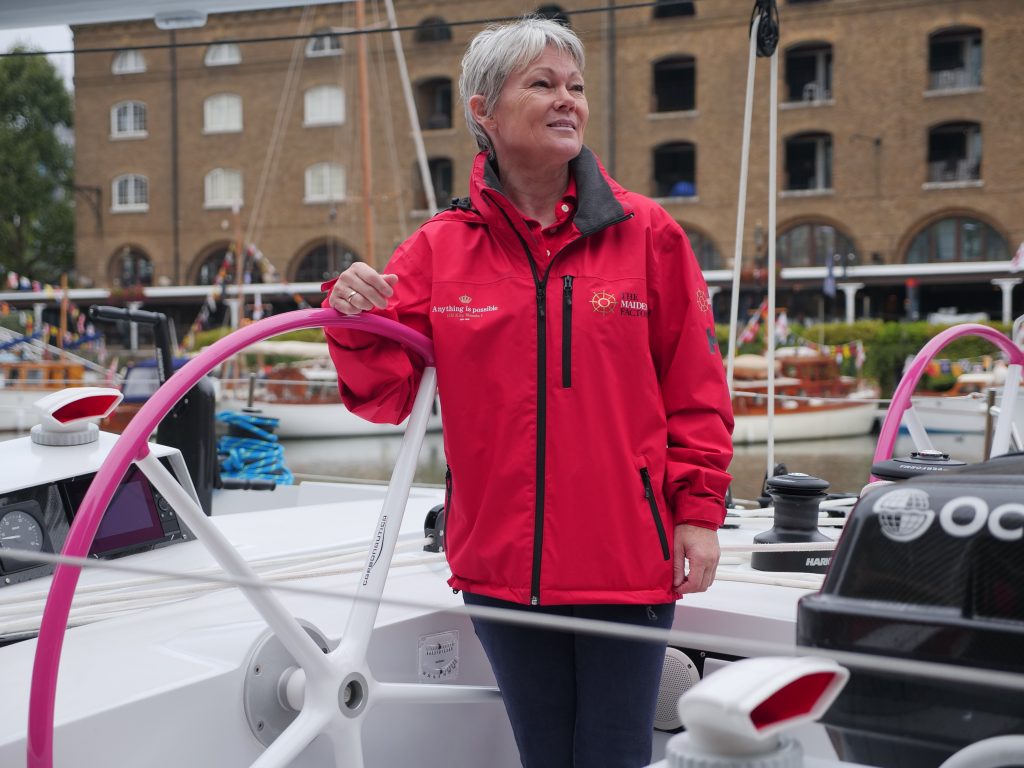 Above: Tracy Edwards on board Maiden. Image via Tracy Edwards.
Maiden and Tracy Find Each Other
This deeply connected partnership between sailor and vessel began in 1987 when the boat  Edwards, who needed a vessel for the Whitbread race, gave the sailing yacht (formally known as Prestige) a lifejacket and shipped her from Cape Town to Hamble in the UK. She almost sank when the crew navigated her from Southampton up the Hamble River to the boatyard.
Edwards, who doesn't do things in half measures, took a brave risk and remortgaged her house to buy the boat. She then mortgaged Maiden the boat to pay for the refit. She was bemused when women tried to deter her from making the ambitious move of sailing around the world with an all-female crew. But the gasps and raised eyebrows only fuelled Edwards to prove them all wrong. Fortunately, Edwards had the support of King Hussein of Jordan with sponsorship from Royal Jordanian Airlines, enabling her to recruit a 12-woman crew, a first in sailing and a surprise to everybody around her.
The crew pulled together and got hard to work on the budget boat refit, working day and night, racing against the clock to complete the refit by race day. Unlike their competitors, who most used professionally built boats without skimping or saving. They christened her Maiden.
Above: Tracy Edwards and her all-female crew celebrating at the finish line of the Whitbread Race in 1989. 
Did Tracy Edwards Save Maiden, Or Did Maiden Save Her?
Before discovering her love of sailing through a chance encounter in Greece, Edwards was expelled from school and drawn to rebellion. At the same time as Maiden was undergoing a refit, Edwards was also in a process of transformation. Her mission, to lead and win the Whitbread Race gave her a new focus, enabling her to redirect her energy and personal frustrations by concentrating on a new project. She needed it to be an intense, all-encompassing challenge. Edwards being Edwards, would not rise to the occasion.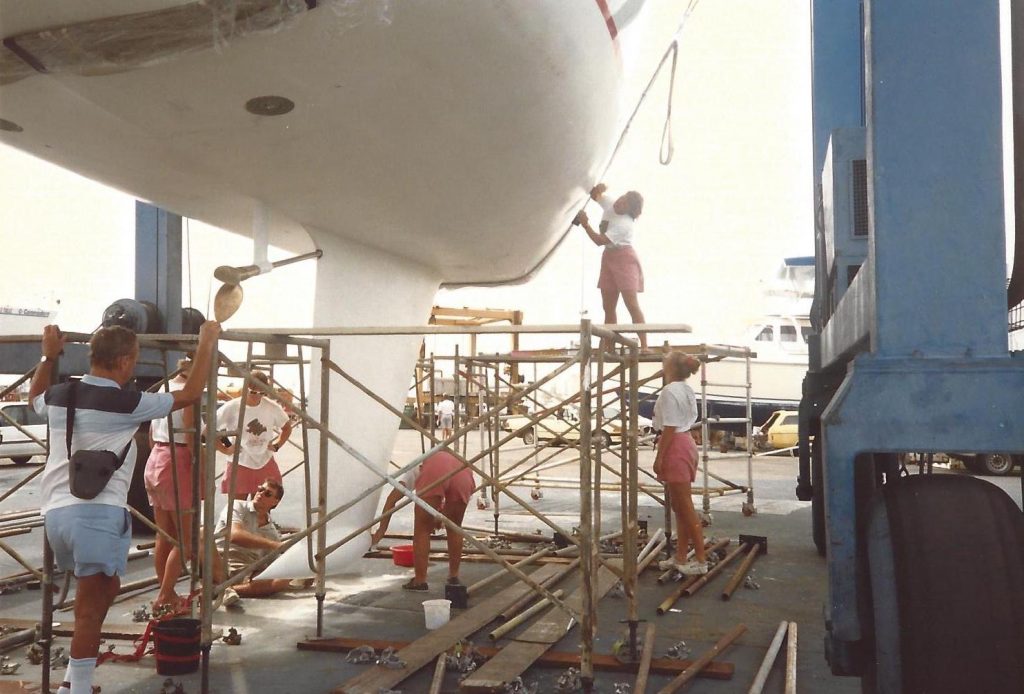 Above: Refitting Maiden, the 58-foot sailing yacht saved from Cape Town. Image via Tracy Edwards.
Life Is Not A Straight Line
Long after the success of the Whitbread race, unbeknown to Edwards, her and Maiden's lives continued to mirror each other. They both went on to have their fair share of ups and downs.
Anybody who has watched the documentary or been around long enough to remember the moment that the women surprised the world would presume that Edwards's path was smooth sailing after the success and fame. But Edwards does not do the expected. And in her own words, "I fell over. Big time." Rather than enjoying the spotlight, Tracy went into hibernation, steering well clear of sailing. She ensured she was undiscoverable from everything she knew, especially the press. When I ask her how she managed to stay away from sailing, when she loves everything about the sport, she replies, "Sailing was a part of the problem for me. I had a big crash after running on adrenaline for so long. It's not normal to live so intensely."
Within seven years of finishing the Whitbread race, Edwards would lose everything. On her 43rd birthday, she was forced to declare herself bankrupt and start again. "It's a real leveler, being forced onto your knees. It's not something I chose. But it wasn't up to me in the end." Edwards borrowed millions from the bank for a race she organized and used her house and boat as collateral for the other £2m. Still, the financial agreement she believed she had with the Qataris became muddy, leaving Edwards feeling she had been short-changed.
Bizarrely, at this very point in time is exactly when Maiden's decline also began, and she was abandoned by a marina and plunged to the depths of the Indian Ocean. "Although I didn't know it then, I had reports about her later. We ended up at the point where we needed each other. I know that sounds romantic. But when I heard in 2014 that she needed rescuing, she left to decay in the ocean. "I was also seeking a purpose". That same week, Alex Holmes, documentary filmmaker and producer, also asked Edwards if she would be interested in the making of her story, which later became 'Maiden' (UK release in cinemas in March 2019) After years of being apart, suddenly, Maiden catapulted into Edwards's life. The timing felt beyond spooky.". How serendipitous, or was it? Edwards launched a crowd-funding campaign to bring Maiden home. The campaign revealed the public's affection for the boat. It took nearly three years to raise funds to reclaim her. Hundreds of individuals pledged as little as a few pounds towards her recovery. After 24 years under various ownerships, Maiden came full circle, with Edwards back behind the helm. "As I was rescuing Maiden through the refit, Alex Holmes and his team were starting to make a documentary on Maiden, and it struck me that we were doing the sequel. Well, this is the next part of the story. So we started filming from day one,".
Since the restoration, the sailing yacht has been on a round-the-world journey – The DP World Maiden Tour – raising funds and awareness for girls' education and inspiring them to reach their full potential for better futures.
"Sailing Boats Have Spirits,"
Tracy Edwards has always treated every boat she skippered, sailed, or worked on as if they had souls. "It is interesting how unbelievably parallel our lives have been. After I sold Maiden, we both went on to have ups and downs. And it's weird to say that I know people say she's an inanimate object. But I have always felt that Maiden is alive."
Some might say that Edwards's emotional bond has been formed through a rush of oxytocin stimulated by endorphins. But it's incredibly common for sailors to talk to their boats. Most sailors, especially in rough sea states, catch themselves talking to their vessels, "Come on, we can get through this!";back in ancient times, it was commonplace for sailors to believe that boats had souls. When they built a new boat, sailors sacrificed something to the gods to give their new vessel good fortune and protection.
Maiden Specification:
LOA: 58 ft (17.7m
Beam: 16 ft (4.9m)
Mast height: 75.5 foot (22.9m) – water to top of mast
Draught: 11 ft (3.4m)
Displacement: 21,773kg (48,000lb)
Do you enjoy bluewater cruising? Read Cruising Tips From An Expert Circumnavigator.
Related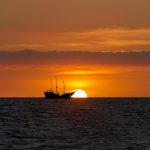 13 Boating Superstitions
Boaters are a superstitious bunch. Here are some top boating superstitions for Halloween 2022.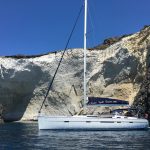 Fall Cruising Focus: Milos Island
Zuzana Prochazka reports on fall cruising around the Greek Islands.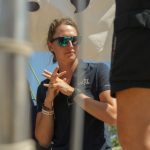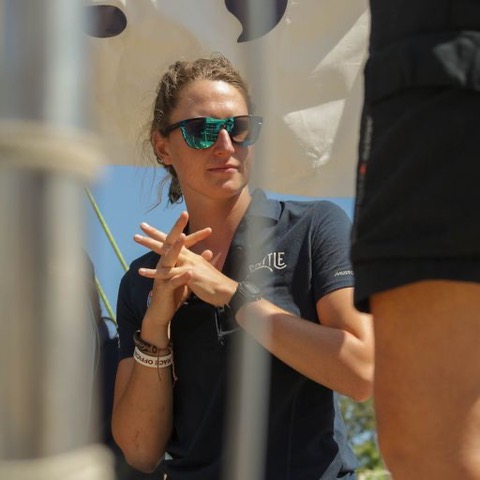 Cruising Tips From An Expert Circumnavigator
Category:
Cruising Under Sail
Professional Sailor Hannah Brewis shares her top tips on bluewater cruising under sail.