Following Part I of our round up of top fast center console boats, Part II completes the story…
Nor-Tech Performance Boats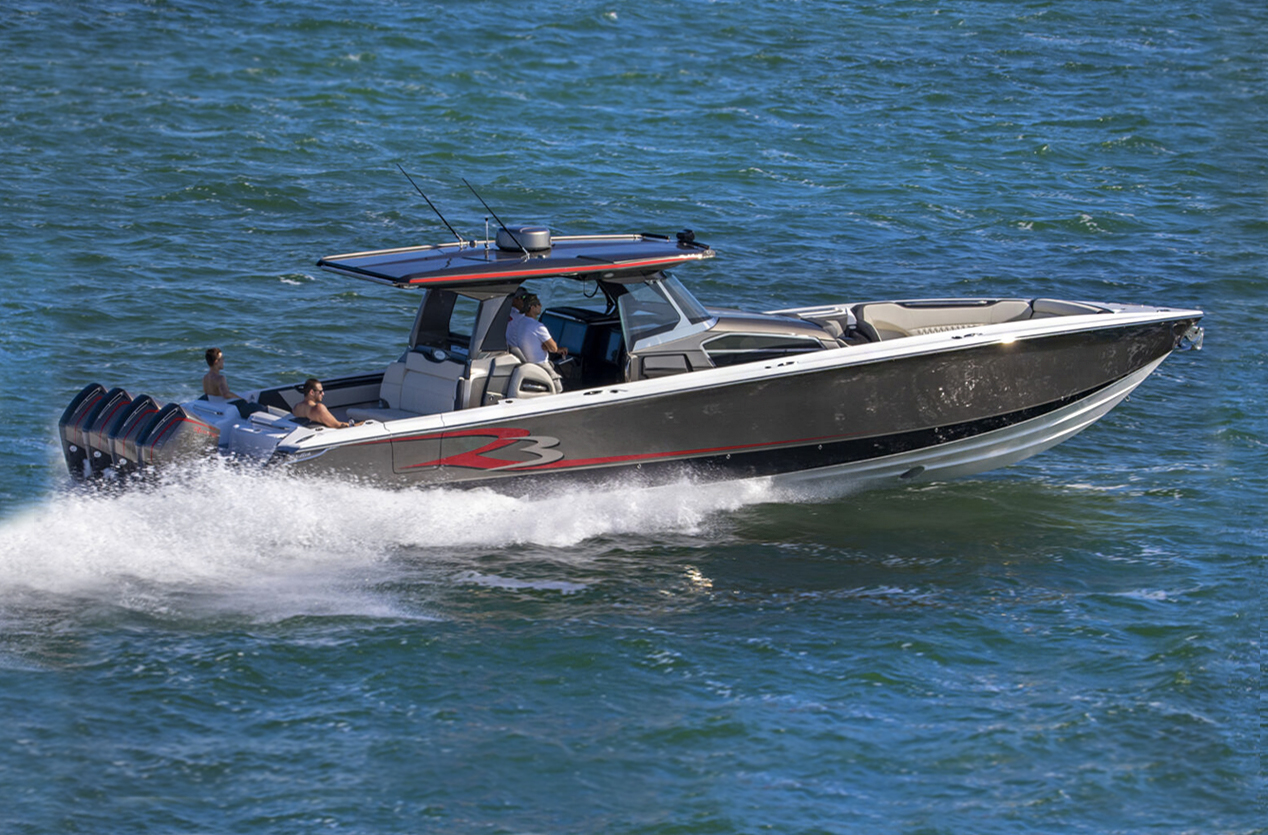 It wasn't racing that drew Trond Schou and Nils Johnsen to build fast powerboats like the Nor-Tech 450 Sport pictured above. As kids in Norway, they were intrigued by fast cars. Johnsen is fond of his Lamborghini Countach and Schou shifted his love for speed to flying helicopters, planes and jets. Both wanted to build fast, exciting and stylish boats to satisfy their speed cravings, so after building 16 in Norway, they moved with molds for a 50' V-bottom, to the better weather and regulatory environment of Southwest Florida. They continued their dream as Nor-Tech.
The duo began in 1990 with a 50' V-bottom, then expanded to a 50' catamaran, followed by a 38' cat model. The company grew, adding space and employees and a U.S. Government contract for a 43' drug-interceptor boat with Yanmar diesel engines. In 2010 when the recession was hitting all industries hard, Johnsen and Schou created the multi-faceted 390 "go-fast" center console. They added a 392 and 452 Superfish, then upgraded the bottom of the 390 that was tracked on GPS at 100 mph. A 34', 45' and 550/560 Sport models were added, but the 390 Sport (below) has become Nor-Tech's most popular model. "Our customers want to fish, dive and cruise in luxury and style," says Schou, "Our boats plane in near single digits, then throttle up to top speed."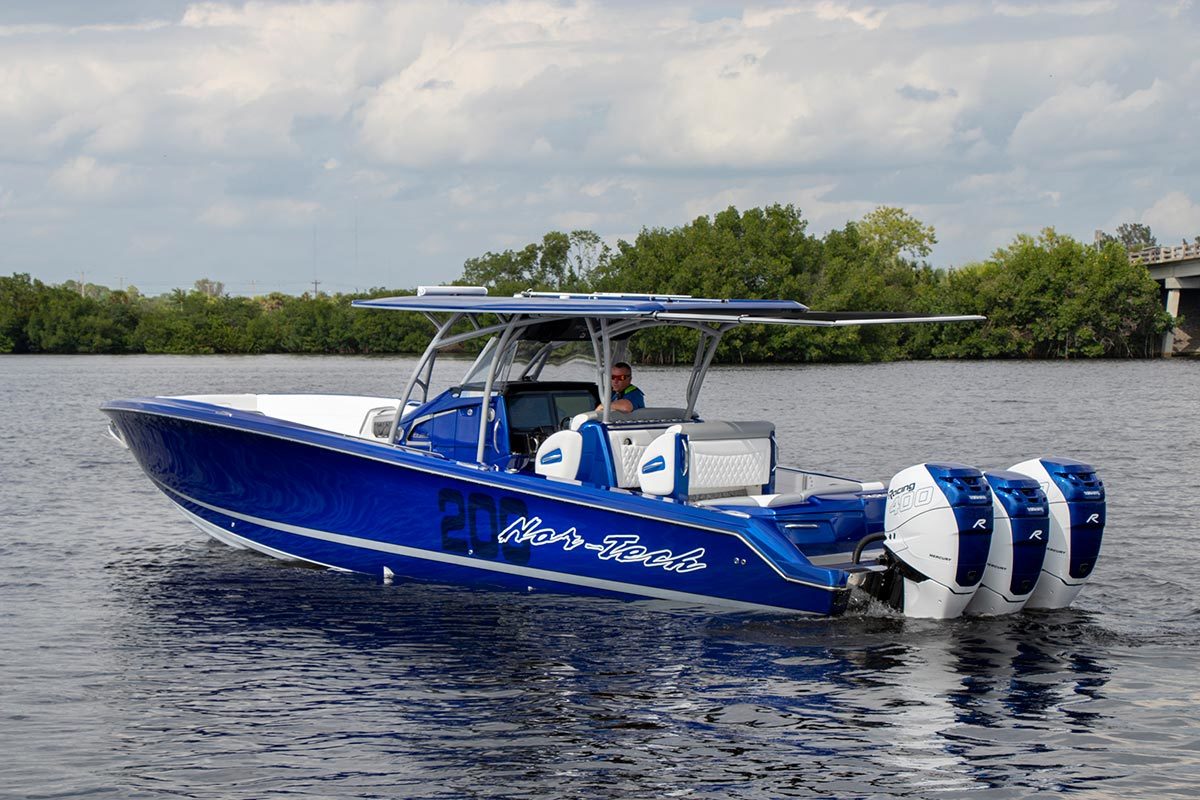 Mercury triple or quad engines are the preferred power and while 350 and 400 HP outboards are still used, the Mercury Racing 450R is now the most popular; Schou says the new Mercury Verado 300 V8 model also has "lots of displacement." While the 390 with quad 400 or 450 engines will do 100 mph, which Schou says is "more than fast enough," he notes that acceleration is the most important. "If you cruise at 40-50 mph you put less stress on the engine and it will last forever—we seldom have engine issues, because we don't just run wide-open anymore—and you can get up to 8 years warranty–it's taken boating to a different level."
Schou also notes that boaters have changed as well. "We grew up checking the oil, working on our cars. Nobody does that anymore—they don't even know what's under the hood and never had a car they've had to fix. There is no interest in technological things—they are more concerned with their Spotify music," he says, "We have to follow the flow. Younger and older customers all want one boat to do it all–and they can trailer it."
Schou says that Nor-Tech's "generation 3" hulls have "nice" performance and that the design has changed over the years as the Deep Vee and stepped hulls have evolved to keep the boats dry. "That's the trick I don't want to tell you," he laughs, but does share that the carbon fiber T-top and all glass windshield help the aerodynamics of the hand-laid fiberglass and Kevlar construction. Nor-Tech uses all composite and hand-carved foam core and says Schou, "Weight can be your friend or your enemy—trying to get the best ride and trying to get the last mile out of it." Nor-Techs are built in Cape Coral, Florida.
Nor-Tech 390 Sport Specifications
LOA: 39'
Beam: 10'
Fuel: 285 gallons
Weight: 12,500 lbs.
Price: $597,000 with quad 400s; $686,000 with 450Rs.
View Nor-Tech Boats for sale on Boat Trader.
For more information visit Nor-Tech Boats.
Scout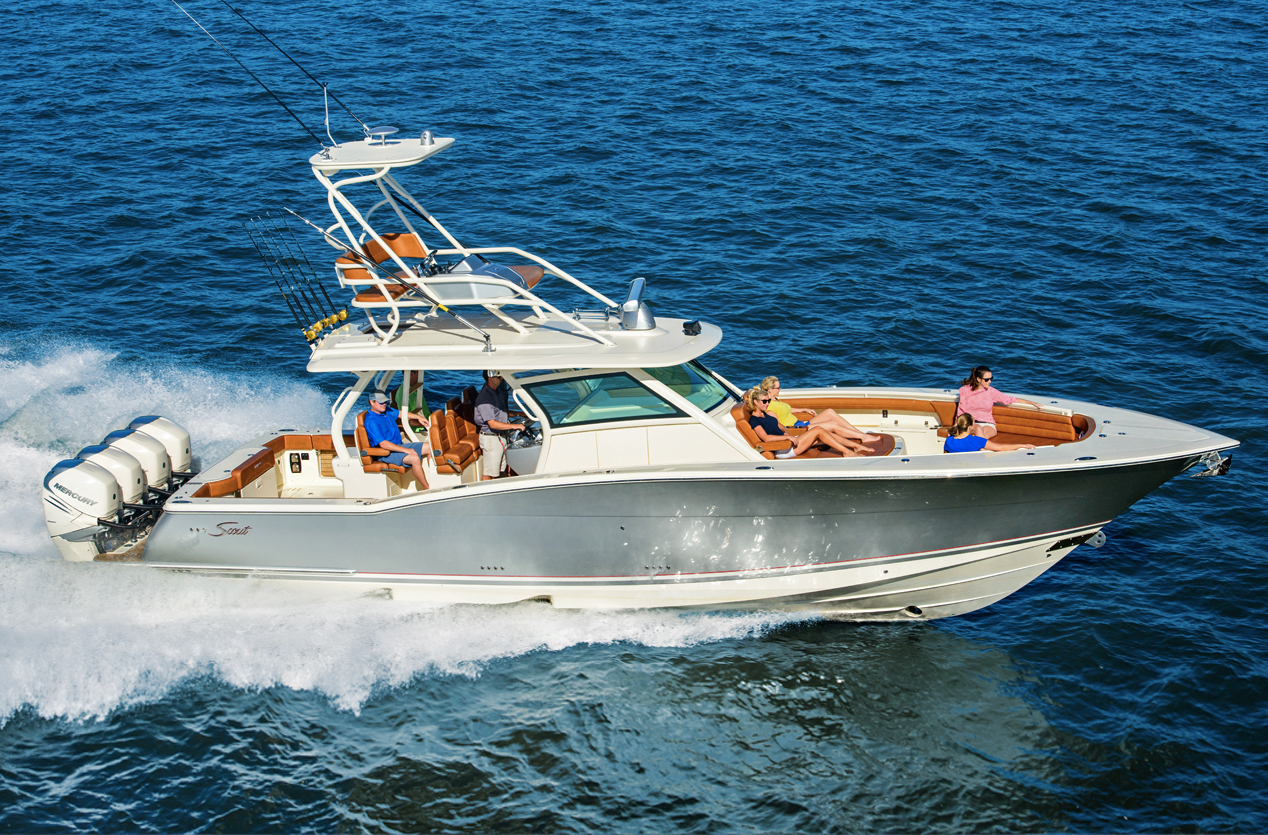 Neither speed nor racing was the inspiration for Scout. Simply the passion and dedication to build the best boat got founder Steve Potts started in a small brick building in 1989. His years of experience as a boat dealer, including working since he was 14, with a dealer in Charleston, SC that also built race boats and a little creek boat called Scout, gave him the impetus to go out on his own at the age of 37. He was building small 14-15' outboard saltwater fishing boats and revived the Scout name which had died off when the original dealership he worked with was sold. Potts painstakingly grew his business, focusing on a distinctive looking, high-quality boat, with hull design that emphasized luxury, fuel efficiency and a soft ride.
Scout's construction process is its heart–hand-laying fiberglass and adding features over the years, like the reverse shoe-box construction—where the deck fits into the hull, not over it—and is then bonded to perfect a one-piece hull. There is no wood and the S Class boats (everything 33' and above) are built with carbon E-glass in the epoxy infusion system. The deck and hull are baked in the mold and there is no post-curing. According to sales manager Alan Lang, "We don't use chopper guns—all the boats are 100% hand-laid fiberglass and that is 7-8 times more expensive, but 5 times stiffer and stronger."
The Scout 420 LXF is considered the fastest in the model line, that includes 25-53' center consoles. The 42' model came out in 2015, took 4 years in the making and was spearheaded by Steve Potts' son, Stevie, the chief designer and director of product development and engineering. Reggie Fountain even consulted with Stevie on developing that stepped boat bottom, as Reggie said Stevie reminded him of himself when he was a young man growing up in the business. The NuV3 convex stepped hull has a variable deadrise, starting at 20 degrees at the bottom to 22 degrees at the top, which working with the chines and steps enables the boat to back off full speed when the water gets rougher, decreasing the drag and maintaining a smooth ride. The 420 features Scout's Carolina flair that enhances a dry ride and incorporates the aerodynamic and patented T-top curved glass enclosure; the reverse angle transom is also a distinction of the Scout hull.
While Scout outfits its boats with triple or quad Yamaha and Mercury outboards, the 420 with quad Mercury 400s demonstrates its fuel efficiency; the sweet-spot is at a 43.1 mph cruise at .9 miles/gallon, and even at 50-55.5 mph, it achieves .8/miles/gallon. Though Scout got a lot of attention at the 2019 Miami Boat Show when it outfitted a new 530 with 5 Yamaha 425 outboards and another with 6 Mercury outboards, its focus is on the quad engine boats. The first 420 with quad 450 Mercury outboards is being delivered to Florida this month, with test running speeds of nearly 75 mph—and it is still being dialed-in.
Scout 420 LXF Specifications
LOA: 42' 2"
Beam: 13' 1"
Fuel: 500 gallons
Weight: 16,800 lbs.
Draft: 28"
Price: $1,001,573 for the 420 with quad Mercury 400s.
View Scout Boats for sale on Boat Trader.
Visit Scout Boats for more information.
HCB Yachts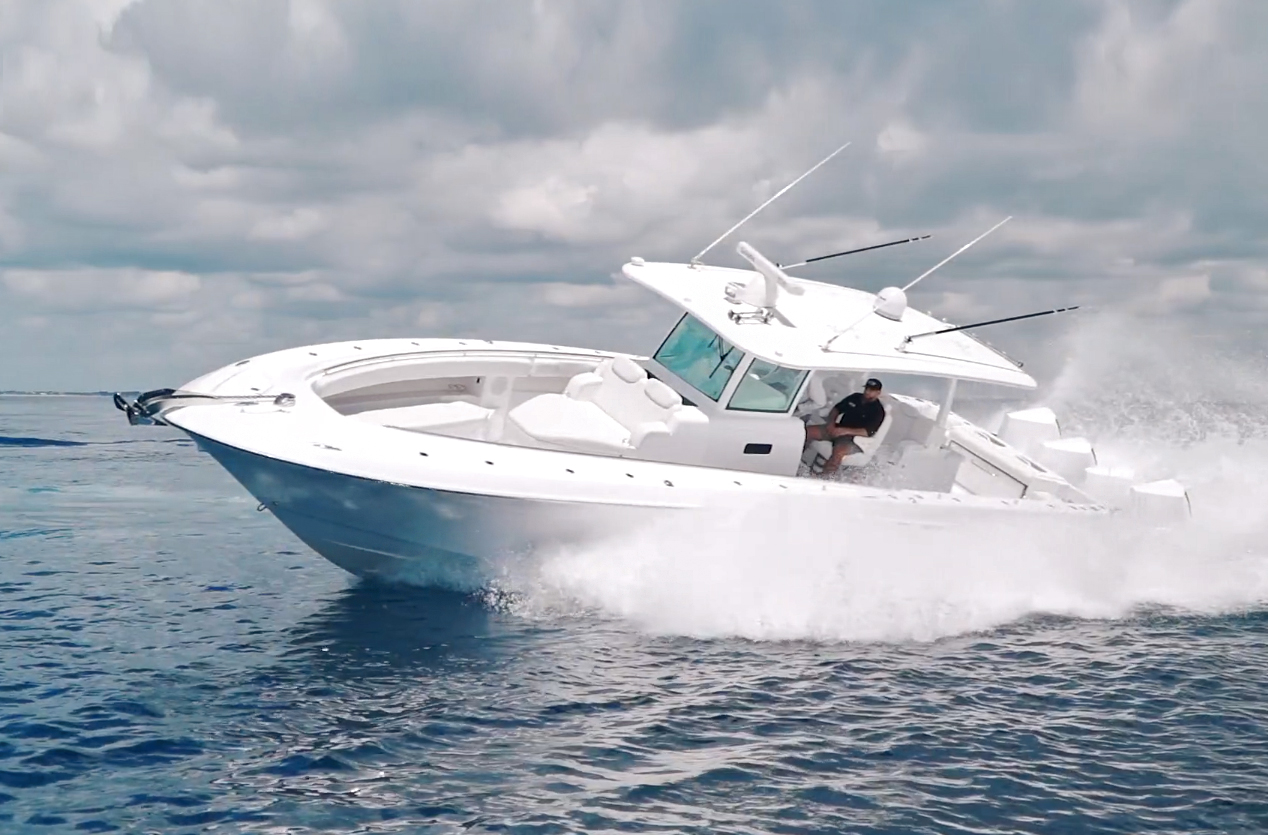 Though speed may not be the main goal, performance mixed with luxury was Elias DeLaTorre's driving force as he changed the HydraSport brand into HCB (for HydraSport Custom Boats). "I love speed and fast cars but, I wanted to build a high-end luxury boat designed for destinations—to be comfortable driving down to the Keys or the Bahamas. We want to be able to go at higher speeds longer when it's rough," says DeLaTorre. As he developed his fishing boat brand to a yacht tender or cruiser, the sizes grew from the 42' Siesta to the 53' Suenos, to the 65' Estrella (the largest center console in the world) and while the latter two are considered luxury cruisers, the 42 Siesta is a speedy multi-purpose boat.
Though all HCB boats are non-stepped hulls, built with hand laid fiberglass, the construction of the 42 Siesta is unique to this model. The partially stepped chine stops at the outer strake, giving some lift and reducing drag, without feeding aerated water into the props and water pickups. The strakes and chines are at optimal widths to minimize slamming and the 23-degree deadrise from midship aft, gets more "aggressive" forward to the bow, according to Mike Myers, VP of engineering. He also explains that the longitudinal center of gravity (LCG) was moved further forward to minimize bow rise and to adjust for the heavier gear loads of generators, gyros and fishing wells, as well as the heavier, bigger outboards. This shift minimizes the use of trim tabs to keep the bow down and the 42 also maintains a low bow rise due to the LCG combined with weight reduction as fuel burns. (The three main fuel tanks, totaling 614 gallons, are located directly below the LCG. An optional 130 gallon fuel tank offers longer range cruising of over 400 miles.)
The hull is solid and quiet thanks to its molded and foam-filled stringer grid, fully bonded with structural adhesive. This "double bottom" enables rough water running, enhanced by the large hull flare that disperses water, and redirects the wave energy, also making for a dryer, smooth ride.
HCB has favored Yamaha 425 engines as "standard" but also used Seven Marine engines. "We were the biggest boat, so we had to have the biggest engines!" says DeLaTorre, but now with the Mercury Racing 450R outboards, HCB sees the advantages. "We like to use one engine to fit all of our boats," he adds, reporting that the first 42 with Mercury Racing 450Rs is now being tested and is a 70 mph boat—even at 25,000 pounds. "You can cruise at speed and in comfort at 65," DeLaTorre states.
HCB 42 Siesta Specifications
LOA: 41' 7"
Beam: 12' 2"
Fuel: 614 gallons
Weight: 24,000 lbs.
Draft: 24"
Price: Base price $1.1 million
View HCB Yachts for sale on Boat Trader.
Visit HCB Yachts for more information.
Outerlimits Powerboats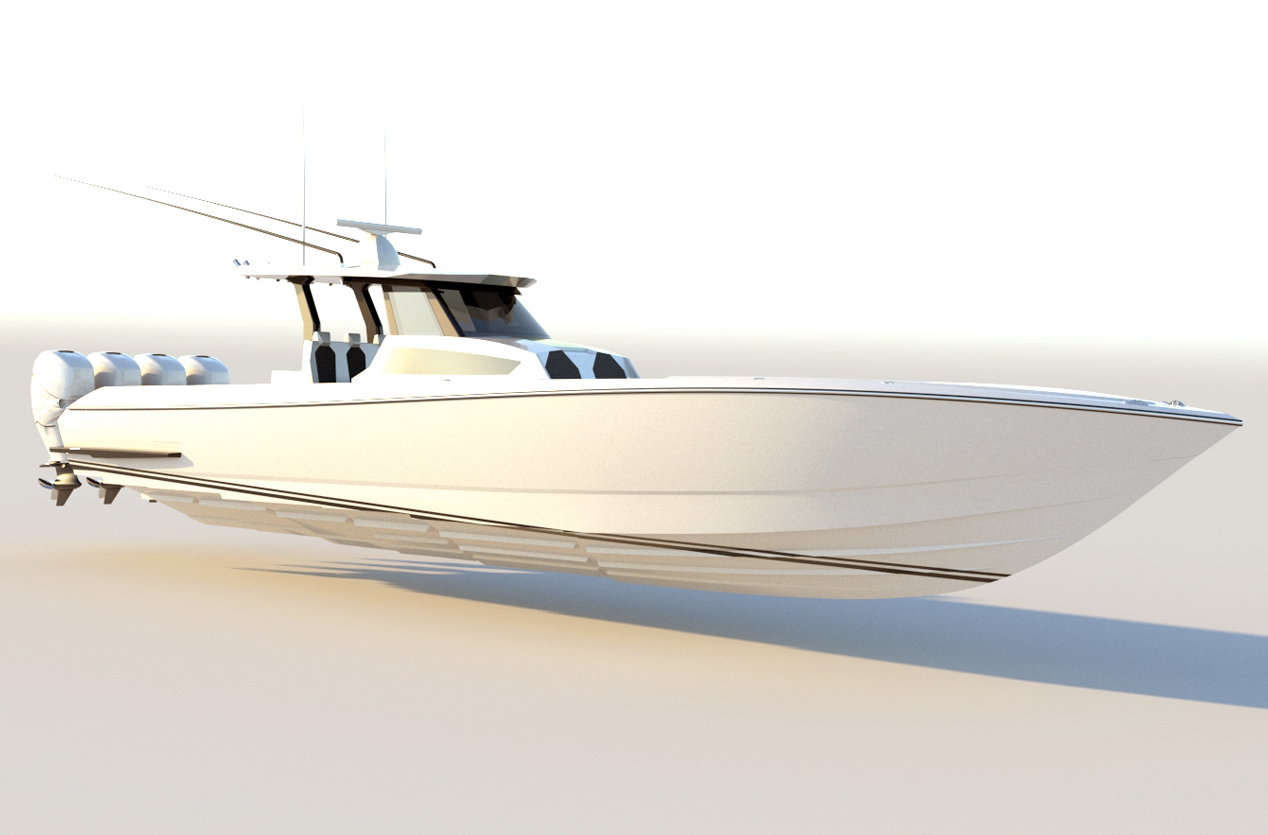 Not to be left out of the performance center console market, the Outerlimits SX-39 is about to make its debut. Designed as a performance fishing boat, with triple or quad outboards of up to 1,800 HP, Outerlimits is giving a nod to Mercury Verado 300s, though hull #1 has 400s. Fully equipped, including a carbon fiber hard top to complement Outerlimits vacuum-bagged, epoxy resin-impregnated E-glass with carbon fiber reinforcements, the SX-39 will be light at 13,000 pounds. The boat has 500-gallon fuel capacity, with an addition optional saddle tank.
The center console was on the late founder, Mike Fiore's drawing board since 2014 when he was sadly killed in an event speed run, and his father, Paul Fiore, was pushing the model forward when he passed away from an illness last year. Says operations manager Jason Amaral, "We are taking all the things we learned from offshore racing and boating and targeting the mainstream boater. We've always been a niche market and deliver a great product, so we are finally getting this boat launched, providing personalization the customer won't get elsewhere."
Amaral reports that legendary boat builder and racer Victor Chapman, who helped Fiore build the Outerlimits 37, is helping to build the boat's helm; the bottom is similar to the record-setting SV-43 utilizing the five-step FVS (Fiore Ventilated Steps) that has helped the manufacture achieve speed records and win offshore races. Hull #2 is in the mold, sold to an existing customer while hull #1 is also going to a client who always wanted an Outerlimits center console. He should finally get his wish by the end of the summer. Outerlimits are built in Bristol, RI.
Outerlimits SX-39 Specifications
LOA: 40'
Beam: 10' 5"
Fuel: 504 gallons
Weight: 13,000 lbs.
Price: starting at $590,000.
View Outerlimits boats for sale on Boat Trader.
Visit Outerlimits Powerboats for more information.
Related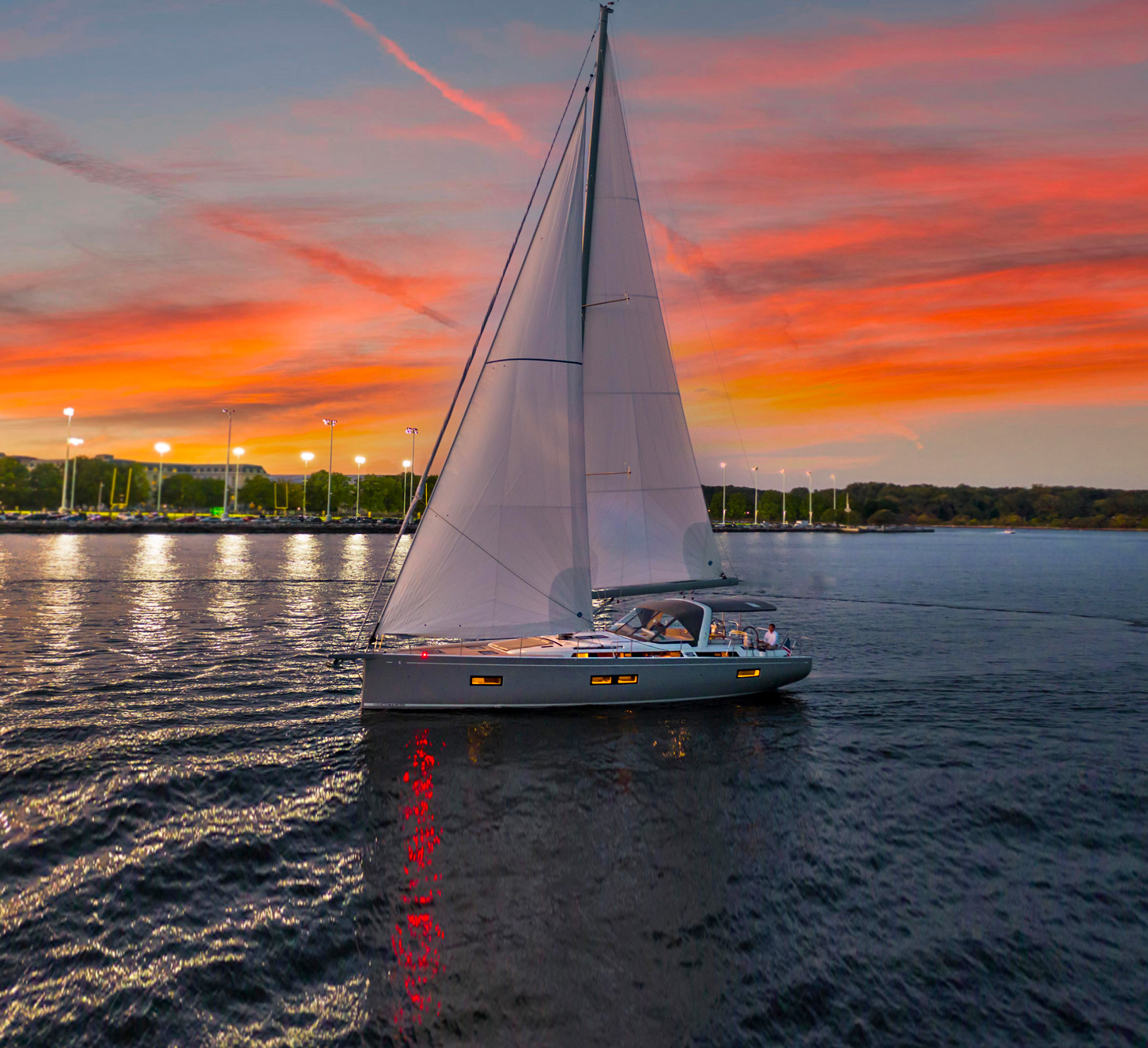 2022 Beneteau Oceanis Yacht 54 Review
Fast cruising and easy living, this cruiser sails like a race boat with posh living.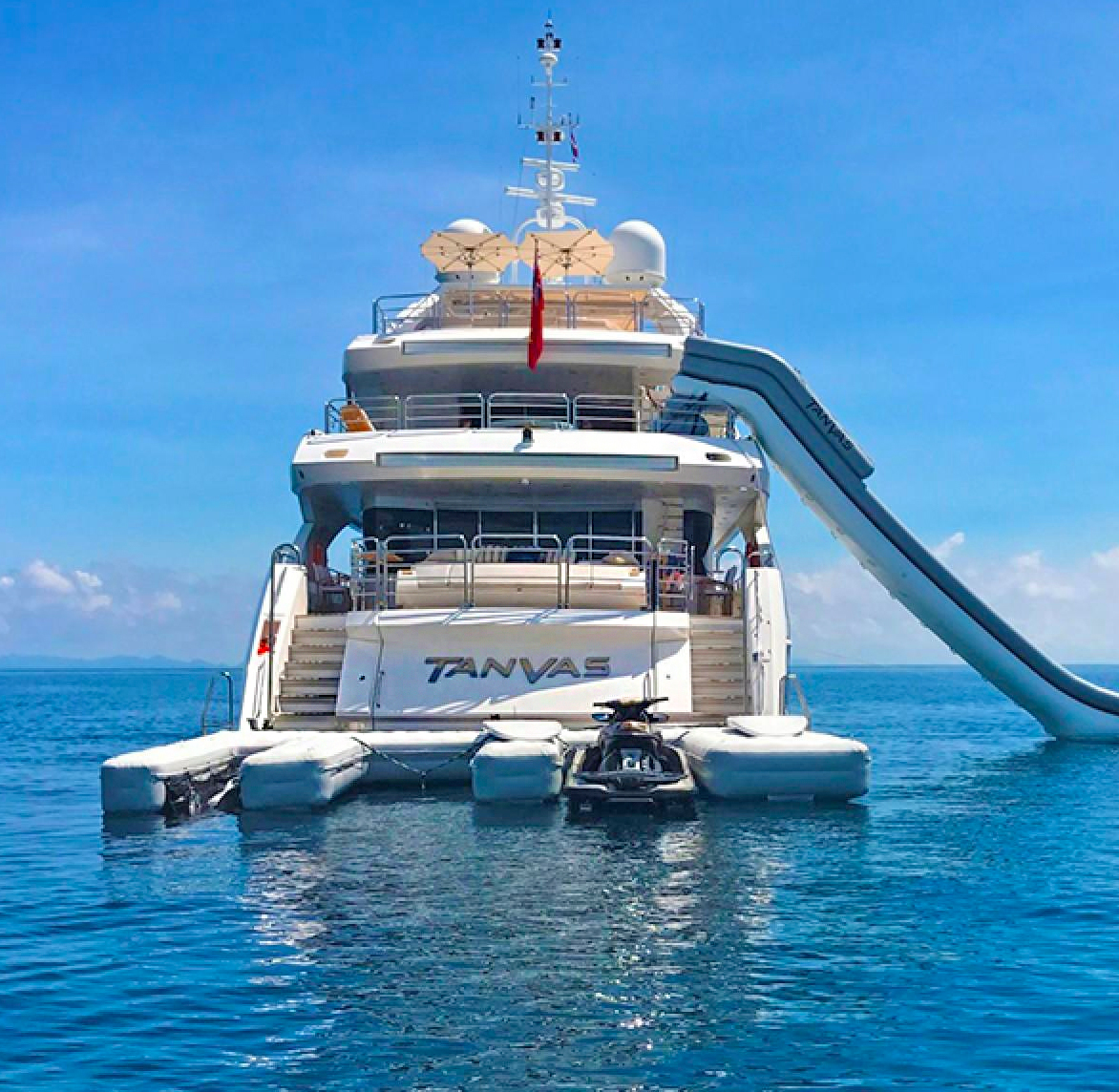 Boat Names: 100 Suggestions For Naming Your Yacht
Top tips to help boat buyers to name their yacht. 'What's in a name? That which we call a rose by any...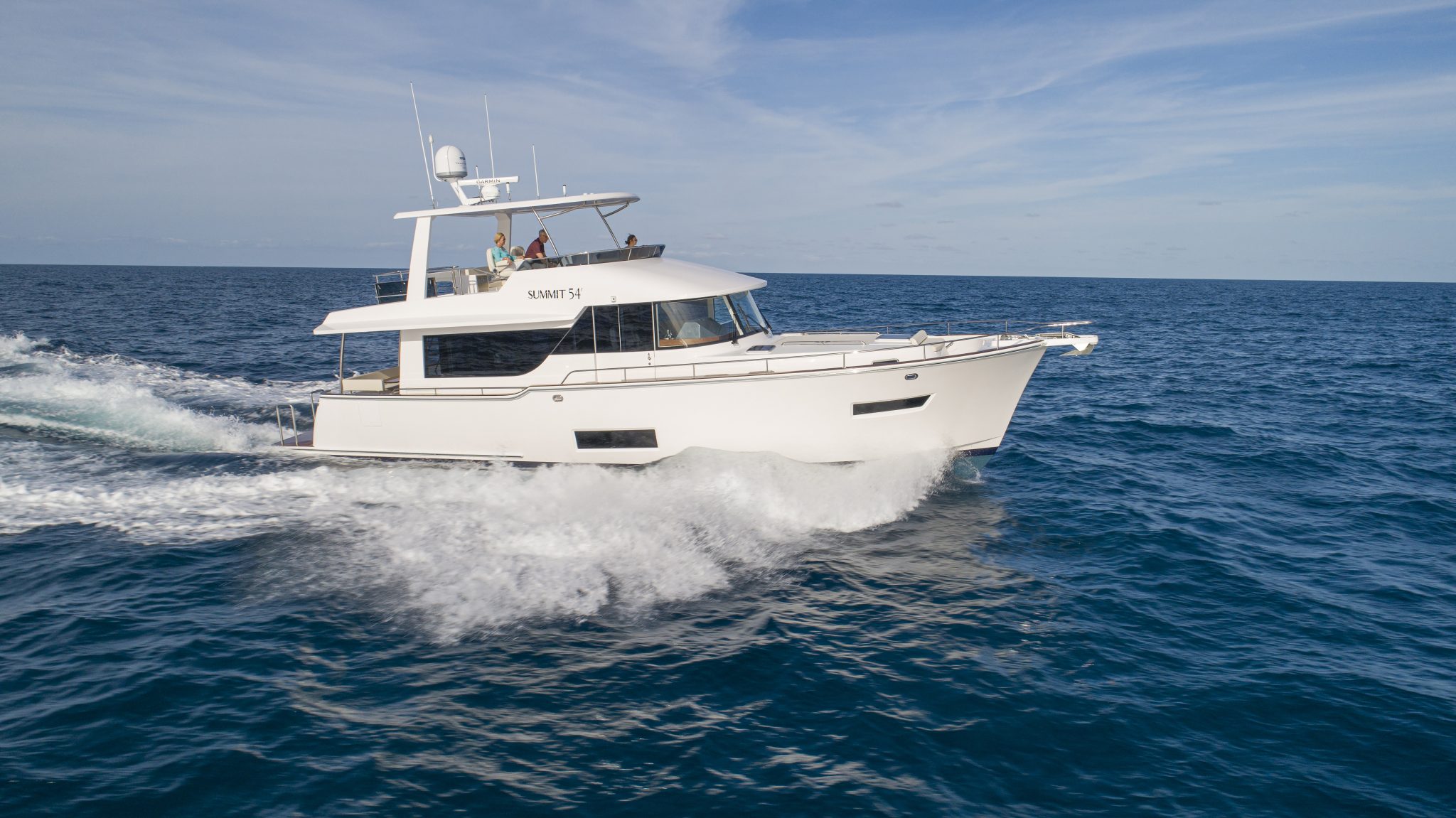 Summit 54 Motor Yacht by Kadey-Krogen: Full Walkthrough Review
The Summit 54 built by Kadey-Krogen is a longe-range, fast trawler with chic and inviting features.