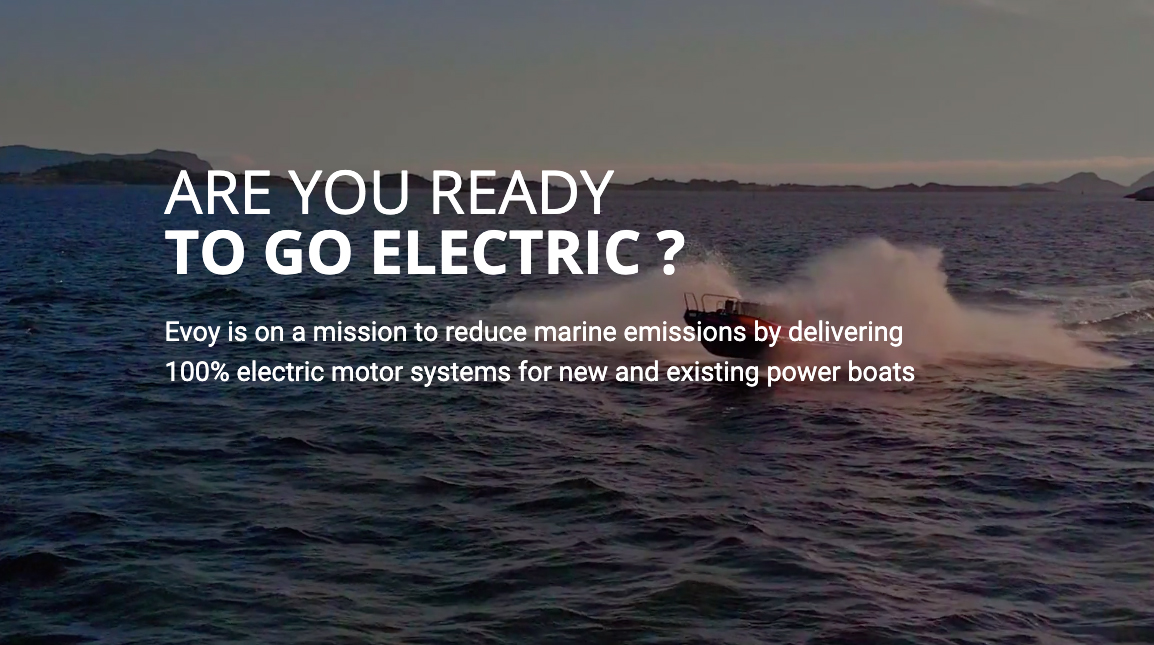 Electric boats are poised to be the wave of the future, as incredible innovation is now taking place in electric propulsion, in ways many people never thought possible. We recently conducted an interview with Leif A. Stavøstrand, the CEO of Evoy – an exciting electric propulsion company out of Norway – and from the looks of it, their new electric outboard motors are set to change the way boaters think about boats, speed, efficiency and power.
Evoy's work on electric motors for marine applications is impressive and they are gearing up to potentially disrupt the industry in a big way – especially with their latest 150-horsepower outboard motor now being prototyped. That's the groundbreaking product that we're most excited about right now (after all, it is the world's most powerful electric outboard motor), but from batteries and controllers to motors, Evoy is advancing the feasibility of electric propulsion on all fronts.
At The Helm of Innovation
Evoy's line of electric motors for boats. Photo by Evoy.
"Once you drive an electric car you never go back, it's going to be the same with boats," says Stavøstrand. He goes on to describe how big changes are always accompanied by naysayers but eventually the trend catches on and a new way of doing things takes over. After all, you wouldn't use a wooden wheel on a Ferrari, would you?
Ten years ago the idea for electric automobiles still seemed like a far stretch from everyday life. Now we see them every day across the globe in almost every major city. Companies like Tesla Motors and BMWi have pushed the edges of the status quo to usher in a new era of all electric transportation for the general consumer and Evoy is riding the next wave of "e-boats," set to break into the mainstream market in 2021 – first in Europe and then in North America in 2022.
Asking Stavøstrand why he does what he does, he responds that "working on Evoy he is making a real impact on the biggest problem we're facing," he goes on to say that taking care of our climate is an "important battle for humanity right now." He talks about his children and their future, and how he really feels that this work is THE way for him to "personally actually make a difference" when it comes to fossil fuel emissions.
A lot of people downplay the importance of this issue, but he thinks it's vital to keep it on the top of the agenda. He is worried about the world he will leave his two children. Even the best case, or middle scenarios do not have a great outlook – it's what we do now…if we can get close to getting emissions-free options out to the mass market of boating – "that's awesome", says Stavøstrand.
Q: Who Is The Target Customer For Evoy?
"We're getting calls and emails from all over the world. There's so much interest in this now and I think every country with a stretch of water has contacted us" says an excited Stavøstrand. There are maybe 10,000 boat builders in the world and Leif and his team's dream is to reach all of them. "We're mainly a B2B company, selling to other businesses, working closely with boat builders, boat yards, etc." Evoy has a 350-Volt system (DC) for the 150 HP outboard which is a very clear market, similar to Tesla starting with a sedan for the mass market before moving into bigger vehicles like trucks, on their way soon.
A good example of an electric boat builder that could be a potential partner for Evoy is Vision Marine Technologies. This electric boat manufacturer is currently the only high performance electric boat manufacturer in North America and is using lithium battery banks in their production model builds – such as the Volt 180, which starts at $34,995 and claims a top speed of around 30 MPH. In 2018 the builder produced a VOLT 180 powered by a Torqeedo Deep Blue 60 kWh (80 HP) motor and a BMW i3, 32 kWh lithium-ion battery. Vision Marine also offers a long duration warranty, similar to traditional boat builders.
The Beauty of Silent Boating
Electric motors offer a nearly silent boating experience. Photo by Evoy.
All boaters know the joys of getting away from the grind and spending time out on the water on an adventure with family and friends close to nature. Yet, many days aboard a powerboat you may not see very much wildlife. As the sound of the rumbling gas-guzzling motor that propels you drowns out the natural noises around you, blue herons scatter and seals and otters flee quickly. But with an electric motor you hear everything, as you captain your way silently through the waters, just like a sailboat (in fact, often even quieter). This way, you and your passengers can get the sights and sounds of a lifetime, more in tune with the ecosystem and wildlife around you.
"It really brought a new dimension to being on the water – it's kind of mind blowing actually – being on the water doing what I love to do, in total silence. It is just a totally different experience," says Stavøstrand. "Me and my family love to go fishing and to see the wildlife, seals and sea eagles and the silence helps them to come around."
Fast Electric Boats Are No Longer An Oxymoron
Next come the questions of speed, naturally. Thanks to people like Leif and his crew, super fast electric boats are now a reality. The Evoy1 boat hit 55+ knots (with 800 peak horsepower) earlier this year, according to the team at Evoy. They filmed it and recorded the GPS data as well to back up their claim to fame, as the video below captures.
The speed run above was made possible by the fully electric Evoy motor outfitted to a Mercruiser Bravo 3 XR sterndrive on a boat weighing in at four tons. Their motor outputs 400HP continuous – 800 peak. The team is planning an official record event in the near future.
Imagine this: these motors pack even more power than they can use with traditional marine propulsion equipment! The motors have to be intelligently managed to limit the output to the strength of the props and gears they are assembled with (around 770 newton-meters – held back from 1500 nm). As funny as it may sound, one pain point for Evoy is that their motor is actually TOO STRONG. Standard (archaic) combustion engines have not been designed to withstand that much torque, because they have not needed to – until now.
55+ knots marks a huge advancement in capability for electric vessels. A dominant portion of boat use is for trips under 50 miles in both private and commercial markets. Water taxis and fishing, family lake and river runs and pleasure rides, with 50+ miles of range you can take care of business, and have a lot of fun.
One of the motor setups they've been operating with boasts a sustained speed of 40+ knots with 550+ horsepower, fueled by a 100kWh battery pack, and capable of 1-hour at 25 knots and 48 hours at 3 knots. And we are still in the infancy of electric propulsion for boats. Imagine riding a 43′ Sunseeker or Formula speed yacht all electric. Well that's definitely in the cards for the future.
Ultimately, electric means power. Normally stern drive is limited to around 500 horsepower. The bottleneck in power and efficiency is really what the stern drive can handle. The bottom line is that combustion is actually slower than electricity. Period.
A Win For Our Environment, Industries AND Society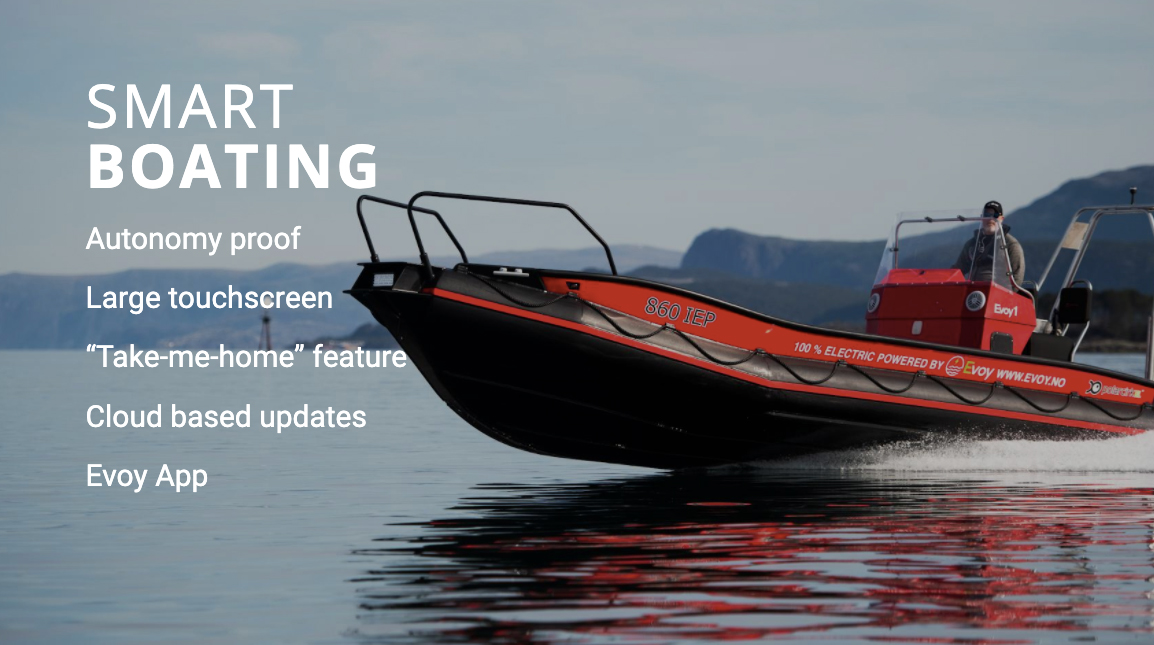 There are many reasons that electric propulsion is both timely and exciting. As we've noted it provides a quieter ride on the water, but it also reduces costly fuel consumption and polluting emissions – in fact even cutting out emissions completely. These are the qualities that the next generation of industry leaders are now looking for in response to consumer demands. Thanks to the massive innovations taking place with electric motors technologies, eliminating emissions entirely is a target finally in sight. These are just some of the big reasons that people can benefit from catching this wave.
This technology is more affordable for humanity in the long run. One boat can cut up to 1,000 tons of CO2 in its lifetime (a car typically emits 2 tons per year) and is friendlier to our Earth's waters. A typical gas-powered boat burns 10-15 times the fuel of a car for the same distance. Evoy's electric outboards are one fifth of the run cost and maintenance of a combustion engine (in Norway, but this can vary depending on the country and local energy prices).
"Both recreational and shipping boats cause oil and gas pollution in the water," says Stavøstrand. Ultimately, sustainability is just one encouraging factor driving Evoy's mission. They are actively working with their suppliers to make sure they're working with good ethics in regards to mining as well.
Q: How Far Will Electric Boats Go?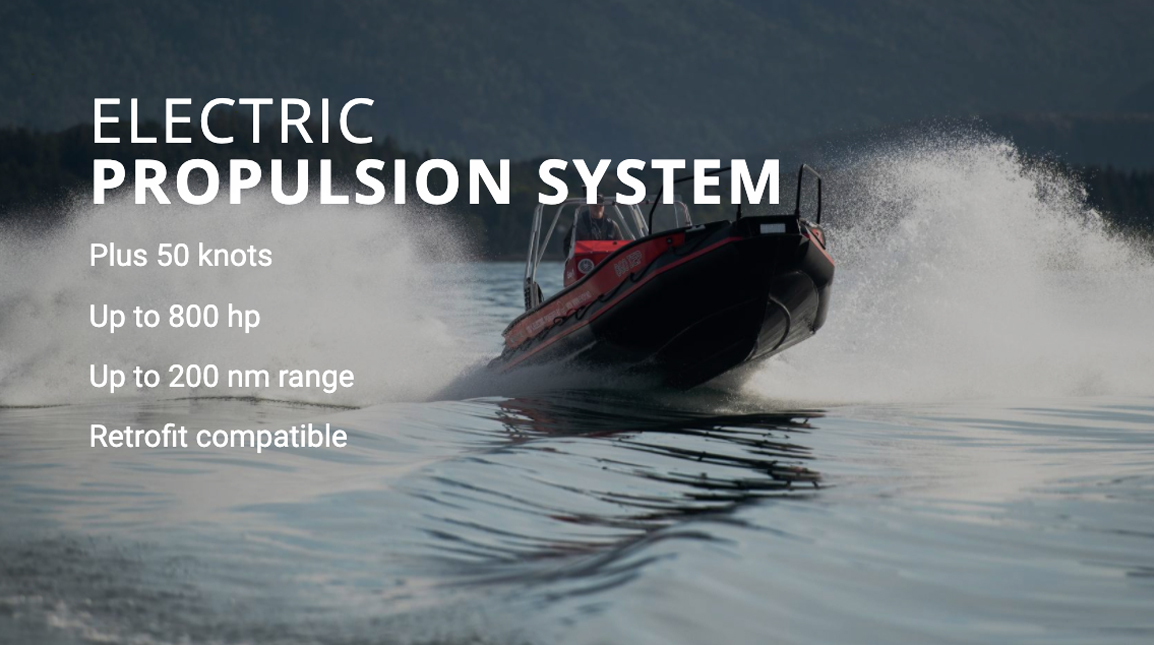 Electric propulsion systems are increasing in range. Photo by Evoy.
With the new Evoy 150HP, the company expects a range of 50 nautical miles for most efficient lightweight boats. Stavøstrand advises builders to not go overboard (so-to-speak) with batteries because they are still very costly and add significant weight to the vessel. He explains to us that beyond a 50-nautical-mile-range for a mass market motor is feasible, but it is obviously very dependent on batteries and the weight of the vessel. A hydrofoil can help with efficiency, so Evoy is actively researching and collaborating with boat builders on the smartest ways to create the best electric vessels for consumers. Commercializing foils w/electric propulsion is still in its infancy but companies such as Candela Speedboats in Sweden – who has built the world's first foiling electric boat (which also boasts superior range at high speeds) – are quickly changing that.
A typical gas-powered boat burns 10-15 times the fuel of a car for the same distance. Evoy's electric outboards are one fifth of the run cost and maintenance of a combustion engine. The first service on Evoy's motor is after 15,000 hours and it is meant to measure the bearings to see if they're developing normally. Further out on the Evoy path is reaching up to 200 kilowatt hours batteries in an efficient design, for 2 hours range at plane hull speed (for a light hull craft). This is where Evoy stands in a similar fashion to Tesla, as their system can be put on any boat – new or old – and can be retro-fitted to nearly any hull type.
Note that Evoy produces the systems, not the boats. Their inboard systems currently range from 400-800HP in applications for 25-50 foot boats. The new 150HP outboard currently being built is designed for 18-25 footers or 20 to 30 foot in dual config. Above that they'll recommend with 300HP+ or the 450HP+ that is due for the market in 2022 and 2024. Yes, you read that correctly – a 450HP electric outboard! Watch out Mercury 450Rs!
"Batteries have a limit to how much pressure you can put on them and how much energy you can take out of them. It is important to keep them cool and make sure they're not overloaded. We only have liquid cooled batteries in our system today, and it is very important to have someone who knows what they're doing when calibrating. These batteries operate from -30-+60 Celsius, and perform best between 10-30 Celcius. Maintaining those temperatures keeps a higher lifetime on the batteries," explains Stavøstrand.
For those data-savvy readers, Evoy is using live stats collected into a database to provide continuous improvements via 4G or WiFi – they can, in real time, measure different boats against each to learn about efficiency and improve on it. Over the air updates – to tweak and tune the boat over time – updating software – making adjustments to frequency, converters and core of the system.
Criticism Means Progress
Stavøstrand doesn't pay attention to the negativity and instead prefers to keep a positive outlook towards the future. Innovation excites him. In his view, it seems the more pushback a topic gets, the more momentum it is gaining. Industry leaders through history can often be slow to adapt and understandably resistant to big shifts. Equipment stockpiles create inertia and acquisition of new machinery is cumbersome to any company, as well as training, etc. That's why companies like Uber and AirBnb were able to create massive demand with no physical inventory.
It's a lot of good news for Evoy and the other first-movers for marine propulsion. Production ready and scalable models for creating viable electric propulsion are needed now to feed the market cravings for innovation.
Critics are quick to shoot down the possibility of all electric yachts and ships, and so now is the time to dive deep into the stats for just exactly what Evoy is producing now, and in the very near future. Their main challenge is to be able to scale quickly enough to meet the demand they know is coming. The team believes that in 5 years Evoy will be a global name at the top of builder's minds for full electric, high-output systems. In fact, Leif is expecting competitors and he welcomes them.
Mentioning Torqeedo, another electric boat manufacturer, Stravøtrand says he's "grateful for them because they opened the market alcove for the US," and he has "huge respect for what they've done". As he puts it, "bringing new technology to market, is very, very tough. They have their focus below 100 kW output and they are really good at that."
Q: What Do You Say To The Critics Of Electric Boats?
"We get it all the time. We see it – there's a lot of trolling. People say, 'If I can't go a thousand miles than forget it'. This happens when you have big turnover and big changes in technology. There will always be people holding back, it's human nature. 10 years ago there were so many naysayers. Now electric cars are completely mainstream. 60% of the new cars sold in Norway are electric. It's a no-brainer," says Stavøstrand.
A secondary obstacle Evoy and other electric propulsion companies face is that the initial cost is higher. However, consumers need to realize that they are essentially paying for their fuel up front – that is the paradigm shift here. In fact, the use of batteries is a lot cheaper than the burning of fossil fuel. With $10 worth of electricity on a battery for regular use, the same run on a gas engine might be $50-100. On average they say (In Norway gas prices) that it is 1/5th of the price to operate. Therefore, the more you use the motor, the more you save.
So, if the bottom line is your only reason to buy an electric vessel – you should probably be using your boat hundreds of hours per year in order to really maximize your investment. Yes it could be twice the price or more of a gas engine up front, but again, it saves tremendous amounts of money overall.
Q: How can we convince more people to try electric?
"Keep them informed with good, reasonable fact-based information," responds Stavøstrand. "Most can see this is the future and the trajectory is clear if we create the interest and the market grows, the innovation will increase and prices will lower." The key is to give proper information and expectations. "There is an enormous interest in it – we've seen this in Norway. Newspapers write about Tesla a lot – because their population is so interested in tech."
Q: Where Does Evoy Go From Here?
So far Evoy is focussed on a lot of Business to Business (B2B) sales. The company is working closely with builders and boat yards. Outfitting a boat with these motors requires professionals that are trained by Evoy to do installments of the initial onboard systems. Boat makers from North America are curious and Evoy is in dialogue with a few of them, although none that they can officially announce yet, but there is certainly something already in the pipeline.
Currently Evoy is delivering everything plug and play. The company recently launched a configurator on their website – that helps customers configure their system and choose what batteries go with what motor, etc. This is especially useful for people looking to do the math on what type of system would be ideal to retrofit to their boat. The tool is based on a desired range and load of a given boat, so it is important for the consumer to really understand what their needs are and how they will use the boat. "We see from our configurator that many pre-orders go for the largest battery pack. Then the cost will be more than double," explains Leif.
Evoy will be taking pre-orders for different markets and locations and will be launching their all electric 150-HP motor in Norway and Europe first in 2021. After that they will be introducing them to the US market in 2022. They assemble systems in house currently, but are looking into building a North American production plant eventually. As Evoy rolls out their propulsion systems to the market, the commercial segment is the first and biggest opportunity for the company, because ROI is paramount for those customers.
Stay tuned because the trend for electric propulsion is going to "hockey stick" as they say, in the next few years. Exponential growth is kicking off with companies like Evoy gaining momentum and increasingly less obstacles holding them back.
We always enjoy the opportunity to research and discuss with companies that are ushering in the future of their industry. It is an exciting time in the marine industry as we discover what's on the frontier of the boating and yachting world, pushing the boundaries in every area from design and technology, to regulations and industry trends. Across the board, we think every boater should keep their eyes on Evoy, and electric propulsion in general in the next 2-3 years.
For more information and detailed specs, visit Evoy.
Frequently Asked Questions
What is the most powerful electric outboard boat motor?
Evoy builds the world's most powerful electric outboard boat motors, including an 800-horsepower inboard motor system and their latest prototype 150-horsepower electric outboard motor. The company is also planning to build a 300-horsepower electric outboard to be released in 2022 and a 450-horsepower electric outboard to be released in 2024. These motors are by far the largest electric outboard boat motors ever produced. Previously Torqeedo held the distinction of the most powerful electric outboard with their Deep Blue 50 RXL motor, which offers the equivalent of an 80-horespower combustion engine. The Deep Blue was the first high-power propulsion system in serial production and comes with a fully integrated system in which all components are designed to match each other seamlessly.
What is the most powerful electric boat motor?
The world's most powerful electric boat motor has 49,000 horsepower and is a 36.5-megawatt, high-temperature-superconductor (HTS) ship propulsion motor developed by Northrop Grumman Corporation for the U.S. Navy. This motor cost over $100 million to design and build and produces 2.9 million Newton-meters of torque at 120 rpm. It weighs approximately 75 metric tons.
What is the best electric outboard motor?
Currently Torqeedo, Evoy and Minn Kota build the most popular and rugged electric outboards for marine applications. As discussed above, Evoy is building the world's most powerful outboard (150-HP) while Torqeedo builds the most widely-used (as of August 2020) high-performance electric outboards. Minna Kota builds the what most regard as the best electric trolling motors with models such as their Riptide Ulterra motor, which the company boasts is one of the toughest motors for saltwater applications on the market. Minn Kota offers 112 lbs of thrust (equivalent to somewhere between 2-3 horsepower) which is enough to move a heavy pontoon boat through the water. Minn Kota motors also come with power trim and auto stow/deploy features as well as advanced features such as autopilot and Spot-Lock functionality that uses precision GPS to keep your vessel in one place for as long as you want (i.e. a digital anchoring system of sorts).
How fast are electric boat motors?
The maximum top speed that an electric boat motor can attain will depend greatly on the weight of the vessel and onboard batteries, as well as the design of the hull and conditions of the water. As advancements in technology drive down the size and weight of batteries as well as increase the strength of light-weight carbon-fiber hull materials, faster speeds are possible and records are likely to be broken – although the current record is 88.6 MPH.
What is the fastest electric boat?
As of August 2020, the title of the world's fastest boat goes to the Jaguar V20E which clocked in at 77 knots (88.6 MPH) during a speed run on January 2019. This boat is a one-of-a-kind build and was a joint project between the speedboat manufacturing company Vector and Jaguar. Officially the world's fastest production electric boat (available to general consumers) is the SAY29E Runabout Carbon, which features a pure carbon composite hull (weighing a mere 837 pounds) and clocked in at 50 knots (57.5 MPH) back on June 24th, 2018 on Lake Zell in Austria. Lastly, the Evoy1 boat hit 55+ knots (equipped with a 400-HP continuous/800-HP peak electric inboard) earlier this year and their team is planning an official record event in the near future.
Related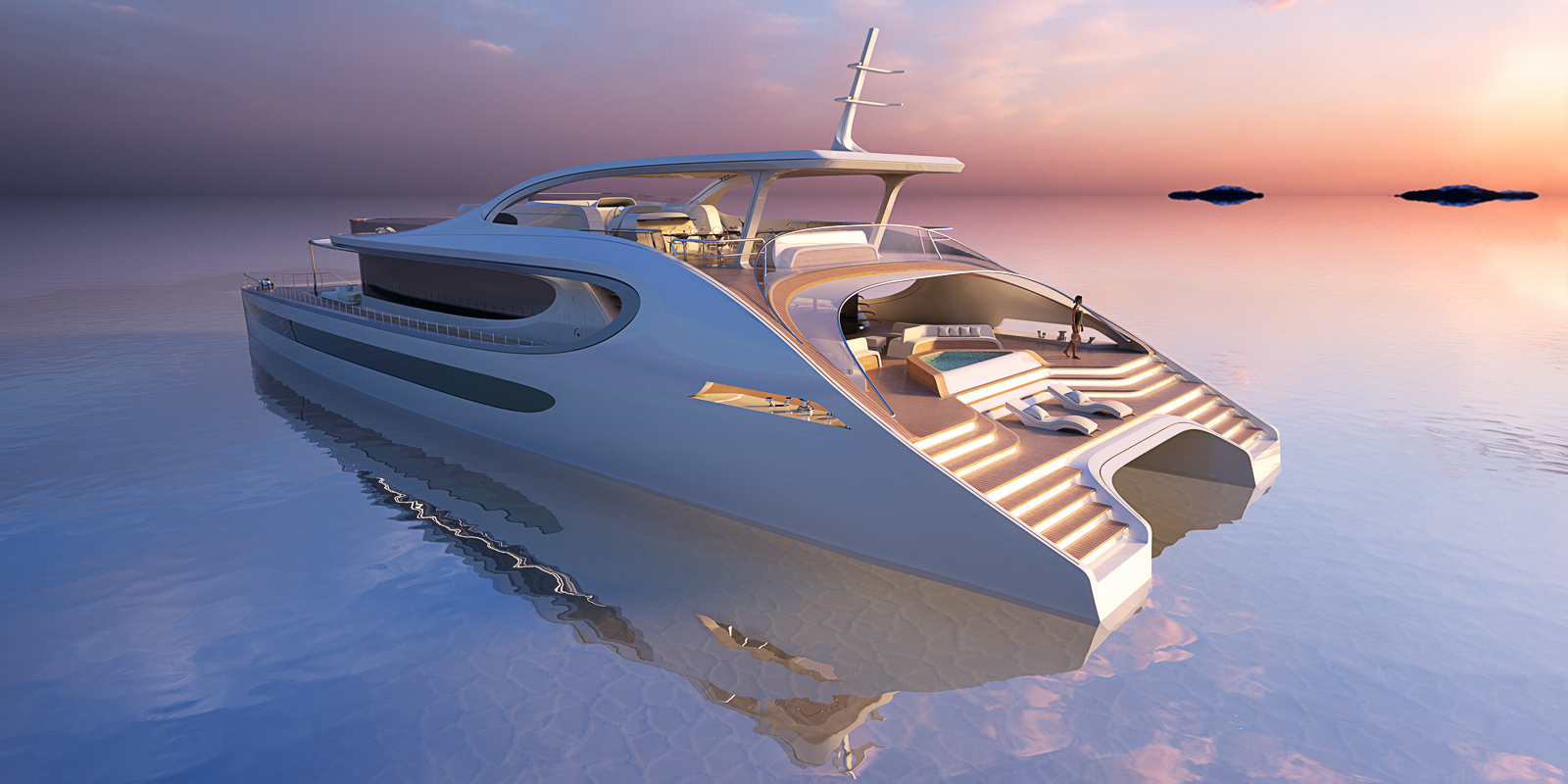 Oneiric: Rossinavi's New 144 Footer Electric Supercat
Take a look inside Oneiric, Rossinavi's flagship vessel for green-technology.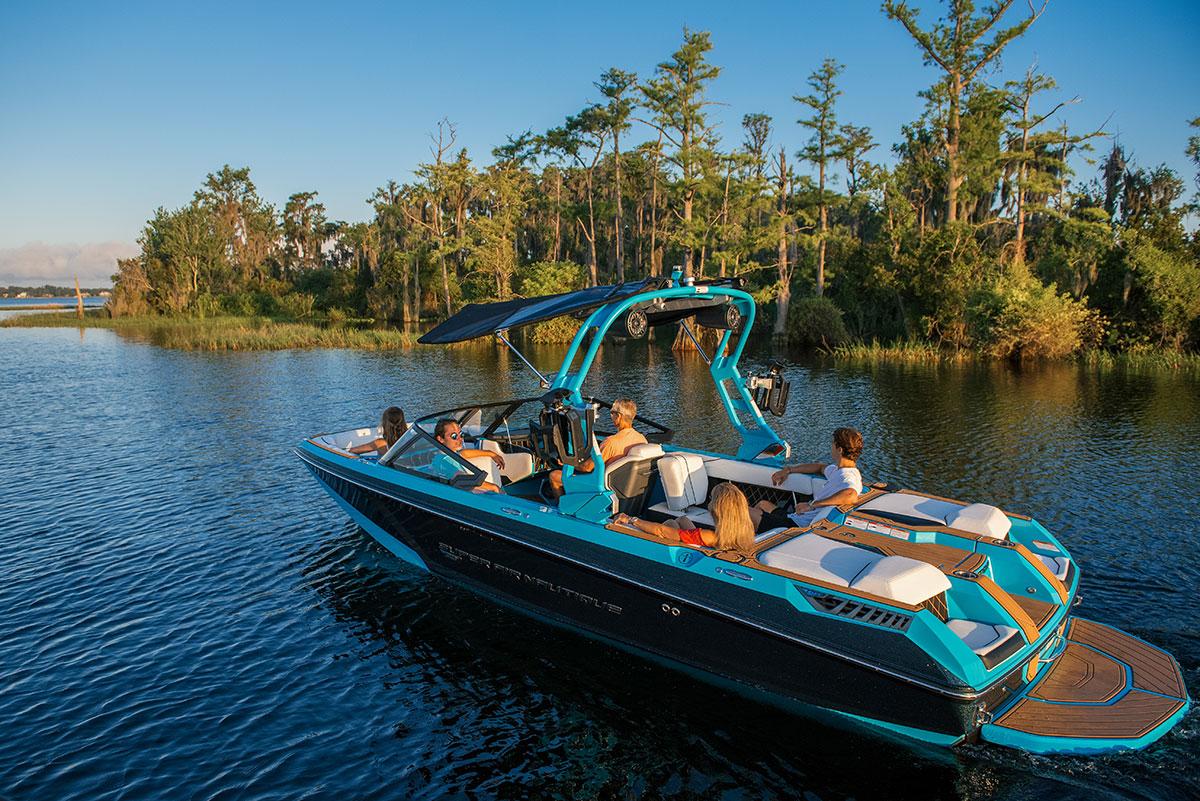 7 Electric Boat Builders On Our Radar
Thanks to new and rapidly evolving technology, compelling electric models have entered the market for...
Superyacht Design Concept: Unveiling The 'Flaming Ferrari' Of The Sea
Lazzarini Design Studio has unveiled their Ferrari-inspired design.