Maybe I'm partial to their shapely overhangs and sheer line, or perhaps I'm just a sucker for a blend of both the modern and traditional, but I can generally pick out an Ericson from a distance. The Ericson 380's graceful lines, conservative by today's standards, still turn heads on the water. Bill King's design was first produced in 1980, and it has gone through quite a few changes. But the lines and the character are still there, nearly 35 years later.
Don and Gene Kohlmann, two San Francisco, CA, sailors, began building Ericsons in Southern California in 1964. Seven years later in 1971, the company was purchased by an East Coast organization that also owned Boston Whaler. In 1984, Gene Kohlmann purchased the company back, producing Ericson 38, 381, and 38-200 iterations.
Kohlmann ran the company until Pacific Seacraft bought the molds for the 38 (and 35s) in 1990, with which they built the first new 380 in 1991. There were a lot of renditions of the original 38-foot Ericson. The changes over time affected just about every part of the boat except for its basic hull design and characteristic lines.
Design and Performance
The early 38s had a quarter berth with the galley situated to starboard and the head located forward of the saloon. In the mid-eighties, an aft cabin was added; the navigation station was moved to starboard; and the keel gained a bulb. In 1987, the boat was significantly redesigned, as King moved the keel and mast forward, which provided a larger aft stateroom to port. When Pacific Seacraft took over, the entire interior was revamped , giving the "new" 380 a higher-quality finish down below.
The 380 is a performance cruiser with good balance that allows it to steer itself for long periods of time. The boat will point to within 40 degrees of the wind with a 135 percent genoa and was built to be sea kindly in windy conditions. The Ericson 380 has a PHRF rating of 112.
The 380 features sturdy construction with a solid fiberglass hull and balsa and plywood coring in the deck. The boat is quite stiff, due to a patented Tri-Axial Force Grid, designed by Dave Pedrick, The grid is the basic framework for the structure and ties together load-bearing points, such as chainplates and the keel. The hull-to-deck joint is a small molded bulwark that is held together with fiberglass, but not mechanically fastened.
Two keel configurations were available with a bulb version drawing five feet, three inches, and a fin version drawing six feet, six inches. The rudder is a balanced spade, foam cored with a fiberglass skin on a stainless-steel rudder stock. The bow has a fine entry with some flare to keep the decks dry and the forefoot from pounding, and the 12-foot beam tapers back to a fairly narrow stern. The 380 is easily recognizable, due to its moderate overhangs, low freeboard, and subtle cabin trunk.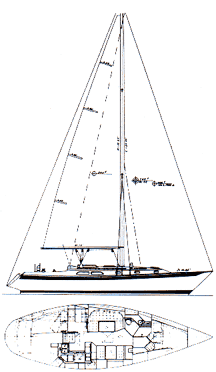 Cockpit, Deck and Rigging

The masthead, double-spreader rig is keel stepped and provides plenty of power, making the Ericson 380 a true performance cruiser. High-quality hardware was utilized, including Spinlock clutches, Harken furlers and winches, and Le Fiell tapered aluminum spars. The backstay is split, and the rigging is situated far inboard for tight sheeting angles. All lines are led aft at the mast collar, and the winches and sheets are all within reasonable reach of the helmsman.
The 380's decks are wide and clear with small molded bulwarks that are topped by an aluminum toerail. Forward, there is a basic anchor locker that likely would need to be modified to make it secure and workable for carrying the extra chain needed for extended cruising. The cockpit accommodates six, but is shallow and–because of the boat's narrowing stern–a little tight behind the wheel.
Layout and Accommodations

The Ericson 380 is very bright and contemporary below. Teak and lightwood accents, combined with bright white gelcoat surfaces, make for a very clean look. The forward berth is offset to port with a bench to starboard and small hanging lockers on either side. Immediately aft is the main saloon with a U-shaped settee to port and a straight settee to starboard. A drop-leaf table seats six for dinner or drops down to make a double berth.
The galley is situated to port with a double stainless steel sink, a Force 10 two-burner stove and oven, and a refrigerator/freezer. Counter space is limited, as is galley stowage. To starboard, the navigation station faces aft and shares its seat with the settee. There is a head with a separate stall shower that feels light and airy. In fact, the whole boat has good airflow thanks to three hatches and 15 opening, offshore-capable, stainless-steel ports.
Systems and Mechanical

The 380s were outfitted with a three-cylinder, 38-horsepower Yanmar diesel, which is installed below the companionway with good access from the top, front, and sides. The boat motors nicely at six knots, turning at 2,200 rpm. A molded-in drip pan makes for easy clean ups and the engine compartment is well insulated so noise is kept to a minimum.
The wiring and plumbing on the boat were completely up to Pacific Seacraft standards and their serviceability and general durability are excellent. The seacocks are bronze and the plumbing installations neatly executed and labeled. The tinned-copper multi-strand wiring is harnessed and has rubber chafe guards where it passes through bulkheads.
Tankage accommodates 60 gallons of water and 56 gallons of diesel fuel. For longer trips, the water issue can be resolved with the addition of a water maker or an additional tank. Fifty-six gallons of diesel fuel translates into approximately three days of motoring.
Wrap Up

Pacific Seacraft continued to make the Ericson 380 until 1998 and rumors circulate as to why this classic was discontinued. Some say that the hull design was simply outdated, because boaters today were looking for higher volume boats with fuller sterns. Others speculate that Pacific Seacraft brought the systems and construction of the Ericson up to the company specs and thereby were in danger of cannibalizing their own line of Pacific Seacraft 37s.
Despite the fact that the Ericson 380 was originally built to handle the spirited conditions of San Francisco sailing, many of these designs today can be found on the East Coast and Great Lakes. In the '90s, the base price for a new 380 was just around $190,000. Today, you can find them on Yachtworld.com from $50,000 to around $90,000.
Specifications: LOA: 37'10" • Beam: 12'0″ • Draft: 6'6″ (Fin) 5'3″ (Shoal) • Displacement: 15,500 lbs • Sail Area: 709 sq. ft. • Fuel Tankage: 56 gal. • Water Tankage: 60 gal.
Related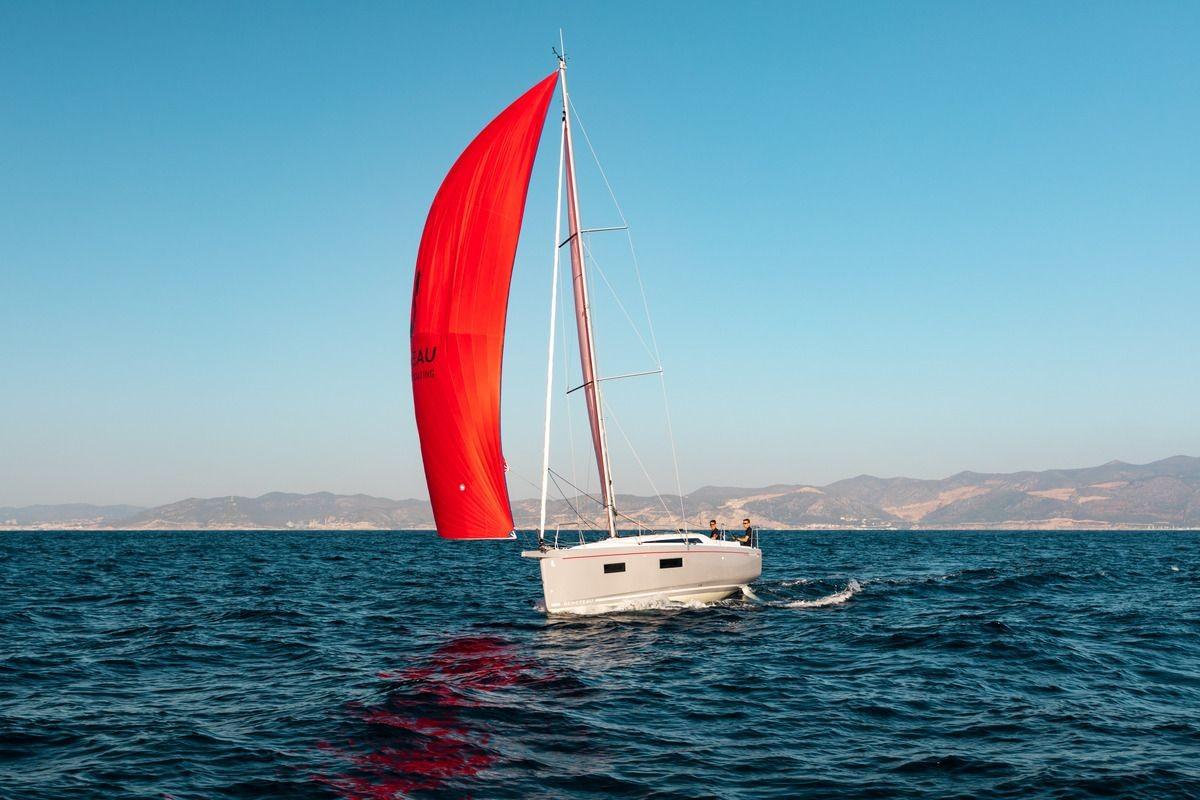 Beneteau Oceanis 34.1 Sailboat Review
Reviewing an entry-level family cruiser worthy of a close inspection.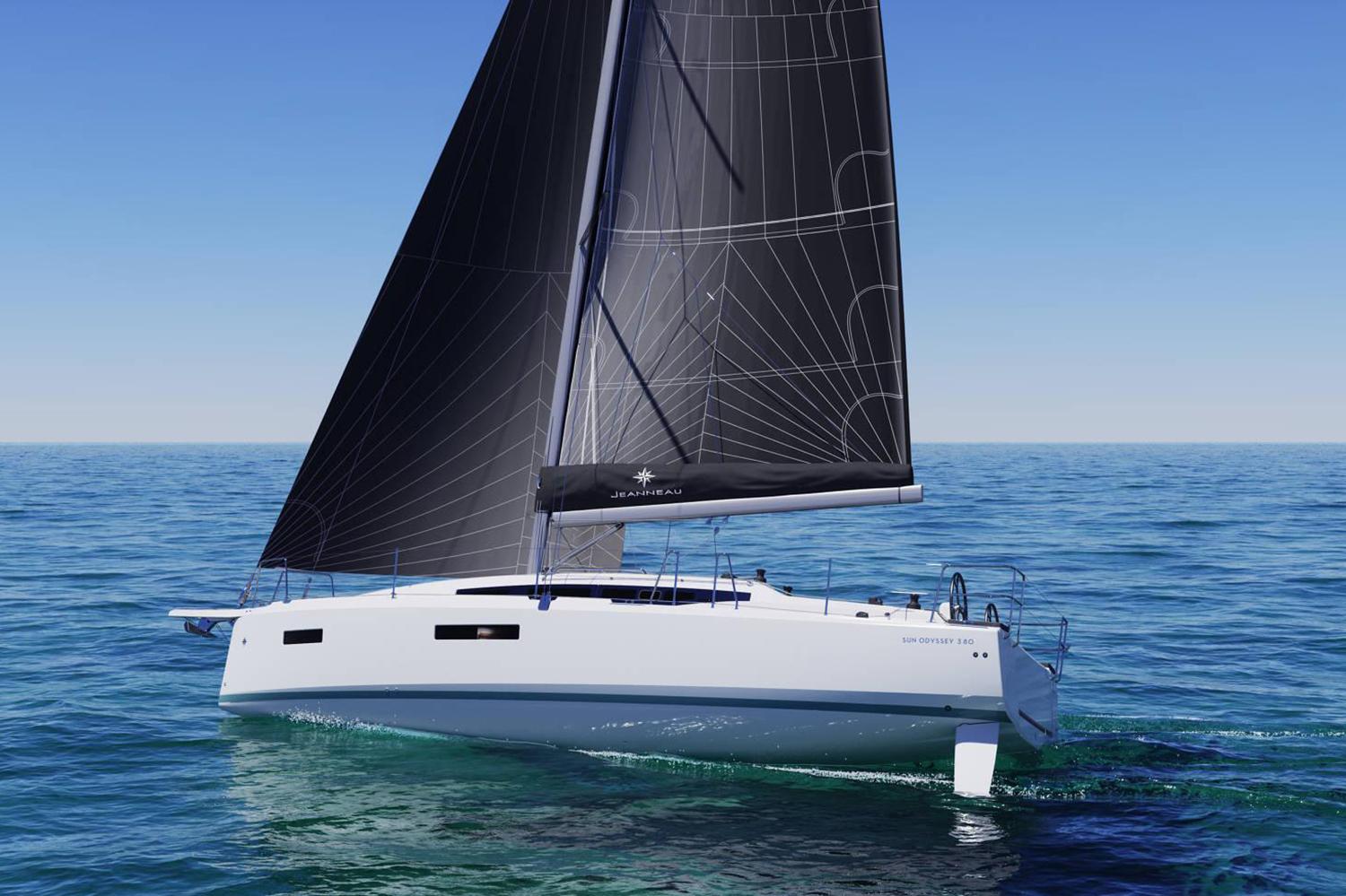 Jeanneau Sun Odyssey 380 Boat Review
The new Jeanneau Sun Odyssey 380 sailboat offers performance and comfort in an approachable package.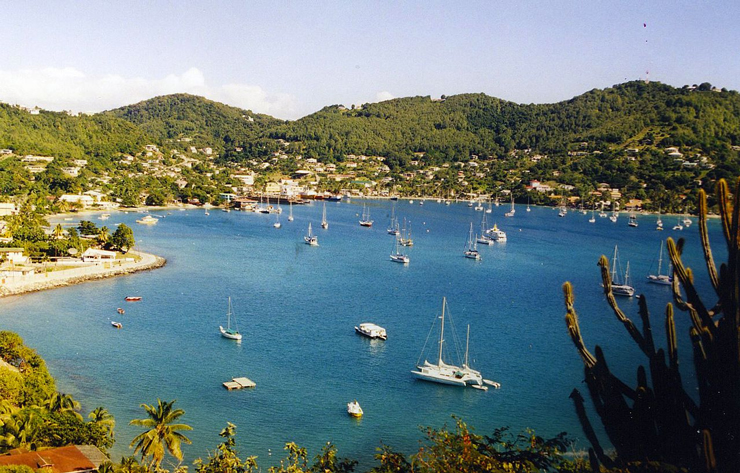 10 Top Charter Boat Destinations In The Caribbean This Winter
When chartering a boat in the Caribbean, don't miss these island destinations.