French builder Dufour Yachts has stretched their line once again, this time adding a new flagship, the Dufour 61. Since their beginnings in 1964, this strong brand has been experimenting with innovative hull designs, versatile onboard layouts, and unique galley arrangements, and their latest doesn't disappoint. The company used to market two versions of each model under the Performance and Grand Large (cruising) labels. Since doing away with that division two years ago, each hull now has become a combination model resulting in a fast cruiser that will appeal to those who like both comfort and speed.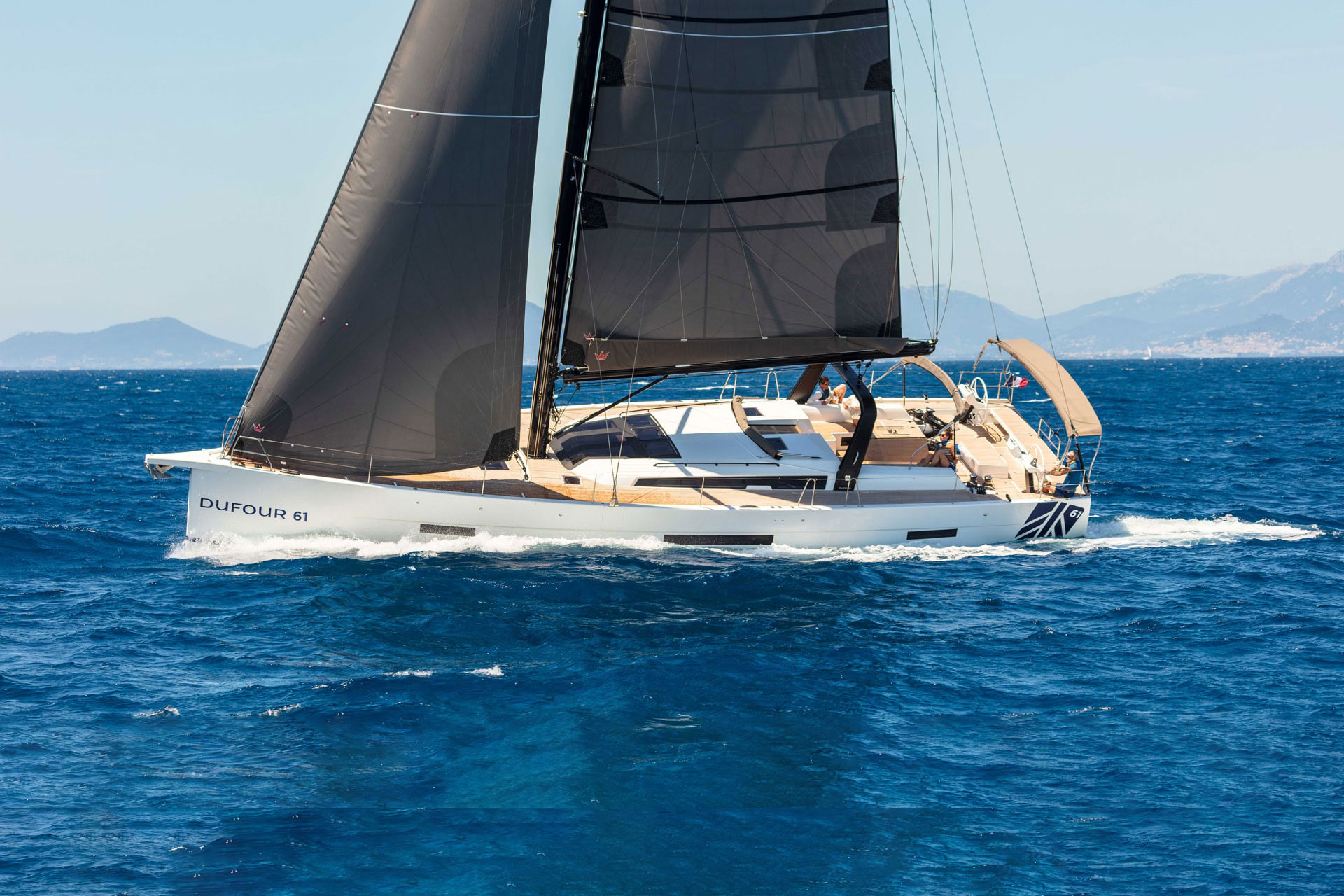 Above: A 2022 Dufour 61 sailboat under sail on the water. Photo by Dufour Yachts via Stay Nautica S.L. in Barcelona, Spain.
Design And Style
Above the waterline, the team at Felci Yacht Design have stuck to their usual aesthetic, delivering a plumb bow, a nearly vertical transom, plenty of beam, a long chine for interior volume, and a low coachroof that keeps the profile sleek. Below the waterline, this combined design has the single rudder and deep keel (9' 2") that was always present on the builder's performance models. The hull is solid fiberglass with a structural grid topped by a cored deck and the dry displacement comes in over 53,000 pounds so she's a substantial boat that will take the seas in stride.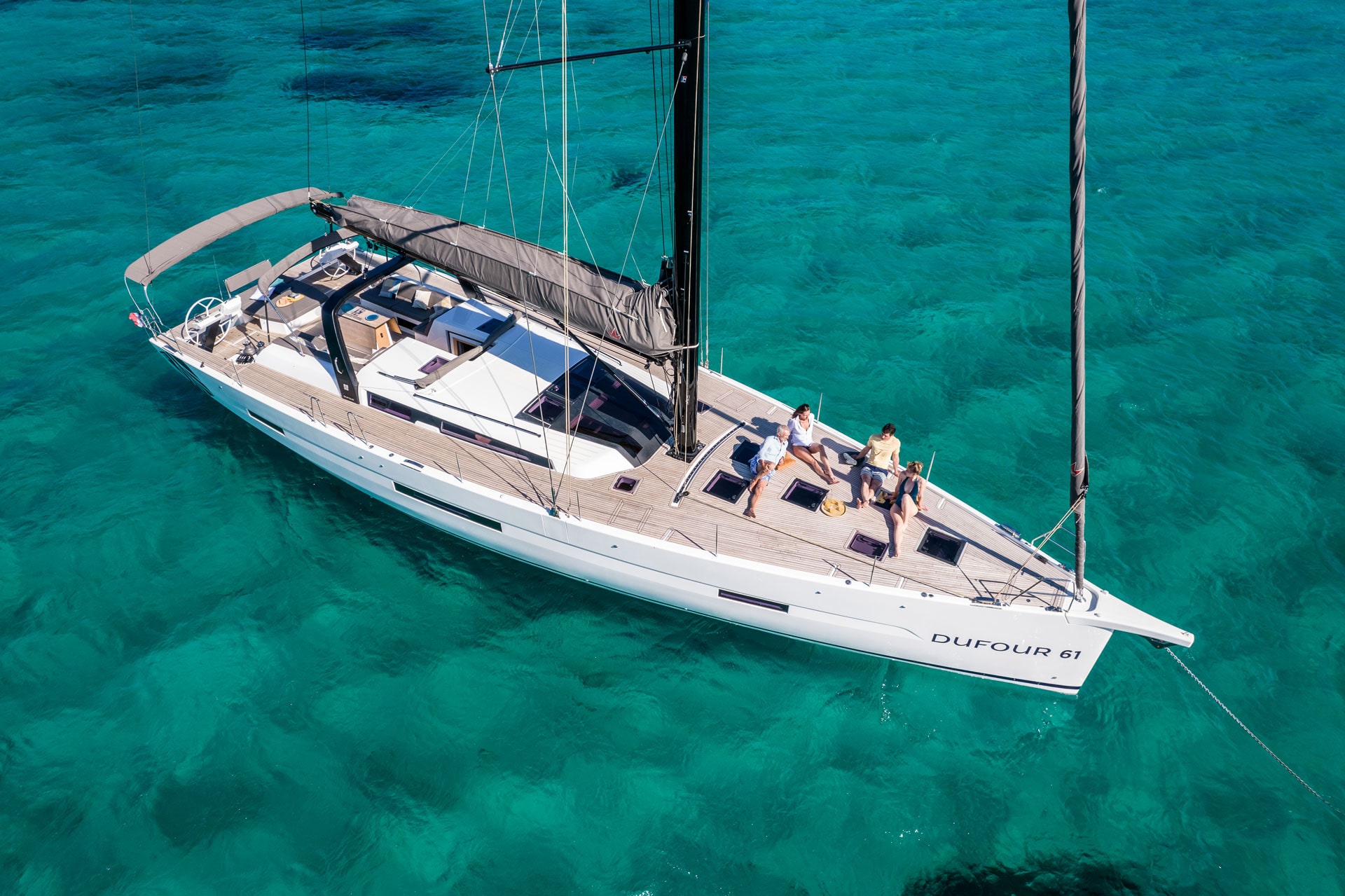 Above: A 2022 Dufour 61 sailboat at anchor in clear blue water. Photo by Dufour Yachts via Stay Nautica S.L. in Barcelona, Spain.
Performance: Strong and Friendly
Dufour yachts look fast and light but feel strong and friendly and that means these big boats can be managed by small crews, often by just an experienced couple. Like her siblings, the Dufour 61stays on her feet in a blow and moves easily through rough seas instilling confidence in her owners. The sail plan is kept simple so there's not much a short-handed crew needs to do to keep her moving smartly. In fact, the most versatile and effective sail plan will include the self-tacking jib for fast upwind tacking and a Code 0 on the sprit for easy downwind work. This big boat will be at home in 15-20 knots of true wind, averaging 9 knots and pointing up to 40 degrees off the wind without feeling overpowered. The fractional rig has a tapered mast with triple spreaders and an air draft of nearly 79 feet (and another six if the performance rig is spec'd).
Engine
The Dufour 61 is powered by a 175-hp Volvo Penta diesel. That's a lot of horsepower which produces 10 knots of speed at the top end. To conserve fuel, expect a reasonable cruise at eight knots. At 61 feet, she's a lot of boat but add the bow thruster and you can easily fit this massive model into tight a slip.
Topsides
Twin helms are set on angled pedestals with large MFDs, instruments and engine controls on stylish binnacles. The mainsheet is attached high up on the arch and two winches are set on either side of the working cockpit where crew can handle sheets and halyards but still stay out of the way of the driver. The leisure part of the cockpit is ahead and has a drop-leaf table with an optional refrigerator inside and wide settees that accommodate comfortable dinner seating or afternoon napping.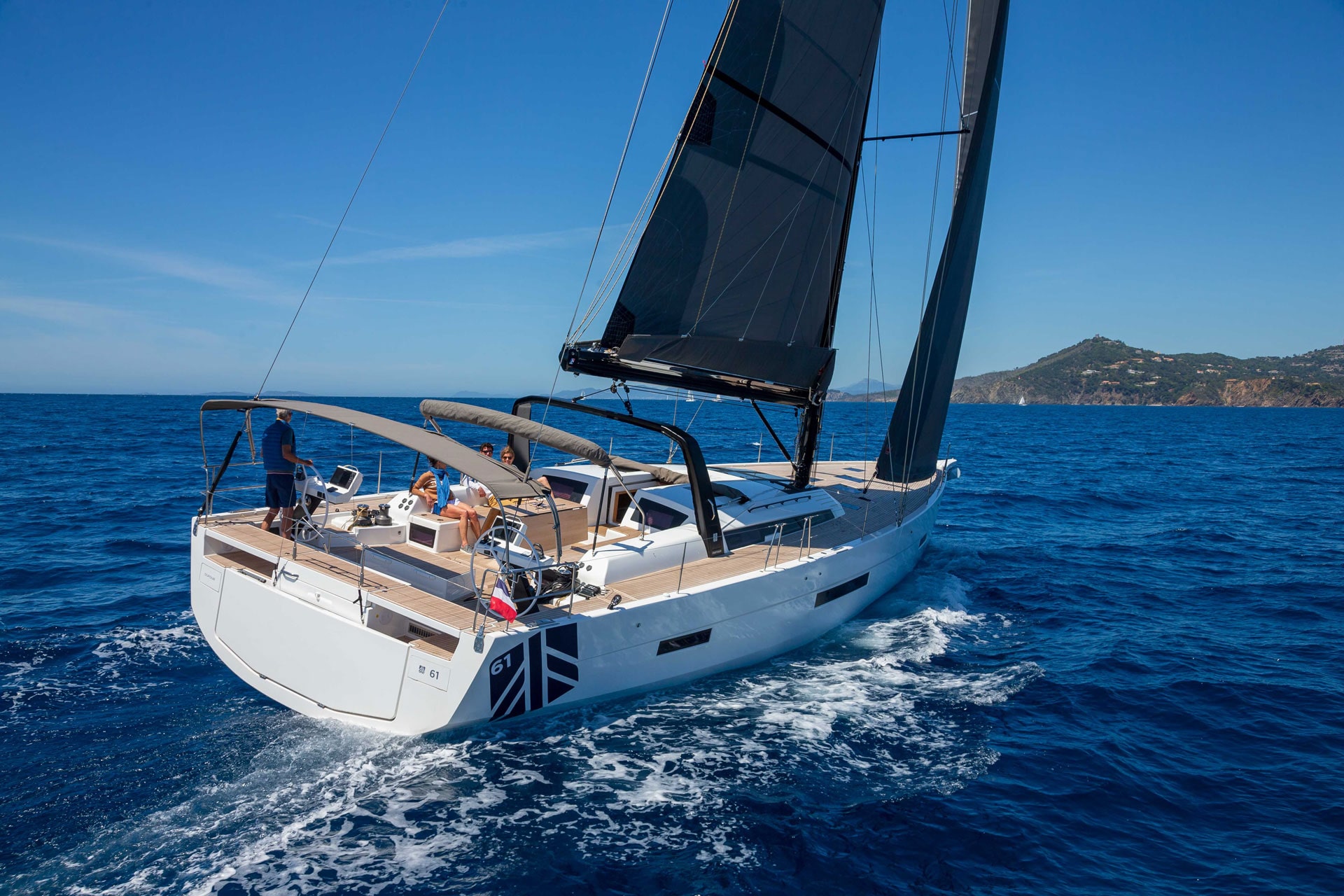 Above: An aerial view of the cockpit and topsides of a 2022 Dufour 61 sailboat underway. Photo by Dufour Yachts via Stay Nautica S.L. in Barcelona, Spain.
Cockpit Layout
So far, this is a fairly standard cockpit layout for a large boat, but Dufour added a spicy extra between the wheels where an optional sunbed lets guests lounge in the middle of the action but out of the way of the crew. An added surprise is that the center section of this sun pad may be raised, making an additional table with forward and aft bench seats. This nearly doubles the dinner seating capacity at anchor.
Aft Cockpit
For great entertaining, add the outdoor galley that's built into the transom where the chef stands on the drop-down swim platform and creates delicious meals at the integrated grill and sink. The transom lowers electrically and reveals a dinghy garage where the tender rests longitudinally. This entire aft section of the cockpit sets Dufour apart from just about any other production boat, adding functionality that often swings the purchase decision toward this brand.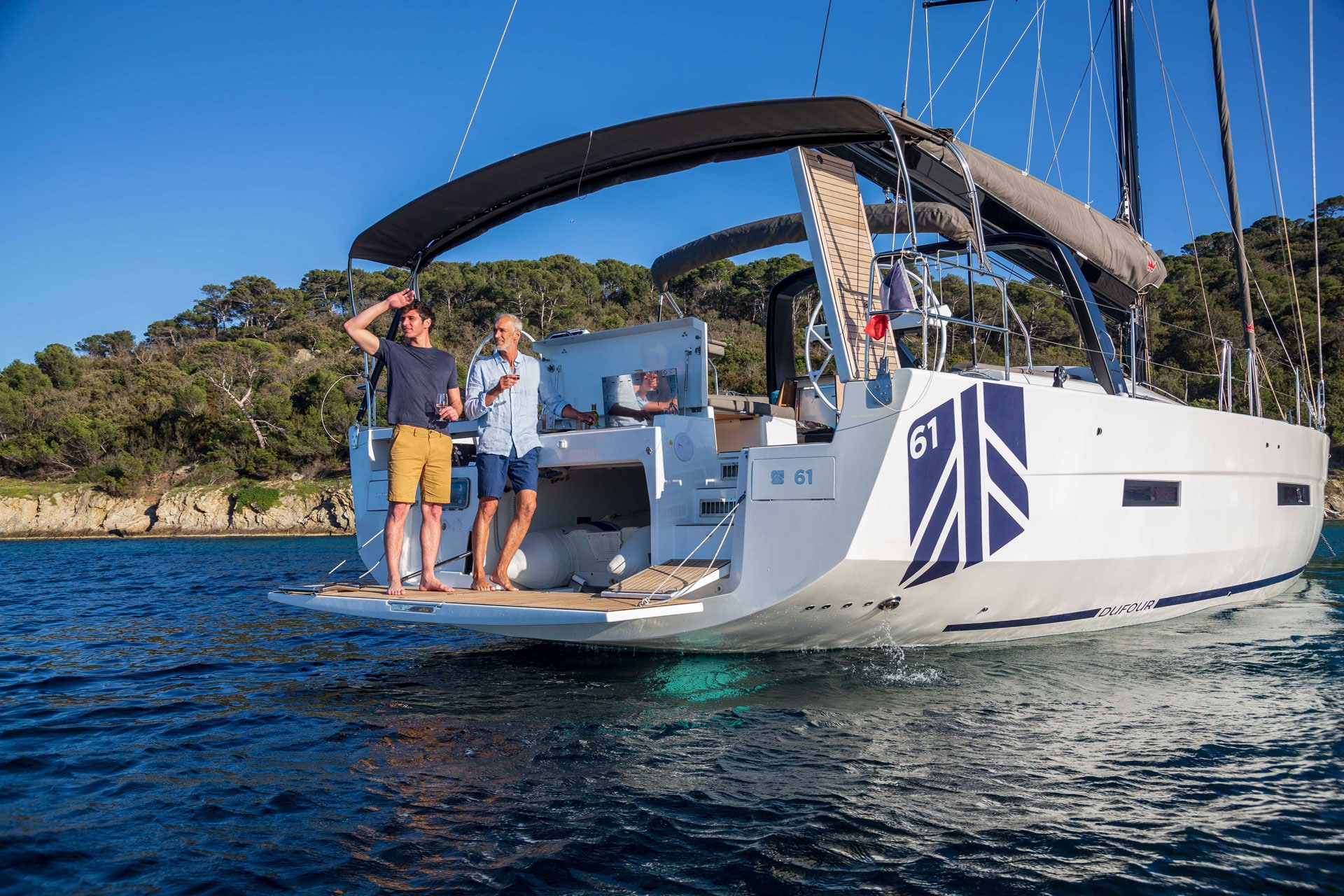 Above: The drop down swim platform on a Dufour 61 sailboat. Photo by Dufour Yachts via Stay Nautica S.L. in Barcelona, Spain.
Cabin Interior: A Versatile Layout
Layout options on the Dufour 61 include 3-4 cabins and 3-4 heads. The standard configuration includes Dufour's signature split galley placed forward in the hull. A double sink, cooktop and refrigeration are to port while extensive countertop space and additional refrigeration is to starboard. The galley is used as a separation between the master stateroom forward and the saloon aft. It accomplishes two things – it provides privacy for the owners and shifts the saloon to the widest part of the nearly 17-foot beam where you'll find an L-shaped dinette and table on port, a U-shaped sofa on starboard, and a forward-facing nav desk also on starboard. Two cabins and heads are aft.
Above: The main salon on a 2022 Dufour 61 sailboat. Photo by Dufour Yachts via Stay Nautica S.L. in Barcelona, Spain.
To mix things up, there are choices in the layout where the galley moves aft to the port corner. This creates a small cabin with a single bed and head behind the galley that's perfect for crew. Moving the galley aft also opens up space forward of the saloon for an over/under double cabin and an additional head. This will be good for large families or charter. There's also a third option to keep half the split galley forward and add the over/under cabin but skip the additional head. In this version, the two aft cabins and heads remain as before. For owners who don't need additional sleeping accommodations, Dufour's traditional split galley will be the most functional and impressive when entertaining.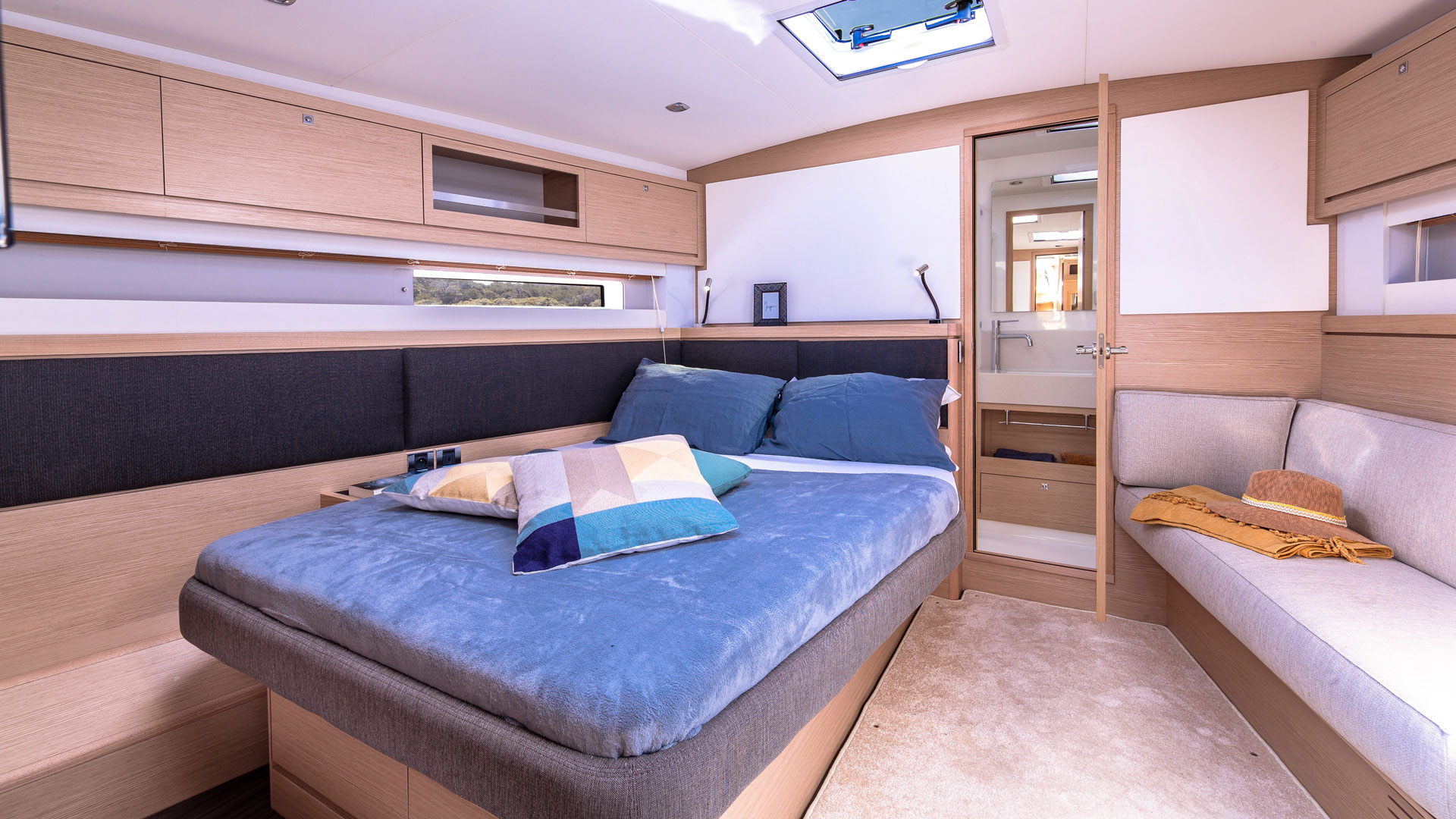 Above: A sleeping berth on the 2022 Dufour 61 sailboat. Photo by Dufour Yachts via Stay Nautica S.L. in Barcelona, Spain.
Triple fixed skylights lie over the galley and ahead of triple opening hatches so there's no shortage of light and fresh air inside. The standard wood finish is light but a darker, more traditional wood is an option. The overall effect of the interior is upscale, with an impressive fit and finish which sets this production boat apart from others in its class.
Overall Impressions
Well-equipped, expect the price of the Dufour 61 to come in around $1.3 million. If that's too steep for your budget, remember there are eight mini-me models below the 61 to choose from. If you're in the market for a sailor-friendly and attractive cruiser that inspires both wanderlust and confidence, you owe it to yourself to check out the new Dufour 61.
Specifications:
LOA: 63′ 1″
LWL: 60' 1"
Beam: 16′ 5″
Draft: 9' 2"
Displacement: 53,279 lbs.
Sail Area: 1,829 sq. ft.
Fuel/Water: 232/226 gallons
Engine: 175-hp Volvo Penta
Related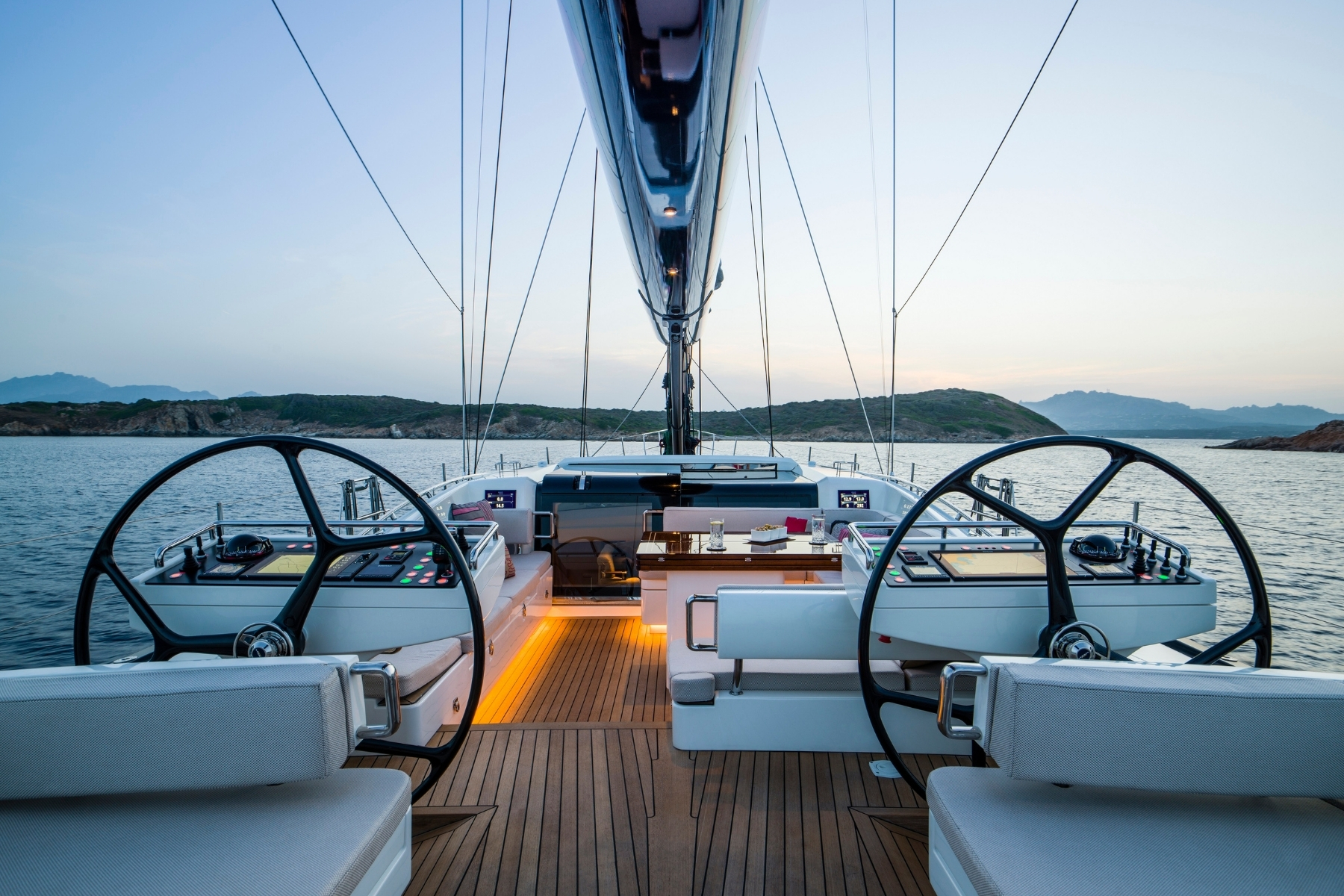 Best Sailing Movies: 33 Top Boating Films To Watch
Check out these not-to-be-missed sailing films and boat movies.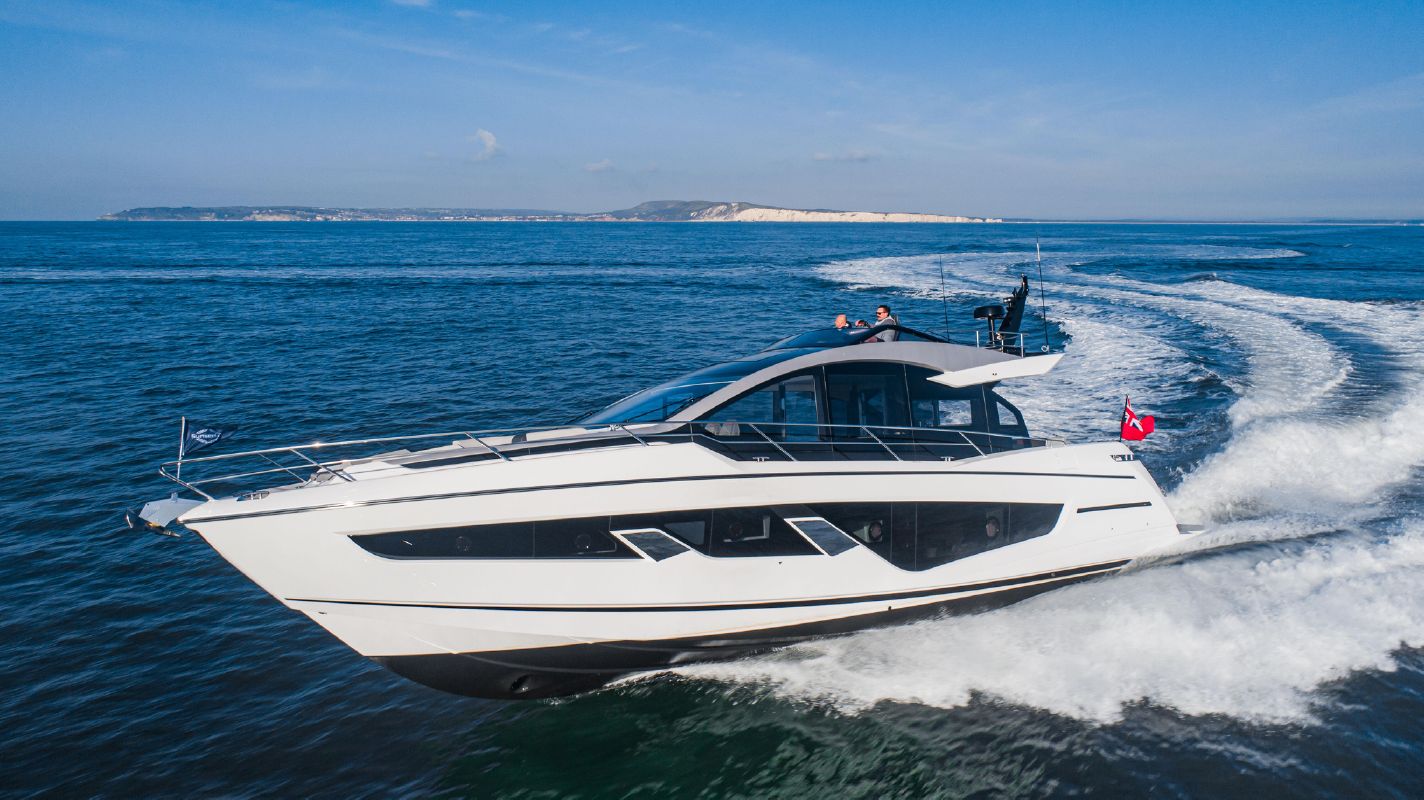 Sneak Peek: 6 Standout New Yachts
A roundup of this season's best new models, straight off the drawing board.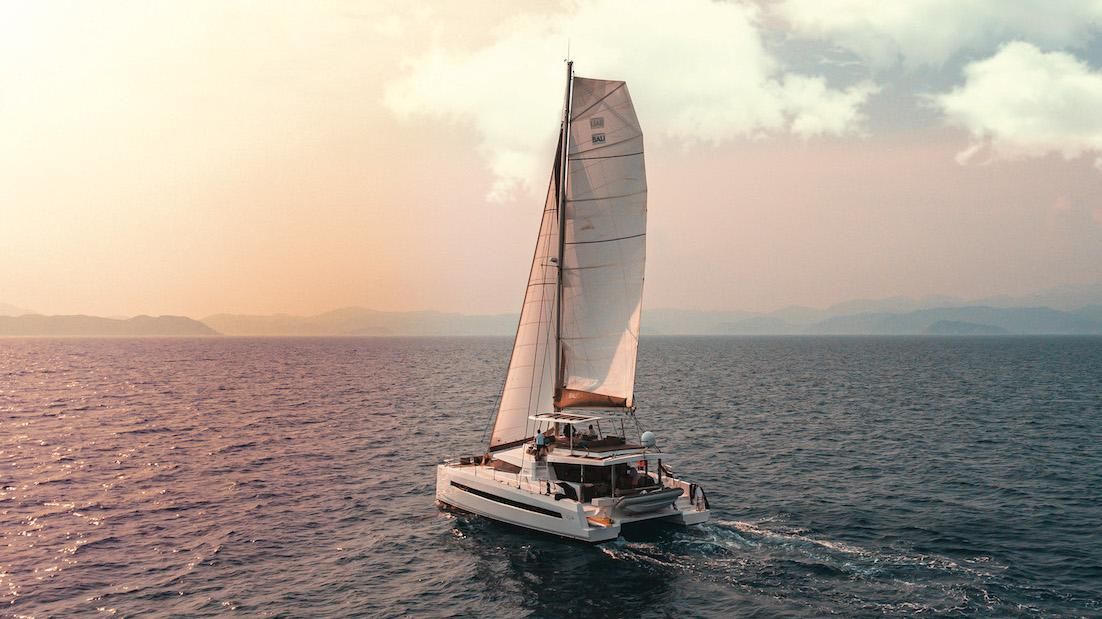 Charter Prep for Beginners
Kevin and Cathy Sebrowski share advice on how to plan a yacht charter.