Dufour Yachts is in in the process of refreshing their entire line of sleek sailboats and the latest to launch is the Dufour 37 which replaces the popular Dufour 360. The new from-scratch design is focused on generating ample social spaces on a compact 33-foot platform and offers spirited sailing to boot.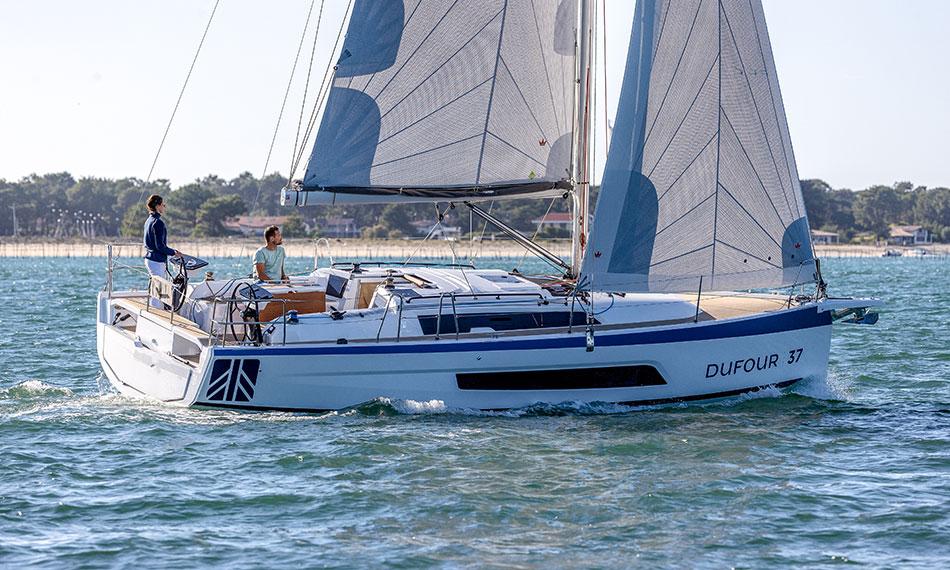 Above: A 2023 Dufour 37 sailboat. Photo via Racine Riverside Marine in Wisconsin. 
Compared to her predecessor, the new Felci-designed Dufour 37 carries more beam that extends nearly all the way aft. She also has a deeper forefoot and fuller bow sections. Not only do these changes give her a powerful-looking profile, with this more buoyant entry, she's also less likely to pound when making way into head seas. Despite her muscular aesthetic, she comes in at only 15,000 pounds of displacement due to Dufour's lightweight, foam-cored infusion construction process.
Rigging and Performance
The Dufour 37 carries a taller deck-stepped Z-Spar mast which was moved aft about a half a foot. This increases the foretriangle and therefore the size of the headsail, and it also captures fresher breezes up high. The total sail area increased by 20 square feet over her predecessor which helps performance, especially in light winds. The standard sail plan includes a self-tacking jib for easy short-handed sailing, but a 108% overlapping headsail by Elvstrom Sails is also available. The most versatile combination includes the self-tacker for tight upwind work and a screecher for easy downwind sailing.
We tested hull #2 of the model on Chesapeake Bay in a perfect breeze of 10-12 knots and on nearly flat water. In 12 knots of true wind, the Dufour 37 slipped along at 6.5 knots of speed over ground (SOG) on a beam reach. We pinched all the way up to 35 degrees apparent wind angle (AWA) where we still held on to 6.1 knots SOG using the small jib. Then we hoisted the gennaker on a top/down furler which we were able to carry up to 60 degrees AWA and the fun really began as we just kissed 7.1 knots.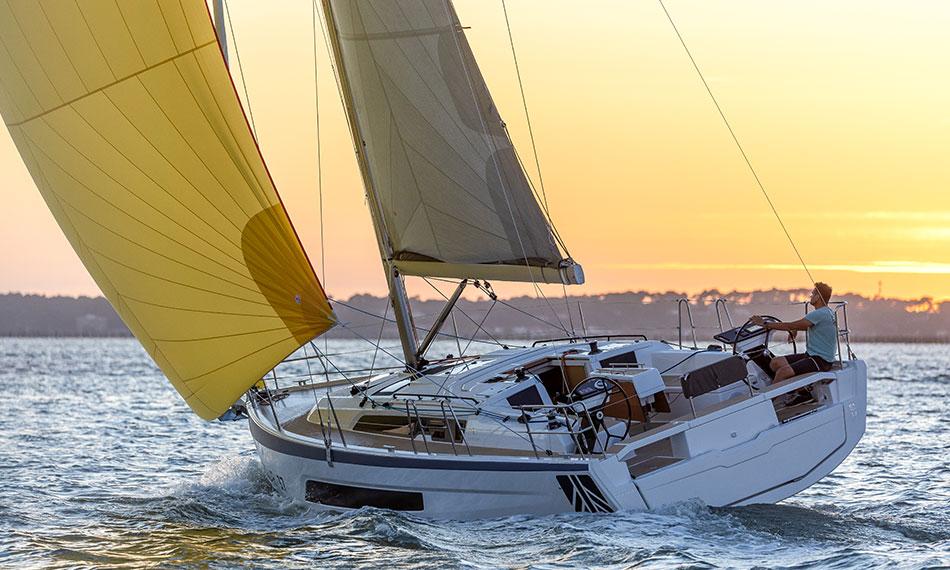 Above: A 2023 Dufour 37 sailboat. Photo via Racine Riverside Marine in Wisconsin. 
Below the waterline, the 37 has a single spade rudder and an L-shaped fin keel with a bulb. The feel at either of the two wheels is snappy and precise. However, due to the ultra-responsive helm, it's easy to overturn this agile boat and hook the tacks as you change direction. Every adjustment you make, the boat immediately follows which rewards a good helmsman but punishes a less experienced one. She's nimble and quick but she stays on her feet even during occasional gusts due to the hard hull chine that lets her heel to only about 18 degrees after which she locks in and accelerates.
Under power, she's just as easy to drive as under sail. The standard propulsion package includes an 18-hp engine, but our test boat was equipped with the upgraded 30-hp Volvo Penta diesel that had us powering at 6.5-knots at 2100 rpm. The top speed was 7.8 knots at 3100 rpm. A SidePower bow thruster is a surprising option on such a small model, but it came in handy when docking in a cross breeze.
On Deck
A svelte sprit adds LOA to a hull that is actually just around 33 feet long and not 37 as the name suggests. The sprit makes a good attach point for the screecher and it moves the anchor forward and away from the hull where it could cause dings as it swings. A Lewmar electric windlass is on deck buy there's no on-deck access to the anchor locker so the only way to manage the chain is via an opening in the master cabin which can be a pain if the chain piles up. At the other end, there's a drop-down transom that forms a nice swim platform and also serves to elongate this compact model.
The cockpit is massive for a boat of this size. Twin benches and a large folding table with handholds are just ahead of two sleek angled binnacles that hold the twin wheels and Raymarine electronics. So far, this is a fairly standard cockpit layout but the new model has added a delightful plancha grill and sink, both of which are integrated into the transom. A Dufour trademark on larger models, this summer galley is an unexpected and impressive feature on a boat in this class.
Interior And Accommodations
A surprise welcomes you when you descend the companion way steps. Those full hull sections and the extra beam on deck translate to extra volume below and it's striking how commodious this boat feels inside. The master stateroom is forward with a split entry door that when open, makes the boat look five feet longer than its actual length.
To port is a small L-shaped galley with a double sink, a two-burner stove, a microwave and a top-loading refrigerator. Four adults can enjoy meals around the large dining table which is oversized, much like the one in the cockpit. And good news for oenophiles, Dufour's signature feature – bottle storage integrated below the cabin sole – made it to this model as well.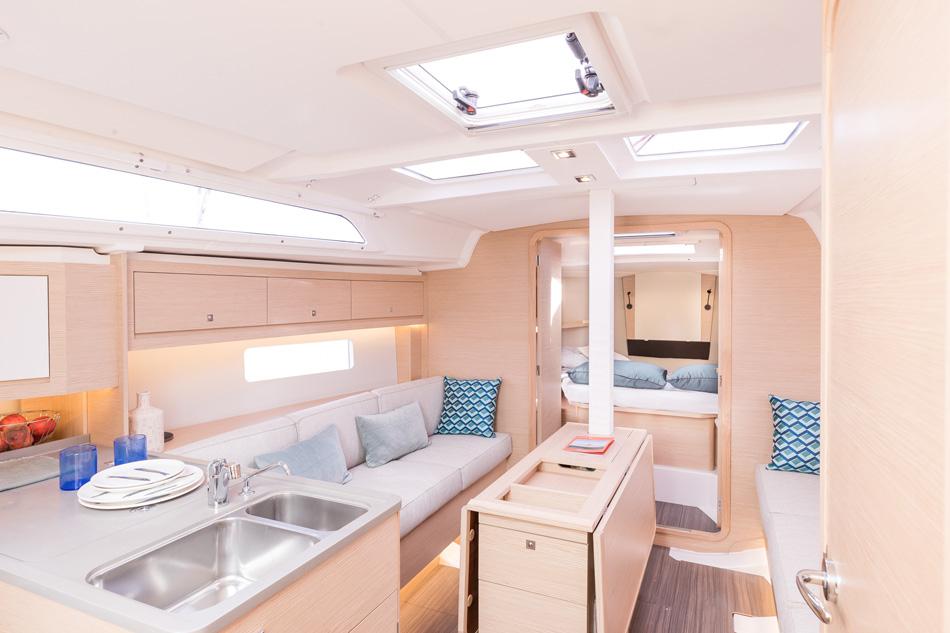 Above: The cabin interior of a 2023 Dufour 37 sailboat. Photo via Racine Riverside Marine in Wisconsin. 
Available layouts include a choice of two or three-cabins and a single head. When two cabins are spec'd, the third cabin aft on starboard (which is also accessible via the cockpit bench above) becomes a large space where to stow provisions, tools and more. Another benefit of the two-cabin layout is that the head becomes larger and a small nav desk is added to the aft end of the starboard salon settee. American tastes will most likely gravitate to the two-cabin selection.
Dufour has a new trick for space expansion that includes the use of inflatables to create extra bedding. The port salon settee may be made into an additional bed when an inflatable insert cushion is added. The same cushion works in the cockpit to expand the lounging space of the bench. There's even an inflatable sunbed on the bow which can be removed when racing or sailing into heavy weather.
So Much, For So Little
The Dufour 37 is offered in three outfitting "packs". The Easy pack offers standard equipment but the Performance and Ocean versions add extra equipment including additional winches for easier line handling, an adjustable backstay, and so forth. The new model delivers greater comfort, more usable space and better sailing performance than her predecessor and does so in a smaller overall package which comes in at just around $180,000. That's a lot of boat for not much money.
The Dufour 37 may be only 33 feet on deck, but it feels like much more boat both inside and out. Feel it for yourself if you're in the market for an affordable, fun boat that can dial in your helming skills and excels at both weekending as well as club racing.
Specifications:
Length (LOA): 35' 4"
Beam: 12' 6"
Draft: 6'3"
Displacement: 14,874 lbs
Ballast: 4,100 lbs
Sail Area: 646 sq ft
Power: 18-hp Volvo Penta diesel (30-hp as tested)
Designer: Felci Yacht Design
Builder: Dufour Yachts/ dufour-yachts.com
View Dufour 37 sailboats for sale now on YachtWorld
Related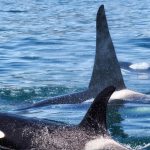 Nick Giles' Face To Face With Rudder-Thieving Orcas
Category:
Cruising Under Sail
Imagine sailing solo, chased by a a pod of orca whales.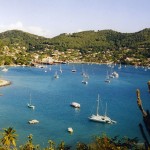 10 Top Charter Boat Destinations In The Caribbean This Winter
When chartering a boat in the Caribbean, don't miss these island destinations.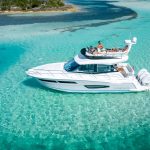 Yacht Designs And Boat Hull Types
A deep dive into all the different types of yachts, from pocket yachts to superyachts and everything...