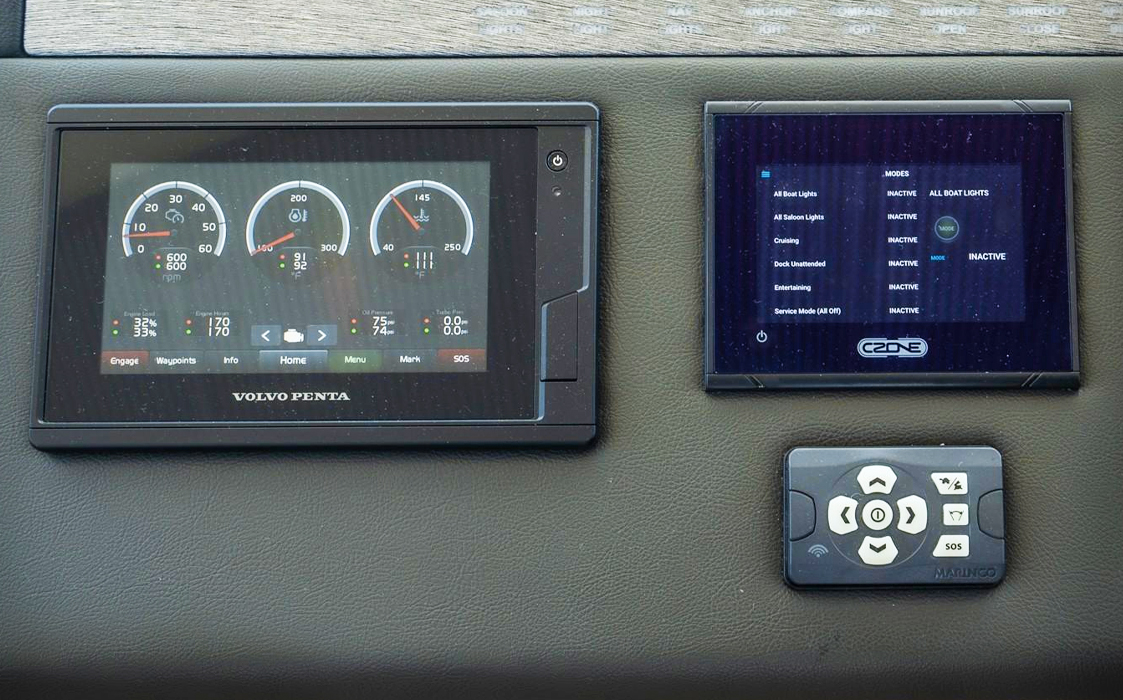 Rocker switches and buttons are becoming an endangered species on boats as digital switching continues to proliferate throughout all segments of the recreational marine market. What is this technology and is it for you?
What is digital switching?
Digital switching replaces standard mechanical contacts, fuses, wiring harnesses and bus bars with electrical impulses sent over an NMEA2000 or Ethernet backbone and eliminates most of the switches on a dash or in a dedicated circuit panel. With a simple interface via either a standalone or multifunction display (MFD), you can monitor and command systems like lighting, climate control, wipers, stereo, security systems, bilge pumps, generator starts, etc.
Digital switching is networked control and monitoring that's programmable (unlike conventional circuit breakers) and can be interfaced with from any point on the network or via a remote tablet. In its purest form, digital switching is simplification and integration.
What Are The Hardware Components?
The overall system is fairly simple. Digital circuit control modules support multiple circuits via the NMEA2000 network or Ethernet and connect to a display. These physical modules are connected to the main bus and are mounted near the equipment they control, which reduces the wiring and cabling due to short runs. The master control unit is the central processor that drives the system.
10 Benefits Of Digital Switching
The technology has been around aviation, automotive and industrial applications for a long time and now it has come to boating.
1. Digital Switching Improves Aesthetics
Fewer switches have led to cleaner helm consoles providing room on the dash for larger MFDs that are easier to see and operate. These systems also reflect the way we live today. Our cars have had digital switching for years and smarthomes that can turn on lights, A/C, alarms, entertainment, and more, are based on similar technology and are already familiar to us. The change to digital is being driven by expectations. We want our boats to be equipped with apps and interfaces that we already use and recognize.
2. Digital Switches Manage Complexity And Cost
Digital switching helps manage complexity and cost making it ideal for boats that have multiple helms. It also makes an electrical or electronic system easier to troubleshoot. Software updates and system upgrades are easier, problems are more quickly diagnosed, and repairs may be faster.
3. Digital switching reduces build costs and weight. Less wiring with smaller gage wire, fewer bulky switches and shorter wire runs reduce cost of materials as well as simplify installation with fewer holes drilled and connections made. Boat builders can build boats more quickly and affordably and the result is also lighter so there's the potential for the boater to save fuel and money.
4. Flexibility, Reliability And Scalability
Digital systems are more flexible and expandable and although there's more initial planning needed by the boat builder, once a template is set, it's easily replicable. By eliminating or reducing the number of mechanical switches and corrosion-prone connections the systems also become more reliable, and the systems are scalable, which is why these solutions are now migrating down market into smaller and simpler boats.
5. Monitor Every Aspect Of A Vessel
With digital switching, nearly everything can be monitored from batteries, bilge pumps, and tank levels to the engine temperature all via advanced sensors. This adds to the element of safety with the ability to turn on courtesy lighting before stepping aboard.
6. Highly-Customizable
Owners can decided how to customize their digital switching controls. Let's say you want the lights on before you arrive – you can do that on a virtual timer. Digital switching also enables the dimming capability, which hasn't been the norm on boats.
7. Smarter Boat Captains
Alerts can be built into the system to highlight a circuit that isn't working properly like a bilge pump. You know what's going on with the boat without leaving the helm. Additionally, groups of switches can be combined into programmable modes activated by a single touch. A Fishing mode can simultaneously turn on the baitwell pumps and fridge while a Beach mode puts the lights, stereo, and electrically activated swim ladder to work.
8. Easy To Learn
Virtual buttons can appear on multiple screens so you don't have to hunt for them in the menus. Icons and animation make the interface more user friendly as well as personalized and safer.
9. Digital Remote Control Features
You can "talk" to your boat via marina WiFi or a cellular connection on a tablet or phone. So if you forgot to activate the security system when you left the marina, just do it from home.
10. Digital systems promote redundancy and may be safer. In case of catastrophic failure, critical systems retain a mechanical override so running lights, bilge pumps and generators are still operable.
5 Downsides Of Digital Switching
As with any new technology, there are issues. Here we round up the top 5 issues with digital switching today.
1. High Level Of Interconnectedness
Due to this integration, a failure in the backbone can take the whole boat system down. (However, as mentioned above, critical systems remain hardwired so you can still get home.)
2. Difficult To Retrofit
Yes, you can rewire an existing boat but it will most likely require tearing out all of the old systems as well as furniture, storage areas, etc. It will likely be quite costly and time-consuming so unless you're rewiring a superyacht, it may not be worth adding these features to an older boat.
3. Robust Electrical Requirements
Digital systems require electrical systems with plenty of healthy battery power. If the entire system is connected to one display and that MFD goes down, then the interface may be gone. If you have a dead ship with nothing left in the batteries, you may need to start the engine(s) or generator.
4. Not Ideal For Everything
Challenges remain because not all devices are designed to be "smart" and thus don't have the capabilities to become a part of a digital system solution.
5. Learning Curve
Digital switching system interfaces or "virtual switches" may seem intimidating and require a learning curve at first. For those unfamiliar with a new system, it's easier just to reach for a switch to turn on the lights.
How Widespread Is Digital Switching?
Within five years, 80% of boat builders will offer digital switching and in 10 years, that's likely to rise to 100%. The functionality has been around for more than 10 years and the reach of the technology is widening. No longer just for superyachts, digital switching has reached down to cruising sailboats, center console fishing boats, and even pontoon and tow boats.
What Builders Are Incorporating Digital Switching On New Models?
Some manufacturers charge a premium for digital switching while others make it mandatory since they don't build the old-fashioned anymore. Boat builders such as Jeanneau, Prestige, Sea Ray, Scout, MasterCraft, Ranger and Boston Whaler all offer models with some level of digital switching.
Another facet that has changed besides market proliferation is the service network to support these systems. More electronics dealers are becoming certified to diagnose and troubleshoot digital networks so the fear of being stuck without support is decreasing.
Basically, all market segments (regardless of how small or simple the boat) are expected to offer digital switching soon. There's room for improvement within the technology in the user interface with better icons and menus becoming more friendly and reflective of the real world.
Who Are The Main Providers Of Digital Switching Systems?
There are many players in the digital switching space. Swedish company EmpirBus was first distributed by Raymarine but is now a part of Garmin. SeaStar Solutions targets smaller vessels and Simrad runs off Naviop, the Italian brand that was purchased by Navico, parent company of Simrad, B&G and Lowrance. Europe has quite a few digital switching providers and the US is way behind in this respect.
Most of the market share in the US lies with CZone, whose parent company is Power Products (BEP Marine). CZone was first seen on large yachts but they've since captured much of the smaller boat segments including multiple Bass boat models. Even lake fishing is about to get very high tech.
Digital Switching – A Brave New World
Boats today are being asked to do more in the same dash real estate. Digital switching helps with this as well as with installation in tight spaces. Boaters are willing to pay a premium for elegance and simplicity so whether you love it or hate it, digital switching isn't just coming, it's here and with it comes a brave new world.
Related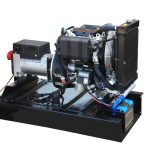 Gen Sets: Best Boat Generators In 2020
Matching the right generator to your boat's needs is one of the biggest decisions a yacht owner can...