Bluewater Sailing Professional Hannah Brewis
Professional Sailor Hannah Brewis is a Cruising Instructor and AQP First Mate for Seattle in Clipper Round The World Race. Rather impressive when you consider that she is only 25 years of age. She also completed her YachtMasters aged 21. For a woman who claims she "Enjoys letting mother nature do her thing," she is remarkably in control of her destiny.
Hannah's love of sailing began with spending her weekends on a dinghy in the bucolic countryside of Rutland, England, where she taught dinghy sailing. After graduating from school, her adventurous spirit led her further afield, where she spent her summers in France teaching sailing and skiing during the winter. After three years of teaching and mastering her sailing skills, Hannah undertook an intensive three-month course in the Isle of Wight and achieved her Yachtmasters. Outnumbered by men, she was the only female in the group. Always striving for a challenge, her YachtMasters qualification put her in the perfect position to work as a flotilla skipper the following summer. Hannah didn't take any downtime during low season, instead she stayed and worked on boat maintenance and servicing refitting. This skill would later become incredibly useful for managing boats offshore for long stretches. She became relatively self-sufficient (as much as one can be offshore) and can quickly identify what needs fixing, "That doesn't always mean that I can fix it myself", she adds modestly.
Next on Hannah's horizon was a cruising instructor course which helped her to swoop the role of First Mate for the Seattle Round The World Race, a circumnavigation of the globe led by professional skippers enabling amateur crews to join in on one or more legs. Here are a few lessons that Hannah has learned along the way.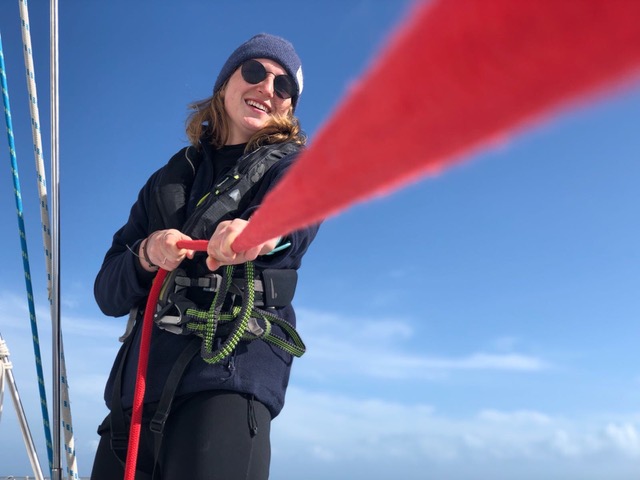 Hannah Brewis doing her YachtMasters training in the Isle of Wight. Image via Hannah Brewis.
Bluewater Cruising: Hannah's Pearls Of Wisdom
Preparation And Planning
The nature of sailing is that anything can change at any minute. But if you have a good plan and consider a range of possible situations and outcomes, then when events unfold, you are prepared, helping you to stay calm.
Getting To Know Your Boat
Before you go offshore, you should use your boat locally countless times. You should know exactly how it handles, and manoeuvring it around should feel second nature.
Often going into a marina is when things can go the most wrong! Consider hiring a skipper for a week. Their extensive experience will help you to get the most from your boat. Skippers can talk you through man overboard procedures, power handling and manoeuvring in and out of marinas.
Weather Forecasting
Weather forecasting is very reliable these days. There is a lot of detail available, and forecasts are updated globally every six hours. You can also find that forecasting is done days in advance, allowing you to make a plan in advance and make sensible decisions along the way. And if you do then get caught off guard, it is critical to know your boat and crew and how to handle it.
Sailing Trips: Build on Your Experience
Every sailor should be able to control and enjoy a basic sailing dinghy before stepping behind the helm of a cruising sailboat. Don't let the size of the vessel fool you. Smaller sailboats require more attention to weight distribution and proper sail trim to avoid being overpowered. Begin by using local knowledge for locally placed trips.
Start with becoming competent on sailing day trips, then try extended journeys across long weekends by taking local short crossings. Coastal sailing is much harder to master, because there's more to learn, but once you do, the freedom of sailing in the ocean is incredibly liberating.
Navigation: Do Not Take Technology For Granted
While instances whereby you lose your GPS are rare, it can happen (and has happened to me), so never take technology for granted. Many people assume you won't need manual navigational skills. There's a general sense of when you're trained to navigate using nautical charts because technology is reliable. They think they will look at the tides on their phone, but you could easily drop your phone in the sea. While we rely heavily on technology for navigation, never take it for granted because you know you can lose it all instantly. We recently lost a few communications due to a solar flare in the Bermuda Triangle. Entirely unexpectedly, there was a brief eruption of radiation from the sun's surface. Luckily, we got through it by recalling traditional navigation methods.
Skipper On A Cruise
The best way to go from a competent leisure sailor to an expert is by spending a season working as a skipper. While courses are great, gaining experience in various scenarios, in different locations, and on a range of boats is invaluable. You can polish your skills and transition from leisure sailor to expert.
When Things Go Wrong, You Learn
When something doesn't go to plan, it's a problem-solving opportunity you can take to learn from. The moment you get complacent on the water is when things go wrong.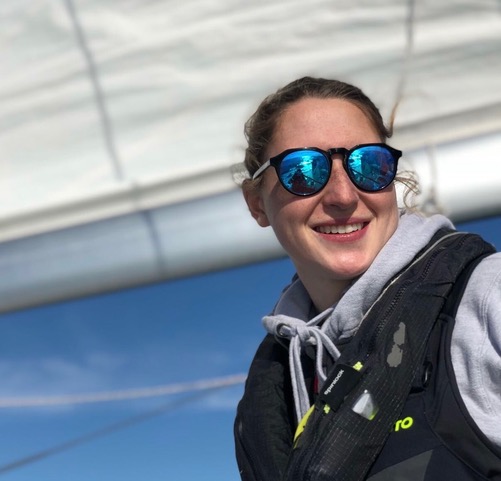 Sailing across the Pacific. Image via Hannah Brewis.
Getting Fit
Whatever type of boat you sail, whatever your age and level of fitness, all sailors can benefit from an improvement in strength, agility, and endurance. You can do that through exercises, but getting out on the water is the best way to keep fit. There are particular muscle groups involved that will be used time and time again. People are always surprised by how physically demanding sailing is. On the boat, you are constantly moving, and you're never flat. It takes a lot of strength and endurance. Even moving from your bunk to the galley requires using your body. On a boat, you are constantly using and moving your arms (we're usually clinging on) and legs. It's a very intense upper body workout. Hauling sails around for big for these is particularly good for a sailor's core. However, on a yacht, aerobically, you become terribly unfit. After crossing the Pacific, I remember struggling to climb a flight of stairs!
Bluewater Cruising: Boat Buying Recommendations
Size-wise, I would recommend staying in the ballpark of 40 feet. Mainly for the convenience of easily maneuvering in and out of marinas and squeezing into tight spots. It's also far easier to maintain a small boat.
Two of my personal favorite boatbuilders are Grand Soleil and Hallberg-Rassy. These boatbuilders put their love, pride and time into every component of the boat, unlike larger boatbuilders, who churn models out quickly. However, one of the advantages to going for a prominent boat builder is that they're straightforward to get parts for because there are lots of models in circulation. Therefore lots of people are familiar with them.
It can be difficult to source replacement parts if you choose a very small boat builder. Grand Soleil and Hallberg-Rassy are a good middle ground and a perfect sweet spot between achieving quality craftsmanship while being relatively easy to fix.
My "Pinch Me" Sailing Moment
After a long, arduous trip, finishing it by sailing into New York via the Hudson River was epic and filled the crew and me with a strong sense of reward. Seeing these iconic buildings by sailboat made me take a quiet moment to step back and enjoy the view, something I have a propensity not to do. As I am in charge of a crew, I always consider the next step. I must consciously remind myself to enjoy being in the moment and soak up the stunning scenery.
Are You Considering Becoming A Professional Skipper?
To be a professional skipper in a serious race, you've got to be competitive and comfortable with making decisions that not everyone agrees with. You have to be able to explain to a team the reasons why you have made that decision so that they can understand and get on board with it.
Ready For A Circumnavigation?
With no previous sailing experience necessary, The Clipper Round The World is a record-breaking 40,000 nautical mile race on a 70-foot ocean racing yacht. It is the only race in the world where the organizers supply a fleet of identical racing yachts, each with a fully qualified skipper and first mate to guide the crew safely. The journey is divided into eight legs and between 13 and 16 individual races. You can choose to complete the full circumnavigation or select separate legs.
The Clipper Round The World is a safe and reputable organization. It's a safe and exciting way of circumnavigation. The Clipper Race is one of the biggest challenges of the natural world and an endurance test like no other.
If you are interested in learning more about sailing by reading our bluewater cruising and sailing guide.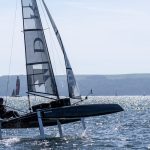 Drift Energy's hydrogen-powered yacht propels the marine industry into a clean-energy future.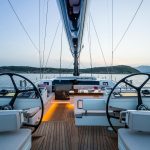 Check out these not-to-be-missed sailing films and boat movies.