Introduced last summer, the 60 Cantius made a splash as the largest in Cruisers Yachts' trend-setting line of modern cruising boats, beginning at 41 feet. But it's more than just a big sister—the 60 brought a new coupe styling to the range that looks fast and does an excellent job of making good on the Cantius tagline "bringing the outdoors in". At the same time, it maximizes its potential in the twin roles of accommodating a crowd of family and friends by day or just you, your partner, and one other couple by night.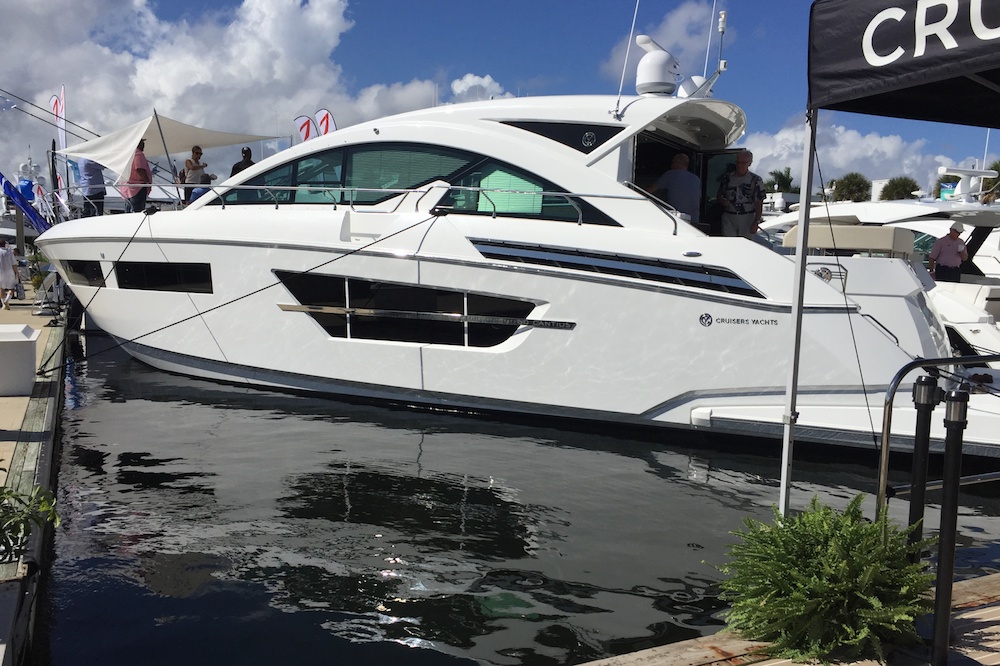 In our test, on the inland waterway near Palm Beach, Fla., we found the 55,000-pound boat easy to maneuver with its twin 725 HP Volvo-Penta IPS 950 diesel pod drives. It was also faster than we expected, topping out at 33 to 34 knots depending on wind and current variables. Cruising speeds were in the low to middle 20s, with a four knot bump in speed from 22.5 to 26.3 knots when ramping up from 2000 to 2200 rpm. Increased to 2300 rpm, we were going closer to 30 knots.
In tight quarters, standing at the joystick near centerline, we had extraordinary visibility in all directions, which naturally raised our confidence level as we spun the 60-footer in its own length. We'd also recommend the (optional) extra joystick on the starboard side of the aft cockpit, which aided in the docking process.
We didn't run a full performance test of the boat in the waterway, but were interested to see Cruisers' test data indicate that the number of nautical miles achieved per gallon was close to the same whether running at 1400 rpm or 2500—about half a mile per gallon.
What's perhaps most striking about the 60 Cantius is what it doesn't try to do: there's no big dinghy garage or aft crew quarters, and on the boat we tested, no effort was made to shoehorn in a third cabin. Nor did the designers try to add additional galley space belowdecks; instead, they took full advantage of the daylight pouring into the atrium from overhead, while making as much room as possible for the master and VIP staterooms. The 60 has been designed as a self-captained, two-couple weekender in its class without compromise.
The other truly distinctive quality we absorbed in spending time on this model was its distinctive social spaces, all set on one level. Forward on the bow, the sun lounge offers space and versatility, whether you want full sun or shade from a temporary awning. The brightly lit main saloon, which can be opened wide, both overhead and at its aft end, has enough room for cooking, lounging, dining and even driving the boat. But perhaps our favorite space was the convertible aft cockpit sunpad/al fresco dining area, which blends smoothly into the galley/bar area. The aft sunpad probably won't be used as much as the more expansive sunning stations forward, but underway and out of the wind, it could be the perfect alternative.
The price tag for this vessel (around 2.4 million, well-equipped) is not insignificant, but you get a lot for your money. If you'd like to consider a similar boat that's a step lower in price, Cruisers introduced a new 54 Cantius early in 2016, which you can preview in this First Look Video that we shot at the boat show in Miami.
Earlier models in the Cantius range, all of which we've reviewed on video, include the 48, 45, and 41.
Specifications: LOA: 59'10" * Beam: 16'0" * Draft (hull): 4'2" * Displacement: 55,500 lbs. * Fuel Capacity: 647 gal. * Water Capacity: 149 gal.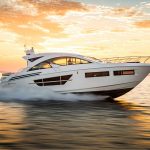 Ryan McVinney reviews the 2023 Cruisers Yachts 60 Cantius, with a video tour.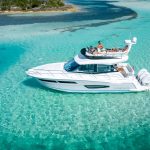 Check out our top five motor yachts under fifty feet.