The latest full-on race boat from Nautor's Swan has the capability to shift modes and become a performance cruiser that can be handled by just two people.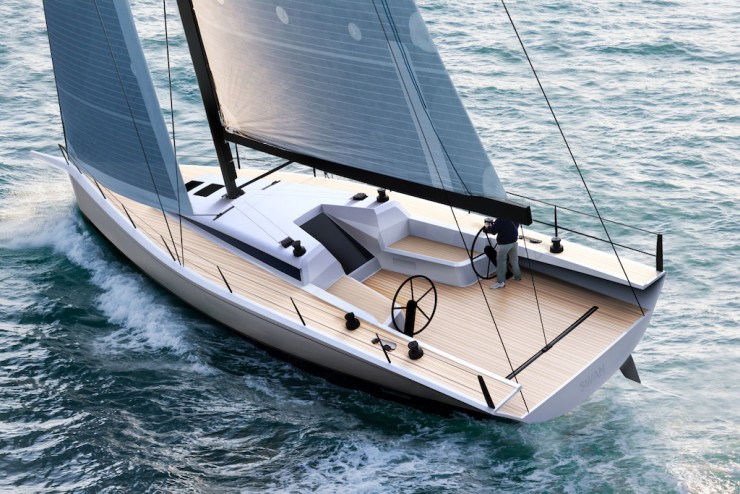 Key attributes
The Club Swan 42, Swan 45 and Gazprom Swan 60 are three one-design performance racing sailboats from Nautor's Swan that have been successfulin attracting both top-level owners and professional crews. The new Club Swan 50 is no exception, providing an innovative and quick boat that follows this deliberate Nautor's Swan concept.
The styling is eye catching, thanks to an impressively crisp, yet efficient, deck layout with as many lines as possible concealed out of sight. The low freeboard hull carries maximum beam almost right aft and features a reverse bow, reverse sheer, concave aft sections and soft chines allied to lots of topsides flare in the aft sections.
The boat has a semi-modular interior accommodation belowdecks that makes conversion in a secondary role as a performance cruiser. For this boat, Nautor turned to a different naval architect, entrusting the provocative and successful Juan Kouyoumdjian to create a vessel with the ability to win in handicap racing, while also providing one-design racing at Swan events around the world.
On deck and performance
Although the almost 19,000 pounds displacement is heavier than the latest generation of TP52s, planing performance can still be expected downwind. The structure is made of Gurit's carbon and epoxy Sprint laminate, while both spars and the fixed bowsprit are carbon fiber.
A combination of deep draft, a heavy bulb keel and twin rudders will help to tame the power from the big rig. The sail plan has a fat-head mainsail and running backstays—a configuration that's optimized for racing; however, when cruising shorthanded, in light winds the sweptback spreaders allow the runners to be positioned at the mast, while in heavier breezes, once two reefs are tucked in the mainsail, the leech will pass happily inside the runners in tacks and jibes.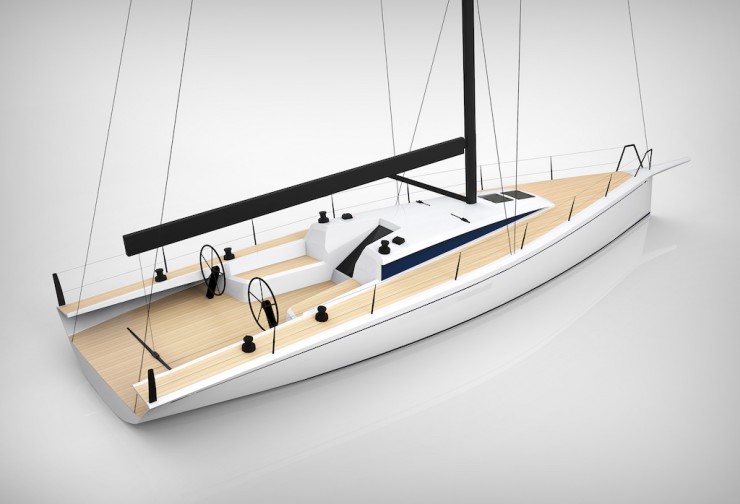 The big cockpit provides a decent amount of room for a full crew to work the boat around a tight inshore race course—it's significantly better in this respect than that of mainstream performance cruisers of a similar size.
Below decks
Although it's designed primarily as a weekend sailor, the interior offers a level of comfort and refinement that makes cruising a feasible proposition for a couple or small crew who are happy to trade interior volume for a boat with stunning sailing performance. There's a spacious double owners cabin, with a peninsular double berth in the forepeak that can be removed to make space for sail stowage when racing. There's also a smaller double quarter cabin for guests.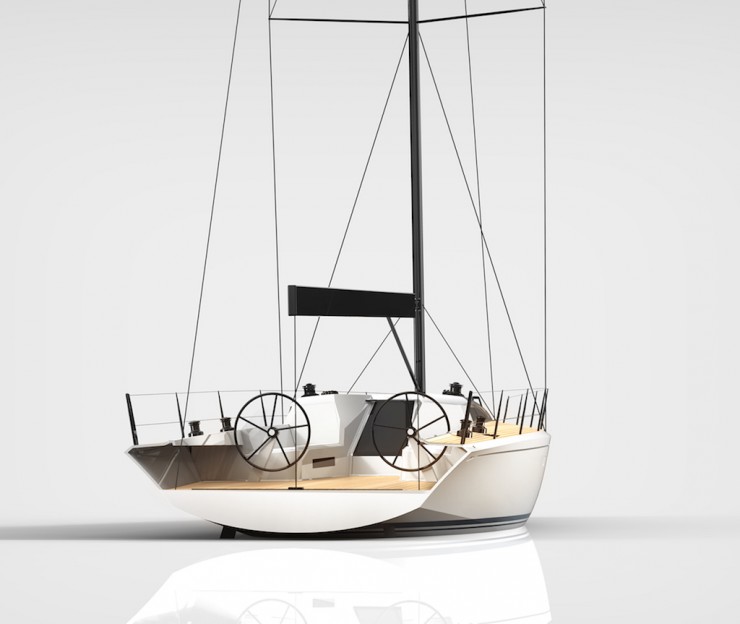 The saloon features two generous L-shape settees, the backs of which hinge up to make additional sea berths for use when racing offshore. There's also a small but well designed galley, aft on the starboard side of the boat, plus a well-appointed head compartment and shower stall forward of the saloon. As expected of a race boat, the ends of the vessel are kept open to minimize weight—when in cruising mode this gives the benefit of extensive stowage space, including a large lazarette aft and a sail locker forward.
Equipment and options
The Club Swan 50 has a number of labor saving features on deck that would not normally be found on a high-end race boat of this size. For instance, in place of a coffee grinder for handling headsail and spinnaker sheets are conventional electric winches, the headsail has an under-deck furling system and there's a weight-saving synthetic teak deck as standard. In cruising mode, optional cockpit cushions with rigid back supports transform this area into a comfortable lounging space. Additional options include a bow roller and windlass, while there's also an optional shoal draft keel, with a draft of just 7.2′ in place of the standard 10.99′.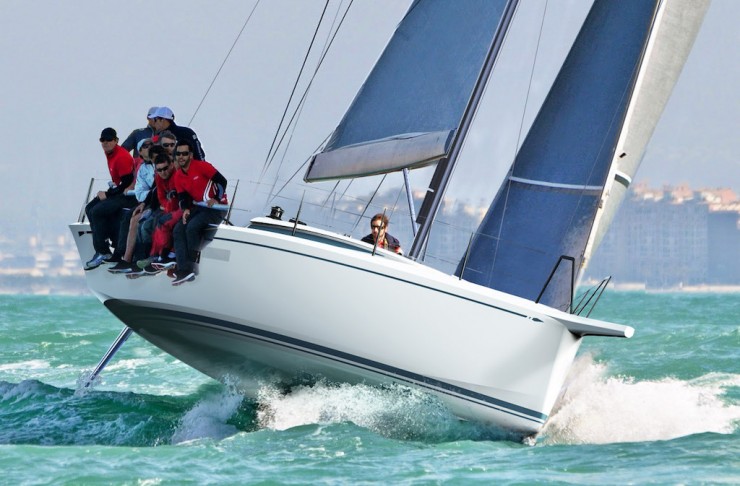 What it does best
This is an interesting new design that is likely to appeal predominately for those who want to race at a very high level in high profile events held at the world's top sailing destinations. History suggests that these owners mostly don't use their race boats for cruising, but the attention paid to creating a boat that can convert to a fast cruiser also has clear appeal and may improve resale value.
Compromises
In the past, Nautor has been accused of succumbing to the temptation to put too much fine interior framing in its out-an-out racing yachts, resulting in an unnecessarily heavy boat, or a reduced weight of lead in the keel's bulb; however, the company doesn't appear to have fallen to the same temptation with this model—while there's adequate comfort when needed, and plenty of style, there's no unnecessary weight.
Other models in the range
Nautor's Club Swan range includes the older Swan 45 and 42 models, as well as the Gazprom Swan 60. The company's main Swan Line performance cruiser racers range encompasses seven models from 54ft to 115ft.
Alternative boats
When buying a Swan you're not only getting a top-quality yacht, you're also buying into an ecosystem of world-class regattas around the globe that arguably no other manufacturer can match. Having said that, X-Yachts also runs a successful regatta program and its Xp50 model is clearly an option. While aimed at the racing market, it has a comfortable and fully fitted interior, though it is significantly heavier than the Club Swan 50.
Given that owners of Nautor's new boat will race predominately with professional crew, an option for those who seek genuinely high-octane racing and don't need the boat's sports cruising potential would be a TP52. Alternatively, at a significantly lower price point, there's the McConaghy Ker 46, a well proven and hugely successful design but without the cachet of the Swan's regatta program.
Hull No. 1 launched in July, 2016
For more information, visit Club Swan.
Specifications: LOA: 50′, Beam: 13' 7", Draft: 10'9", Displacement: 51,809 lbs, Sail Area: 1,410 sq. ft.
Related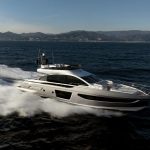 S7 Sports Yacht: A New Member Joins Azimut's Family Of Low-Emission Yachts
Find out about the latest boat debuts in Boot Dusseldorf without having to attend.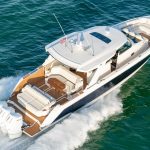 Tiara Yachts 48 LS Boat Review
Ryan McVinney reviews the 48 LS, the biggest outboard powered boat Tiara has ever built.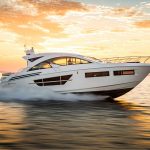 2023 Cruisers Yachts 60 Cantius Walkthrough Boat Review
Ryan McVinney reviews the 2023 Cruisers Yachts 60 Cantius, with a video tour.