Part of the charm of owning an older vessel is the history that accompanies it. It's the stuff of great pub talk and usually, much admiration on the docks. Few vessels survive to transform from their original purpose into sailing as a yacht but the nobby, originally developed as a shrimping trawler, is one design that is still out there plying the waters, racing, and turning heads.
The Lancashire nobby was developed in Morecambe Bay as an inshore fishing boat to sail around the northwest part of England near Isle of Man. The first designs, which were used to fish for pink and brown shrimp, were built by William Crossfield in 1840 and were built well into the 20th century until Crossfield's yard closed in 1940. The original nobbies ranged in size; 25 to 32 feet for single-handed boats and 36-45 feet for two-man boats. The model evolved and other builders developed their own versions including the Manx nobby that first appeared in 1880. However, the original Crossfield nobby carried on as a pole-masted cutter with a gaff topsail for decades.
Designed to trawl in shoal waters, the Lancashire nobbies had low freeboard aft but high bows to make them seaworthy in open water. They were built of larch below the waterline and pitch pine above. Oak was used for decks and beams and by the mid-1880s, there were nearly 150 of these "prawners" around Morecambe Bay.
By the early 1900s, as fishing under sail was disappearing due to the introduction of the marine engine, some of these boats were built to be yachts. One such vessel was Nahula, later renamed Molly. She was built in 1914 and raced across the Irish Sea on numerous occasions and today survives due to a restoration by her current owner. Molly is 32 feet long and has the trademark long bowsprit that makes nobbies so recognizable. Her interior was updated a bit and she also has a single diesel engine, so getting around isn't as difficult as it was a hundred-plus years ago.
In 1987, the Nobby Owners Association was formed to actively promote one-design races and preserve this type of classic sailing yacht. Molly is for sale and is lying in Barcelona, waiting to benefit from the support and enthusiasm of a new owner—an owner who will have bragging rights in the pub as well as at the marina and on the bay.
Related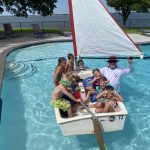 How to Get Children Into Sailing: From Signet To Swan
15 top tips and advice on how to make sailing fun for your children.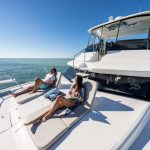 Aquila 42 Power Catamaran: A Cruising Sweet Spot
Category:
Power Catamaran
A new power catamaran model launches Aquila right into the cruising sweet spot.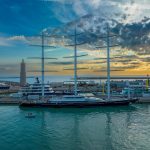 Maltese Falcon Yacht Refit: Sustainable Superyacht Facelift
For optimal efficiency, you should get a refit schooner rather than later.