Orion of the Seas is one of very few megayachts with a history almost as long as its LOA. The 162' long twin-masted schooner rolled out of the Camper & Nicholson shipyard in Gosport, United Kingdom in 1910 and was christened Sylvana. Rumor has it that the vessel was commissioned for the Spanish royal family. Over the next century, she was known under five different names and was cared for by 12 meticulous owners, one of whom followed her for 30 years before acquiring her and funding a complete, two-year refit beginning in 2003. With a full restoration to her historic glory, but with modern updates including twin Caterpillar engines and new generators, Orion of the Seas was launched to once again sail the Mediterranean in style.
This sailing yacht has a hull built of teak and oak planking on steel frames, and her superstructure is largely teak. Her restoration was a multi-million-pound project involving the rebuilding of the whole hull upper works and systems. The hull planking was removed and the bare steel frames were re-galvanized and painted. New teak and iroko hardwood planks were bolted on as the yacht was rebuilt from the keel upwards. Finally, her mahogany interior was returned to its original splendor by skilled craftsman and she was, once more, fit for a king.
Her beam is an impressive 24 feet and she draws nearly 14 feet which means her crew needs to pick their ports carefully. With her new engines, Orion of the Seas has a top speed of 13 knots and can cruise under power at 11 knots. Under sail, she can reach 10 to 12 knots and is a sight to behold, a majestic ship that dominates any harbor she visits.
Orion of the Seas can carry up to 10 overnight guests housed in the full-beam master suite and four en suite guest staterooms. Eleven professional crew may be accommodated to provide guest services, and with that kind of guest/crew ratio, it is sure to be a luxury cruise. The yacht has regularly appeared on racing circuits for vintage megayachts such as the Veteran Boat Rally in 2001. She has earned the nickname "Pearl of the Mediterranean" and now this jewel of maritime history is located in Italy—and is ready for a new owner.
See the Orion Of The Seas listing.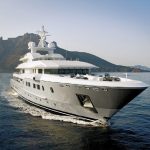 Join hosts Ryan McViinney and Emma Coady as they tour around Kogo.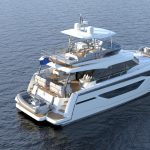 Here's another sneak peek of six new power and sail designs.