How can you smoke a Cigarette in a fun and healthy way? That's easy: fill your lungs with fresh, salt air aboard a smokin' 515 high performance boat from Cigarette Racing Team! We recently had that opportunity to hop onboard Cigarette's newest performance-oriented flagship model in Biscayne Bay – Cigarette's stomping grounds since 1967, back when Don Aronow founded the iconic brand on Miami's notorious Thunderboat Row. Since his untimely death, his famous reputation for founding not only Cigarette Racing Team (named for a prohibition rum runner who consistently outran the law in his boat, "Cigarette") but also Formula, Donzi, Magnum and US Racing, continues to live on, embodied in the spirit of the new 515.
Above: Join YachtWorld and boat reviewer Marilyn DeMartini along with Chief Marine Group onboard a brand new Cigarette 515 high performance boat for a full walkthrough and quick sea trial. 
Cigarette Racing Team History
Cigarette built its reputation in the 1960-80s racing circuit, winning over 350 international races, 11 world championships, 25 US championships and breaking numerous speed records. Don Aronow embodied the characteristics of his boats–athletic, strong, sexy and handsome, and that image continues today as the company was recently purchased by entrepreneur John Ruiz, after Skip Braver had built the company for nearly twenty years, bringing the infamous brand back to famous with strong business practices.
The successful business operation drew the attention of luxury brand investor and developer, Ophir Sternberg, who approached Braver about acquiring the company–even though it was not "for sale." Sternberg also spoke with Ruiz about a deal and when he arrived at his Miami home to discuss the offer and saw five Cigarettes parked at Ruiz' dock, he knew he had the right partner. When Ruiz learned Cigarette was the subject company, he wanted no one else involved and he and Sternberg consummated the deal and became the ownership team of Cigarette Racing Team.
While the new owners have great plans for Cigarette including increasing its technology, adding a personal watercraft and 120' yacht to the model lineup, they are also working to bring parts and service in-house under the direction of Mindi Doller, previously a Cigarette dealer who sold Ruiz many of his Cigarettes and serviced them as well. Miami-based Lipship Performance is the longest standing Cigarette dealer in the U.S. and Chief Marine Group is the newest, covering the Florida Keys.
2022 Cigarette 515 Vessel Overview
The new 515 is the current flagship model for the builder and is the largest of the Cigarette performance line, expanding on the 50' Marauder by over a foot in length and beam. Constructed largely of carbon fiber for less weight and vacuum-bagged hand-laid fiberglass, the boat is just heavy and stiff enough to feel solid on the water, but also agile to track well, handle smoothly and achieve 125 mph top speed with comfortable, enthralling cruising at 90 mph.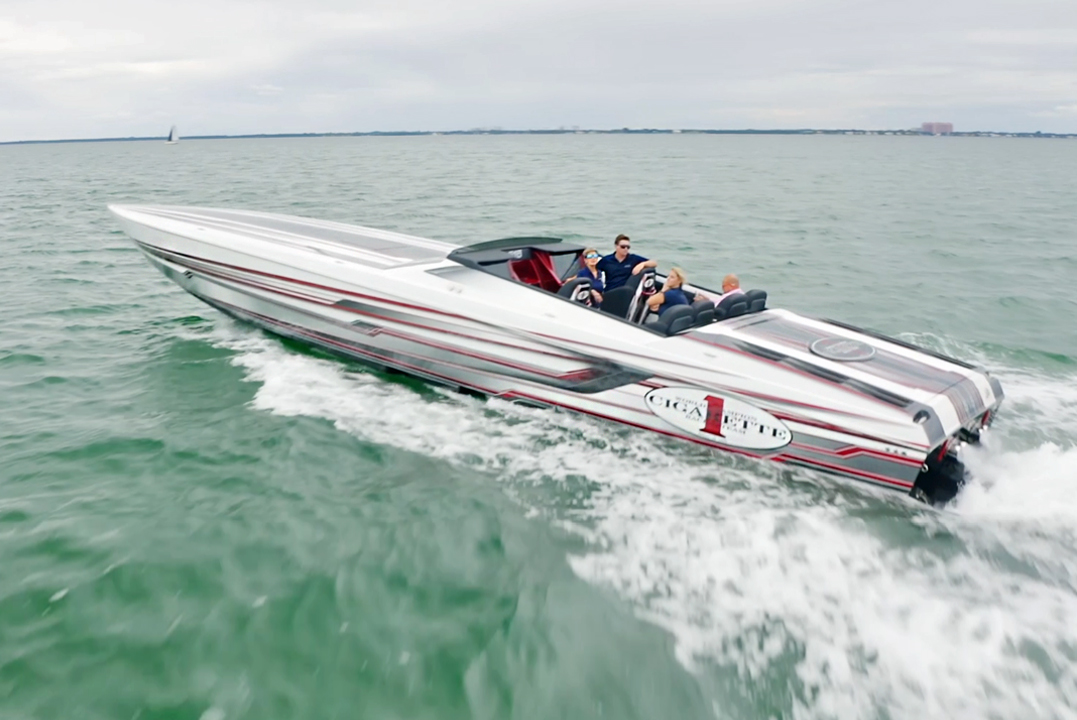 Above: A 2022 Cigarette 515 high performance boat on the water during a sea trial with YachtWorld and Chief Marine Group. Photo by Victor Nappe for YachtWorld.
Engine And Power Package
Above: The engine compartment on a Cigarette 515 high performance boat. Photo by Victor Nappe for YachtWorld.
The staggered Mercury Racing 1100-1350 HP inboard engines give the boat all the power it needs running on 91 octane fuel and the increase in horsepower is done with a turn of special key located under the dash. This technology is paired with Garmin 24" screens at both the driver and passenger side of the cockpit and a JL stereo system that is powerful without an overage of speakers as each speaker and subwoofer is strategically placed for efficiency and volume.
Mark Morris of Visual Imagination designed a large 3-D logo on the engine hatch with carbon fiber air-brushed accents throughout. The engine cowlings match the exterior paint and the engine hatch hinges match the CNC seat supports – light, strong and anodized in deep red. This engine hatch is strong, light weight and functional, exemplifying aesthetics while reducing weight for overall performance.
Cockpit Design And Style
Above: Marilyn DeMartini shows viewers the interior cockpit design onboard the Cigarette 515 high performance boat. Photo by Victor Nappe for YachtWorld.
The in-house built upholstery includes custom embroidery on the "cool breeze" fabric which even though dark in color, does not absorb heat. The front electric bolster seats are mounted on CNC-machined aluminum triple anodized supports with matching grab handles, which glow with a deep red that is incorporated into the black, red, silver and gray linear paint scheme also developed by Mark Morris. He created the design to complement the shape and lines of the boat, making it look even longer and sleeker, blending what he called Cigarette's "old school" classic look with a modern twist.
The 515 deck applies a carbon-fiber, vacuum bagged sandwich construction to provide high rigidity at a lighter weight – over 1.7x more flexural rigidity than typical construction methods. As the highest point on the boat, special consideration was given to keeping the deck light weight to optimize performance dynamics of the boat.
The four rear upholstered seats are carbon-fiber-backed, providing passenger comfort – and an extra seat not found in many powerboats. Non-skid floors add extra passenger comfort and the electrical sliding cockpit steps provide access to the bow deck and open to provide entry to the cabin.
Under the rear seats there are integrated cockpit tubs. These are drained so they may be used as a cooler, and have a gutter to help keep things dry if used for dry storage.
Helm Layout And Features
Above: Marilyn DeMartini at the helm controls of a Cigarette 515 high performance boat. Photo by Victor Nappe for YachtWorld.
Like the engine hatch, the dash is also carbon fiber, as are the air-intakes which were specially designed for this boat. The consoles use a "glass-cockpit" dash assembly which recesses 22" touch screen Garmin multifunction displays with GPS and Mercury integration for engine data. The switches are lighted push buttons; IP67 rated for extreme durability. The stainless steering wheel features Cigarette's custom embroidery on the center cap.
Interior Cabin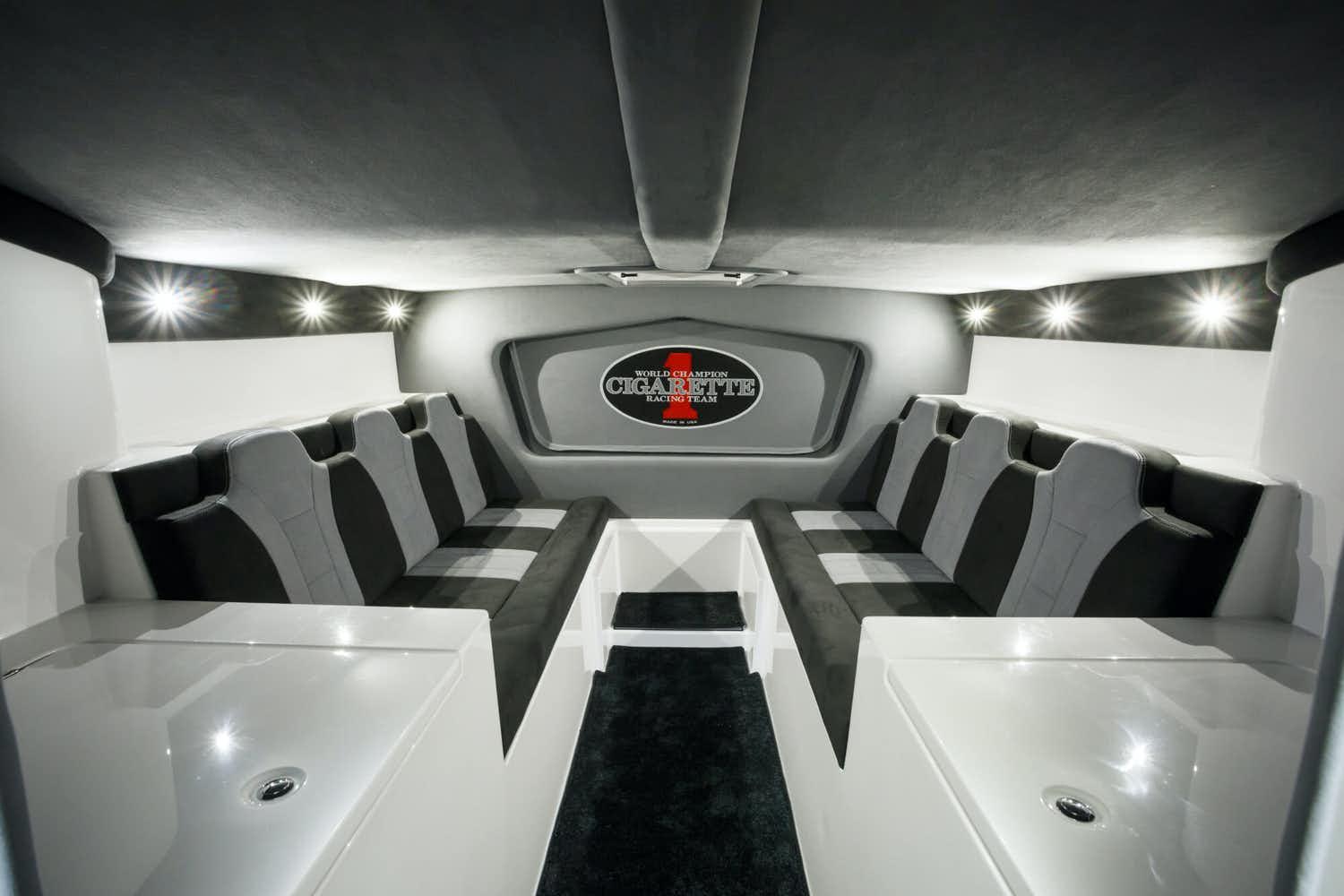 Above: The interior cabin onboard a Cigarette 515 high performance boat. Photo via Top Gun Yachts in Miami, FL. 
The 515 offers a spacious cabin down below with more head room and a comfortable seating arrangement due to its deeper hull design and spacious 9'6″ beam width. The added width also provides for a more accommodating cabin door width and roomier steps accessing the forward deck of the boat. The simple, bench seating for six (3 on either side) adds a little respite from the weather or wind when needed, as well as fender and accessory storage, a cooler and electrical panel access. Plus there is an optional marine head contained in the cabin.
While Cigarette has enjoyed much success expanding from traditional powerboats to a broad range of performance center consoles from 39-59', the name Cigarette will always be associated with traditional "go-fast" boats that built the name, the reputation and the loyalty that stands today. Smoke 'em if you got 'em!
Specifications:
LOA: 51'5″
LOA WITH DRIVES: 53'11"
BEAM: 9′ 6″
DRAFT: 38″
WEIGHT: 14,112 lbs.
FUEL CAPACITY: 278 gallons
DEADRISE: 24 degrees
FREEBOARD: 59″
AIRDRAFT: 5′ 8″
HEIGHT: 9′
View Cigarette 515 boats for sale now on YachtWorld.
View all Cigarette boats for sale on YachtWorld.
Related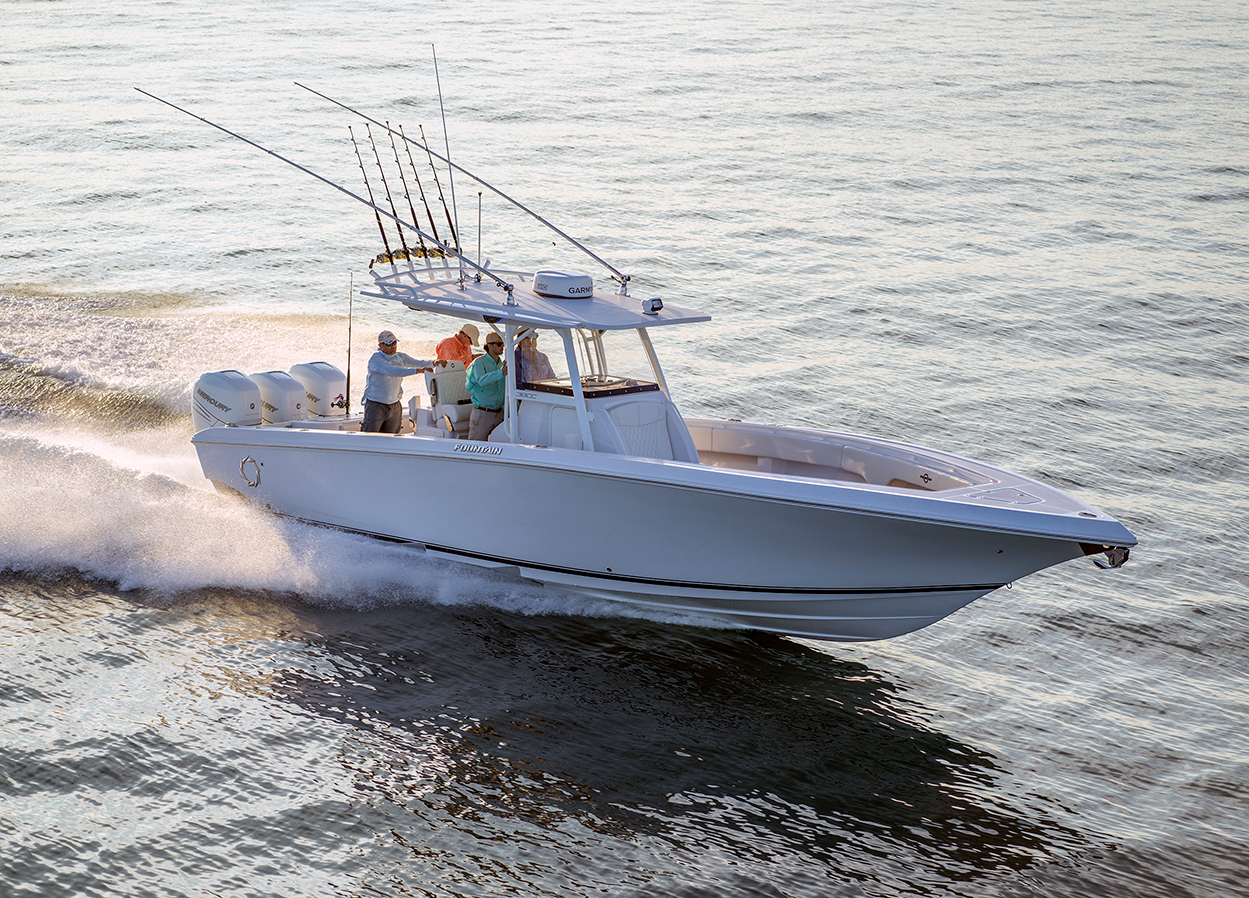 The World's Fastest Center Console Boats
An in-depth round-up of some of the fastest performance center consoles on the market in 2022.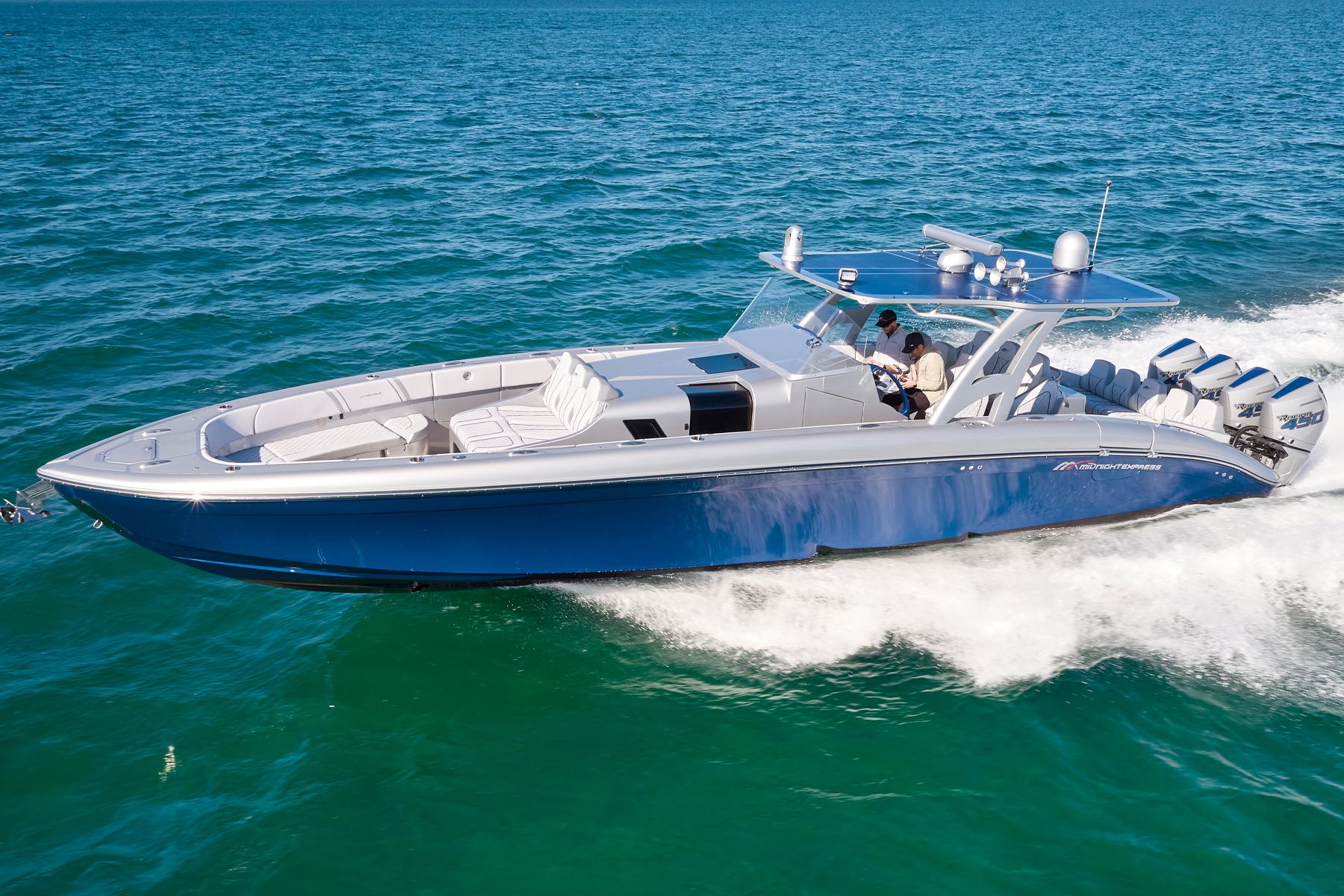 2021 Midnight Express 43 Solstice: A Blazing Fast Center Console
Fast, luxurious and accommodating the 2021 Midnight Express 43 Solstice is an impressive center console...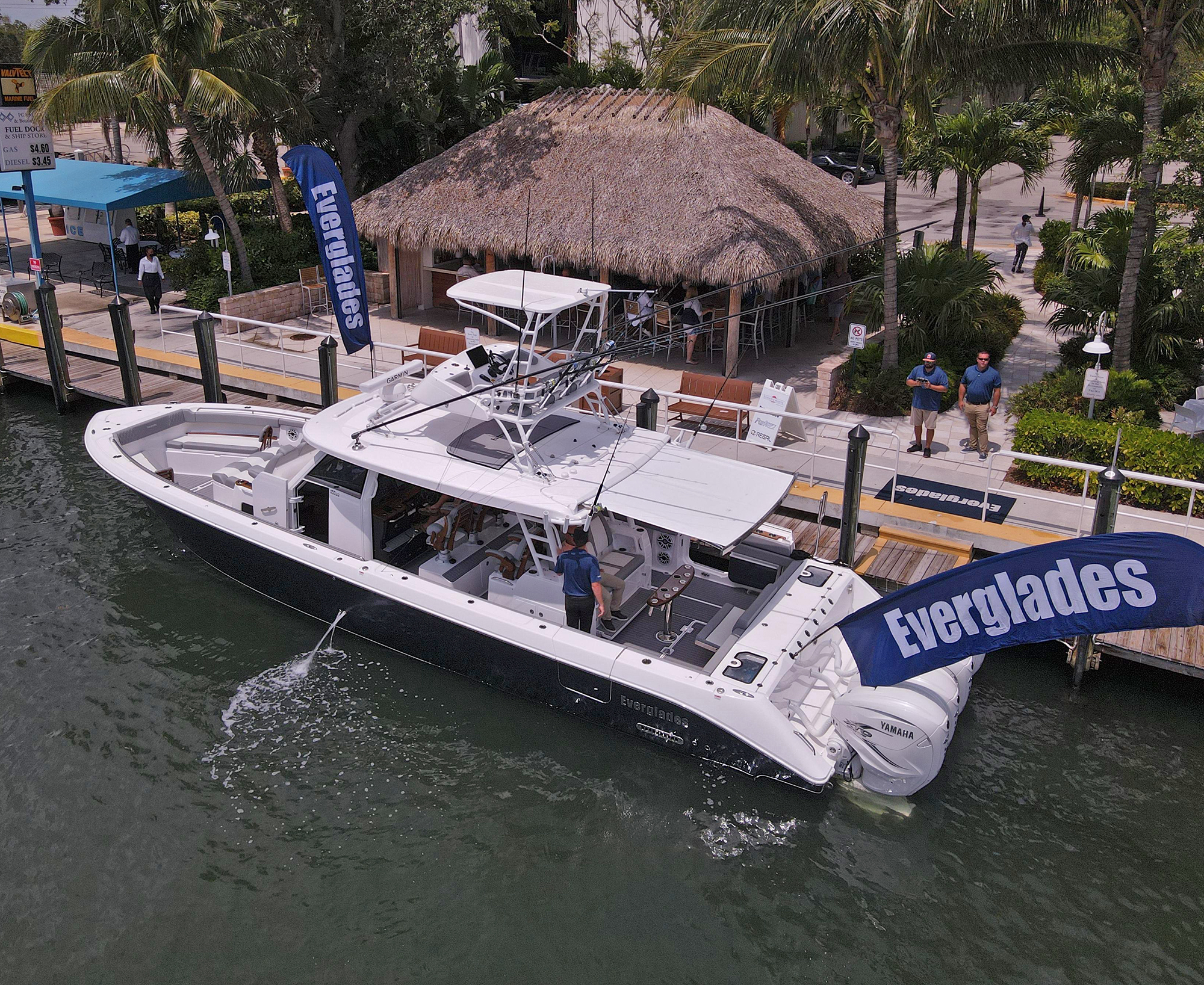 2022 Everglades 455cc Center Console Boat Review Sea Trial
The new flagship center console from Everglades is a feature-packed, fishing machine.