For many yacht owners tenders are a vital all-purpose workhorse used for everything from going to the pub to ferrying supplies and spares. Yet all too frequently little or no thought goes into which model is be best suited to an owner's needs.
Carrying capacity
Don't be enticed into sacrificing this in the name of economy, or to minimize stowage requirements. Of course, it's always possible to make multiple trips ashore in the dinghy, but there's always the temptation to put one extra person on board – and we've all seen dangerously overloaded dinghies.
In any case, a tender that's relatively lightly loaded is faster under power, easier to row and gives a more comfortable, drier ride. If the deflate facility on the pump is used to remove as much air as possible, even relatively large inflatables can be made to pack down to a conveniently small size.
Safety
You're often exposed to the greatest risks that you'll meet afloat when in the dinghy – statistically a dinghy ride is more dangerous than an offshore passage. Stability is paramount and adequate buoyancy also an important consideration – a boat that sinks when swamped is clearly dangerous. Inflatables score highly on both counts, although it's possible to retrofit good buoyancy into hard dinghies, and an inflatable collar around the gunwale increases ultimate stability enormously.
Speed machine?
A fast planing dinghy can be a great attraction – there are many small RIB-like tenders that will happily buzz around at 10 to 15 knots – and can be a great option for those who spend time in anchorages far from facilities or shore. However, it's also worth considering the downsides – as well as the extra cost and weight of a larger engine, they use significantly more fuel. In addition, many smaller models won't plane with more than one or two people on board, which can defeat the purpose of a fast boat.
Alternative propulsion
The importance of this should never be underestimated, yet far too many people are complacent about the risk being swept out an anchorages or estuary in the event of the outboard failing. A dinghy that rows well is therefore an important consideration.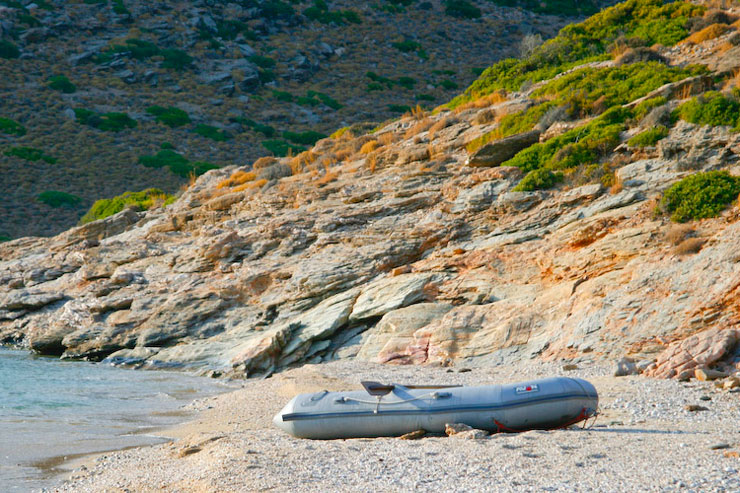 Hard dinghies score particularly well in this respect, although an inflatable that's lightly loaded – choose a size a little larger than the minimum needed – has the potential to be relatively good in this respect. It's likely to need longer oars than standard – six feet is a minimum to make the boat row well and eight feet is ideal, if you have space to stow them.
It's also important to ensure the boat is fully inflated, to its recommended pressure, to prevent sizable proportion of your effort going into distorting the tubes rather than driving the boat forward. For anyone who doubts this, with two people on board my 9'6″ Avon is usually as fast as outboard powered 7'10" dinghies, and often quicker if I'm on my own.
Rigid dinghy or inflatable?
Inflatables win points for stability and buoyancy, while rigid dinghies are easier to row and are intrinsically more robust. Hard dinghies generally tend to be the prime choice for as a tender kept in a boat park ashore and used to reach a swinging mooring. In this case stowage on board is not an issue and inflatables are not so well suited to staying permanently inflated. For similar reasons, many long-term cruisers prefer a rigid dinghy over an inflatable, often choosing one that folds or nest in two halves to reduce the deck space needed for storage. See more on inflatable tenders in the boats.com UK feature: How to pick the perfect inflatable tender.
What type of bottom?
Inflatable keels are nearly always worth the extra initial cost. They improve speed under power – and therefore fuel economy – and provide more directional stability when rowing. Hard-bottom inflatables and small RIBs are even better in this respect, tend to tow better and provide protection against damage if the boat needs to be dragged up a beach. However these benefits come with additional weight and they won't pack down for stowage in a cockpit locker.
Material types
Fabric coated with Hypalon, a rugged synthetic rubber, is arguably the best material for inflatables – it's very resistant to degradation in sunlight and easy to repair. As a result there are still many 30-year-old Hypalon dinghies in regular use. However, it's also an expensive option and therefore now only accounts for a small percentage of dinghy sales, although its use in more prevalent in quality RIBs.
The alternative is a fabric impregnated with PVC, which has the potential to be long lasting, especially if seams are heat bonded rather than glued. However, repairs are more difficult as it's difficult to get patches to stick and the material has less resistance to sunlight than Hypalon.
Are two better than one?
A small second dinghy can be a boon to long-term cruisers and those with big boats and commensurately large crews – it can transform life on a swinging mooring or at anchor, much like a household with two cars. It also means that, in the event of one tender being stolen or otherwise disabled, any disruption to your plans is minimized.
Don't forget the anchor!
Most of us are guilty of not routinely carrying an effective anchor in the tender, but it could be the last defense against getting swept out to sea in an anchorage with a strong offshore wind, or an estuary with a fast ebb tide.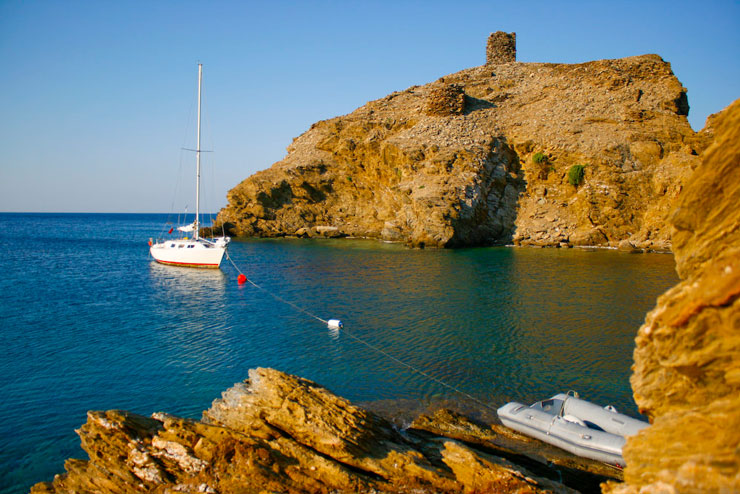 Related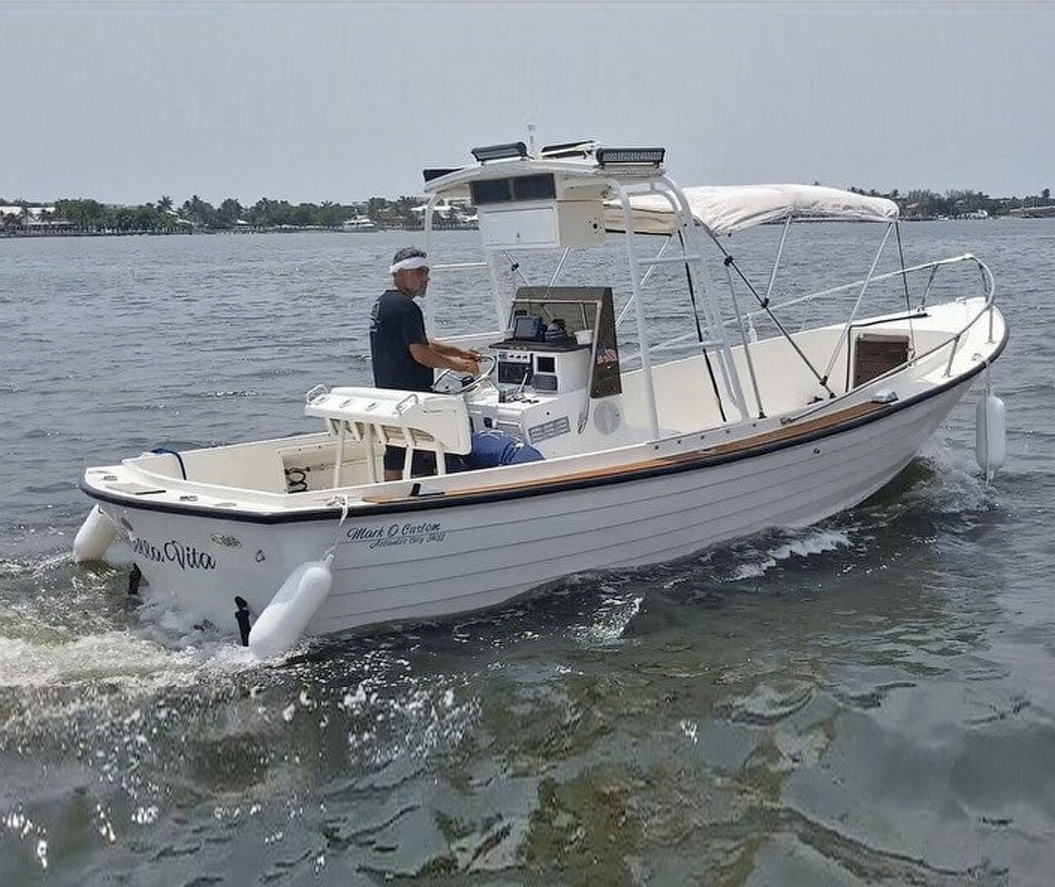 An Atlantic City Skiff by Mark O Custom Boats set up as a dinghy. Photo: Pop Yachts / Mark O Custom Boats.
The dinghy is an unsung work horse on any boat. Part taxi, part tour boat, part delivery vehicle it is often referred to as the "family car." And like cars there are different manufacturers, sizes and styles of boats. So, how you know which dinghy is right for you?
Things To Consider
Before you go shopping for a dinghy there are a few things you need to determine. Answering the following six questions will help you narrow down your search and ensure you buy a boat that is right for you.
1. What is the maximum number of people that will be in the dinghy at once?
A crew of two can manage with a much smaller dinghy than a family of six. As well, four adults require a bigger boat than two adults and two small children. Knowing the total number and maximum weight of your crew is important information for choosing a dinghy that will be comfortable and safe.
2. How will you be storing the dinghy?
If you have davits to lift your dinghy you need to be aware of the maximum weight they can hold. If you are storing your dinghy on deck you should know the maximum length you can accommodate safely. Mapping out where and how the dinghy will be stored when not in used and on passage will help narrow down the size and design of dinghy that you can accommodate.
3. How will you be using the boat?
Not everyone uses their dinghy the same. Some boaters simply need it to go the short distance to and from shore, others take regular day-long dinghy adventures. Avid divers need to consider the size and weight of the gear they need to carry. This information will also affect the size of outboard you choose. For instance, a small 3hp is suitable if you are only intending to potter back and forth to the dock in a calm anchorage. However, more adventurous dinghy users will need a larger engine.
4. What is the shoreline like where you will be using the dinghy?
If you'll be using your dinghy in an area that is mostly rocky shorelines and sharp coral then a soft bottomed dinghy is probably not the best fit. If your area has large tides and long sandy beaches than a heavy dinghy with a deep keel could be difficult to maneuver when going ashore. How your dinghy will perform ashore is also an important consideration.
5. Can all adult crew members move and lift the dinghy by themselves?
Many people choose heavy, fibreglass hulled inflatable dinghies because they are sturdy and robust only to discover that only the strongest crew members can lift it up on deck at night or safely pull it up a beach out of the surf. Having a dinghy that all crew can corale and control not only distributes the workload but ensures everyone's safety.
6. What is your budget?
There are a lot of choices when it comes to dinghy shopping so you need to be prepared before you start looking. Setting a realistic budget to meet the above criteria will help you find the boat of your dreams without breaking the bank.
Type of Dinghies
Dinghies generally fall into two categories - inflatable boats and hard boats. Within those categories there are also variations. No one design is better than all the rest. The important thing to remember is to choose a dinghy that best suits your needs and demands
Inflatables
RIBS or Rigid Inflatable Boats – The most popular choice when it comes to dinghies is the RIB. These boats have inflatable pontoons and a hard, shaped bottom. The combination of the structured hull and inflatable tubes make them lighter that a fully rigid boat without compromising on the performance. These types of boats are great for large crews, divers and avid fishers. There is no need to worry about dropping sharp objects on the floor or grazing a rock when heading ashore. They are also easy to get into from the water, simply hoist yourself up over the pontoons, or a larger RIB may have a boarding ladder on the stern. However, since the hull is made of either fiberglass or aluminum, even small RIB's can be too heavy for one person to easily pull up a beach. Their weight demands a larger outboard to reach sufficient speed to plane. It also makes them harder to row, especially in choppy seas or directly into the wind. Although the pontoons can be deflated a RIB cannot roll up so they require a dedicated storage space at least the length and width of the hull when underway.
SIB / Soft Inflatable Boats
Similar to a RIB these soft dinghies also have inflatable pontoons but lack the sculpted rigid floor. Instead a SIB floor is made of wooden or aluminium slats or is fully inflatable. Much lighter than a RIB a soft inflatable lacks a deep hull which effects the handling, especially at higher speeds. This flat hull design also makes them difficult to row efficiently despite being light weight. Easier to maneuver on the beach and to lift onboard for storage the underside of a SIB can be easily punctured by sharp objects such as oyster shells and rocks. Like an RIB they are easy to get into from the water over the pontoons. However, they are much lighter than and RIB so they can reach high speeds with a smaller outboard engine. The removable floor of an SIB allows the dinghy to be fully deflated and rolled up for storage. This makes them perfect for smaller vessels and for boaters who do not want a dinghy on deck for long passages. This portability also makes it possible to throw the dinghy in the back of a car, perfect for weekend or inland boaters. All inflatables have one thing in common. It is nearly impossible to sink them. Even with a hull full of water most RIB's and SIB's have enough buoyancy in the pontoons to keep the dinghy afloat. Many even have enough buoyancy to keep the outboard dry when the hull is semi-submerged. This one characteristic is probably their biggest selling point. The pontoons of inflatable boats are made out of either PVC or Hypalon and there is a great debate over which material is better. Hypalon is heavier, more resistant to abrasion and is more UV stable. Hypalon seams are welded using a specific technique and this makes them difficult to repair and more labour intensive to manufacture. A Hypalon dinghy is always more expensive than a PVC dinghy of the same size. PVC is lighter weight and slightly less abrasion resistant, although still quite durable. The seams of a PVC dinghy are usually glued, which means punctures are easy to repair. However, there has been widespread complaints about the decline of quality of several manufacturers in recent years. Several boaters have complained about seams coming unglued, which is not only disappointing but dangerous.
Hard Dinghies
A hard dinghy is any small boat that has no inflatable components. They can be made of plastic, hardwood, aluminum, fiberglass, plywood or PVC. Hard dinghies come in a variety of designs and lengths, are produced by several different manufactures and can even be DIYed.
Sailing Dinghy
Usually wooden, fiberglass or molded PVC these small dinghies make a fun addition to any boat. Fully rigid and designed to accommodate a sail, centerboard and rudder/tiller these boats are also fully functional with an outboard. However, due to the hull designs outboard size if often limited. Fun for kids to sail in a protected anchorage they can often be wet boats. This can make bringing home provisions sometimes difficult. These types of boats are also often rowed ashore as their hulls glide nicely, making them efficient and easy to row.
Nesting Dinghy
Usually wooden, and these days custom made, these fun little rigid hulled boats break into two pieces along the middle. They are designed so that one piece of the hull fits neatly inside the other, essentially halving the required deck space needed to store them. Unfortunately, this style of dinghy is not common these days. However, if a nesting dinghy would be your ideal boat and you are skilled DIY-er then check online for tutorials or patterns.
Folding Dinghy
Folding boats are a fairly new design that incorporate the handling and durability of a fully rigid hull while being light weight and easy to store. Constructed from NASA developed reinforced PVC these boats fold up like a paper airplane with the seats removed. Weighing in with the SIB's a 10.9" dinghy folded takes up about as much room as a surf board. The full hull gives good performance, but their light weight doesn't demand a large outboard. A folding dinghy is strong enough to run up on rocks but light enough to be moved by one person. Unlike the RIB/SIB market, there are only a few manufacturers of folding boats.
Outboard Engines For Dinghies
Just as it is important to determine your requirements and budget when choosing a dinghy, so to it is necessary to consider your needs when buying an outboard for the dinghy. Firstly, every dinghy will have a maximum rating for an outboard, either given as max horsepower or max weight. It is very important not to exceed these guidelines. Doing so could result in damage to the dinghy or injury to the crew. It is also important to factor in the activities that you will be using the dinghy for. For instance, if the boat is only needed to ferry people to the dock and back a smaller outboard is perfectly suitable. However, if you are using the boat in larger swell or for longer distances, than a more powerful outboard is required. Where the outboard will be stored when not in use or underway should also be considered. If you are storing the engine on a rail-mounted outboard bracket you must be able to lift the engine off the dinghy and up, over the railing. This is no easy feat when you consider even a 6hp four-stroke can weight 50lbs. RIB's and some hard dinghies can handle larger, more powerful engines. However, this also adds to the overall weight of the boat, making them even more cumbersome and difficult to haul out. Larger outboard also mean more fuel consumed and that equals more expensive dinghy to run. When it comes to dinghies, a bigger outboard is not always better.
New Versus Pre-Owned Dinghies
Everyone loves that new dinghy smell and the excitement of taking it out for the maiden voyage. But, buying new can be very expensive, and isn't always the best option. Over the past five years there has been several reports of the build quality of several reputable dinghy manufacturers going down, way down. Seams coming unglued, handles falling off, and strong points not being all that strong. Unfortunately, buying a well-respected brand name these days doesn't guarantee high quality construction. It pays to do a little research on cruiser forums and to ask around on the docks. It is not only what brand people like but how old the dinghy they have is and what problems they have encountered. If you shop at a store don't be afraid to ask the retailer their opinion too as they will have dealt with warranty issues, repairs and returns. Buying a pre-owned dinghy is a great option for boaters who have a smaller budget, or who are looking for boat to fit their unique needs. Hard dinghies are especially good candidates but an older inflatable that was well stored and maintained can still have many years of life left in them. As well, there is always the boater who bought new only to find out they chose incorrectly, and you can snag a lightly used dinghy for a bargain. Dinghy shopping is not always smooth sailing. Taking time to consider your needs and requirements, as well as your restrictions, will help you make the best choice. There is no one-size-fits-all when it comes to dinghies, but there is a dinghy for everyone. Frequently Asked Questions What Is A Dinghy? A dinghy is any variety of small boat carried, towed or stored onboard a larger vessel for use as a tender or lifeboat and to access the boat from land. Some people refer to dinghies as support vessels, gunboats or pilot boats, although those are typically terms reserved for military or industrial purposes. Most dinghies are powered by small outboard engines although some may have inboard engines or even jet drives (especially those that accompany larger yachts and expedition style superyachts), while some may even be simple row boats with no form of mechanical propulsion. Sailing dinghies are usually designed more for sailing rather than accessing a larger vessel./>
How To Choose A Dinghy
Category:
Guide to Buying and Selling Boats
Heather Francis helps yacht owners choose the right dinghy for their boat.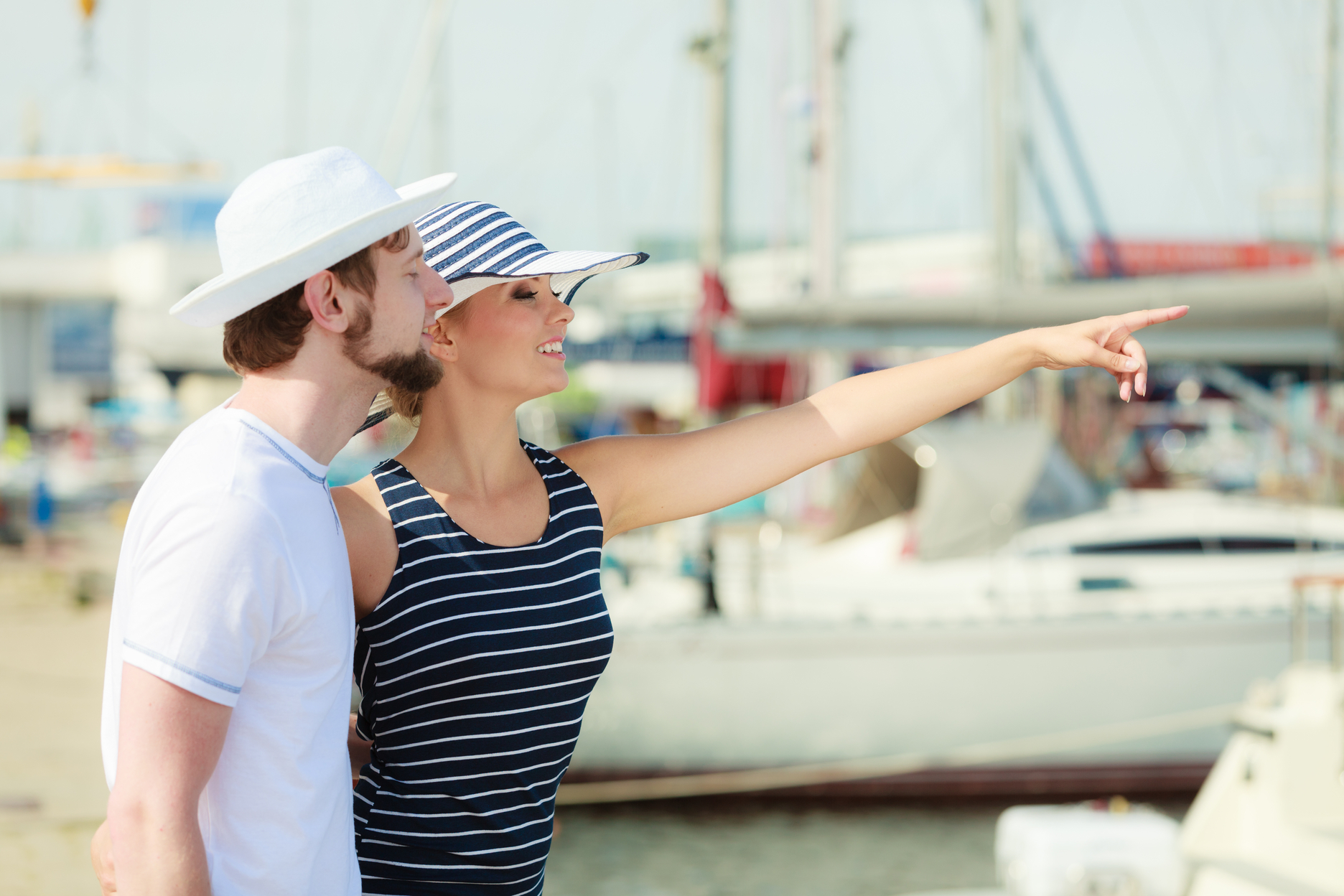 Buying a Yacht: Three Quick Tips for Buying a Boat
YachtWorld provides you with three quick tips for boat buying.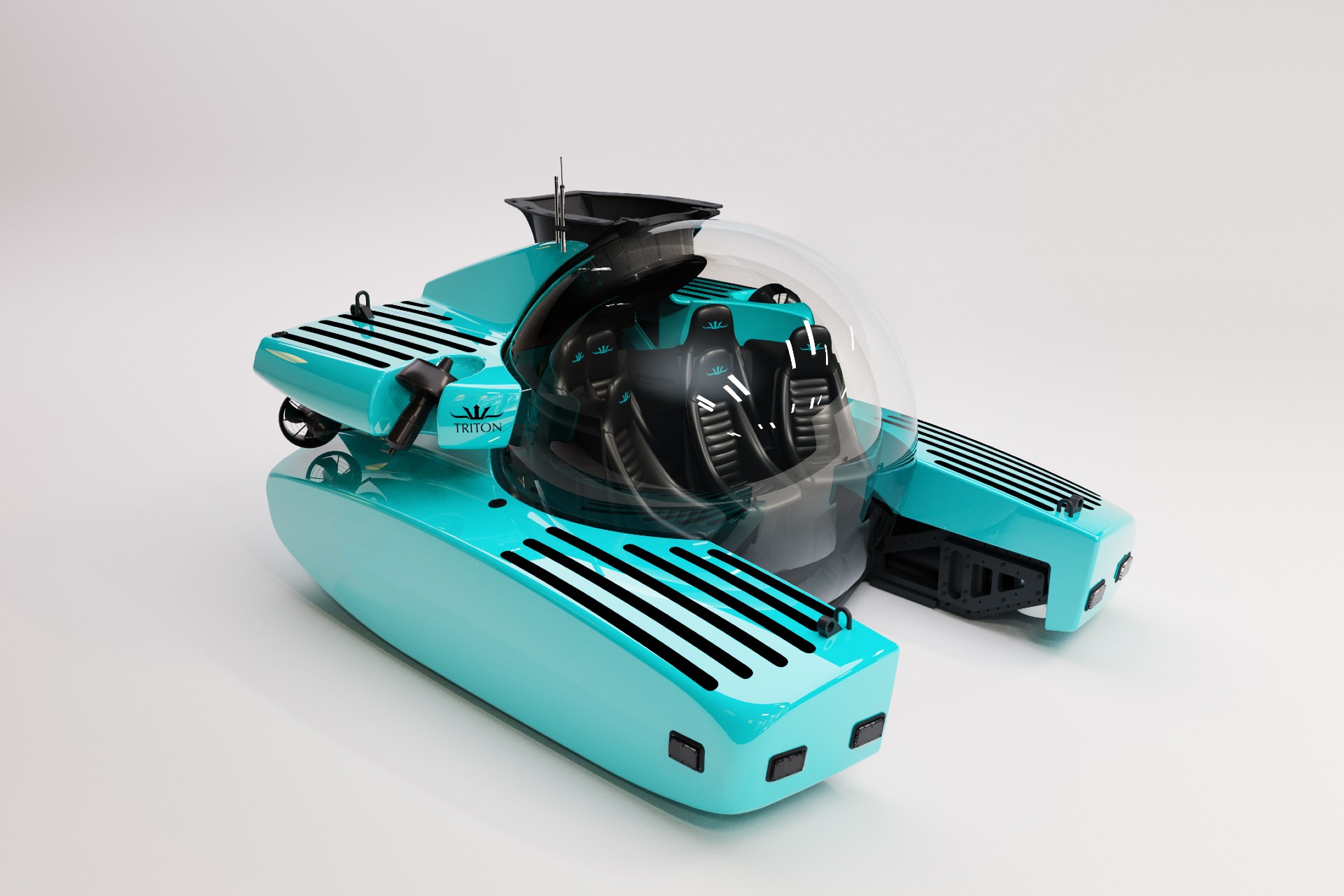 Triton's Six-Person Submarine: 'Salon of the Sea'
YachtWorld takes a look at the debut of Triton's six-person submarine.