The Celestial 48 line of moderate displacement center cockpit cruisers is from the Chinese yard of Xiamen Celestial Yachts, originally based in Hong Kong. The design has been attributed to anyone from Sparkman & Stevens to Robert Perry. But it was Bryce Fuhriman who based his first boat, a 46, on a Brewer design and then added his own changes. He then put together an international team of American ownership, Australian management, and Chinese craftsmen to build this line of semi-custom bluewater boats destined for the North American market.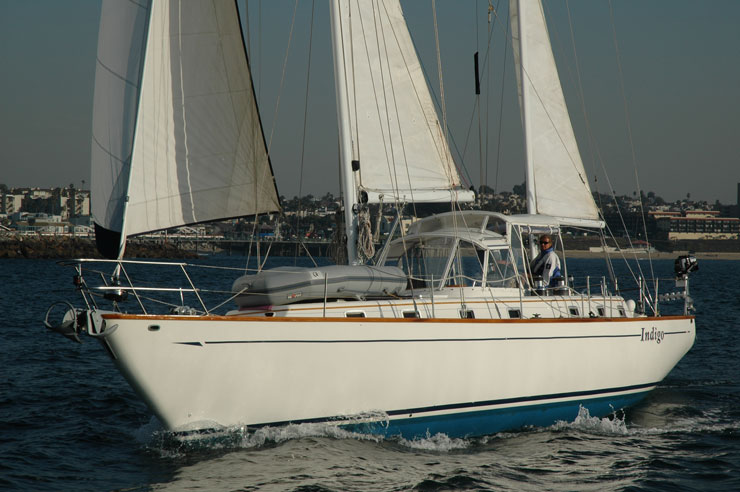 Unfortunately, Fuhriman started his venture in 1980 and the next 10 years proved to be difficult in terms of generating sufficient funding and fighting a troublesome market in the US. He experimented with several sizes including 42s, 43s, 44s, 46s, and 48s. By 1985, the line mainly focused on the 48 foot ketch. This cruising sailboat is a contender for a couple or family looking for a bluewater passagemaker on the secondary market.
Rigging & Performance
The Celestial 48 is a good light-wind performer and surprisingly agile for a center cockpit cruiser with a displacement of 27,000 pounds. Because the jib sheets are led to tracks on the cap-rail, sheeting angles aren't particularly tight, but the boat will point to about 45 degrees. With all canvas up, the boat will do six to seven knots on a close reach and eight to nine knots on a beam or broad reach in about 15 knots of true wind. Although she needs to be reefed early, she moves like a luxury car in light wind and will scoot along at five knots in only 8-10 knots of breeze.
The sail area is 990 square feet on a Kenyon, keel-stepped double-spreader main mast, which is relatively tall at 56 feet above the waterline. She also has a large mizzen sail on a deck-stepped, single-spreader spar. On a beam reach, the boat does best under a jib and jigger configuration (using the headsail and mizzen, but keeping the mainsail furled).
When examining these boats, check the main mast step as construction techniques evolved over time. Early hulls had only a block of wood covered in fiberglass and if the glass was compromised and moisture seeped in, the mast step has likely rotted which would make the rig unstable. Access to chainplates is not great, so check their condition and evaluate the expense of any fixes or changes prior to purchase.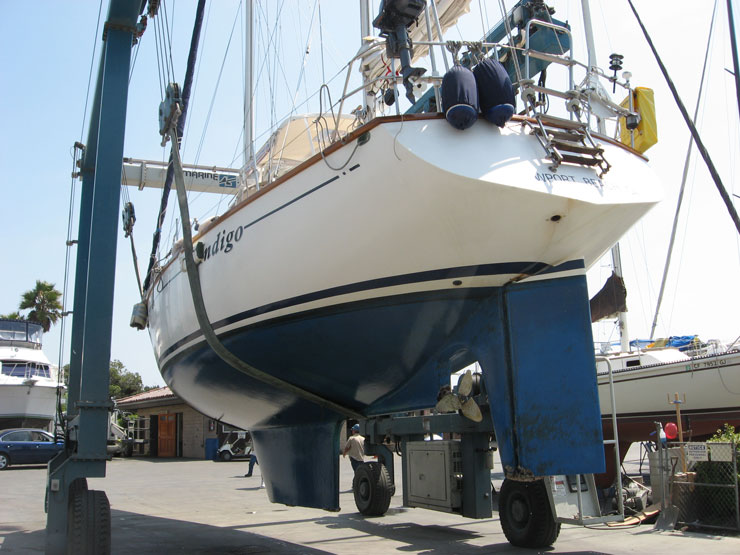 Design & Construction
The Celestial 48 is actually 50 feet LOA, and 48 feet on deck. She has a beam of 13' 6" and draft of 6'0″ with a fully encapsulated, elongated fin keel consisting of two solid lead castings. The underbody has very full and round bilges, which make the boat initially a bit tender; you'll need to reef if the wind is forward of the beam and in excess of 18 knots. But then the 44-percent ballast to displacement ratio kicks in and ensures she stabilizes and stiffens up.
The hull of the 48 is balsa-cored to the waterline with solid glass reinforcement at the chainplates. The balsa is cut away and sealed with epoxy around the through-hulls and is omitted entirely in the keel sides and on the centerline.
There are substantial bulwarks for good foot-bracing offshore and strong hawse holes that minimize chafe on the teak caprail. However, the placement of the scuppers means water travels the gunwales, misses the scuppers, and pools about eight feet from the transom.
Most of these boats came from the factory with teak decks screwed and glued in place, which some owners have since replaced with glass and nonskid. The teak is fairly thick, up to 3/8" in places, so sanding and re-caulking is also an option for deck rejuvenation if there are no known leaks.
The cockpit is compact but will seat six for cocktails. It is well laid out to easily add a complete Bimini enclosure. Visibility from the helm is excellent in all directions.
Below Decks
One of the highlights of this boat is the layout, which is a modern fore and aft cabin design featuring 6'2" headroom. The saloon has a centerline drop-leaf table with a built-in eight-bottle wine rack, and will seat four comfortably or six in a pinch. An L-shaped settee is to port with a straight settee to starboard and in the early models, good stowage behind these settees made them a little narrow and uncomfortable. Later hulls minimized the outboard stowage but made the seats more comfortable with angled backs.
The main complaint about the galley is limited counter and drawer space, but food stowage space is good. A gimbaled stove and a top-loading reefer were standard but owner changes over the years mean boats on the market vary greatly. The sinks are on the centerline and close to the companionway steps, so the cook doesn't have to go far to get food to the crew in the cockpit.
The companionway has a built-in locker in each step and room for two 8D batteries underneath the bottom step. The forward facing nav station is to port, across from a small wet locker and just at the head of the passageway that provides access via a door to the large, crawl-in engine room. This dedicated, well-insulated, and well-lighted machinery space allows access to all sides of the engine – originally a 62-hp Perkins 4-154 or a 62-hp Lehman. To starboard of the engine there's a cabinet and room for additional equipment like a watermaker. To port of the engine there's enough room for a small genset, and the forward bulkhead has plenty of room for equipment installation including an inverter, battery charger, fuel filters and the raw water strainer.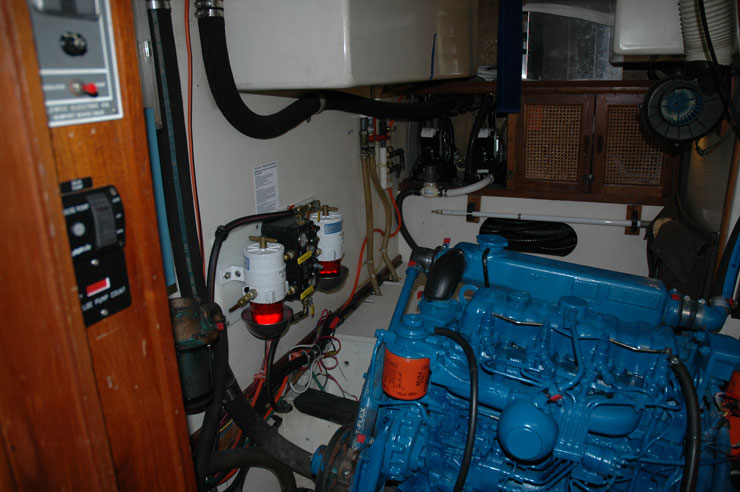 LOA – 48'0" * Beam – 13'6" * Draft – 6'0" * Displacement – 27,000-lbs. * Sail Area – 990 sq. ft. * Fuel Capacity – 250 gal. * Water Capacity – 250 gal.
The owner's suite aft came in a variety of layouts in terms of stowage options, but primarily there is a king-sized centerline bunk which allows sleeping fore and aft, and a variety of drawers, lockers and shelves. Both heads, forward and aft, are a fiberglass pan with teak trim. The aft head has a dedicated (not a walk-through) separate shower with a seat. It has an opening port but no overhead hatch, which would help in the tropics.
The entire interior is solid teak or teak veneer with a teak and holly sole. A vinyl headliner adds a nice finish but creates problems with access to deck hardware. Stowage throughout is worthy of a bluewater boat: underneath and behind settees, underneath bunks and in 23 hand-caned lockers. Ventilation is provided by 15 opening ports and seven hatches.
Tankage on these boats is phenomenal with 250 gallons of fuel in one tank and 250 gallons of fresh water in two tanks. All the tanks are fiberglass, low, and on the centerline beneath the cabin sole.
Other Notes
Celestials were built until 2002 when the Xiamen yard was reorganized and focused on building Passport and Outbound yachts. The final 48s were sloops and were primarily sold in the European market. Several US brokerages imported the Celestial 50s in the 1990s, which were also sloops but with a large deck house that created the look and feel of a tall motorsailer. If you look closely at the hull shape however, you'll still see the same lines as the 48: graceful, clean, and powerful.
Celestial 48 prices range from $130,000 to $160,000 for mid-eighties models. The newer Celestial 50s ratchet up over $200,000.
View Celestial listings.
For information about some other top choices in affordable used cruisers, read Classic Plastic: 10 Affordable Used Sailboats for Cruising.
Related
Whitby 42: Classic Cruiser and a Good Used Boat Buy
Category:
Antique and Classic
The budget-minded sailor will want to look for this classic cruiser.
Pearson 323: Practicality in a Cruising Sailboat
Category:
Cruising Under Sail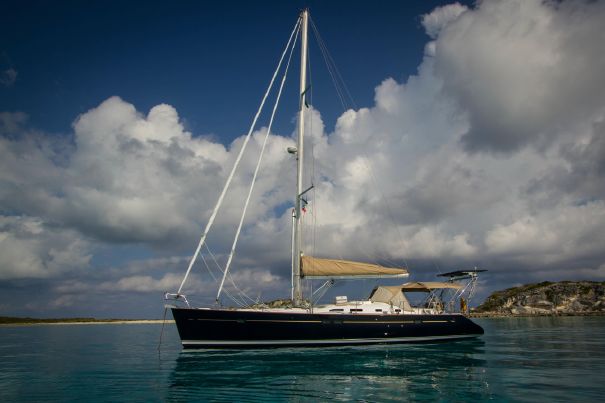 Beneteau 473: Used Boat Review
The Beneteau 437 is a well-known and sought-after cruising sailboat.