2011 Sunreef 60. Photo: Swell Yachting, Israel.
Choosing the right boat – whether on a charter or to purchase for your own trips – is a big deal that can end up making or breaking your boating experience. The question often arises: One Hull or Two? The answer really lies in what is right for you and your scenario.
Planning a charter vacation or longer term ownership can leave you with many questions, wondering which type of boat will be the perfect fit. The final answer will depend on a number of factors, including: experience, crew, budget and the destination. There are pros and cons to both catamarans and monohulls so here's what to consider and how to maneuver them both like a pro.
Your Experience And Familiarity
Managing a catamaran is not like driving a monohull in both good and bad ways. For example, because cats have twin screws set maybe 20 feet apart, they offer better control even at slow speeds so it's easier to keep station when waiting for the fuel dock to open or picking up a mooring. But for those not used to cats, the wide expanse of deck at the bow and the typically poor visibility to at least one of the four corners may feel intimidating and a bit like docking a living room.
Off the wind, sailing on a cat is a lovely upright experience. Sailing to weather, however, can be like tacking a shoebox. No matter what the brochures say, sailing much closer than 60 degrees apparent wind angle is only in the realm of true performance cats that are typically not found in charter. If you want tight tacks and good upwind performance, a monohull will be a better bet.
On the plus side of a cat, reefing isn't quite as time-sensitive as it is on monohulls and if it needs to be done, a cat provides a flatter deck for crew to work on. It's not that you don't reef cats, it's just that they can take more before needing to shorten sail, usually about another five knots of upwind speed.
Finally, cats waddle and that motion isn't for everyone. They also pound upwind into big seas whereas monohulls will slice through waves and feel more familiar and therefore friendlier.
Your Crew
If your crew is big and you have many newbies, a cat may be the answer simply for its abundance of room and enhanced safety. Cats simply have more deck space, more cockpit room and bigger cabins. In fact, if you multiply a cat's length times 1.25, you'll get the approximate equivalent space of a monohull. (Example: a 40-foot cat has the approximate room of a 50-foot monohull.) Large open cockpits provide nice outdoor social areas for crowds and there's more shelter if it rains so a cat is a good cold or hot weather option.
From a safety standpoint, cats don't heel much and their motion is usually more family friendly with less seasickness and little fear of "tipping" or heeling. Those less mobile, like seniors or kids, will find it easier to move about on a cat and that same stability is great at anchor because cats don't roll and that means a good night's sleep. Finally, if an engine fails or you wrap a mooring line in one prop, you have another engine that will get you home.
On the other hand, if you're chartering (or buying) only as a couple, you won't need the extra room. Also, the forces on big cats are significant and with just two, you won't be able to manhandle a multihull the way you're used to doing with other smaller monohulls.
Your Budget
Cats are expensive. There's definitely a premium to buy (or even charter) a cat of the same size as a monohull. Not only will you pay more for the boat and a marina slip, you'll also feed two engines and fuel isn't cheap on charter. Also, monohulls aren't as popular as they once were so there are more discounts on them than on cats in charter.
Your Destination
Where you choose to sail will have a lot to do with what kind of boat is best to charter or buy. The first reason is simply availability. Caribbean and South Pacific charter bases are positively packed with cats so there are more to choose from when chartering (and thus many used vessels available as well). However, chartering or buying in the Pacific Northwest or in Europe, you'll find fewer cats and they will be expensive. Also, Europeans normally Med moor at city docks and squeezing a cat into a line of tied up boats in Croatia or Greece isn't for the faint of heart.
Consider also the difference in draft. Skinny water cruising as in the Grenadines or Tahiti can be tricky with a deep draft boat so cats have the advantage there. Every foot you save below the waterline is more of the world to explore.
Finally, consider the wind. If there will be lots of upwind sailing, cats won't be the best choice for that destination because they don't point well. If it's serious tacking that you're looking for, opt for a monohull.
Cat Dancing 101: Basics Of Maneuvering A Catamaran
So you've decided that a catamaran is the right choice for your charter (or your journey down the path to ownership) but you haven't driven one or maybe you're intimidated by one. In some ways, cats are easier to handle – once you learn their secrets.
For Starters
Driving a cat is all about managing engine power. Cats have two propellers set far apart so they'll will spin in their own length. It's best to leave the wheel (and therefore rudders) centered forward position and use only the throttles to drive.
Imagine holding a bar with both hands in front of you. Moving your right hand forward will move your left hand aft. Notice how your shoulders turn and in which direction you end up facing. Now apply this to the throttles. Powering forward with the starboard engine and aft with the port, will turn the cat to port and vice versa. Practice this in open water until you get the hang of it before approaching a dock or other boats.
Docking And Departing
Leaving a portside tie up with boats both fore and aft like at a fuel dock, put a fender on your port quarter. Then put the port engine in forward and the starboard engine in reverse until the bows pivot out, clearing the boat ahead, drive forward with both engines. If there is limited space forward, back out but first put a fender on your port bow to cushion any contact. Then put the port engine in reverse until the transoms clear the boat behind and back out by using reverse on both engines. It is possible to "walk" a cat by doing the above in short increments and moving the entire boat sideways and away from the dock.
It's easier to dock a catamaran in reverse because the captain is usually at one of the aft helms and closer to the stern and therefore has better visibility aft. (This is not the case on cats with a single helm station on a flybridge where visibility aft is obscured by the hard Bimini.) Cat propellers are farther aft than monohull props so your pivot point is different than on monohulls.
Coming to a portside tie up, put a fender on your port quarter, come along and slightly ahead of the space where you want to end up. Pivot so that your stern angles about 45 degrees to the dock with the port engine in forward and the starboard in reverse. Power aft slowly with both engines. Finally, keep the port engine in reverse and put the starboard into forward to pivot into the dock.
Coming in bow to, put a fender on the port bow, angle the bows in, and as the boat slips in, put the starboard engine in reverse until you come alongside and can have someone step off the transom to get lines ashore.
Backing into a slip is easier on a catamaran than a monohull. To back into a slip (which will make it more convenient for crew to step on and off) pull up until perpendicular with the slip, pivot the boat with the engines and then use both in reverse, adjusting as you back up if there is a beam wind.
For med-mooring, come abeam of the spot on the dock where you plan to tie up. Pivot the boat with the engines until you are lined up with stern to the dock, drop the anchor and have someone pay out the rode slowly as you back with both engines. Once the anchor is set, keep backing and letting out scope (adjusting side to side with the engines as necessary) until you come close enough to the dock to have crew step ashore and tie up the stern lines. Make sure to have fenders tied directly aft to cushion both transoms. Once in position, have the crew tighten up on the anchor rode with the windlass.
Picking up a Mooring
To minimize swinging on a mooring, and to keep it quieter for anyone sleeping in the forward cabins, use two lines to hook a cat up to a mooring. Attach one line to each of the forward cleats and bring the loose ends to the center. Pick up the mooring with a boathook. String one line through the eye and bring it back to the same cleat. Repeat on the other side, keeping the lines the same length so the cat is centered. It's best if you have at least two people to do this quickly but one can manage while you keep station with the engines.
Remind your crew that due to the high bow, you will lose sight of the mooring long before the boat is near enough for them to reach the float. Communication will be key to make sure you are lined up on the mooring and do not overrun it.
Driving Tips
On large cats with sizable engines, it's best to maneuver with one engine at a time. People often use quite a bit of opposing force with the throttles in opposite positions but that's inefficient. Unless you have a lot of current, cross breeze or traffic, maneuver one engine at a time for more precision and less stress.
Most cats have mini-keels to help them track. Others, like Catanas, have daggerboards that may be retracted into the hull. Coming into a shallow anchorage, it may be intuitive to raise the boards all the way up to avoid grounding. However, the round hull bottoms of non-keel cats will provide no traction and picking up a mooring or anchoring in windy conditions will make them slip around like on a bar of soap. Leave a foot or so of the daggerboards down to spin and maneuver as you need to.
If you have a sufficient number of crew members in a docking situation, keep one person mobile with a fender so they can assist wherever there is need, fore or aft. Never ask anyone to jump off the bow – cats are high and injury is possible so have them step off the transom step.
Catamarans don't coast well primarily because they don't have a deep keel to track. Relying on coasting to a dock at a shallow angle and then going into reverse and using prop walk to cozy up the stern won't work. It is better to come in at a sharper angle and then pivot the boat into position with the engines.
There is no substitute for practice. Spend an hour docking in various situations and soon you'll have a cat dancing.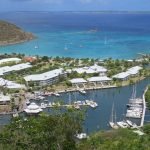 Learn why St. Martin is the ultimate base for your next Caribbean charter. Here's my latest charter itinerary...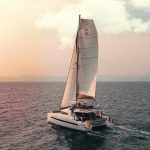 Kevin and Cathy Sebrowski share advice on how to plan a yacht charter.